Begin Your Case With a Proven Personal Injury Law Firm
Isaacs & Isaacs Personal Injury Lawyers is proud to serve the people in the Commonwealth of Kentucky. Our Kentucky personal injury lawyer team helps people who have been injured because of somebody else's negligence or wrongful act to recover just compensation from insurance companies and other liable parties. We help injured workers win their workers' compensation claims and also help disabled folks to receive their Social Security Disability Insurance benefits.
If you or somebody you love is injured in Kentucky, call "The Hammer" Darryl Isaacs to help you receive the just compensation you deserve. Don't delay in seeking legal help. We are on call to assist you in your legal emergency around the clock.
We charge no upfront fees for our legal services and only take payment if we secure monetary compensation on your behalf. Call us at 800-333-9999 at any time to speak to one of our dedicated Kentucky personal injury lawyers and set up a free consultation.
We Represent Injured Accident Victims Across Many Categories. Some Personal Injury Cases We Handle Include:
Accidents With Trucks or Commercial Vehicles
Injuries & Wrongful Death Involving Driver Negligence (cell phone use, DUI)
Accidents With Uninsured Motorists
Whiplash Injury Accidents
Airbag Deployment Accidents
Takata Air Bag Recalls
Motorcycle Accident Injuries
Ridesharing: Lyft & Uber Accidents
Bicycle Accident Injuries
Hit and Run Accidents
Pedestrians Hit By a Vehicle
Head-On Collisions
Rear-End Collisions
Spinal Cord Injuries
"Our daughters were involved in a serious car crash when a man ran a red light! Isaacs & Isaacs knew exactly what to say and exactly what to do for us! They are not only highly professional but also very sincere in wanting to help get our girls every dollar deserved! We will always be grateful to the team of The Hammer for being so wonderful during our time of need! Thank you from our family to your law firm."
Hiring a Kentucky Personal Injury Attorney with Our Firm
In his podcast, "Ask the Hammer," Attorney Darryl Isaacs – the Hammer – answers questions about how he and his team serve clients to help get them the compensation they need. Play the episode below:
---
Our Kentucky Team Can Help You Fight for Damages
How much compensation you can obtain will be based on:
Your age
Your diagnosis and prognosis
The type and nature of your accident
Your physical and mental capabilities
If you can work part-time or full-time
Our lawyers can help you file for damages within the statute of limitations. Since Kentucky has one of the shortest periods to file against the responsible party, it is crucial to have legal assistance. You typically have one year to file a personal injury claim. However, this may change based on the specifics of your case.
This information will help us figure out if you're entitled to collect damages for:
Past and Anticipated Medical Expenses
Depending on the severity of your accident, you may incur the following medical bills:
Medications
Emergency care
Assistive equipment
Diagnostic testing
Physical therapy
Surgery
Hospital stays
If your doctor orders you to have follow-up care, these copayments may be accounted for in your claim or lawsuit.
Past and Future Lost Earnings
Your injuries may keep you from returning to work for the time being. As a result, you could have missed out on income, such as:
Commissions or tips
Bonuses
Salary or hourly pay
Business opportunities
Promotions
Sometimes, victims' injuries could be so severe that they may never be able to return to work. You can claim damages for lost earning potential.
Pain and Suffering
We've seen our personal injury clients suffer from these types of injuries:
Whiplash
Traumatic brain injuries (TBI)
Spinal cord injuries
Head, neck, and back injuries
Organ damage
Broken or fractured bones
Internal bleeding
These injuries and others can impede your quality of life and take a toll on your mental health. Even though pain and suffering is intangible, your lawyer can look at your other economic damages and gather evidence to assess the value of this damage.
Wrongful Death Damages
If your loved one passed away from the accident, you can file for wrongful death losses, including:
Burial and funeral expenses
Loss of inheritance
Loss of companionship
Loss of household services
Final medical bills
You may be entitled to other damages that are not listed here. Examples are property damage expenses, scarring and disfigurement, and other out-of-pocket costs.
---
Our Accident Law Firm Will Get Started on Your Case Immediately By:
Listening to your story
Answering your questions
Advising you what to do next
Investigating the accident scene and all other evidence related to your claim
Reviewing medical records, police reports, and all documents
Determining which parties are liable for your injury
Meeting with insurance adjusters
Helping you file your claim
Demanding a just settlement for all of your medical treatment and damages
Isaacs & Isaacs Personal Injury Lawyers don't Charge a Fee Unless We Win
After surviving an accident, you may ask yourself, "Do I need an attorney?". The answer is yes.
If you were hurt in an accident, you may face high medical bills and other related financial hardships.
At Isaacs & Isaacs Personal Injury Lawyers, we work to lighten this load, so we will help you with a contingency fee. That means:
No upfront payments
Nothing due out-of-pocket or hourly
No attorney's fees unless and until we secure a settlement or win the case
If you don't get paid, we don't, either. You don't have anything to lose when our firm manages your personal injury case.
---
Build Your Case With A Top Rated Accident Lawyer
If you need immediate assistance with a vehicle accident or personal injury, call our team now at 
800-333-9999
 to begin your free case review and schedule an initial consultation to get legal advice. Our law firm represents injured victims across many categories. Some popular cases our accident attorneys handle include:
Common Cases for Our Kentucky Personal Injury Law Firm
Isaacs & Isaacs Personal Injury Lawyers represent injury victims who have been involved in many types of accidents. We can also help you if you've been harmed by a dangerous drug your doctor prescribed you.
Were You Injured Because of Somebody's Negligence?
Darryl Isaacs, head of Isaacs & Isaacs Personal Injury Law Firm, is known as "the Kentucky Hammer" because of his success in building strong cases for his clients to receive the settlements they are entitled to by law. He only hires those who are equally dedicated to each client's needs to work on the Isaacs & Isaacs team.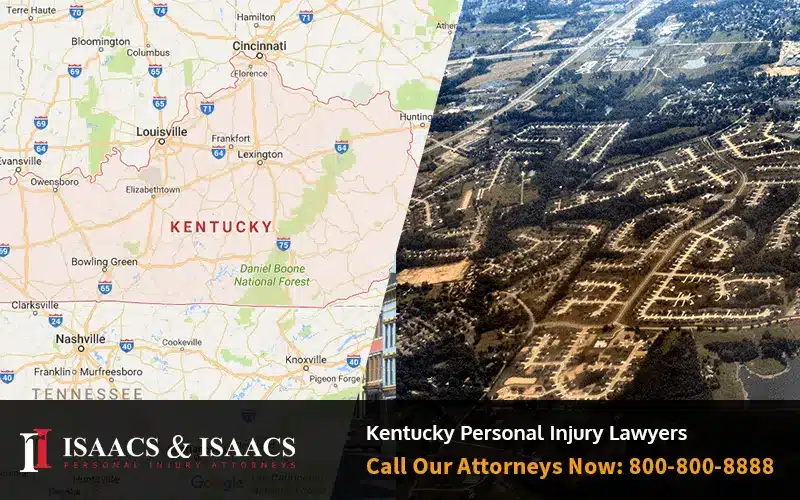 Darryl Isaacs is a proud Kentucky native. This, combined with his decades of experience in personal injury law, has given him insight into many of the negligence issues his fellow Kentuckians face after a grievous injury that leaves them disabled and without the means to take care of themselves and their families.
---
Kentucky Justice℠
Kentucky is one of the most diverse and colorful states in the Union. Home to bluegrass music, Bourbon whiskey, and the Kentucky Derby, folks in Kentucky are hard-working, independent, and proud.
When a Kentuckian cannot work after being injured in an accident, it cuts to the core of who he or she is as a family member and a member of the community. Isaacs & Isaacs is here to make sure that you receive the very best result possible for your personal injury claim. Kentucky cities served include:
Bardstown
Elsmere
Frankfort
Independence
Lyndon
Madisonville
Shelbyville
St. Matthews
Winchester
If you have been in a car wreck or a commercial truck accident, we can help. If you were injured on the job or suffered injuries due to a bad drug, we can also assist you. We can also help if you lost a family member because of somebody else's negligence or wrongful act. The Hammer's hand-picked team of skilled and dedicated attorneys, paralegals, and extended network can:
Investigate the facts
Build your case
Demand a fair settlement
---
Kentucky Justice℠ – Free Case Review – Personal Injury Law Firm
Because we understand how crucial time is to gather evidence and build a strong case, Isaacs & Isaacs attorneys are standing by 24/7 to help you in a legal emergency. We have won 99 percent of our cases and have collected over $2 billion for our clients.
If you've been injured in Kentucky, Darryl Isaacs and our team of personal injury lawyers are ready to assist you. Begin by filling out our free case evaluation form. The first consultation is free, and there is no obligation.
To learn more about working with our Kentucky lawyers, call 1-800-333-9999 for your no-cost personal injury case review.