Begin Your Case With a Proven Personal Injury Law Firm
While considering legal representation, ask yourself a few questions. Do you want to recover compensation for your losses? Do you have the time, energy, and resources to build an injury claim or lawsuit by yourself?
Based on your answers, it may benefit you to partner with an Erlanger personal injury lawyer from our firm. Isaacs & Isaacs Personal Injury Lawyers has over 400 years of combined legal experience advocating for injured claimants and their families. We're ready to start pursuing what you need today.
We charge no upfront fees for our legal services and only take payment if we secure monetary compensation on your behalf. Call us at 800-333-9999 at any time to speak to one of our dedicated Erlanger personal injury lawyers and set up a free consultation.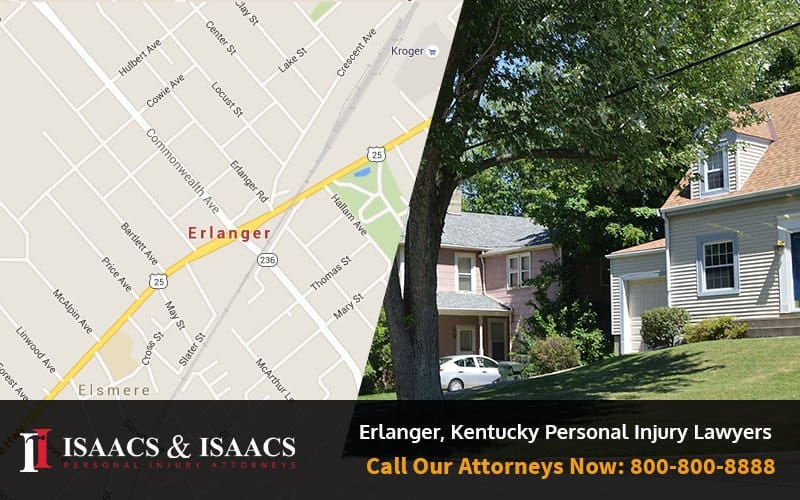 We Represent Injured Accident Victims Across Many Categories. Some Personal Injury Cases We Handle Include:
Accidents With Trucks or Commercial Vehicles
Injuries & Wrongful Death Involving Driver Negligence (cell phone use, DUI)
Accidents With Uninsured Motorists
Whiplash Injury Accidents
Airbag Deployment Accidents
Takata Air Bag Recalls
Motorcycle Accident Injuries
Ridesharing: Lyft & Uber Accidents
Bicycle Accident Injuries
Hit and Run Accidents
Pedestrians Hit By a Vehicle
Head-On Collisions
Rear-End Collisions
Spinal Cord Injuries
Sometimes an auto accident injury is not evident until much later. Even if you haven't suffered a catastrophic injury you still may need medical treatment. You should seek medical care immediately, even if you don't think you are badly hurt. Some severe injuries may not be immediately apparent. This is the best way to physically and legally protect yourself and your loved ones.
"It was a pleasure to have the Isaacs & Isaacs team to help me after being hit by a truck as I was walking to the market. They went above and beyond to help with all I went through!"
---
How Hiring a Kentucky Personal Injury Attorney Works
Attorney Darryl Isaacs — The Hammer — sat down to address questions about the experience of working with injured clients in Kentucky and beyond to help them fight for justice and win compensation. Join us in this radio episode of "Ask The Hammer," the podcast exploring the legal matters that matter most. Play the episode directly below.
---
We're Committed to Pursuing Compensation for Each of Your Losses
Compensation in your case could account for:
Lost tips, bonuses, and income
Medical expenses
Property damage expenses (such as repairing your car)
Pain and suffering
Scarring and disfigurement
Disability
Loss of future earning capacity
We will calculate your losses using your case's evidence, such as medical bills and employment records. If we resolve your case, we hope to leave you with no out-of-pocket expenses.
Our Accident Law Firm Will Get Started on Your Case Immediately By:
Listening to your story
Answering your questions
Advising you what to do next
Investigating the accident scene and all other evidence related to your claim
Reviewing medical records, police reports, and all documents
Determining which parties are liable for your injury
Meeting with insurance adjusters
Helping you file your claim
Demanding a just settlement for all of your medical treatment and damages
---
Our Team Manages a Variety of Personal Injury Practice Areas
There is no challenge our team can't tackle. Whether your claim was denied, you don't have evidence, or you're concerned about fault, we can help. We've recovered more than $2 billion for claimants injured in these situations:
Motor Vehicle Accidents
If you suffered harm in a car, truck, bus, or motorcycle accident, we're ready to advocate for what you need. Our motor vehicle accident lawyers will use traffic camera footage, eyewitness testimony, and other supporting information to pursue compensation.
Kentucky operates on a no-fault insurance system. Even if you contributed to the incident, you can still pursue compensation. Don't let the other party tell you otherwise.
Rideshare and Self-Driving Car Accidents
Technology is supposed to make our lives easier. Yet, hundreds of people suffer harm due to rideshare and self-driving car accidents each year. Liability in these situations depends on multiple factors––all of which can be confusing to understand.
With our team on your side, you only have to worry about getting better. We will determine fault and liability for your losses.
Traumatic Brain Injuries (TBIs)
TBIs can result from any traumatic situation, such as a fall or collision. Right now, you might be dealing with cognitive impairments, chronic fatigue, and pain. While you spend time with your loved ones, we will pursue what you need for your past and future healthcare expenses.
Dog Bites
The City of Erlanger only bans one dog breed––and that's wolf-dog hybrids. Additionally, all dogs must be registered with the county, even those without histories of aggression.
Dog owners must take reasonable precautions to keep their pets from harming others. When they don't, they may bear financial liability for any resulting damages.
Premises Liability
Many people see the term "premises liability" and immediately think of slips and falls. While slips and falls are types of premises liability cases, other examples in this category include:
Snow and ice-related injuries
Elevator and escalator accidents
Exposure to toxic chemicals
Ceiling or floor collapses
We will investigate your situation and determine whether the property owner should pay for your losses.
Medical Malpractice
All medical professionals, whether they're doctors or nurses, must put patients' best interests above everything else. This involves ordering necessary imaging scans, rendering appropriate treatment, and promptly responding to any concerns.
Nursing Home Abuse
In a perfect world, every nursing home would provide a safe and loving environment for its patients. However, in reality, this is far from the truth, and many nursing homes don't treat seniors with the respect they deserve.
If your elderly loved one suffered abuse or neglect in their care facility, we can hold the at-fault party accountable.
Wrongful Death
Losing a loved one is never easy. Losing a loved one due to another party's negligence is overwhelming. Right now, we want you to celebrate your loved one's life and achievements—not focus on the legal complexities surrounding their passing.
Compensation in a wrongful death case can provide coverage for funeral expenses, embalming, cremation, and end-of-life healthcare.
---
We Will File Your Case Within the Applicable Deadline
Kentucky imposes many statutory deadlines on civil cases. These filing dates ensure that evidence is promptly collected and the judicial system doesn't get "backed up" with old cases.
Consider how these filing deadlines may apply to you:
You Generally Have Two Years to File Your Car Accident Lawsuit
Ky. Rev. Stat. § 304.39-230 notes that your filing period depends on:
The date of the accident; or
The date of your loved one's passing; or
Your last personal injury protection (PIP) coverage payment.
By contacting our personal injury lawyers serving Erlanger, we can determine your case's deadline and act accordingly. Remember: if the statutory deadline expires on your case, you could lose the right to seek damages.
You Typically Have One Year to File Other Personal Injury Cases
Ky. Rev. Stat. § 413.140(1) notes that you generally have one year to file your lawsuit if:
You suffered harm in a slip and fall.
You were bitten by an aggressive dog.
You suffered injuries on another party's property.
Failing to file your lawsuit within this deadline could forfeit your right to compensation.
You Usually Have One Year to File Your Wrongful Death Lawsuit
"Wait, hold on," you might say. "Don't I have two years to file my wrongful death lawsuit?" Yes, but only if you lost a loved one in a motor vehicle accident, per Ky. Rev. Stat. § 413.180.
If you lost a loved one to another situation (like a slip and fall) you typically have one year to file your wrongful death lawsuit. This filing deadline depends on:
When your loved one passed away, or
When a representative was appointed to your loved one's estate.
Your personal injury lawyer serving Erlanger can explain more about your case's filing deadlines during your free case review.
Build Your Case With A Top Rated Accident Lawyer
If you need immediate assistance with a vehicle accident or personal injury, call our team now at 
800-333-9999
 to begin your free case review and schedule an initial consultation to get legal advice. Our law firm represents injured victims across many categories. Some popular cases our accident attorneys handle include:
---
Call Isaacs & Isaacs Personal Injury Lawyers to Explore Your Options
Our personal injury team serving Erlanger is ready to start pursuing compensation for your losses today. To explore your options at no cost, call us today.
To learn more about working with our Erlanger lawyers, call 1-800-333-9999 for your no-cost personal injury case review.