Begin Your Case With a Proven Dog Bite Law Firm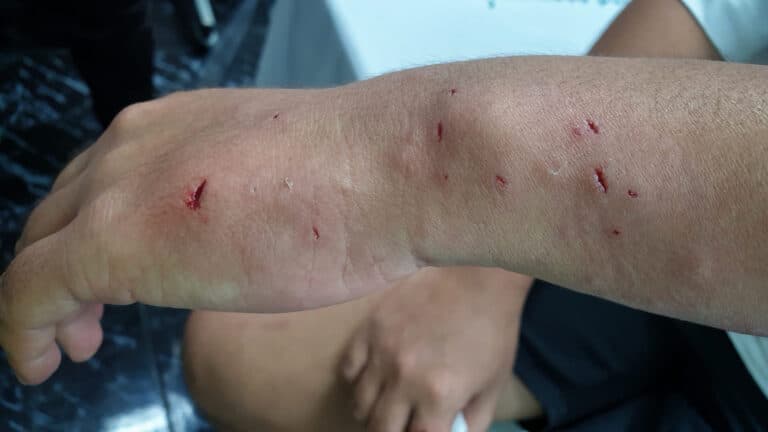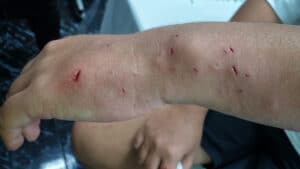 If someone else's dog attacked you or your loved one, a Danville dog bite lawyer with Issacs & Isaacs Personal Injury Lawyers can help you seek compensation for losses suffered in the attack.
Dog bites can occur even when the pet is thoroughly trained. For example, some pets become overly enthusiastic when playing with children or encountering strangers at the parks. While dogs are arguably the friendliest animals to pet, a vicious attack by a dog can leave a victim with grave injuries. You can learn more about your next steps during a free consultation today.
We charge no upfront fees for our legal services and only take payment if we secure monetary compensation on your behalf. Call us at 800-333-9999 at any time to speak to one of our dedicated Danville dog bite lawyers and set up a free consultation.
We Represent Injured Accident Victims Across Many Categories. Some Personal Injury Cases We Handle Include:
Accidents With Trucks or Commercial Vehicles
Injuries & Wrongful Death Involving Driver Negligence (cell phone use, DUI)
Accidents With Uninsured Motorists
Whiplash Injury Accidents
Airbag Deployment Accidents
Takata Air Bag Recalls
Motorcycle Accident Injuries
Ridesharing: Lyft & Uber Accidents
Bicycle Accident Injuries
Hit and Run Accidents
Pedestrians Hit By a Vehicle
Head-On Collisions
Rear-End Collisions
Spinal Cord Injuries
Sometimes an auto accident injury is not evident until much later. Even if you haven't suffered a catastrophic injury you still may need medical treatment. You should seek medical care immediately, even if you don't think you are badly hurt. Some severe injuries may not be immediately apparent. This is the best way to physically and legally protect yourself and your loved ones.
"Our daughters were involved in a serious car crash when a man ran a red light! Isaacs & Isaacs knew exactly what to say and exactly what to do for us! They are not only highly professional but also very sincere in wanting to help get our girls every dollar deserved! We will always be grateful to the team of The Hammer for being so wonderful during our time of need! Thank you from our family to your law firm."
---
Dog Bite Injury Lawyer Discusses How Lawsuits Work
---
A Dog Bite Lawyer in Danville Can Help You Seek Damages After a Danville Dog Bite Attack
If you or your child sustained injuries from a dog bite, you'd be keen to hold the owner responsible. The liable party may not be sympathetic and could downplay your injuries to avoid paying you.
Darryl "The Hammer" Isaacs and his team can help you get justice by doing the following:
Investigating the incident and collecting supporting evidence
Bringing in third-party professionals to weigh in on your case, e.g., a doctor who specializes in dog bites
Computing your financial and non-financial losses
Negotiating with the insurance company of the liable party
Taking care of all upfront costs, such as hiring investigators and expert witnesses
Addressing your concerns and answering your questions
Serving as the intermediary between you and the liable party's legal team and insurer
Taking the case to court if necessary if we cannot settle your case
Our Accident Law Firm Will Get Started on Your Case Immediately By:
Listening to your story
Answering your questions
Advising you what to do next
Investigating the accident scene and all other evidence related to your claim
Reviewing medical records, police reports, and all documents
Determining which parties are liable for your injury
Meeting with insurance adjusters
Helping you file your claim
Demanding a just settlement for all of your medical treatment and damages
---
Compensatory Damages in a Danville Dog Bite Injury Case
Hiring a lawyer from our firm at the earliest opportunity is essential so they can examine your case and determine if you qualify for compensation. A Danville dog bite lawyer will then assess your economic and non-economic damages and seek financial recovery for the following:
Medical bills and related expenses, like prescriptions
Lost income during treatment and in the future
Pain and suffering
Permanent disability (e.g., limb amputation)
Buying prosthetic limb
Scarring and disfigurement
Loss of life enjoyment
Post-traumatic stress disorder (PTSD)
---
What to Do After a Dog Bite Attack in Danville
A dog bite can lead to life-threatening injuries requiring extensive medical intervention. Take the following measures to protect your health and legal rights:
Remove yourself from the situation and stay away from the dog
Call 911 to report the incident and request an ambulance
Stop the bleeding by applying pressure on the wound
Document your injuries by taking photos and videos with your phone
Speak to onlookers (if any) to get their account of events
Take notice of any signs or lack thereof warning about vicious dogs
Refrain from accepting cash offers by the dog owner
Contact a dog bite attorney in Danville for legal advice
Seek treatment so that your injuries don't worsen
Follow the prescribed treatment plan as the case unfolds
Build Your Case With A Top Rated Accident Lawyer
If you need immediate assistance with a vehicle accident or personal injury, call our team now at 
800-333-9999
 to begin your free case review and schedule an initial consultation to get legal advice. Our law firm represents injured victims across many categories. Some popular cases our accident attorneys handle include:
Statutes of Limitations in Kentucky
All jurisdictions have limits for filing a personal injury claim or lawsuit. However, one civil lawsuit can entail multiple claims, and they may have different deadlines. For example, you can sue a negligent dog owner for injuries sustained in a dog bite and then level charges for property damage. There could be different statutes of limitations for these two causes of action.
In Kentucky, you generally have one year from the date you sustained your injuries to recover damages, per Ky. Rev. Stat. §413.140(1). Our attorney can advise you on the deadlines that apply to your case. If you don't file your lawsuit within this period, you might lose your right to sue, and subsequently, you'll get no compensation.
---
Types of Dog Bite Injuries
Here are examples of injuries you can expect from a dog bite:
Rabies
Rabies is a viral disease from scratches or bites by a wild animal. This virus infects the brain and central nervous system; without appropriate treatment, the victim may die. The Centers for Diseases Control and Prevention (CDC) advises you to consult a physician immediately to determine if you need rabies postexposure prophylaxis (PEP).
Punctures
Certain dog breeds can pierce your skin with sharp teeth. Some of these punctures are deep and can travel down to the bone, especially if the victim tries to escape the grip. This movement may irritate the dog, so they tighten the grip. As a result, there's a lot of bleeding and excruciating pain with these injuries.
Infections
Dog bites can transmit bacteria; if they are already present on the skin, they'll penetrate when the skin breaks. As a result, the immune system suffers, and this causes symptoms like inflammation.
Symptoms of an infection include drainage from the infected area, persistent pain, difficulty moving the affected area, and redness. Night sweats and fevers may ensue as the infection worsens.
Avulsion
Extreme dog attacks can lead to the tearing away of the flesh, exposing the bone. The victim will require extensive medical treatment, like reconstructive surgery, and there may be permanent scarring. Cosmetic procedures can lessen or remove the scarring over time.
Scarring
Whether the dog bite caused avulsions or only a few scrapes, there's a high likelihood of scarring. The scars may be visible or hidden in the inner thighs or stomach area. Scarring can also occur on the face.
---
Call a Danville Dog Bite Attorney Today for a Free Consultation
If a dog bit you or a loved one in Danville, Kentucky, Isaacs & Isaacs Personal Injury Lawyers can investigate if the dog's owner was negligent. We have an in-house team of attorneys ready to handle your case.
You get the most responsive and devoted legal representation when you hire us. Collectively, we've won over $1 billion in settlements, helping clients win even the most complex cases. Our attorneys work on contingency, so we don't charge unless we win your case. Call us today for a free case review.
To learn more about working with our Danville lawyers, call 1-800-333-9999 for your no-cost dog bite case review.