Begin Your Case With a Proven Personal Injury Law Firm
Broken bones. Traumatic brain injuries. Sprains and strains. These injuries can cause more than medical bills; they can cause you to lose income and miss out on various opportunities. They can even impact your quality of life.
Our Ashland personal injury lawyers advocate for victims of negligence in Boyd County. Isaacs & Isaacs Personal Injury Lawyers has more than 400 years of collective experience. We're ready to pursue financial recovery for what you need today.
We charge no upfront fees for our legal services and only take payment if we secure monetary compensation on your behalf. Call us at 800-333-9999 at any time to speak to one of our dedicated Ashland personal injury lawyers and set up a free consultation.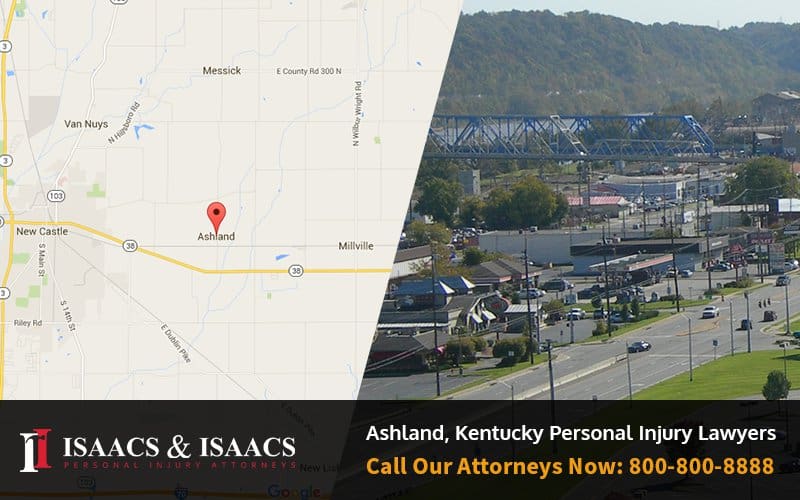 We Represent Injured Accident Victims Across Many Categories. Some Personal Injury Cases We Handle Include:
Accidents With Trucks or Commercial Vehicles
Injuries & Wrongful Death Involving Driver Negligence (cell phone use, DUI)
Accidents With Uninsured Motorists
Whiplash Injury Accidents
Airbag Deployment Accidents
Takata Air Bag Recalls
Motorcycle Accident Injuries
Ridesharing: Lyft & Uber Accidents
Bicycle Accident Injuries
Hit and Run Accidents
Pedestrians Hit By a Vehicle
Head-On Collisions
Rear-End Collisions
Spinal Cord Injuries
Sometimes an auto accident injury is not evident until much later. Even if you haven't suffered a catastrophic injury you still may need medical treatment. You should seek medical care immediately, even if you don't think you are badly hurt. Some severe injuries may not be immediately apparent. This is the best way to physically and legally protect yourself and your loved ones.
"It was a pleasure to have the Isaacs & Isaacs team to help me after being hit by a truck as I was walking to the market. They went above and beyond to help with all I went through!"
---
How Hiring a Kentucky Personal Injury Attorney Works
Attorney Darryl Isaacs — The Hammer — sat down to address questions about the experience of working with injured clients in Kentucky and beyond to help them fight for justice and win compensation. Join us in this radio episode of "Ask The Hammer," the podcast exploring the legal matters that matter most. Play the episode directly below.
---
We Fight for Injured Claimants in KY on a Contingency-Fee Basis
You don't pay any upfront fees or costs with our firm. You only pay our attorney's fees if your case succeeds. Furthermore, we finance your case's filing costs and consulting. You don't pay anything out of pocket to obtain our help.
Our Accident Law Firm Will Get Started on Your Case Immediately By:
Listening to your story
Answering your questions
Advising you what to do next
Investigating the accident scene and all other evidence related to your claim
Reviewing medical records, police reports, and all documents
Determining which parties are liable for your injury
Meeting with insurance adjusters
Helping you file your claim
Demanding a just settlement for all of your medical treatment and damages
---
Our Attorneys Advocate for People Harmed in These Situations
We've recovered over $2 billion for people who have suffered the following:
Truck collisions
Bus accidents
Pedestrian accidents
Bicycle accidents
Dog bites
Traumatic brain injuries
Catastrophic injuries
Rideshare and self-driving car accidents
Slips and falls
Premises liability incidents
Nursing home abuse and neglect
Medical malpractice
We are also tireless advocates for families who have lost loved ones. Whatever your case requires, we're ready to handle it.
---
We Want to Get Started on Your Case as Soon as Possible
There are many benefits to contacting our personal injury team serving Ashland as soon as possible. Some of those benefits include:
We Need to Gather Time-Sensitive Evidence
Evidence doesn't last forever—and we need certain documents to support your case. For instance, if you were in a car accident, traffic camera footage may have documented the crash. Yet, these recordings generally get overwritten within a few weeks.
Witnesses move away, physical evidence gets removed, and once easily accessible items become unavailable. When you contact our team, we'll immediately investigate your case and pursue various forms of evidence.
The State Limits How Long You Have to File a Lawsuit
If the statute of limitations expires on your case, you may lose the right to seek damages. This is a strict deadline, and the state makes very few exceptions. Consider how these statutory deadlines may apply to you:
Ky. Rev. Stat. § 304.39-230 notes that you generally have two years to file a car accident lawsuit. Your deadline begins from the date of the accident, when your loved one passed away, or when you paid your last personal injury protection (PIP) payment.
Ky. Rev. Stat. § 413.140(1) notes that most personal injury cases (excluding car accidents) come with a one-year filing deadline.
Ky. Rev. Stat. § 413.180 notes that you typically have one year to file a wrongful death lawsuit (excluding car accidents). This deadline begins from the date of your loved one's passing or when a personal representative was appointed to their estate.
You don't Want the Insurance Company to Dispute Your Claim
Insurance companies will do anything to avoid paying for injured claimants' damages. If you wait too long to report your accident, this could make negotiations difficult. The claims adjuster could say your condition came from something else or that you missed the filing deadline.
Isaacs & Isaacs Personal Injury Lawyers wants to give your case the best possible chance of succeeding. However, we must learn about your situation in a timely manner first.
Build Your Case With A Top Rated Accident Lawyer
If you need immediate assistance with a vehicle accident or personal injury, call our team now at 
800-333-9999
 to begin your free case review and schedule an initial consultation to get legal advice. Our law firm represents injured victims across many categories. Some popular cases our accident attorneys handle include:
We're Committed to Recovering Everything You Deserve
Whether through a court award or an insurance settlement, we will seek these losses:
Healthcare expenses
Pain and suffering
Scarring and disfigurement
The cost of repairing your vehicle
The cost of replacing your vehicle
Transportation expenses
Childcare costs
Mental trauma
Loss of consortium
Funeral expenses
Physical therapy and mental health services
We're proud members of the Million-Dollar Advocates Forum. Less than one percent of the nation's lawyers are members, and membership is only for attorneys who have recovered more than $1 million in damages.
---
Our Previous Victories and Client Testimonials
We could talk all day about our law firm's integrity. But nothing can sum it up better than our previous outcomes and client reviews.
We've Won Seven-Figure Settlements for Injured People
Here are some outcomes we've achieved:
$10 million for a fatal truck accident
$6.475 million for a serious school bus accident
$5.25 million for a truck accident
$4 million for a woman who took a defective drug
$2.325 million for a collision involving a charter bus
Many claimants ask us: "Will my case result in a seven-figure outcome?" It ultimately depends on each situation. You can trust our team to pursue everything you deserve.
Our Clients Share Glowing Reviews with Us
After resolving their injury cases, some of our clients in Kentucky have shared:
"Cherry and Karen have been very helpful to me with my case. They're very tentative and caring. They both call me regularly to see how I'm doing and to keep me updated on my case. During these difficult times since my accident, they continually reassure me that things will work out fine and answer all of my questions." – Diane W.
"Good, professional, understanding people. This is the second time John and Tiffany have represented me due to injuries from a car accident. I feel like they genuinely have care and concern for their clients. They really work hard to make sure you get justice for your pain and loss. I would highly recommend this law firm." – Delma L.
"Just reached out to this firm and they have already gotten back with me. Attorney Gia Rapp and paralegal Karen had a conference call with me and listened to my concerns. Very professional and responsive. I would recommend this firm." – Susan T.
---
We Offer Free Case Reviews to Injury Claimants in Kentucky
When people hear "case review," they imagine a long, arduous process where an attorney grills you about your case. That could not be further from the truth. A free case review from our firm is a friendly conversation where you can explore your options at no obligation.
You can ask us questions about your situation and learn about what our Ashland personal injury firm can do for you.
To learn more about working with our Ashland lawyers, call 1-800-333-9999 for your no-cost personal injury case review.