Begin Your Case With a Proven Personal Injury Law Firm
Getting hurt causes a snowball effect. First, you miss time from work. Then you cannot pay your bills. Then, before you know it, life as you knew it is a distant memory.
Did you or a loved one suffer harm due to negligence? Isaacs & Isaacs Personal Injury Lawyers is here to help. You do not have to worry about anything when you partner with a Berea personal injury lawyer. We are here to restore your quality of life and recover the compensation you need.
We charge no upfront fees for our legal services and only take payment if we secure monetary compensation on your behalf. Call us at 800-333-9999 at any time to speak to one of our dedicated Berea personal injury lawyers and set up a free consultation.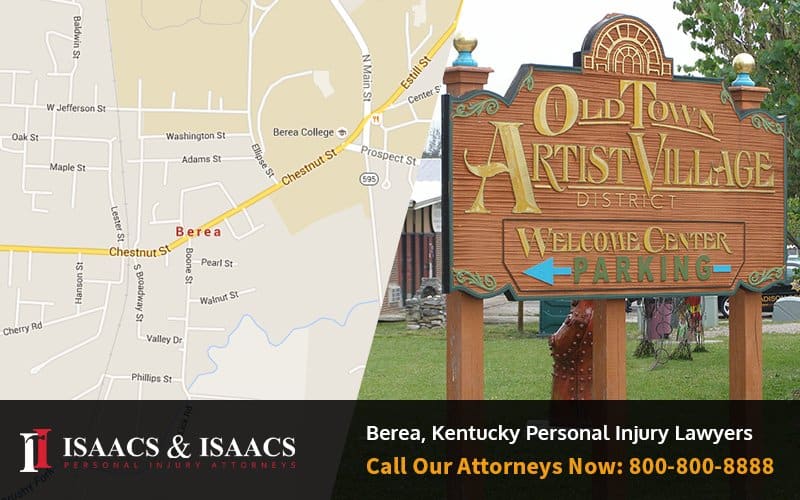 We Represent Injured Accident Victims Across Many Categories. Some Personal Injury Cases We Handle Include:
Accidents With Trucks or Commercial Vehicles
Injuries & Wrongful Death Involving Driver Negligence (cell phone use, DUI)
Accidents With Uninsured Motorists
Whiplash Injury Accidents
Airbag Deployment Accidents
Takata Air Bag Recalls
Motorcycle Accident Injuries
Ridesharing: Lyft & Uber Accidents
Bicycle Accident Injuries
Hit and Run Accidents
Pedestrians Hit By a Vehicle
Head-On Collisions
Rear-End Collisions
Spinal Cord Injuries
Sometimes an auto accident injury is not evident until much later. Even if you haven't suffered a catastrophic injury you still may need medical treatment. You should seek medical care immediately, even if you don't think you are badly hurt. Some severe injuries may not be immediately apparent. This is the best way to physically and legally protect yourself and your loved ones.
"It was a pleasure to have the Isaacs & Isaacs team to help me after being hit by a truck as I was walking to the market. They went above and beyond to help with all I went through!"
---
Hiring a Kentucky Personal Injury Attorney with Our Firm
In his podcast, "Ask the Hammer," Attorney Darryl Isaacs – the Hammer – answers questions about how he and his team serve clients to help get them the compensation they need. Play the episode below:
---
Types of Personal Injury Cases Our Law Firm Handles
Our law firm's practice areas include:
Collisions involving trucks, buses, cars, motorcycles, and more
Dog bites
Slips and falls
Medical malpractice
Nursing home abuse
Traumatic brain injuries
Catastrophic injuries
Rideshare accidents
Self-driving car accidents
Premises liability incidents
We would be honored to manage your wrongful death case if you lost a loved one. You deserve to focus on your personal life (not an injury case) during this challenging time.
Our Accident Law Firm Will Get Started on Your Case Immediately By:
Listening to your story
Answering your questions
Advising you what to do next
Investigating the accident scene and all other evidence related to your claim
Reviewing medical records, police reports, and all documents
Determining which parties are liable for your injury
Meeting with insurance adjusters
Helping you file your claim
Demanding a just settlement for all of your medical treatment and damages
---
What Sets Our Personal Injury Law Firm Apart from Others
Four hundred years of collective legal experience. More than 25 years of service. More than $2 billion recovered. These are just some of the things that set Isaacs & Isaacs Personal Injury Lawyers apart from other firms.
Benefits of partnering with us include:
We offer free case reviews. Today, you can explore your options at no obligation. We can discuss your case over the phone or meet wherever is most convenient for you.
We offer a wealth of resources. For example, through our podcast and YouTube channel, you can learn everything about the legal process, including how much you can recover and how long it takes to recover damages.
We have a network of consultants. While we are seasoned injury lawyers, we do not have the answers to everything. However, we work with people who specialize in certain fields. For instance, we may consult with accident reconstruction specialists to learn what caused your accident. In addition, we may talk with a healthcare provider to gain more insight into your condition.
There is no reason to deny yourself legal aid. We are prepared to manage everything your case requires, from its initial filing to its resolution.
---
Considerations After Getting Hurt Due to Negligence
Whether you suffered harm in a collision, fall, or another situation, here are some measures that could bolster your case:
Seek medical care if you are injured
Keep track of your losses
Keep all information between you and your lawyer
Refer any settlement offers to your attorney
Consider your legal options
Take photos of your injuries and property damage
We can explain what other measures can support your personal injury case when you give us a call.
Build Your Case With A Top Rated Accident Lawyer
If you need immediate assistance with a vehicle accident or personal injury, call our team now at 
800-333-9999
 to begin your free case review and schedule an initial consultation to get legal advice. Our law firm represents injured victims across many categories. Some popular cases our accident attorneys handle include:
Three Things to Know About Recovering Damages in Kentucky
Here are some things we want to share about recovering damages:
You Must Act Within the State's Civil Deadline
You could have anywhere from one to two years to file your lawsuit based on your situation. Your deadline depends on whether you lost a loved one or personally suffered harm. The statutory deadline also varies from case to case.
So, if you were hurt in a car accident, you generally have two years to file your lawsuit, per Ky. Rev. Stat. §304.39-230. If you suffered harm in another incident, you would have one year to file, per Ky. Rev. Stat. §413.140(1). Matters change if you lost a loved one; your filing period depends on whether they passed away from a collision or another situation.
Our personal injury attorneys will file your case within the state's deadline to protect your right to damages.
You Can Recover Each of Your Injury-Related Expenses
Compensation should account for your past, present, and future injury-related losses. Recoverable damages include:
Healthcare expenses, including surgeries, medications, and hospital stays
Lost income, tips, bonuses, promotions, and benefits
Loss of future earning capacity
Pain and suffering
Disability
Funeral expenses
Loss of consortium
We have recovered over $2 billion for injured claimants and their loved ones. We hope to secure the best possible outcome for your civil case also.
You do Not Pay Any Upfront Costs or Fees for Our Legal Services
It costs you nothing to hire a lawyer from our firm. That is because we work on a contingency-fee-basis. You do not pay hourly rates, retainers, or other costs; you only pay your personal injury lawyer if they recover damages for your losses.
---
Pursuing Compensation for Your Personal Injuries
In 1993, Attorney Darryl Issacs founded his law firm for one reason: to serve injured people. Therefore, we believe that you should not be responsible for any injury-related costs if you suffered harm due to negligence.
We will aim for fair compensation by:
Exploring your insurance options
Determining what caused your accident
Identifying the at-fault and liable parties
Calculating your past, present, and future losses
Applying relevant laws to your case
Filing your insurance claim
Managing communications with the involved parties
Negotiating for what you need
Initiating legal action
---
Our Clients Have Shared Their Feedback with Us
Out of 1,000 client Google Reviews, we have a solid 4.8-star rating. In addition, some of our clients have shared:
"I have had the pleasure of meeting/being helped by Julianne & Whitney they have been my lawyer's and have done the best I could ask for a lawyer during this difficult time. Julianne has kept me updated on my case she is a perfect attorney if I need Isaacs & Isaacs again I would go through them again." – April A.
"Tiffany and John are great! Always answer any questions I have. Very nice and get fast responses. They also check up on me periodically to make sure I'm doing okay and if I have any questions. I definitely recommend using them. Issacs and Issacs is the place to go." – Melinda A.
"The staff is amazing! They listen to all of my concerns, no matter how small. They are quick to return emails and calls." – Christina D.
---
Get Help with Your Claim Today by Calling a Berea Personal Injury Attorney
Interested in working with a personal injury lawyer serving Berea? Look no further than Isaacs & Isaacs Personal Injury Lawyers. We can start fighting for what you need today. To begin your free case review, call now.
To learn more about working with our Berea lawyers, call 1-800-333-9999 for your no-cost personal injury case review.