Begin Your Case With a Proven Personal Injury Law Firm
If you were involved in a traffic accident on I-169, slipped and fell at a store in Hopkinsville Towne Center, or were hurt in another type of accident in Hopkinsville, you may have suffered severe injuries. These incidents often result in medical expenses, unpaid time off work, and major life adjustments. However, don't think you have to go through these hardships without assistance.
Isaacs & Isaacs Personal Injury Lawyers may be able to make this transition easier for you. A Hopkinsville personal injury lawyer with our firm can seek compensation for your damages while you recuperate. Our services are available without any upfront fees, so we can get started on your case right away.
We charge no upfront fees for our legal services and only take payment if we secure monetary compensation on your behalf. Call us at 800-333-9999 at any time to speak to one of our dedicated Hopkinsville personal injury lawyers and set up a free consultation.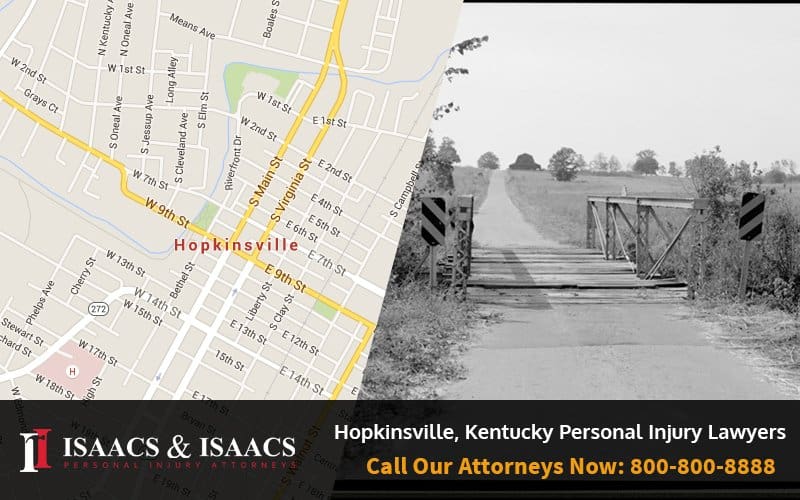 We Represent Injured Accident Victims Across Many Categories. Some Personal Injury Cases We Handle Include:
Accidents With Trucks or Commercial Vehicles
Injuries & Wrongful Death Involving Driver Negligence (cell phone use, DUI)
Accidents With Uninsured Motorists
Whiplash Injury Accidents
Airbag Deployment Accidents
Takata Air Bag Recalls
Motorcycle Accident Injuries
Ridesharing: Lyft & Uber Accidents
Bicycle Accident Injuries
Hit and Run Accidents
Pedestrians Hit By a Vehicle
Head-On Collisions
Rear-End Collisions
Spinal Cord Injuries
Sometimes an auto accident injury is not evident until much later. Even if you haven't suffered a catastrophic injury you still may need medical treatment. You should seek medical care immediately, even if you don't think you are badly hurt. Some severe injuries may not be immediately apparent. This is the best way to physically and legally protect yourself and your loved ones.
"They're great to me. Used them twice and positive results both times. I wouldn't hesitate to contact them again if needed."
---
Hiring a Kentucky Personal Injury Attorney with Our Firm
In his podcast, "Ask the Hammer," Attorney Darryl Isaacs – the Hammer – answers questions about how he and his team serve clients to help get them the compensation they need. Play the episode below:
---
Forms of Damages You May Collect After an Accident in Hopkinsville, Kentucky
Although every personal injury case is different, there are certain damages our clients often pursue, some of which include:
Past and anticipated medical bills
Lost income
Lost future earning potential
Pain and suffering
Scarring and disfigurement
Property damage costs
Mental anguish
Because accidents can be so serious, victims may pass away from their related injuries. To help you cope and feel more at ease after the death of a loved one, you may seek wrongful death damages. Funeral, memorial, and/or burial fees, loss of inheritance or income, loss of consortium, and/or final medical bills could be available to you and your family.
Our Accident Law Firm Will Get Started on Your Case Immediately By:
Listening to your story
Answering your questions
Advising you what to do next
Investigating the accident scene and all other evidence related to your claim
Reviewing medical records, police reports, and all documents
Determining which parties are liable for your injury
Meeting with insurance adjusters
Helping you file your claim
Demanding a just settlement for all of your medical treatment and damages
---
How a Personal Injury Attorney at Our Firm Can Serve You
Going to the doctor, recuperating from your injuries, and doing regular household chores can take up a lot of your time and energy. Handling an insurance claim or lawsuit is the last thing you need to be doing. In that case, consider retaining the services of a personal injury lawyer on our Hopkinsville team.
You can depend on them to:
File your personal injury claim and/or lawsuit
Negotiate a fair settlement
Consult your medical team and review your medical records
Retrieve the police or incident report
Gather relevant video and photographs
Name the responsible party or parties
Safeguard your right to compensation from insurers acting in bad faith
Deal with all communication and correspondence with involved parties
Your lawyer will keep in touch with you throughout the claims process, updating you on your case's status and providing advice when needed. If you still have questions, let your lawyer know.
Practice Areas Our Personal Injury Firm Handles
Isaacs & Isaacs Personal Injury Lawyers helps clients who have suffered in all kinds of accidents. Our practice areas include:
Car accidents
Bicycle accidents
Pedestrian accidents
Truck accidents
Traumatic brain injuries (TBI)
Motorcycle accidents
Premises liability
Medical malpractice
Dog bites
Catastrophic injuries
Slip and fall accidents
Nursing home abuse
When our clients have lost their loved ones to an accident, we can also help them file a wrongful death claim or lawsuit.
---
Common Questions Our Personal Injury Clients Ask Us
Personal injury law may seem like a maze, especially if this is your first time getting in an accident. However, if you have Isaacs & Isaacs Personal Injury Lawyers on your side, we will work to make everything as simple as possible for you.
We offer free case reviews during which you can ask questions about your case and the legal process in general. To help you feel more prepared and at peace, here are some answers to some of the most common questions we get during these consultations:
How Much Is My Case Worth?
We cannot give you an average settlement amount, as each case is unique, and the outcomes are typically confidential.
Your lawyer will review your case to determine the types and amounts of compensation you need. Certain factors they will look at include:
The type of accident you were in
The nature and severity of your injuries
The anticipated intensity and duration of your medical treatment
How much time you've had to take off work
Your mobility
Your mental state
Your testimony, medical bills, doctor's notes, wage statements, and other evidence can help us determine the value of your personal injury case.
Can I Afford a Personal Injury Lawyer?
Yes, everyone can. Our law firm works based on contingency, meaning we don't require any fees:
Hourly
Upfront
Out of pocket
For retainers
Your lawyer will only take their payment if they settle or win your case. That way, they can start working on your case now, and you won't have any additional pressure on your bank account.
How Will You Aim to Prove My Case for Compensation?
The main aspect of every personal injury case is negligence. You cannot seek compensation if negligence is not present in your case. So, to prove that the other party was negligent, we must show:
They owed you a duty of care.
They breached, or violated, this duty of care by acting carelessly or negligently.
Their negligence caused an accident that hurt you.
Your injuries have caused physical, emotional, and financial hardships.
We will gather every shred of evidence we can get our hands on to support each of these claims.
Build Your Case With A Top Rated Accident Lawyer
If you need immediate assistance with a vehicle accident or personal injury, call our team now at 
800-333-9999
 to begin your free case review and schedule an initial consultation to get legal advice. Our law firm represents injured victims across many categories. Some popular cases our accident attorneys handle include:
How Long You Have to File a Personal Injury Lawsuit in Kentucky
If you want to file a lawsuit against the liable party, the best time to act is now, as Kentucky puts strict timelines in place. According to Ky. Rev. Stat. § 411.110, claimants generally have one year to submit a personal injury lawsuit in court.
Failure to meet the one-year deadline may give the state grounds to throw out your case. If that happens, you will not be allowed to collect compensation from the at-fault party. However, if you get our firm involved soon enough, we can help you comply with the statute of limitations.
---
Get Help From Isaacs & Isaacs Personal Injury Lawyers Today
Choosing Isaacs & Isaacs Personal Injury Lawyers for representation after you were hurt in Hopkinsville, Kentucky will allow you to concentrate on what is most important: your health. We have over 400 years of collective legal experience and have achieved more than $2 billion in settlements and verdicts.
To learn more about working with our Hopkinsville lawyers, call 1-800-333-9999 for your no-cost personal injury case review.