Begin Your Case With a Proven Personal Injury Law Firm
Whether you have suffered bone breaks, loss of limbs, a traumatic brain injury, or another type of injury that has a significant impact on your life, you may be feeling confused, scared, and worried about your future. If someone else's negligence is the cause of your injuries, there may be legal recourse available to you.
A dedicated Richmond personal injury lawyer at Isaacs & Isaacs Personal Injury Lawyers could help you get the justice you deserve. When you are ready to find out how much your personal injury claim could be worth, contact our office to schedule a no-cost, risk-free consultation.
We charge no upfront fees for our legal services and only take payment if we secure monetary compensation on your behalf. Call us at 800-333-9999 at any time to speak to one of our dedicated Richmond personal injury lawyers and set up a free consultation.
We Represent Injured Accident Victims Across Many Categories. Some Personal Injury Cases We Handle Include:
Accidents With Trucks or Commercial Vehicles
Injuries & Wrongful Death Involving Driver Negligence (cell phone use, DUI)
Accidents With Uninsured Motorists
Whiplash Injury Accidents
Airbag Deployment Accidents
Takata Air Bag Recalls
Motorcycle Accident Injuries
Ridesharing: Lyft & Uber Accidents
Bicycle Accident Injuries
Hit and Run Accidents
Pedestrians Hit By a Vehicle
Head-On Collisions
Rear-End Collisions
Spinal Cord Injuries
Sometimes an auto accident injury is not evident until much later. Even if you haven't suffered a catastrophic injury you still may need medical treatment. You should seek medical care immediately, even if you don't think you are badly hurt. Some severe injuries may not be immediately apparent. This is the best way to physically and legally protect yourself and your loved ones.
"They're great to me. Used them twice and positive results both times. I wouldn't hesitate to contact them again if needed."
---
How Hiring a Personal Injury Attorney Works
Attorney Darryl Isaacs — The Hammer — sat down to address questions about the experience of working with injured clients in Kentucky and beyond to help them fight for justice and win compensation. Join us in this radio episode of "Ask The Hammer," the podcast exploring the legal matters that matter most. Play the episode directly below.
---
Build Your Case With a Richmond Personal Injury Lawyer
Isaacs & Isaacs is a personal injury law firm proudly serving Richmond and the surrounding area, providing legal representation in the areas of automotive, defective drugs, wrongful death, abuse, and other accidents and injuries.
As seen on television and local billboards, Darryl Isaacs has been called "The Hammer," winning settlements for Richmond residents in Kentucky who have been in an accident and who are seeking compensation for their injuries.
Our Accident Law Firm Will Get Started on Your Case Immediately By:
Listening to your story
Answering your questions
Advising you what to do next
Investigating the accident scene and all other evidence related to your claim
Reviewing medical records, police reports, and all documents
Determining which parties are liable for your injury
Meeting with insurance adjusters
Helping you file your claim
Demanding a just settlement for all of your medical treatment and damages
---
When to Call a Personal Injury Attorney in Richmond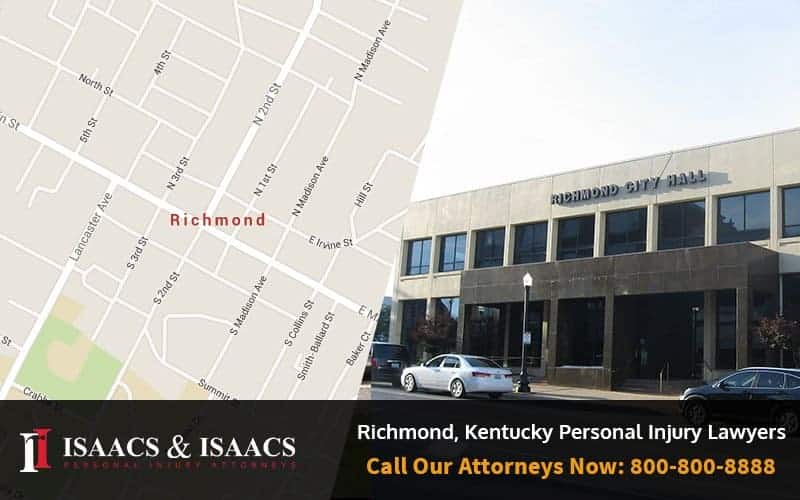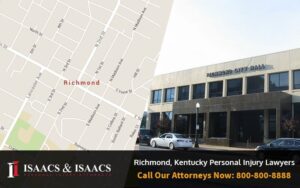 If you have been involved in an accident, need a Richmond truck accident attorney, or have been involved in any of the following types of accidents or incidents, contact us immediately for a confidential case review at no cost to you. Common accidents we handle in Richmond include:
Bus accidents
Bike accidents
Car accidents
Truck accidents
Motorcycle accidents
Commercial vehicle accidents
Pedestrian accidents
Tractor accidents
Boat and watercraft accidents
Slip and fall accidents
Construction accidents
Nursing home abuse
Dog bites
Medical malpractice
Work Injuries
Defective products claims
Regardless of the type of accident, you have been in, Isaacs & Isaacs Personal Injury Lawyers is available 24 hours a day to help determine if you have a case. When you are not sure whether your accident warrants the pursuit of legal action, make sure to contact our office to discuss the circumstances of your injuries further.
---
Common Richmond Personal Injuries to Sue For
We can't imagine what you are going through after a catastrophic injury, but we can fight for you if the accident was caused by someone else's negligence. Our clients have had injuries resulting in amputation, paralysis, quadriplegia, paraplegia, or other permanent conditions. We understand that these injuries do more than impact your ability to work or perform normal human functions; they result in emotional and mental conditions not limited to depression, anxiety, and the ability to enjoy life in general.
Build Your Case With A Top Rated Accident Lawyer
If you need immediate assistance with a vehicle accident or personal injury, call our team now at 
800-333-9999
 to begin your free case review and schedule an initial consultation to get legal advice. Our law firm represents injured victims across many categories. Some popular cases our accident attorneys handle include:
What to Expect from the Personal Injury Claims Process in Richmond
Many people refrain from calling a personal injury lawyer in Richmond because the thought of bringing their case to court or going up against a large insurance company is intimidating. However, if you understood the personal injury claims process, you may feel more confident in your decision to move forward with your case.
It is important to remember that every person's personal injury claim will evolve differently. With that in mind, here is a general idea of what you could expect from the Richmond personal injury claims process:
The investigation begins
Evidence is gathered
Fault is determined
Damages are calculated
Insurance claims are filed
Negotiations begin
Preparation for civil court
Advocacy at trial
Calculating the Value of Your Richmond Personal Injury Claim
To accurately calculate the value of your personal injury claim in Richmond, you will need to be open and honest with your attorney about how your life has been affected by not only your accident but the injuries you sustained as well.
Remember, you have the right to be compensated for all of your losses. There are many you may not even be aware of. Some of the more common types of damages awarded in Richmond personal injury claims include:
Loss of consortium
Reputational damage
Diminished earning potential
Medical costs
Lost wages
Pain and suffering
Mental anguish
---
Contact a Personal Injury Attorney in Richmond Today
The team of Richmond personal injury lawyers at Isaacs & Isaacs Personal Injury Lawyers serve the community of Richmond, Kentucky, and the greater surrounding area with personal injury claims related to automotive, drugs, slip and fall, and catastrophic and other injuries from accidents caused by others.
You may not always know whether you have grounds for insurance or civil claims. Find out how to best recover the compensation you deserve when you contact our office for a no-cost, risk-free consultation. Get started on your case today.
To learn more about working with our Richmond lawyers, call 1-800-333-9999 for your no-cost personal injury case review.