Begin Your Case With a Proven Truck Accident Law Firm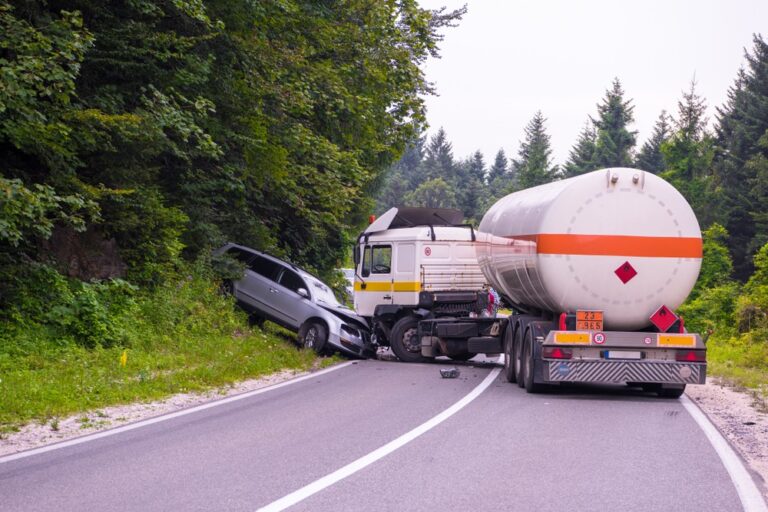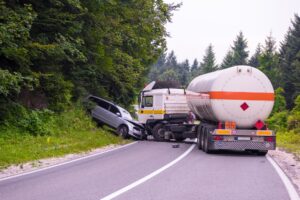 If you or a loved one has experienced a truck accident, a Springfield truck accident lawyer can help your case.
Trucks are a common sight on almost any interstate or highway in the United States. They are so common that many people, including some of the people driving them, forget just how different they are from a car. Trucks require more stopping time and space to prevent accidents with other drivers.
We charge no upfront fees for our legal services and only take payment if we secure monetary compensation on your behalf. Call us at 800-333-9999 at any time to speak to one of our dedicated Springfield truck accident lawyers and set up a free consultation.
We Represent Injured Accident Victims Across Many Categories. Some Personal Injury Cases We Handle Include:
Accidents With Trucks or Commercial Vehicles
Injuries & Wrongful Death Involving Driver Negligence (cell phone use, DUI)
Accidents With Uninsured Motorists
Whiplash Injury Accidents
Airbag Deployment Accidents
Takata Air Bag Recalls
Motorcycle Accident Injuries
Ridesharing: Lyft & Uber Accidents
Bicycle Accident Injuries
Hit and Run Accidents
Pedestrians Hit By a Vehicle
Head-On Collisions
Rear-End Collisions
Spinal Cord Injuries
Sometimes an auto accident injury is not evident until much later. Even if you haven't suffered a catastrophic injury you still may need medical treatment. You should seek medical care immediately, even if you don't think you are badly hurt. Some severe injuries may not be immediately apparent. This is the best way to physically and legally protect yourself and your loved ones.
"John came to our house and went over the legal part of it thoroughly and quickly, but he always made it more about us. I would recommend them to anybody because they're going to make sure that you're protected. It just always felt like we were dealing with family instead of a legal process."
---
Getting the Legal Perspective on Car Accidents – Audio Interview
Car accident lawyer Darryl Isaacs — The Hammer — sat down to address legal and safety considerations when injured from a car crash in a recent radio episode of "Ask The Hammer," the podcast exploring the legal matters that matter most. There are many elements at play when knowing what to do after a car accident. Listen to the episode directly below.
---
Trucking in the United States
Trucks carry most of the freight in the country. Food, electronics, building supplies, etc., are in transit every day, and driving a massive truck is not an easy job. Accidents happen all the time.
The Main Causes of Truck Accidents
Every truck driver has been trained in operating and maintaining their rigs. However, even the best drivers can have accidents. Let's look at some of the reasons why a truck accident occurs.
Poor vehicle maintenance can cause an accident to occur. To be as safe as possible, a truck must be properly maintained. At times speed is prioritized over timely repairs. Unfortunately, worn brakes or bare tires can cause disastrous accidents.
Speeding or reckless driving can occur if truckers are working tight schedules. Some drivers might be tempted to take risks to save time.
Driving under the influence of alcohol or drugs can likely cause an accident.
Distracted driving can be hazardous for drivers. Although truck driving might seem easy, it is often challenging for drivers to stay focused. Drivers can sometimes get distracted, and their concentration can drift.
Tired drivers can cause an accident. Strict legislation governs how long a driver can spend at the wheel, but no law can cover the quality of a driver's rest time. Drivers can get tired and become less capable of reacting quickly.
Drivers may fail to adapt to conditions. Weather and road conditions can change very quickly. Drivers may, for example, push ahead at a constant speed when they should slow down.
Trucks are hefty. Even an empty trailer can weigh more than ten thousand pounds. If it is involved in an accident, the consequences can be catastrophic.
Our Accident Law Firm Will Get Started on Your Case Immediately By:
Listening to your story
Answering your questions
Advising you what to do next
Investigating the accident scene and all other evidence related to your claim
Reviewing medical records, police reports, and all documents
Determining which parties are liable for your injury
Meeting with insurance adjusters
Helping you file your claim
Demanding a just settlement for all of your medical treatment and damages
---
What to Do After a Truck Accident
After being in an accident, the priority should always be to check that you are alright. Then if you are able:
Call 911. The police can prepare an accident report, and you can ask them for a copy.
If there are witnesses, get their contact details.
Take photos and videos of all aspects of the accident scene. If you don't feel able to do this, ask a bystander to do it.
Ask the truck driver for his documentation.
Write down what happened while your memory is fresh. Include details such as weather conditions, the state of the road, etc.
Check to see if the site is covered by traffic or security cameras.
Can I Represent Myself?
The legal system is complicated, and you may find it challenging to navigate on your own. The people opposing your case could be highly experienced negotiators who have one aim, which could be to reduce your compensation as much as possible. Think of it as being an averagely athletic person and playing a professional athlete in their chosen sport.
After an accident, you may need time to recover physically and mentally. The stress of representing yourself can make the recovery process slower and more complex.
What Can I Claim for?
If you have been involved in a truck accident, you can claim damages for:
Medical expenses include current and future costs incurred because of your accidents, including future physiotherapy.
Loss of income may result from not being able to work for a while. You can claim the money that you haven't been able to earn.
Loss of potential earnings might reduce your future earnings potential if you have suffered an injury. You can claim compensation for this lost opportunity.
Pain and suffering can be hard to put a figure on, but it's something that a court or insurance company can consider.
Mental anguish includes people suffering from conditions such as post-traumatic stress syndrome after an accident. Again, compensation for this is hard to quantify, but you should be compensated.
What does It Cost?
The cost of hiring an attorney might be a deterrent, but it doesn't need to be. We work on a contingency basis. We don't get paid if you don't get paid. Attorneys, such as Isaacs & Isaacs Personal Injury Lawyers, get behind their cases and maximize your compensation.
Having professional representation can take a weight off your shoulders, leaving you free to concentrate on getting back to normal.
Build Your Case With A Top Rated Accident Lawyer
If you need immediate assistance with a vehicle accident or personal injury, call our team now at 
800-333-9999
 to begin your free case review and schedule an initial consultation to get legal advice. Our law firm represents injured victims across many categories. Some popular cases our accident attorneys handle include:
---
What Our Attorneys Can Do
Isaacs & Isaacs Personal Injury Lawyers have recovered $1 billion for our clients. Our Springfield truck accident lawyer works with your best interest in mind. Our team of dedicated attorneys has over 400 years of combined experience.
If you decide that you want Isaacs & Isaacs Personal Injury Lawyers to represent you, we can go over your case and help you recover the compensation amount you deserve. We can thoroughly investigate your accident, talk to any witnesses, and prepare a winning strategy. Call us today for a free consultation.
To learn more about working with our Springfield lawyers, call 800-333-9999 for your no-cost truck accident case review.