Begin Your Case With a Proven Personal Injury Law Firm
Getting hurt in a traffic accident on US-31, a slip and fall at Kokomo Town Center, or elsewhere in Kokomo, Indiana can lead to piling medical bills, missed wages, and several life adjustments. It's easy to feel overwhelmed with all these costs and changes, but you don't have to deal with them on your own.
If you hire Isaacs & Isaacs Personal Injury Lawyers, a Kokomo personal injury lawyer from our team can represent you and fight for the compensation you deserve. We will not charge you any upfront costs or fees and you won't pay unless we secure a financial recovery for you.
We charge no upfront fees for our legal services and only take payment if we secure monetary compensation on your behalf. Call us at 800-333-9999 at any time to speak to one of our dedicated Kokomo personal injury lawyers and set up a free consultation.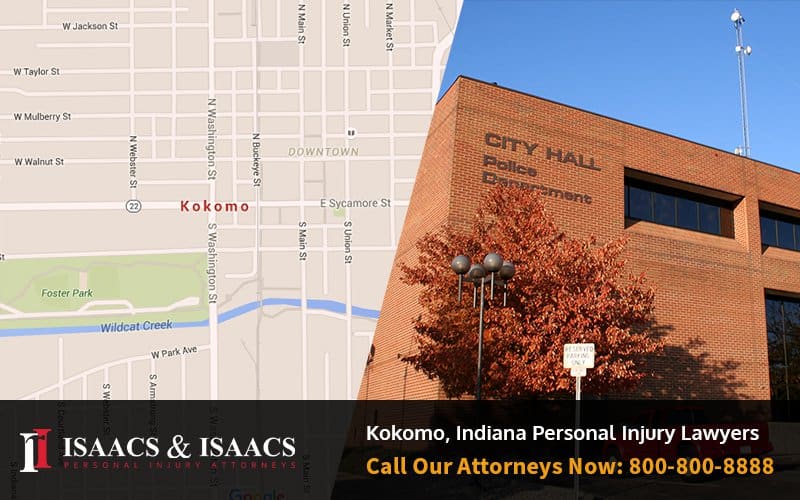 We Represent Injured Accident Victims Across Many Categories. Some Personal Injury Cases We Handle Include:
Accidents With Trucks or Commercial Vehicles
Injuries & Wrongful Death Involving Driver Negligence (cell phone use, DUI)
Accidents With Uninsured Motorists
Whiplash Injury Accidents
Airbag Deployment Accidents
Takata Air Bag Recalls
Motorcycle Accident Injuries
Ridesharing: Lyft & Uber Accidents
Bicycle Accident Injuries
Hit and Run Accidents
Pedestrians Hit By a Vehicle
Head-On Collisions
Rear-End Collisions
Spinal Cord Injuries
"Our daughters were involved in a serious car crash when a man ran a red light! Isaacs & Isaacs knew exactly what to say and exactly what to do for us! They are not only highly professional but also very sincere in wanting to help get our girls every dollar deserved! We will always be grateful to the team of The Hammer for being so wonderful during our time of need! Thank you from our family to your law firm."
---
Hiring an Indiana Personal Injury Attorney with Our Firm
In his podcast, "Ask the Hammer," Attorney Darryl Isaacs – the Hammer – answers questions about how he and his team serve clients to help get them the compensation they need. Play the episode below:
---
Services Our Personal Injury Lawyers Serving Kokomo Will Offer You
When Isaacs & Isaacs Personal Injury Lawyers takes on your case, we will complete the following tasks for you:
Collecting Evidence That Supports Your Case
Evidence works as the backbone of all personal injury cases. Common types of evidence we collect include:
Witness statements
Medical records and doctor's notes
Photographs of the incident scene
Video surveillance or traffic camera footage
The police or incident report
Traffic citations
Your personal account of what happened will also be a great asset to proving your case. Write down the details about what led up to the accident and what the aftermath has been like for you.
Establishing the Other Party's Negligence
The documentation and evidence we gather from the accident will help us determine who or what caused your accident. Your lawyer will then apply this evidence to the theory of negligence, which consists of:
Duty of care: The other party was to act with prudence and caution.
Breach of duty: They didn't sustain this duty and acted carelessly or negligently.
Causation: This negligence triggered an accident and, ultimately, your injuries.
Damages: You're suffering from financial and non-financial losses.
Each of these elements must be present in your case to obtain compensation.
Communicating With the Insurance Companies
Playing phone tag and waiting for email responses from the insurance company can get tedious and time-consuming. If you retain our legal help, we will handle all communication for you.
This task even includes settlement negotiations. On your behalf, your lawyer will go back and forth with the insurer to fight for the compensation you need. You can rely on us to evaluate each of the insurer's offers. We will never accept or reject one for you until we consult with you, as it is ultimately your decision.
Usually, we can agree on an out-of-court settlement. However, if we cannot reach that resolution, we have no problem preparing your case for trial.
Working for You on a Contingency-Fee Basis
Since our law firm works for our clients on a contingency-fee-basis, there are no costs or fees due:
Upfront
By the hour
For retainers
Out of pocket
We'll finance the entirety of your personal injury case, and we will only get paid if we reach a settlement or verdict for you. In turn, you owe us nothing if we cannot secure compensation for you.
There is limited financial risk involved when you have Isaacs & Isaacs Personal Injury Lawyers working for you.
Our Accident Law Firm Will Get Started on Your Case Immediately By:
Listening to your story
Answering your questions
Advising you what to do next
Investigating the accident scene and all other evidence related to your claim
Reviewing medical records, police reports, and all documents
Determining which parties are liable for your injury
Meeting with insurance adjusters
Helping you file your claim
Demanding a just settlement for all of your medical treatment and damages
---
Build Your Case With A Top Rated Accident Lawyer
If you need immediate assistance with a vehicle accident or personal injury, call our team now at 
800-333-9999
 to begin your free case review and schedule an initial consultation to get legal advice. Our law firm represents injured victims across many categories. Some popular cases our accident attorneys handle include:
Types of Damages You Can Seek in a Kokomo Personal Injury Case
No two accidents are the same, so the amounts and forms of compensation you can seek depend on the circumstances of your case. However, common types of losses our clients recoup include:
Past and anticipated medical expenses: If you needed pain relievers, surgery, lab tests, mobility aids, hospitalization, physical therapy, or follow-up doctor's appointments
Past lost income: If you weren't able to earn your salary, hourly wages, bonuses, commissions, tips, and other benefits because you had to take time off to treat your injuries
Future loss of earning potential: If you cannot go back to work for the foreseeable future
Pain and suffering and inconvenience: If the discomfort and distress from your injuries have impeded your quality of life
Property damage expenses: If you were in a vehicle accident and needed to have your car repaired or replaced
Mental anguish: If you suffer from insomnia, anxiety, or post-traumatic stress disorder (PTSD) due to the accident
Disfigurement: If the scarring from your injuries has compromised your mobility or altered your appearance
Sometimes, accident victims don't survive their injuries. If that was the case for your loved one, you and your family may take wrongful death action. Potential damages you can recover include final medical costs, funeral and burial expenses, loss of inheritance and income, and loss of companionship or consortium.
---
Our Personal Injury Law Firm Handles All Kinds of Cases
Since 1993, Isaacs & Isaacs Personal Injury Lawyers has been advocating for injury victims who have suffered in various accidents.
Some of our practice areas include:
Pedestrian accidents
Motorcycle accidents
Premises liability
Medical malpractice
Bicycle accidents
Traumatic brain injuries (TBI)
Slip and fall accidents
Dog bites
Wrongful death
Catastrophic injuries
Nursing home abuse
With over 400 years of collective legal experience, our firm has secured more than $2 billion for our clients. You can check out our individual case results on our website.
A Statute of Limitations Binds Indiana Personal Injury Cases
Every state imposes a statute of limitations, or a mandated deadline, on personal injury lawsuits. According to IC § 34-11-2-4, most claimants have two years to bring their lawsuit against the liable party. Although there may be exceptions to this deadline, they aren't common.
Regardless of how much time you have, make sure you start working on your case right away. If you try to file past the filing deadline, the state may dismiss your lawsuit. As a result, you will no longer be able to hold the liable party accountable for your damages. Paying your bills will likely be your responsibility.
A personal injury attorney with our firm can help you determine which deadline applies to you and file your case before it expires.
---
Reach Out to Isaacs & Isaacs Personal Injury Lawyers for a Free Consultation
After getting hurt in an accident in Kokomo, Indiana, turn to Isaacs & Isaacs Personal Injury Lawyers for assistance. We will work to get you the compensation you need while you rest and recover.
To learn more about working with our Kokomo lawyers, call 1-800-333-9999 for your no-cost personal injury case review.