Begin Your Case With a Proven Personal Injury Law Firm
Our Covington personal injury lawyer can help after you suffered injuries in an accident. You may be facing mounting medical bills without a way to earn an income while recovering. We can help you hold an at-fault party responsible for your losses.
We can determine the cause of your accident and gather evidence of negligence. Then, we can file all the necessary paperwork to start your claim or lawsuit. A settlement or verdict can help you receive the treatment you need and get your light back on track.
We charge no upfront fees for our legal services and only take payment if we secure monetary compensation on your behalf. Call us at 800-333-9999 at any time to speak to one of our dedicated Covington personal injury lawyers and set up a free consultation.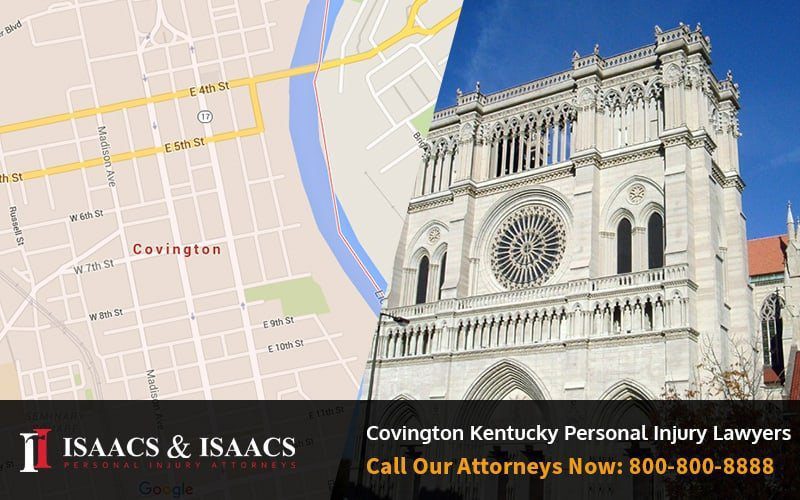 We Represent Injured Accident Victims Across Many Categories. Some Personal Injury Cases We Handle Include:
Accidents With Trucks or Commercial Vehicles
Injuries & Wrongful Death Involving Driver Negligence (cell phone use, DUI)
Accidents With Uninsured Motorists
Whiplash Injury Accidents
Airbag Deployment Accidents
Takata Air Bag Recalls
Motorcycle Accident Injuries
Ridesharing: Lyft & Uber Accidents
Bicycle Accident Injuries
Hit and Run Accidents
Pedestrians Hit By a Vehicle
Head-On Collisions
Rear-End Collisions
Spinal Cord Injuries
Sometimes an auto accident injury is not evident until much later. Even if you haven't suffered a catastrophic injury you still may need medical treatment. You should seek medical care immediately, even if you don't think you are badly hurt. Some severe injuries may not be immediately apparent. This is the best way to physically and legally protect yourself and your loved ones.
"They're great to me. Used them twice and positive results both times. I wouldn't hesitate to contact them again if needed."
---
Hiring a Kentucky Personal Injury Attorney with Our Firm
In his podcast, "Ask the Hammer," Attorney Darryl Isaacs – the Hammer – answers questions about how he and his team serve clients to help get them the compensation they need. Play the episode below:
---
Personal Injury Cases We Handle in Covington
We understand that negligence can cause a variety of accidents. We advocate for injury victims by handling different types of cases, including:
Car/Auto (includes motorcycle, bicycle, etc.)
Dog Bites
Catastrophic Injuries
Autonomous Vehicle Accidents
Rideshare Accidents
Regardless of the nature of your accident, someone else may be responsible. We can investigate your case and identify a liable party.
Our Accident Law Firm Will Get Started on Your Case Immediately By:
Listening to your story
Answering your questions
Advising you what to do next
Investigating the accident scene and all other evidence related to your claim
Reviewing medical records, police reports, and all documents
Determining which parties are liable for your injury
Meeting with insurance adjusters
Helping you file your claim
Demanding a just settlement for all of your medical treatment and damages
---
Compensation Can Help You Get the Treatment You Need
Accident injuries can be severe, even life-threatening. Yours may require extensive medical intervention, and it comes at a steep price. If you must miss work while you recover, you're also facing lost income. You deserve to be made whole for these losses. Our legal team can calculate your damages, accounting for both current and future losses. We want to ensure you do not leave any money on the table when negotiating a settlement.
You may recover:
Emergency room care costs
Ambulance care costs
Surgeries
Medications
Diagnostic testing, such as MRIs and X-rays
Medical equipment
In-home aid
Home modification
Lost wages
Reduced earning capacity
Pain and suffering
Loss of quality of life
Disability
Scarring and disfigurement
Other damages may apply, depending on the extent of your injuries and how they affect your life.
Make Sure You Get Medical Treatment
You can support your case for compensation by seeking medical treatment immediately after your accident. Your health comes first, and the sooner you see a doctor and begin a treatment plan, the better your chances of achieving your maximum medical recovery.
Medical documentation is also key evidence for your case. Your diagnosis can help link your injuries to your accident, establishing how negligence played a role in your losses. Medical receipts are also essential to pursuing fair compensation. Your doctors can help us understand the extent of your injuries and how much any ongoing care will cost.
---
How Our Lawyers Can Help
We offer comprehensive legal care to suit your specific situation. Our lawyers can:
Investigate what led to your accident
Collect evidence of another party's liability
Counter an insurance adjuster's determination of fault
File your claim or lawsuit
Meet deadlines and submit paperwork in a timely manner
Calculate your losses
Negotiate with insurers
Assess settlement offers to see if they would fairly compensate you
Manage communications with insurers and defense attorneys
Represent you in court if necessary
We can provide regular updates so you are never in the dark about your case. Additionally, our legal beat blog and FAQs can give you insight into specific personal injury topics. We invite you to learn as much as possible so you know what to expect throughout the process.
Build Your Case With A Top Rated Accident Lawyer
If you need immediate assistance with a vehicle accident or personal injury, call our team now at 
800-333-9999
 to begin your free case review and schedule an initial consultation to get legal advice. Our law firm represents injured victims across many categories. Some popular cases our accident attorneys handle include:
What Makes Us Unique as a Law Firm
Our legal team has over 400 years of combined experience, and our attorneys are licensed in KY, IN, OH, NV, TX, and IL. To better understand what our Covington injury team can do for you, take a look at our case results.
Our Case Results Speak to Our Dedication to Accident Victims
No one should have to suffer injuries in a preventable accident. When another party causes you harm; you can trust us to fight for every penny you deserve. We have secured $2 billion in settlements for our clients.
Some of our personal injury case victories include:
$3.65 million settlement for a woman who suffered neck and back injuries in a semi-truck accident
$2.2 million settlement for a woman who suffered a coma, brain damage, and a fractured pelvis in a bus accident
$1.5 million settlement for a pedestrian who suffered neck and shoulder injuries after being hit by a car
$4 million settlement for a product liability case involving a defective drug that led to heart damage
We want to put our resources to work for you now. When we take you on as a client, we are committed to giving your case the attention it deserves.
---
We Work on a Contingency Fee Basis
We understand you are already facing difficulty after suffering injuries. Accessing legal representation shouldn't add to the struggle. We take personal injury cases on a contingency-fee-basis.
This means we do not charge upfront fees or costs to begin working on your case. We do not collect payment unless we win or settle your case.
Instead of retainers or hourly rates, we simply take a percentage of the compensation we secure on your behalf. This way, you know we mean business, and you won't have to worry about incurring more losses.
---
Call Isaacs & Isaacs Personal Injury Lawyers After Your Kenton County Accident
You deserve to rest and recuperate after your accident. We can handle everything related to your legal case and fight for fair compensation. Learn more about how our Covington personal injury attorneys can help.
We can discuss your legal options and begin working on your case immediately. Deadlines may apply to your case, so the sooner you call, the better
To learn more about working with our Covington lawyers, call 1-800-333-9999 for your no-cost personal injury case review.