Begin Your Case With a Proven Personal Injury Law Firm
In the aftermath of an accident or your initial injuries, you might feel overwhelmed and worried about how you will manage the challenges that lie ahead. In addition, facing critical injuries, emotional trauma, and significant financial distress may leave you concerned about how to make the liable party pay for their negligence.
Fortunately, when you contact a Somerset personal injury lawyer at Isaacs & Isaacs Personal Injury Lawyers, you can take legal action against those responsible for causing your injuries. With our firm by your side, you can seek the compensation you deserve for your losses. Contact our office today to schedule your free consultation.
We charge no upfront fees for our legal services and only take payment if we secure monetary compensation on your behalf. Call us at 800-333-9999 at any time to speak to one of our dedicated Somerset personal injury lawyers and set up a free consultation.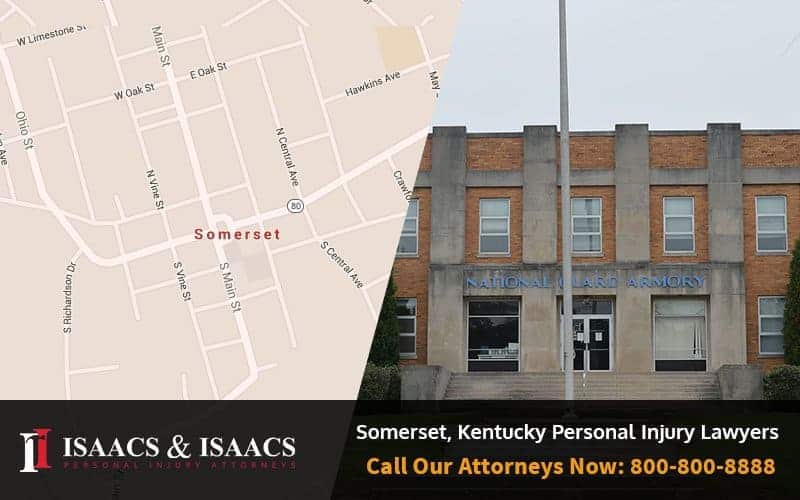 We Represent Injured Accident Victims Across Many Categories. Some Personal Injury Cases We Handle Include:
Accidents With Trucks or Commercial Vehicles
Injuries & Wrongful Death Involving Driver Negligence (cell phone use, DUI)
Accidents With Uninsured Motorists
Whiplash Injury Accidents
Airbag Deployment Accidents
Takata Air Bag Recalls
Motorcycle Accident Injuries
Ridesharing: Lyft & Uber Accidents
Bicycle Accident Injuries
Hit and Run Accidents
Pedestrians Hit By a Vehicle
Head-On Collisions
Rear-End Collisions
Spinal Cord Injuries
Sometimes an auto accident injury is not evident until much later. Even if you haven't suffered a catastrophic injury you still may need medical treatment. You should seek medical care immediately, even if you don't think you are badly hurt. Some severe injuries may not be immediately apparent. This is the best way to physically and legally protect yourself and your loved ones.
"It was a pleasure to have the Isaacs & Isaacs team to help me after being hit by a truck as I was walking to the market. They went above and beyond to help with all I went through!"
---
Getting the Legal Perspective on Personal Injury – Audio Interview
Car accident lawyer Darryl Isaacs — The Hammer — sat down to address legal and safety considerations when injured from a car crash in a recent radio episode of "Ask The Hammer," the podcast exploring the legal matters that matter most. There are many elements at play when knowing what to do after a car accident. Listen to the episode directly below.
---
Build Your Case With a Somerset Personal Injury Lawyer
Isaacs & Isaacs Personal Injury Lawyers is a personal injury law firm proudly serving the Somerset and surrounding area, providing legal representation in the areas of car and truck crashes, bad drugs, wrongful death, abuse, and other accidents and injuries.
As seen on television and local billboards, Darryl Isaacs has been called "The Hammer," winning settlements for Somerset residents in Kentucky who have been in an accident and who are seeking compensation for their injuries
Our Accident Law Firm Will Get Started on Your Case Immediately By:
Listening to your story
Answering your questions
Advising you what to do next
Investigating the accident scene and all other evidence related to your claim
Reviewing medical records, police reports, and all documents
Determining which parties are liable for your injury
Meeting with insurance adjusters
Helping you file your claim
Demanding a just settlement for all of your medical treatment and damages
---
Common Types of Somerset Personal Injury Claims
You may have grounds for a personal injury claim in Somerset for various accidents and incidents. Our firm can assist with a multitude of personal injury cases, such as:
Dog bites
Slip and falls
Premises liability claims
Defective product claims
Medical malpractice
Nursing home abuse
Sexual abuse
Construction accidents
Work injuries
Car accidents
Motorcycle accidents
Truck accidents
Bicycle accidents
Pedestrian accidents
Bus accidents
Rideshare accidents
Boat accidents
---
Common Personal Injury FAQs
How Hiring a Somerset Personal Injury Attorney Works
Attorney Darryl Isaacs — The Hammer — sat down to address questions about the experience of working with injured clients in Somerset and beyond to help them fight for justice and win compensation. Join us in this radio episode of "Ask The Hammer," the podcast exploring the legal matters that matter most. Play the episode directly below.
How a Personal Injury Lawyer in Somerset Could Help You
If you are unsure whether hiring a personal injury lawyer in Somerset is the right option for you, consider your attorney's various responsibilities. At the same time, you focus on recuperating from your injuries while they:
Investigate the cause of your accident
Gather the evidence needed to prove negligence
Establish faults for your injuries
Prepare your claim with the insurance company
Handle negotiations with insurance adjusters
Prepare your case for civil court
Advocate for your right to maximum compensation at trial
Build Your Case With A Top Rated Accident Lawyer
If you need immediate assistance with a vehicle accident or personal injury, call our team now at 
800-333-9999
 to begin your free case review and schedule an initial consultation to get legal advice. Our law firm represents injured victims across many categories. Some popular cases our accident attorneys handle include:
How to Recover Maximum Compensation for Your Damages
To get the most out of your Somerset personal injury claim, your attorney must prepare to bring your case to the insurance company or before a judge and jury in court. While every case is different, it is always better to prepare for either situation.
Insurance companies often only cover certain types and amounts of losses. However, you may be able to recover total compensation by bringing your case to court. Some of the more common types of damages awarded in Somerset personal injury claims include:
Medical bills
Pain and suffering
Mental anguish
Lost income
---
Common Personal Injuries in an Injury Claim
We have seen many of the challenges that arise after a catastrophic injury in Somerset, and we can and will fight for you if the accident was caused by someone else's negligence. Our Kentucky clients have had injuries resulting in amputation, paralysis, quadriplegia, paraplegia, or other permanent condition. We understand that these injuries do more than impact your ability to work or perform normal human functions, they result in emotional and mental conditions including depression, anxiety, and the ability to enjoy life in general.
Darryl and the team at Isaacs & Isaacs Personal Injury Lawyers serving Somerset win most of their cases and have collected over $2 billion for injured clients in Kentucky, Indiana, and Ohio. Your next step involves letting us hear your important story so we can begin to build your case strategy.
---
Get Help From a Personal Injury Lawyer in Somerset
However, you can rest easier when you have a trusted personal injury lawyer serving Somerset from Isaacs & Isaacs Personal Injury Lawyers backing you up.
We will work tirelessly to build a compelling case against the liable party and will fight for the fair and just compensation you need and deserve to rebuild your life. Contact us today to learn more about how we can help you pursue the compensation you deserve.
To learn more about working with our Somerset lawyers, call 1-800-333-9999 for your no-cost personal injury case review.