Begin Your Case With a Proven Personal Injury Law Firm
If you suffered injuries in an accident, another party may owe you compensation. Our Elizabethtown personal injury lawyers can investigate your accident, gather evidence of negligence, and fight for maximum compensation.
We take personal injury cases on contingency, meaning we do not charge upfront fees or costs to start your case. We want to help you and your family during this difficult time. If you lose a loved one in an accident, we can also handle your wrongful death case. Build your case with an Elizabethtown personal injury lawyer today.
We charge no upfront fees for our legal services and only take payment if we secure monetary compensation on your behalf. Call us at 800-333-9999 at any time to speak to one of our dedicated Elizabethtown personal injury lawyers and set up a free consultation.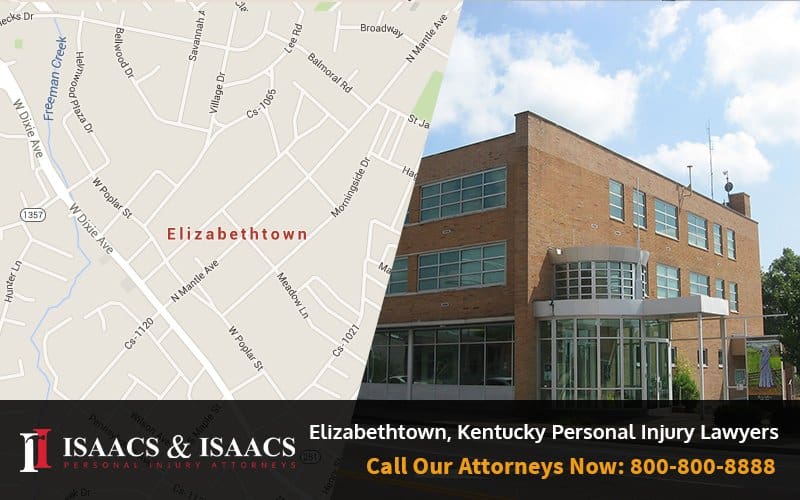 We Represent Injured Accident Victims Across Many Categories. Some Personal Injury Cases We Handle Include:
Accidents With Trucks or Commercial Vehicles
Injuries & Wrongful Death Involving Driver Negligence (cell phone use, DUI)
Accidents With Uninsured Motorists
Whiplash Injury Accidents
Airbag Deployment Accidents
Takata Air Bag Recalls
Motorcycle Accident Injuries
Ridesharing: Lyft & Uber Accidents
Bicycle Accident Injuries
Hit and Run Accidents
Pedestrians Hit By a Vehicle
Head-On Collisions
Rear-End Collisions
Spinal Cord Injuries
Sometimes an auto accident injury is not evident until much later. Even if you haven't suffered a catastrophic injury you still may need medical treatment. You should seek medical care immediately, even if you don't think you are badly hurt. Some severe injuries may not be immediately apparent. This is the best way to physically and legally protect yourself and your loved ones.
"It was a pleasure to have the Isaacs & Isaacs team to help me after being hit by a truck as I was walking to the market. They went above and beyond to help with all I went through!"
---
Hiring a Kentucky Personal Injury Attorney with Our Firm
In his podcast, "Ask the Hammer," Attorney Darryl Isaacs – the Hammer – answers questions about how he and his team serve clients to help get them the compensation they need. Play the episode below:
---
Types of Personal Injury Cases We Handle in Elizabethtown
Whether you were hit by another driver or hurt in another incident, we want to pursue compensation from the liable party. We handle different types of personal injury claims, such as:
Traumatic brain injury (TBI) accidents: TBI is caused when there is trauma to the brain that causes damage. This can result in memory loss, headaches, dizziness, seizures, confusion, personality changes, and other symptoms. The most common cause of TBI is car accidents, but it can happen in many ways, including sports-related incidents, falls, assaults, and work-related accidents.
Dog bites: Most people who get bitten by dogs don't even know they have been injured until later. Dogs can be dangerous because they often have sharp teeth and powerful jaws. They also tend to attack without warning.
Nursing home abuse accidents: Nursing home abuse accidents are unfortunately common. Many elderly patients live in nursing homes because their health has deteriorated, so they cannot care for themselves. Unfortunately, some nursing home staff members use physical force against these vulnerable patients.
Wrongful death accidents: When someone dies due to the fault of another person, that person is responsible for paying damages. To recover damages for wrongful death, you must prove that the defendant was negligent. Negligence means that the defendant failed to act reasonably under the circumstances.
Catastrophic injuries: Catastrophic injuries are serious injuries that require extensive medical treatment and long recovery times. These injuries include amputations, spinal cord injuries, brain injuries, burns, and more.
Car accidents:Car accidents are among the leading causes of traumatic brain injury. These accidents can involve any vehicle, including cars, trucks, motorcycles, bicycles, and pedestrians.
Rideshare accidents: Ridesharing services like Uber and Lyft are becoming increasingly popular. However, ridesharing companies are often not required to provide insurance coverage for passengers. As a result, you could be left with no recourse if you are involved in a ridesharing accident.
Truck accidents: Truck accidents are very common. Because of the size of trucks, they can easily cause severe injuries to victims.
Workplace accidents: Workplace accidents occur all too frequently. Workers may suffer injuries while working on construction sites, manufacturing plants, warehouses, farms, mines, restaurants, hotels, and other workplaces.
Medical malpractice: Medical malpractice occurs when doctors fail to diagnose or treat illnesses properly.
Our Elizabethtown personal injury attorneys can figure out who caused or contributed to your accident and fight to hold them accountable. We may discover that multiple parties owe you compensation, and we can seek awards from each of them.
Our Accident Law Firm Will Get Started on Your Case Immediately By:
Listening to your story
Answering your questions
Advising you what to do next
Investigating the accident scene and all other evidence related to your claim
Reviewing medical records, police reports, and all documents
Determining which parties are liable for your injury
Meeting with insurance adjusters
Helping you file your claim
Demanding a just settlement for all of your medical treatment and damages
---
Compensation Can Help You Recover
You might have already accrued expensive medical bills immediately after the accident, but your treatment may not stop there. You may require ongoing rehabilitation and care, and you do not deserve to shoulder this burden for years.
Our legal team can negotiate for fair compensation, so you do not suffer further accident-related losses in the future. We also want to ensure your award account for future expenses since you cannot seek additional compensation once you accept an offer.
You may recover:
Hospital stays
Doctor's visits
Surgeries
Medications
Diagnostic testing, such as MRIs and scans
Medical equipment, such as crutches, braces, and slings
In-home aid
Home modifications
Lost wages, including bonuses, benefits and paid leave
Reduced earning capacity if you can't return to work
Pain and suffering for your physical and emotional anguish
Loss of quality of life
Disability
Scarring and disfigurement
Other damages may apply, and we can help assess your current and future losses.
Wrongful Death Damages
Accident-related injuries sometimes prove fatal, causing devastation to a family. No one deserves to lose their loved one due to another's negligence. We can help file a wrongful death claim or lawsuit and fight for awards to cover:
Funeral and burial/cremation expenses
Your loved one's medical expenses
Your loved one's pain and suffering
The income your loved one provided
The companionship your loved one provided
Lost wages if you took time off to tend to your loved one before their passing
Right now, you will want to focus on grieving in peace with your family. While you honor the memory of your loved one, we can handle your case.
---
How Our Lawyers Can Help in Hardin County, KY
You deserve to focus on your physical health and spend time with your loved ones right now. When seeking compensation, you shouldn't have to hassle with copious amounts of paperwork or legal research. We can handle the process for you.
When our Elizabethtown lawyers take on your case, they can:
Perform an investigation
Collect evidence of negligence
Work with experts, such as accident reconstructionists and medical professionals
Submit the necessary paperwork for your claim or lawsuit promptly
Ensure you abide by deadlines
Negotiate a fair settlement
Review settlement offers
Represent you in court
We will also keep you in the loop about your case's progress and make ourselves available to answer any questions that arise. We want you to feel comfortable throughout the process.
Build Your Case With A Top Rated Accident Lawyer
If you need immediate assistance with a vehicle accident or personal injury, call our team now at 
800-333-9999
 to begin your free case review and schedule an initial consultation to get legal advice. Our law firm represents injured victims across many categories. Some popular cases our accident attorneys handle include:
You Have a Deadline to Meet if You Want to File a Lawsuit in Kentucky
It's important to keep Kentucky's statutes of limitations in mind if you plan on filing a lawsuit. The state has a variety of deadlines that apply to different cases, such as:
Ky. Rev. Stat. § 304.39-230, which usually allows you to file a lawsuit for a car accident within two years from the date of the crash, a victim's passing, or the last PIP payment to file a personal injury lawsuit.
Ky. Rev. Stat. § 413.140(1), which generally gives you one year to file a personal injury lawsuit.
Ky. Rev. Stat. § 413.180, which generally allows you one year to bring a wrongful death lawsuit, starting from the date of your loved one's passing or the estate representative's appointment.
What If You Miss the Deadline?
If you miss these deadlines, you could see your case dismissed from court and lose your last chance to seek compensation. Few exceptions apply, and our lawyers can determine how long you have to take legal action against a liable party.
Remember, it takes time to investigate an accident and gather evidence. We may also begin by filing a claim and negotiating with insurers, which also takes a while. None of these actions stall the deadlines for filing a lawsuit, though.
Our lawyers can keep an eye on your deadline as they work on your case. Still, the sooner you call, the better we can protect your rights to compensation. We can get started once you call for your free initial consultation.
---
Work With the Legal Team at Isaacs & Isaacs Personal Injury Lawyers
Our Elizabethtown personal injury attorneys can help if you sustained injuries in an accident. We can work to hold another party accountable for your property damage and losses, and we aim for fair compensation. We also want to ensure you do not suffer further losses due to someone else's negligence.
While you focus on your physical recovery, we can get to work on your legal case. Call us to take advantage of your free consultation. The sooner you call, the sooner we can get to work protecting your rights and meeting any deadlines that apply.
To learn more about working with our Elizabethtown lawyers, call 1-800-333-9999 for your no-cost personal injury case review.