Begin Your Case With a Proven Motorcycle Accident Law Firm
All drivers are vulnerable to accidents and injuries on the road. However, as a motorcycle rider, you are at a greater threat since your motorcycle provides minimal protection. Should they get into an accident, they could suffer from catastrophic injuries that lead to lifelong impairments.
If you or a family member were hurt in a motorcycle accident, a Kentucky motorcycle accident lawyer with Isaacs & Isaacs Personal Injury Lawyers would manage your case from start to finish. We will try to get you paid back for the money you spent on medical care, the money you didn't make, and other costs.
We charge no upfront fees for our legal services and only take payment if we secure monetary compensation on your behalf. Call us at 800-333-9999 at any time to speak to one of our dedicated Kentucky motorcycle accident lawyers and set up a free consultation.
We Represent Injured Accident Victims Across Many Categories. Some Personal Injury Cases We Handle Include:
Accidents With Trucks or Commercial Vehicles
Injuries & Wrongful Death Involving Driver Negligence (cell phone use, DUI)
Accidents With Uninsured Motorists
Whiplash Injury Accidents
Airbag Deployment Accidents
Takata Air Bag Recalls
Motorcycle Accident Injuries
Ridesharing: Lyft & Uber Accidents
Bicycle Accident Injuries
Hit and Run Accidents
Pedestrians Hit By a Vehicle
Head-On Collisions
Rear-End Collisions
Spinal Cord Injuries
Sometimes an auto accident injury is not evident until much later. Even if you haven't suffered a catastrophic injury you still may need medical treatment. You should seek medical care immediately, even if you don't think you are badly hurt. Some severe injuries may not be immediately apparent. This is the best way to physically and legally protect yourself and your loved ones.
"It was a pleasure to have the Isaacs & Isaacs team to help me after being hit by a truck as I was walking to the market. They went above and beyond to help with all I went through!"
---
Getting the Legal Perspective on Motorcycle Accidents – Audio Interview
In this podcast episode of Ask The Hammer, Darryl Isaacs and three other attorneys from Isaacs & Isaacs Personal Injury Lawyers (all bikers) review how motorcycle accident lawsuits work in this podcast episode. Listen below.
---
Get Justice and Compensation With a Trusted Kentucky Motorcycle Accident Lawyer
Good lawyers for car accidents have experience, skill, and passion. We are determined to defend the rights and interests of injury victims. At Isaacs & Isaacs, our car accident lawyers are relentless in demanding justice for each and every client we represent.
Our Accident Law Firm Will Get Started on Your Case Immediately By:
Listening to your story
Answering your questions
Advising you what to do next
Investigating the accident scene and all other evidence related to your claim
Reviewing medical records, police reports, and all documents
Determining which parties are liable for your injury
Meeting with insurance adjusters
Helping you file your claim
Demanding a just settlement for all of your medical treatment and damages
---
Our Motorcycle Accident Law Firm Fights for Fair Compensation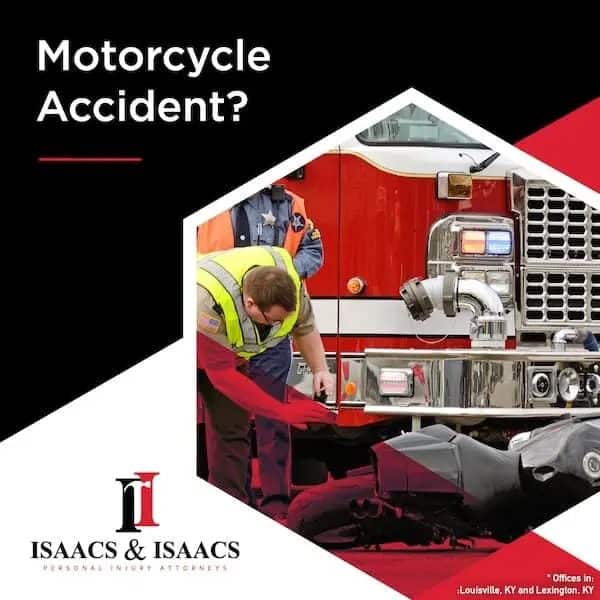 If you or a loved one is the victim of a motorcycle accident due to another driver's negligence, you may be able to recover damages. Very often, our motorcycle accident victims are eligible to seek adequate compensation for:
Past and expected medical bills: When your injuries require hospitalization, medications, lab tests, and surgeries.
Lost wages: When you miss work due to injuries.
Loss of job or career: When you can no longer continue your career, you will lose future income.
Property damage: When you need to replace or repair your motorcycle.
Pain and suffering: When your injuries cause you excruciating, incapacitating pain.
Mental anguish: The trauma of a motorcycle accident takes a toll on your mental well-being and causes emotional distress or other non-economic damages.
Permanent injuries: When your injuries change your mobility, cognition, or appearance.
Sometimes, motorcyclists suffer fatal injuries in accidents. If you lost a loved one to their injuries, you could file a wrongful death lawsuit or insurance claim. You may request damages from the responsible party for funeral expenses, burial costs, end-of-life medical bills, and your loss of household services, consortium, or financial support.
We will assist you in dealing with the insurance adjusters. In your case, other drivers are generally the at-fault party, and we will investigate to determine who the at-fault driver was.
---
Common Motorcycle Accident FAQs
How Do Motorcycle Crashes Typically Occur?
Forms of negligence that may lead to motorcycle accidents and common injuries include:
Making a left-hand turn without seeing a motorcyclist in or approaching an intersection
Running a red light or stop sign without checking for motorcycles
Failure to give the motorcycle the right-of-way when changing lanes
Failing to check blind spots to see if a motorcyclist is coming
Opening a car door without checking for oncoming traffic
Following too closely behind a motorcyclist, especially an inattentive driver
Speeding
Failure of protective features or protective gear
Riding under the influence of drugs
Drunk driving
Driver error might not have been the reason for your accident, though. To illustrate:
A government agency may have failed to pick up road debris or properly design the road.
A parts manufacturer could have developed faulty brakes, which led the driver to run into you.
The accident happened because a mechanic didn't notice a problem with the car of the driver who was at fault.
Remember that a motorcycle accident could result from a combination of these factors.
Why Do I Need a Motorcycle Accident Attorney?
The first thing you should know about motorcycle accidents is that they happen fast. You could suffer serious head injuries if you aren't wearing protective headgear. If you were riding without proper training, you could also end up paralyzed with severe injuries.
And if you weren't paying attention, you could end up in a fatal accident.
What Are The Most Common Types of Motorcycle Accident Injuries?
Motorcycle riders' most common types of injuries include head trauma, spinal cord injury, broken bones, internal organ damage, and traumatic brain injury (TBI). Head trauma is the leading cause of death among motorcyclists.
When you're in a road accident riding a motorcycle, you're likely to get hurt in one or more of the following ways:
Head trauma
Skull fractures
Brain contusions
Spinal cord and spine injuries
Broken bones and bone fractures
Brain damage
Nerve damage
Crush injuries
Build Your Case With A Top Rated Accident Lawyer
If you need immediate assistance with a vehicle accident or personal injury, call our team now at 
800-333-9999
 to begin your free case review and schedule an initial consultation to get legal advice. Our law firm represents injured victims across many categories. Some popular cases our accident attorneys handle include:
Bringing a Lawsuit Against the Party Responsible for Your Kentucky Motorcycle Crash
With few exceptions, Kentucky enforces a one-year statutory deadline for all motorcycle accident lawsuits, according to KRS 413.140. In other words, you generally have one year to file your case against the liable party. Failure to meet this deadline may give the court reason to dismiss your lawsuit. Should that happen, your options for financial recovery will be limited.
If you get in touch with Isaacs & Isaacs Personal Injury Lawyers soon enough, we can help you meet all deadlines.
Selecting Our Kentucky Motorcycle Accident Lawyers' Legal Services
Managing a motorcycle accident claim or lawsuit can take a toll on your recovery. In that case, you may want to consider retaining our legal services here at Isaacs & Isaacs Personal Injury Lawyers.
While you put your energy and time towards getting better, your experienced motorcycle accident attorney will be working out all aspects of your case, which typically involves:
Ordering a copy of the police report.
Putting together an evidence file.
Interviewing witnesses.
Studying state and local laws.
Identifying the party that caused your motorcycle injuries and if a distracted driver was the cause.
Negotiating a settlement that covers your losses with negligent drivers.
Taking on communication with all parties involved.
Working with your motorcycle insurance company to help file your claim so you can recover lost medical expenses and ensure you receive the necessary medical attention you need.
Filing your case in court and seeking punitive damages if we cannot reach a fair settlement agreement.
We will also provide you with frequent updates about how your case is progressing.
---
The Costs of Hiring Isaacs & Isaacs Personal Injury Lawyers
Because we operate on a contingency fee basis, there is no need to pay us any start-up, out-of-pocket, or hourly fees when you hire our firm. If your Kentucky Motorcycle Accident Lawyer settles or wins your case, they will collect their payment from that award.
Otherwise, they will not take a fee or charge for costs. We want to be your motorcycle accident attorneys! Your financial state is considered with this fee arrangement. You don't have a dime to lose when you work with us.
Our Personal Injury Attorneys Have Secured Over $2 Billion in Settlements and Verdicts
Our law firm has been representing injury victims since 1993. We have a team of attorneys with 400 years of collective experience. This experience and legal knowledge are reflected in our past motorcycle accident case results in your personal injury claim:
$1.5 million after an 18-year-old motorcycle enthusiast was killed after getting run over by a semi-truck.
A $1.475 million settlement for a motorcyclist who sustained lifelong injuries, especially to the shoulder, after a corrugated pipe flew from a semi-truck and struck him.
$1.025 million. A man suffered a right leg amputation, a traumatic brain injury, and a fractured collarbone after a semi-truck pulled out in front of him.
Every situation is unique, however, so we will first review your case to tell you more about its potential value. Either way, we will treat your case with the care and attention you deserve. Take a look at what our former clients said about this approach:
"They were efficient, kind, and catered to my needs. They came to my house some 60 miles away when I could not travel. Thank you for getting everything back to normal after my accident." – Joseph P.
"Did a good job of keeping me informed of each process that was being undertaken. I would use this firm again." – Angela J.
---
Isaacs & Isaacs Personal Injury Lawyers Is Here for You
If you were hurt in a motorcycle accident in Kentucky, the team at Isaacs & Isaacs Personal Injury Lawyers is ready to fight for the compensatory damages you are entitled to seek.
To learn more about working with our Kentucky lawyers, call 1-800-333-9999 for your no-cost motorcycle accident case review.