Begin Your Case With a Proven Personal Injury Law Firm
If an accident in Fort Thomas left you with injuries, you may recover a variety of losses. Your medical bills, lost wages, and other damages may warrant compensation. Our Fort Thomas personal injury lawyer can file your insurance claim or lawsuit. We fight for fair compensation and only accept payment if we win.
We charge no upfront fees for our legal services and only take payment if we secure monetary compensation on your behalf. Call us at 800-333-9999 at any time to speak to one of our dedicated Fort Thomas personal injury lawyers and set up a free consultation.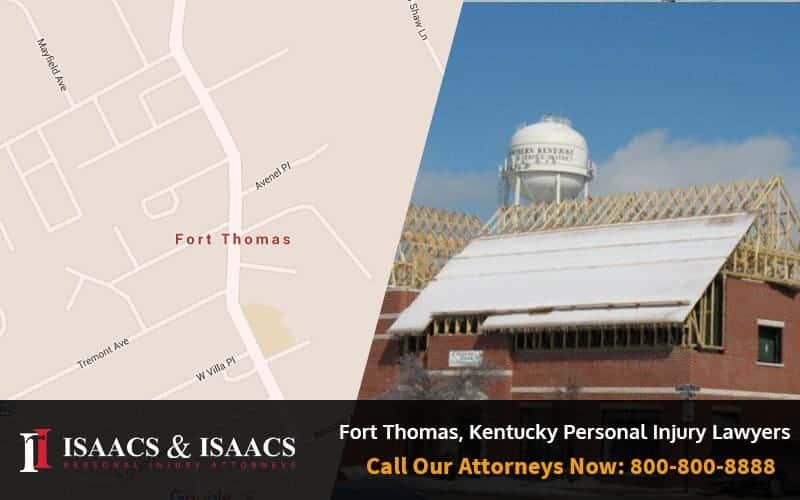 We Represent Injured Accident Victims Across Many Categories. Some Personal Injury Cases We Handle Include:
Accidents With Trucks or Commercial Vehicles
Injuries & Wrongful Death Involving Driver Negligence (cell phone use, DUI)
Accidents With Uninsured Motorists
Whiplash Injury Accidents
Airbag Deployment Accidents
Takata Air Bag Recalls
Motorcycle Accident Injuries
Ridesharing: Lyft & Uber Accidents
Bicycle Accident Injuries
Hit and Run Accidents
Pedestrians Hit By a Vehicle
Head-On Collisions
Rear-End Collisions
Spinal Cord Injuries
Sometimes an auto accident injury is not evident until much later. Even if you haven't suffered a catastrophic injury you still may need medical treatment. You should seek medical care immediately, even if you don't think you are badly hurt. Some severe injuries may not be immediately apparent. This is the best way to physically and legally protect yourself and your loved ones.
"John came to our house and went over the legal part of it thoroughly and quickly, but he always made it more about us. I would recommend them to anybody because they're going to make sure that you're protected. It just always felt like we were dealing with family instead of a legal process."
---
Hiring a Kentucky Personal Injury Attorney with Our Firm
In his podcast, "Ask the Hammer," Attorney Darryl Isaacs – the Hammer – answers questions about how he and his team serve clients to help get them the compensation they need. Play the episode below:
---
Compensation May Cover Various Damages
Accident injuries do not only lead to pain and suffering. You may require ongoing medical care, and you may never be able to return to work. We can pursue both current and future losses as they apply to your Campbell County case.
You may recover:
Medical care, such as surgeries and doctors' appointments
Ongoing medical treatments, such as rehabilitative therapy and medication
Lost wages
Reduced earning capacity
Pain and suffering
Scarring and disfigurement
Loss of quality of life
We may file an insurance claim through your own provider if you experienced a car accident. In some cases, we can file a third-party liability claim instead. Other times, we may suggest pursuing compensation through a personal injury lawsuit. It all depends on the nature of your accident and your injuries.
Our Accident Law Firm Will Get Started on Your Case Immediately By:
Listening to your story
Answering your questions
Advising you what to do next
Investigating the accident scene and all other evidence related to your claim
Reviewing medical records, police reports, and all documents
Determining which parties are liable for your injury
Meeting with insurance adjusters
Helping you file your claim
Demanding a just settlement for all of your medical treatment and damages
---
We Can Help With a Wrongful Death Case
If you lost a family member to an accident in Fort Thomas, we can help while you mourn with your family. We can file a wrongful death claim or lawsuit. We may be able to recover:
Your loved one's funeral costs
Your loved one's medical bills
Your loved one's income
The companionship your loved one offered
Awards for your loved one's pain and suffering
Lost wages if you missed work to help your loved one
We can take care of the legal battle while you focus on grieving.
We Help Different Types of Accident Victims
A variety of accidents warrant personal injury cases. We aim to help victims of:
Catastrophic injury accidents
Autonomous vehicle accidents
Rideshare accidents
Pedestrian accidents
Dog bites
You don't need to hassle with insurance adjusters or defense attorneys. We can handle the legal legwork while you focus on getting better.
---
How Our Fort Thomas Personal Injury Attorneys Can Help
We offer comprehensive legal services, and we can handle your case from beginning to end.
We Can Investigate Your Accident
If you make an insurance claim, an adjuster will begin investigating your case to determine fault. They may try to undervalue your claim by arguing you were more at fault than you were. We can conduct an independent investigation of your accident to counter their findings if necessary.
We Can Calculate Your Losses
Every accident injury is unique, so compensation will vary. We aim for you to suffer no further losses because of your accident. We can call upon the expertise of various professionals to calculate your losses. We can also account for both your current and future accident-related expenses.
We Can Create a Legal Strategy
Isaacs & Isaacs Personal Injury Lawyers does not apply a one-size-fits-all approach to our cases. We look at each individual situation and tailor a legal approach to suit its unique circumstances.
We Can Negotiate a Settlement
Sometimes, we suggest filing an insurance claim to pursue compensation. During this process, we may have to negotiate a settlement. Insurers usually make initial offers early on, but they may not fairly account for your losses.
We can prevent you from leaving money on the table. We can present our evidence of fault and the extent of your damages. We fight for fair compensation for all our clients.
We Can Represent You in a Trial
We may also suggest taking legal action against a liable party. When we go this route, we can handle all the paperwork and represent you during a trial. Some cases settle during mediation, though. Regardless, we can prepare to argue before a judge or jury and seek a verdict.
Build Your Case With A Top Rated Accident Lawyer
If you need immediate assistance with a vehicle accident or personal injury, call our team now at 
800-333-9999
 to begin your free case review and schedule an initial consultation to get legal advice. Our law firm represents injured victims across many categories. Some popular cases our accident attorneys handle include:
We Can Submit Documents in a Timely Manner
Time is of the essence, especially when filing a lawsuit. We can work in a timely manner to help you meet any state-imposed deadlines.
For example, the following statutes of limitations may apply to your case:
Ky. Rev. Stat. § 304.39-230: After a car accident, you have two years from the date of the accident, the victim's death, or the last PIP payment to file a lawsuit.
Ky. Rev. Stat. § 413.140(1): You have one year to file a general personal injury lawsuit.
Ky. Rev. Stat. § 413.180: When filing a wrongful death lawsuit, you have one year from the victim's death or the appointment of the estate representative or administrator.
Failure to meet these deadlines may result in the court dismissing your case. Act now and protect your rights to compensation.
---
You Can Afford Our Legal Services
You don't have to worry about affording a lawyer from our firm. We can start your case without an upfront fee. We also only collect payment from a potential settlement or verdict we win on your behalf.
Work with Isaacs & Isaacs Personal Injury Lawyers
You deserve to focus on your health after an accident. Our Fort Thomas personal injury lawyers can handle your legal case. From investigating your accident to negotiating a settlement, we've got you covered.
We can shed light on your legal options and explain our services. Remember, you may have to meet a deadline. The sooner you call, the sooner we can begin working on your case.
To learn more about working with our Fort Thomas lawyers, call 1-800-333-9999 for your no-cost personal injury case review.