Begin Your Case With a Proven Truck Accident Law Firm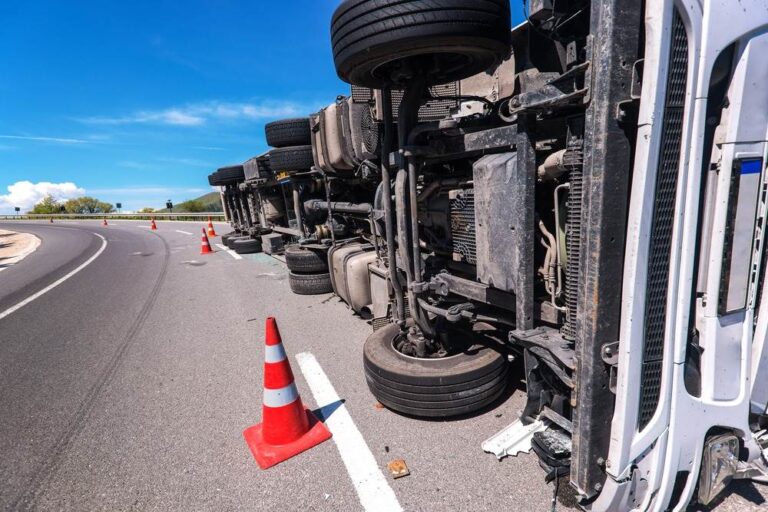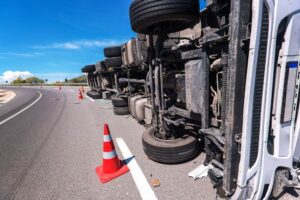 You're not alone if you suffered harm in a truck accident. The Ohio State Highway Patrol notes that thousands of people suffer harm in collisions each year. The law provides recourse for injured claimants to seek damages. Our Ohio truck accident lawyer will do everything possible to recover compensation for your medical bills, lost income, and pain and suffering.
Isaacs & Isaacs Personal Injury Lawyers have decades of experience advocating for injured claimants. We've recovered billions – and now, we're ready to champion your rights.
We charge no upfront fees for our legal services and only take payment if we secure monetary compensation on your behalf. Call us at 800-333-9999 at any time to speak to one of our dedicated Ohio truck accident lawyers and set up a free consultation.
We Represent Injured Accident Victims Across Many Categories. Some Personal Injury Cases We Handle Include:
Accidents With Trucks or Commercial Vehicles
Injuries & Wrongful Death Involving Driver Negligence (cell phone use, DUI)
Accidents With Uninsured Motorists
Whiplash Injury Accidents
Airbag Deployment Accidents
Takata Air Bag Recalls
Motorcycle Accident Injuries
Ridesharing: Lyft & Uber Accidents
Bicycle Accident Injuries
Hit and Run Accidents
Pedestrians Hit By a Vehicle
Head-On Collisions
Rear-End Collisions
Spinal Cord Injuries
Sometimes an auto accident injury is not evident until much later. Even if you haven't suffered a catastrophic injury you still may need medical treatment. You should seek medical care immediately, even if you don't think you are badly hurt. Some severe injuries may not be immediately apparent. This is the best way to physically and legally protect yourself and your loved ones.
"Our daughters were involved in a serious car crash when a man ran a red light! Isaacs & Isaacs knew exactly what to say and exactly what to do for us! They are not only highly professional but also very sincere in wanting to help get our girls every dollar deserved! We will always be grateful to the team of The Hammer for being so wonderful during our time of need! Thank you from our family to your law firm."
---
Getting the Legal Perspective on Car Accidents – Audio Interview
Car accident lawyer Darryl Isaacs — The Hammer — sat down to address legal and safety considerations when injured from a car crash in a recent radio episode of "Ask The Hammer," the podcast exploring the legal matters that matter most. There are many elements at play when knowing what to do after a car accident. Listen to the episode directly below.
---
We're Ready to Pursue These Losses After Your Ohio Collision
We've recovered compensation from multi-million-dollar companies like UPS. Our lawyers aren't afraid of a good legal fight.
Compensable losses in your case may comprise:
Pain and suffering
Past, present, and future healthcare expenses
Lost income and other employee-related benefits
Scarring and disfigurement
Property damage expenses, including the cost of repairing your vehicle
Childcare costs, if your injuries prevent you from caring for minor children
In-home modifications, like widened doorways and wheelchair ramps
Funeral and burial expenses
Loss of consortium
Our Accident Law Firm Will Get Started on Your Case Immediately By:
Listening to your story
Answering your questions
Advising you what to do next
Investigating the accident scene and all other evidence related to your claim
Reviewing medical records, police reports, and all documents
Determining which parties are liable for your injury
Meeting with insurance adjusters
Helping you file your claim
Demanding a just settlement for all of your medical treatment and damages
---
Take a Look at Some of Our Previous Outcomes
We're not kidding when we say that we've recovered billions for injured claimants. Our partner, Darryl Isaacs, is known locally as "the Hammer." That's because he'll stop at nothing to achieve what his clients deserve.
Previously, we've secured these outcomes:
Our client, a man in his forties, was killed when a semi-truck crossed the center line on an interstate, striking his vehicle head-on. The outcome? $10 million.
Our client, an elderly woman, suffered a traumatic brain injury after a semi-truck pulled out in front of her vehicle. She was in a coma for several weeks. The outcome? $3.65 million.
Our client was stopped behind a semi-truck when a tanker truck rear-ended her, forcing her car beneath the truck in front of her. The resolution? $2.525 million.
Our clients, a husband, and wife, were struck by a UPS truck driver who disregarded a yield sign. The settlement? $1.25 million.
These are just some of the outcomes we've achieved during our years of service. When you reach out to our Ohio truck accident team, we can give more information regarding our past successes.
---
Why Partner with a Truck Accident Lawyer from Our Firm?
As you already know, truck accidents cause serious injuries. You deserve to spend time with your family during your recovery period. You shouldn't have to field phone calls from aggressive claims adjusters or other lawyers.
Our compassionate attorneys can advise you on what to do after a truck accident to help your legal pursuit. We encourage you to consider partnering with our firm because:
Trucking Companies Have Extensive Resources
If you were involved in a crash, you might wonder how to file a truck accident claim. When you get into a collision with another driver, the claims process generally involves you, the other motorist, the claims adjuster, and each party's lawyer. Matters change when you go up against a multi-million-dollar trucking company.
If one of the following factors caused the trucking accident, the company may be liable:
Truck maintenance
Driving under the influence
A lawyer can help you identify the at-fault party and build a strong case against them. If the trucking company is responsible for the crash, your attorney can help you go up against their resources.
These organizations have:
Teams of lawyers ready to discredit your case
Private investigators who will try to blame the accident on you
Expert field consultants who can testify on the trucking company's behalf
Insurance companies that don't want to settle
Managing communications with each of these entities can be overwhelming. That's where our team comes in. Our lawyers have extensive experience dealing with different types of truck accidents. We will handle everything your case requires while you move toward maximum medical improvement.
Our Attorneys don't Require Any Upfront Payments
Getting started with Isaacs & Isaacs Personal Injury Lawyers is easy. It all begins with a free case review where you can discuss your case with our team. From there, we'll take your case on a contingency fee basis.
This means:
Our attorney's fees come from your settlement.
You don't pay anything out of pocket for our help.
You don't pay us anything if your case doesn't succeed.
We advocate for truck accident claimants because we believe in justice. We're ready to start building your case today.
Our Attorneys Will Handle Each of Your Case's Challenges
In our years of experience, we rarely encounter a challenge we haven't overcome before. Our law firm's ready to help if:
The insurance company denies or contests your claim.
The trucking company denies accountability.
The insurance company claims there isn't sufficient evidence to support your story
You're not sure what your damages are worth.
The insurance company isn't cooperating.
You're unsure of how to handle the legal process.
As noted, we'll address each of these things for you. We will use our network of resources, knowledge, and skill to recover what you need.
Our Attorneys Will Evaluate Any Potential Settlement Offers
Some insurance companies will find many ways to avoid paying claims. To settle your case, they might offer less than you deserve and say, "That's the best we can do."
We will calculate your losses based on your situation, considering your medical bills, estimated recovery period, and missed time from work. This allows us to arrive at a figure that accurately represents your hardships.
If the insurance company offers a settlement, we can explain whether it's a fair deal. If not, we'll negotiate for every penny you deserve. We're always ready to go to court if negotiations don't yield a fair outcome.
Build Your Case With A Top Rated Accident Lawyer
If you need immediate assistance with a vehicle accident or personal injury, call our team now at 
800-333-9999
 to begin your free case review and schedule an initial consultation to get legal advice. Our law firm represents injured victims across many categories. Some popular cases our accident attorneys handle include:
---
Considering Prompt Legal Aid Promotes Your Case's Outcome
Each state, including Ohio, places statutory deadlines on civil cases. We're proud that we resolve many of our cases through insurance settlements. However, we also want to have ample time to file a lawsuit if one is necessary.
Consider how these filing deadlines apply to your case:
You must initiate your lawsuit within these periods, or you risk losing your right to seek financial recovery. Our truck accident team in Ohio will manage your case's deadlines so you can focus on feeling better.
When minors are injured in a trucking accident, a different set of conditions apply to filing a claim. School bus accident statistics show that some of the worst crashes in the nation's history were with trucks or other large vehicles.
If a minor was involved in a school bus accident, a parent or legal guardian files a suit on behalf of the minor, or the statute of limitations is tolled until the victim becomes of legal age. Our lawyers can help you identify the best course of action to protect your child's future.
---
Begin Your Free Case Review with Isaacs & Isaacs Personal Injury Lawyers Now
Our truck accident team offers free case reviews where you can learn more about your case's potential. Here, you can also ask questions about our firm's experience, previous outcomes, and testimonials.
To learn more about working with our Ohio lawyers, call 1-800-333-9999 for your no-cost truck accident case review.