Begin Your Case With a Proven Personal Injury Law Firm
When you entrust your case to us, you don't have to worry about your case's outcome. We resolve 99% of the claims and lawsuits we handle. With Isaacs & Isaacs Personal Injury Lawyers on your side, you can focus on getting better. Whether you were hurt in a collision, a dog bite, or experienced nursing home abuse, we're ready to help.
Our firm's Indiana personal injury attorney will do everything possible to obtain compensation for your injury-related expenses. We've won back billions in the 25-plus years we've served our communities. Today, you can start a free case review with no obligation.
We charge no upfront fees for our legal services and only take payment if we secure monetary compensation on your behalf. Call us at 800-333-9999 at any time to speak to one of our dedicated Indiana personal injury lawyers and set up a free consultation.
We Represent Injured Accident Victims Across Many Categories. Some Personal Injury Cases We Handle Include:
Accidents With Trucks or Commercial Vehicles
Injuries & Wrongful Death Involving Driver Negligence (cell phone use, DUI)
Accidents With Uninsured Motorists
Whiplash Injury Accidents
Airbag Deployment Accidents
Takata Air Bag Recalls
Motorcycle Accident Injuries
Ridesharing: Lyft & Uber Accidents
Bicycle Accident Injuries
Hit and Run Accidents
Pedestrians Hit By a Vehicle
Head-On Collisions
Rear-End Collisions
Spinal Cord Injuries
"They're great to me. Used them twice and positive results both times. I wouldn't hesitate to contact them again if needed."
---
Hiring an Indiana Personal Injury Attorney with Our Firm
In his podcast, "Ask the Hammer," Attorney Darryl Isaacs – the Hammer – answers questions about how he and his team serve clients to help get them the compensation they need. Play the episode below:
---
Our Firm Proudly Manages These Practice Areas in Indiana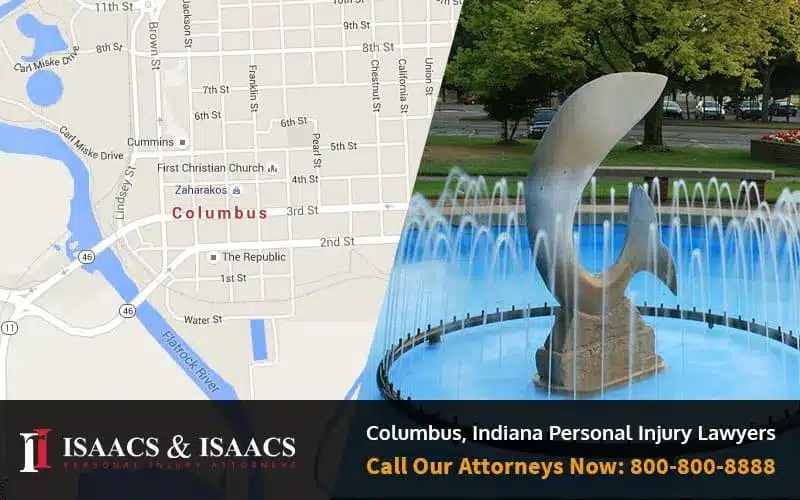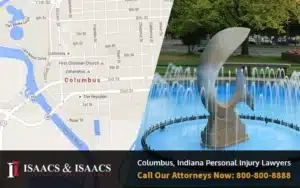 Some of our Indiana personal injury firm's practice areas include:
Motorcycle accidents: If you are injured while riding a motorcycle, you may be entitled to financial compensation. Our Indianapolis personal injury lawyers represent clients who have been involved in motorcycle accidents caused by the negligence of others.
Dog bites: Dog bites are among the most common types of injuries. Dogs that are not adequately trained or restrained can cause serious harm to their victims. The severity of the injury depends upon several factors, including the size and breed of the dog, whether the victim was wearing protective clothing, and how close the attack occurred to the victim's body.
Traumatic brain injuries (TBIs): TBIs occur when an individual suffers from a head trauma that causes damage to the brain. They are often referred to as a "silent epidemic" because they are challenging to diagnose. Symptoms of TBI vary depending on the type of injury suffered. Some symptoms include headaches, dizziness, memory loss, confusion, fatigue, difficulty concentrating, and personality changes.
Workers' compensation: Workers' compensation laws provide benefits to workers who suffer work-related injuries. These benefits include medical care, disability payments, and other forms of compensation.
Bicycle accidents: Bicycle accidents can result in severe injuries, including broken bones, internal bleeding, and spinal cord injuries. Unfortunately, many bicycle accident cases involve children struck by distracted drivers.
Auto accidents: Motor vehicle accidents can lead to catastrophic injuries, including paralysis, brain damage, spinal cord damage, and even death. In some vehicular accident cases, the driver is at fault. However, in other cases, it may be determined that the vehicle manufacturer or owner of the commercial vehicle was responsible for the crash.
Trucking accidents: Trucks can be dangerous machines. Even semi-truck accidents can cause life-altering injuries. At our personal injury law firm, we understand the seriousness of these accidents and know what steps must be taken to ensure you receive fair treatment and compensatory damages.
Slip and fall accidents: Slip and fall accidents are among the most common causes of personal injury claims. When a property owner fails to maintain its premises in a safe condition, they may be held liable for any resulting injuries.
Medical malpractice: Medical malpractice refers to instances where doctors fail to meet the standard of care required. This failure may result in permanent injury or even death.
Product liability: Product liability involves situations where a defective product causes injury or death. It is important to note that manufacturers are only legally obligated to produce reasonably safe products.
Premises liability: Premises liability refers to situations where business owners fail to keep their establishment free from dangerous conditions. For example, you may be able to hold a restaurant owner liable for your injuries if you slip on spilled food.
Rideshare accidents: Ridesharing companies like Uber and Lyft have become increasingly popular over the past several years. As more people use ridesharing services, there will likely be more car crashes involving these vehicles. If you were injured in such a crash, you might be entitled to file a personal injury lawsuit against the company operating the ridesharing service.
On-the-job injuries: On-the-job injuries occur when an employee suffers harm while working. Common workplace injuries include back pain, neck pain, repetitive motion injuries, and musculoskeletal disorders.
Boating accidents: Boating accidents often result in serious injuries, including head trauma, spinal cord injuries, and drowning. Many boating accidents happen because of negligence on the part of boat operators.
Nursing home negligence: Nursing homes provide medical care to elderly patients who cannot care for themselves. These facilities are supposed to provide adequate staffing levels and training to ensure patient safety. However, nursing home neglect has resulted in thousands of deaths every year.
Contact us as soon as possible, even if you don't see your personal injury on this list. You typically have two years to file your injury or wrongful death lawsuit, per IC § 34-11-2-4. We will file your case within the state's mandated deadline.
---
Our Accident Law Firm Will Get Started on Your Case Immediately By:
Listening to your story
Answering your questions
Advising you what to do next
Investigating the accident scene and all other evidence related to your claim
Reviewing medical records, police reports, and all documents
Determining which parties are liable for your injury
Meeting with insurance adjusters
Helping you file your claim
Demanding a just settlement for all of your medical treatment and damages
Our Lawyers Will Seek These Losses After Your Accident
Our personal injury attorneys realize that no amount of money will fix what happened to you or your loved one. However, we believe you deserve fair compensation for your losses, and we will fight for the money you need.
Our lawyers work hard to help clients recover the following economic and non-economic damages after their accidents:
Healthcare expenses, including surgeries and medications: Healthcare expenses include any treatment you undergo due to your injuries. For example, if you had surgery to repair a broken bone, your healthcare expenses would consist of the cost of the surgery.
Property damage: Property damage includes anything damaged during an accident, including your vehicle, home, and other property.
Lost wages, tips, bonuses, and benefits: Lost wages refer to the money you were paid while you could not work due to your injuries. Tips, bonuses, and benefits are also considered lost wages.
Pain and suffering: Pain and suffering refer to the physical and emotional distress caused by your accident. Our team of experienced lawyers will work tirelessly to ensure you receive full compensation for all of your losses.
Loss of enjoyment of life: This type of loss occurs when you can no longer participate in activities you enjoyed before your accident.
Loss of consortium: A spouse or partner injured may lose consortium with their spouse or partner. Consortium is the right to enjoy conjugal fellowship, comfort, aid, and society.
Disability: Disabilities refer to the inability to perform some tasks due to your injuries, such as walking, talking, or feeding yourself.
Permanent impairment: Impairments refer to the effects of your injuries on your body. They can be temporary or permanent. Temporary impairments include things like sprains, bruises, cuts, and fractures. Permanent impairments include conditions like arthritis, paralysis, and brain damage.
Scarring and disfigurement: Scarring and disfigurement occur when your skin is permanently altered because of your injuries.
Emotional trauma: Emotional trauma occurs when you experience intense fear, anxiety, depression, anger, or grief. Compensation is intended to help with emotional recoveries.
Death: Death is the most devastating loss that can happen to someone involved in an accident. If someone dies from an accident, our team of experienced lawyers will seek justice for the family members.
Loss of parental guidance and household services: These types of losses occur when a child loses the love and companionship of a parent or guardian.
Funeral expenses, including cremation or embalming: Funeral expenses include costs associated with preparing your loved one's body for burial or cremation.
Our firm has been helping families throughout Indiana obtain justice since 1993. Contact us today to learn how we can help you get the financial recovery you deserve.
We've Recovered Billions for Injured Claimants
Issacs & Isaacs Personal Injury Lawyers is a proud member of the Multi-Million-Dollar Advocates Forum. That means we've recovered multi-million-dollar settlements and verdicts for our clients. Some of our successful outcomes include:
Our client's daughter was injured in a serious school bus accident. Our firm recovered a $6.4 million settlement for their family.
Our personal injury law firm recovered $1.4 million for our client after a reckless driver crashed into her vehicle.
A large commercial semi rear-ended our client. We recovered a $2.25 million settlement.
These are only a tiny sample of the compensation we've negotiated for our clients. We encourage you to check out our previous case results online.
---
Our Legal Team Will Handle Everything Your Case Requires
When facing a serious criminal charge, it is crucial to have an experienced legal team on your side. We understand that you need someone to fight for you and protect your rights. We can help you with everything from pre-trial motions to post-conviction relief.
Our attorneys will work tirelessly to prove negligence. In addition, we will:
Interview Expert Witnesses
The more witnesses we have to corroborate your claim, the stronger your case. Based on your situation, we may use testimony from a wide range of expert witnesses, including:
Accident reconstruction specialists
Animal trainers and veterinarians
Eyewitnesses
Law enforcement officials
Economists
Medical professionals and healthcare providers
Medical examiners
Physical therapists
Psychologists
Your testimony is also essential. We encourage you to write down everything you recall about getting hurt. Even the smallest detail can validate certain aspects of your case.
Calculate Your Damages
Calculating your damages lets us know what constitutes a fair settlement offer and helps us determine the maximum compensation we can obtain.
We will use your injury-related billing statements, invoices, and receipts to accomplish this task. This information helps us determine how much money you should receive based on your current medical condition.
If you have lost wages, we will be able to provide you with documentation of those earnings. If you have been unable to work since the accident, we will seek compensation for your loss of earning capacity.
File Your Insurance Claim
Indiana operates on a fault-based system. So, if you suffered harm in an accident, you can usually file a claim with the other party's insurance company to seek damages. Filing a successful insurance claim involves:
Reviewing the liable policy
Backing your claim with evidence
Handling communications with claims adjusters and witnesses
Writing and sending your demand letter, which outlines your damages
Negotiating a settlement
Protecting you from bad faith insurance industry practices
If you are wondering how insurance works against you, the answer is simple. Insurance agents are trained to represent the company's interest and make a profit. However, unlike an insurance agent, your lawyer will always serve your best interest.
File Your Civil Lawsuit
Our law firm knows that most cases are resolved through insurance settlements. However, our trial-ready lawyers are ready to litigate your case. This process involves:
Filing your lawsuit within the statute of limitations
Taking depositions from witnesses
Objecting to unfair questions or proceedings
Communicating with the other party's legal team
Arguing your right to compensation
Build Your Case With A Top Rated Accident Lawyer
If you need immediate assistance with a vehicle accident or personal injury, call our team now at 
800-333-9999
 to begin your free case review and schedule an initial consultation to get legal advice. Our law firm represents injured victims across many categories. Some popular cases our accident attorneys handle include:
---
Our Previous Clients Have Shared this Feedback About Us
When we say we fight for injured claimants, you don't have to take our word for it. Our client reviews say it all:
"It was a pleasure to have the Isaacs & Isaacs team help me after being hit by a truck as I was walking to the market. They went above and beyond to help with all I went through!" – JoeAnn S.
"John came to our house and went over the legal part of it thoroughly, quickly, but he always made it more about us. I would recommend them to anybody because they're going to make sure that you're protected. It just always felt like we were dealing with a family instead of a legal process." – Tammy S.
We also have an "A+" rating on the Better Business Bureau's website.
---
Our Personal Injury Lawyers in Indiana Will Prove Negligence
Each injury case requires us to prove negligence, meaning that you suffered losses because of another party's reckless actions. Demonstrating negligent behavior requires us to investigate your situation, calculate your losses, and consult field experts.
We also must demonstrate these four elements:
Another party (like a dog owner, a boater, or a bus driver) had an obligation, or duty of care, to keep you and other people safe.
The person responsible violated that duty of care by neglecting or causing a personal injury accident.
The resulting accident directly led to your injuries or a loved one's death.
You incurred emotional, physical, and financial losses due to the at-fault party's negligence.
---
We Offer Resources to Injured Claimants in Indiana
During this challenging time, we want to support you in any way we can. Here are some resources that give you an idea of what it's like to work with us:
Our blog: If you have any questions about your case, we encourage you to check out our blog. We answer some of your most urgent questions, including: "What expenses are handled by workers' compensation?"
Our checklist for vehicle accidents: What you do directly following a collision can impact your case's outcome. Here, you can get a copy of our Car Accident Checklist to ensure you take the appropriate steps.
Our YouTube channel: If you want to get a "feel" of what it's like to partner with us, we encourage you to check out our YouTube channel. Here, we answer your questions and concerns regarding compensation.
---
Begin a Free Case Review with Our Indiana Personal Injury Team
Our team is available around-the-clock to listen to your story. We offer free initial consultations, where we'll review your case and discuss your options. You don't need to hire us at this point; tell us about your situation.
If you or a loved one suffered harm from a negligent party, Isaacs & Isaacs Personal Injury Lawyers is ready to fight for you.
To learn more about working with our Indiana lawyers, call 1-800-333-9999 for your no-cost personal injury case review.