Begin Your Case With a Proven Catastrophic Injury Law Firm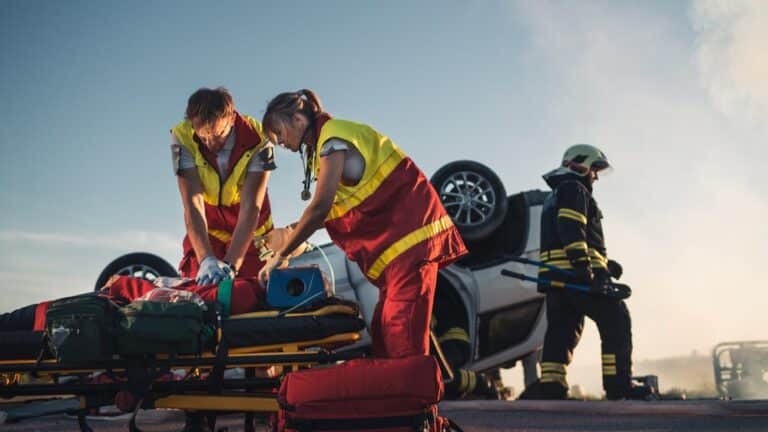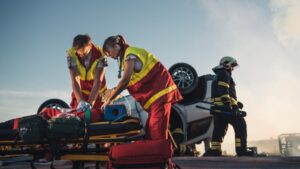 At Isaacs & Isaacs Personal Injury Lawyers, we understand that a catastrophic injury can have a devastating impact on your life and your loved ones. If you were hurt in a preventable accident due to another person's negligence, we encourage you to contact us today, so a Covington catastrophic injury lawyer can help you secure the compensation you need for your costly past, present, and future accident-related expenses.
A catastrophic injury is so severe it causes life-altering, long-lasting, or permanent bodily damage to a person. Victims who have incurred an injury this extreme are often unable to sustain gainful employment while in recovery, which could include their entire lives. Therefore, they often need a significant personal injury settlement to cover their extensive, ongoing medical expenses and loss of income.
We charge no upfront fees for our legal services and only take payment if we secure monetary compensation on your behalf. Call us at 800-333-9999 at any time to speak to one of our dedicated Covington catastrophic injury lawyers and set up a free consultation.
We Represent Injured Accident Victims Across Many Categories. Some Personal Injury Cases We Handle Include:
Accidents With Trucks or Commercial Vehicles
Injuries & Wrongful Death Involving Driver Negligence (cell phone use, DUI)
Accidents With Uninsured Motorists
Whiplash Injury Accidents
Airbag Deployment Accidents
Takata Air Bag Recalls
Motorcycle Accident Injuries
Ridesharing: Lyft & Uber Accidents
Bicycle Accident Injuries
Hit and Run Accidents
Pedestrians Hit By a Vehicle
Head-On Collisions
Rear-End Collisions
Spinal Cord Injuries
"John came to our house and went over the legal part of it thoroughly and quickly, but he always made it more about us. I would recommend them to anybody because they're going to make sure that you're protected. It just always felt like we were dealing with family instead of a legal process."
---
Getting the Legal Perspective on Car Accidents – Audio Interview
Car accident lawyer Darryl Isaacs — The Hammer — sat down to address legal and safety considerations when injured from a car crash in a recent radio episode of "Ask The Hammer," the podcast exploring the legal matters that matter most. There are many elements at play when knowing what to do after a car accident. Listen to the episode directly below.
---
What Can a Covington Catastrophic Injury Lawyer Do for You?
After sustaining a catastrophic injury, hiring an attorney who will advocate for your rights and best interests can help ensure you receive the compensation necessary to cover your losses. We have the legal knowledge, resources, and connections to courts and experts to establish a solid personal injury case. In addition, your attorney can handle complex legal tasks for you while you focus on healing. These include accident investigation, evidence collection, and filing claims.
After your initial consultation with one of our attorneys, we will get your case underway by doing the following:
Analyzing and thoroughly evaluating your claim to begin building your case
Handling your case throughout the process and protecting your legal rights
Investigating the cause of your injuries and collecting evidence to prove liability
Gathering your income statements, medical records, and other documentation needed to estimate your losses accurately
Negotiating with insurance agencies on your behalf
Taking your case to court, if necessary, to seek the compensation to which you are entitled
Our Accident Law Firm Will Get Started on Your Case Immediately By:
Listening to your story
Answering your questions
Advising you what to do next
Investigating the accident scene and all other evidence related to your claim
Reviewing medical records, police reports, and all documents
Determining which parties are liable for your injury
Meeting with insurance adjusters
Helping you file your claim
Demanding a just settlement for all of your medical treatment and damages
---
Common Accident FAQs
How Long Do You Have to File a Personal Injury Claim in Kentucky?
The Kentucky personal injury statute of limitations is just one year. However, if the injury was related to a motor vehicle accident, the claimant has two years to file. This amount of time might seem significant, but you must also consider that it is helpful for the victim to have reached maximum medical improvement (MMI) when filing a personal injury claim.
MMI means that the victim has recovered from a catastrophic injury to the greatest possible extent based on a doctor's expert opinion. In extreme cases, it is possible that a victim may not be able to fully recover for the rest of their lives. Because personal injury compensation is based on injuries and losses, the victim should understand their scope before requesting payment so they can be calculated accurately.
This doesn't mean that the victim will no longer receive medical care or that their condition won't decline. But once they reach MMI, it will be easier to evaluate the rate at which their condition is expected to worsen. This is where a personal injury attorney becomes essential to filing a claim—to ensure every injury-related loss is accounted for and that all legal deadlines are met.
Build Your Case With A Top Rated Accident Lawyer
If you need immediate assistance with a vehicle accident or personal injury, call our team now at 
800-333-9999
 to begin your free case review and schedule an initial consultation to get legal advice. Our law firm represents injured victims across many categories. Some popular cases our accident attorneys handle include:
Effects of a Catastrophic Injury and Recoverable Damages
Even with health insurance, catastrophic injury victims can incur massive medical bills, co-pays, and out-of-pocket costs. These can include ambulance service, emergency care, hospitalization, surgeries, doctor's visits, various therapies, testing and imaging, prescription drugs, etc.
However, the consequences of a severe injury do not stop with the physical injury itself and related medical bills. In addition, victims often seek compensation for the following losses:
Future Medical Expenses
Many catastrophic injury victims require physical therapy, rehab, medication, medical equipment, and other long-term treatments for the rest of their lives. These losses can be estimated and included in a personal injury claim.
Past and Future Loss of Income
Injury victims may miss months or years of work after a severe accident. In addition, victims who incur catastrophic injuries, such as traumatic brain or spine injuries, may not be able to work again or earn at the same capacity as before their accident. Therefore, the discrepancy in income can be accounted for when calculating a victim's losses.
Scarring or Disfigurement
Scarring or disfigurement leaves a victim with lasting damage apparent to everyone. This can affect interactions with others in everyday life. It can also cause emotional distress and undermine self-confidence. Scar tissue can also be physically painful, limit movement and activities, and decrease one's ability to live life normally. Scarring or disfigurement-related losses can be included in a personal injury claim as damages.
Physical and Emotional Pain and Suffering
It may be challenging to place a precise value on physical pain and emotional anguish, but the legal system has found ways to do so. Physical pain may not be controlled by medication, and any time motor skills are significantly impaired, victims are likely to experience a significant amount of discomfort.
Many injury sufferers may also be forced to cope with accident-related trauma for the remainder of their lives. In addition, they often struggle with mental health issues, such as anxiety, depression, and post-traumatic stress disorder (PTSD). Therefore, a victim's physiological and psychological pain and suffering can be estimated and listed as damages in a lawsuit against a liable party.
Loss of Quality of Life, Life Enjoyment
Those who suffer permanent disabilities may find that they can no longer participate in activities and hobbies they previously enjoyed or experience the same relationship with their spouse or family members. This is a tremendous, all-encompassing loss that victims might experience and pursue compensation to cover.
---
Find Out How a Covington Catastrophic Injury Attorney Can Help
At Isaacs & Isaacs Personal Injury Lawyers, we understand the challenges of sustaining a catastrophic injury. Our attorneys have more than 400 years of legal experience collectively, and we have recovered $1 billion in settlements for our clients.
Our team will ensure you receive the funds and treatment you need for as long as you need it. Throughout your case, we will be available to provide you with guidance, support, and legal representation. Contact us today for a free, no-obligation consultation so we can get started working on your claim and pursuing the compensation you need to heal and live your best life.
To learn more about working with Covington Ashland lawyers, call 1-800-333-9999 for your no-cost catastrophic injury case review.