Begin Your Case With a Proven Personal Injury Law Firm
Meet Attorney Darryl Isaacs. In the legal community, he's known as "the Hammer." Why? Because in the years he's been serving injured people, his team's recovered more than $2 billion in damages.
Whether you suffered harm in a fall, collision, or another incident, we believe you deserve compensation for your losses. A Henderson personal injury lawyer can negotiate a settlement or file a lawsuit to recover what you need.
We charge no upfront fees for our legal services and only take payment if we secure monetary compensation on your behalf. Call us at 800-333-9999 at any time to speak to one of our dedicated Henderson personal injury lawyers and set up a free consultation.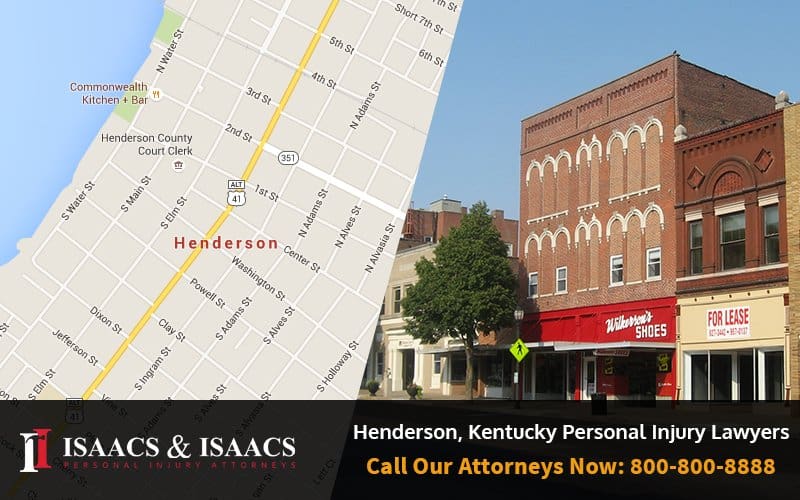 We Represent Injured Accident Victims Across Many Categories. Some Personal Injury Cases We Handle Include:
Accidents With Trucks or Commercial Vehicles
Injuries & Wrongful Death Involving Driver Negligence (cell phone use, DUI)
Accidents With Uninsured Motorists
Whiplash Injury Accidents
Airbag Deployment Accidents
Takata Air Bag Recalls
Motorcycle Accident Injuries
Ridesharing: Lyft & Uber Accidents
Bicycle Accident Injuries
Hit and Run Accidents
Pedestrians Hit By a Vehicle
Head-On Collisions
Rear-End Collisions
Spinal Cord Injuries
Sometimes an auto accident injury is not evident until much later. Even if you haven't suffered a catastrophic injury you still may need medical treatment. You should seek medical care immediately, even if you don't think you are badly hurt. Some severe injuries may not be immediately apparent. This is the best way to physically and legally protect yourself and your loved ones.
"Our daughters were involved in a serious car crash when a man ran a red light! Isaacs & Isaacs knew exactly what to say and exactly what to do for us! They are not only highly professional but also very sincere in wanting to help get our girls every dollar deserved! We will always be grateful to the team of The Hammer for being so wonderful during our time of need! Thank you from our family to your law firm."
---
Hiring a Kentucky Personal Injury Attorney with Our Firm
In his podcast, "Ask the Hammer," Attorney Darryl Isaacs – the Hammer – answers questions about how he and his team serve clients to help get them the compensation they need. Play the episode below:
---
We Handle These Practice Areas in Henderson, KY
For over 20 years, we've helped claimants who have suffered harm due to:
Collisions involving trucks, cars, buses, and motorcycles
Rideshare and self-driving car accidents
Premises liability incidents
Slips and falls
Dog bites
Catastrophic injuries
We also help families who have lost loved ones.
Our Accident Law Firm Will Get Started on Your Case Immediately By:
Listening to your story
Answering your questions
Advising you what to do next
Investigating the accident scene and all other evidence related to your claim
Reviewing medical records, police reports, and all documents
Determining which parties are liable for your injury
Meeting with insurance adjusters
Helping you file your claim
Demanding a just settlement for all of your medical treatment and damages
---
Why Partner With Isaacs & Isaacs Personal Injury Lawyers?
Here are some reasons to consider partnering with our team:
We Work on a Contingency-Fee-Basis
Right now, you're likely dealing with costly medical bills, missed time from work, and other stressful obligations. Affording a lawyer should not be among your worries. So, we help people on a contingency-fee-basis.
What does this mean for you? Well, you pay no upfront fees or costs to team up with us. Furthermore, we don't request compensation for our services if we don't get compensation for your losses.
We Make Getting Started Easy
With Isaacs & Isaacs Personal Injury Lawyers, hiring a lawyer has never been easier. It all begins with your complimentary case review. Here, we can discuss your situation with no obligation.
There is no such thing as oversharing when you contact our team. We want to know everything, including the severity of your injuries, the cost of your damages, and what you want from the legal process.
We Will File Your Case Within the Appropriate Deadline
Kentucky's civil statute of limitations is admittedly complicated. That's because car accident lawsuits have different filing deadlines than other civil lawsuits.
Consider the following:
Some exceptions may give you more or less time to act. When you partner with our personal injury lawyers serving Henderson, we can evaluate your case's filing deadline and file it appropriately.
We Will Seek Each of Your Injury-Related Losses
We have one goal: to recover compensation for the full scope of your injury-related expenses. If another party's negligence caused your accident, you shouldn't have to pay for anything.
Recoverable damages include:
Medical bills, including future expenses
Lost income, benefits, bonuses, and tips
Pain and suffering
Loss of future earning ability
Transportation expenses
The cost of repairing or replacing your vehicle
Disability
Loss of consortium
Funeral and burial costs
We resolve many of our client's cases through insurance claims. However, if the insurance company refuses to settle, we will file a lawsuit and proceed to trial.
---
What Should I Do After Getting Hurt Due to Negligence?
The following measures could secure a positive outcome:
Refrain From Giving a Recorded Statement
The insurance company will likely ask for a recorded statement following your accident. This will not benefit you because:
The insurance company could twist your words into something you didn't mean.
The claims adjuster could ask you "loaded" questions, each designed to derail your case.
Even a small admission of fault could hurt your case's outcome.
Leave all communications with the insurer to us. We will supply the claims adjuster with all the information they need to proceed with your case.
Seek Medical Care
For your case to succeed, you must make a connection between your injuries and the accident in question. You can do this by visiting a healthcare professional. Through imaging scans, lab test results, and other diagnostic exams, they can prove your condition's cause.
Take a Break From Posting to Social Media
Anything you share on social media is public, no matter how tight your privacy settings are. So, while your case unfolds, you should avoid posting anything online––even old photos. The claims adjuster could access these posts and use them against you.
Build Your Case With A Top Rated Accident Lawyer
If you need immediate assistance with a vehicle accident or personal injury, call our team now at 
800-333-9999
 to begin your free case review and schedule an initial consultation to get legal advice. Our law firm represents injured victims across many categories. Some popular cases our accident attorneys handle include:
We Are Prepared To Address Each of Your Case's Challenges
No civil case is easy. Even if the cause of your accident is straightforward, you might have a hard time recovering compensation on your own. Our lawyers serving Henderson are ready to help if:
The Insurance Company Contests Your Claim
Insurance companies exist to make money—not to protect injured claimants. After filing your claim, the insurance company may pressure you into accepting less than you deserve or deny your claim altogether.
This is where Isaacs & Isaacs Personal Injury Lawyers come in. We will handle all communications with the insurer and fight for what you need.
You Don't Have Supporting Evidence
Each case needs documentation. However, while recovering from your injuries or grieving a loved one, you might not have time to gather evidence.
We, on the other hand, have the time necessary to investigate your case. We will find and use the following to support your right to damages:
The accident report
Witness testimony
Security camera footage
Photos of the accident scene
Your injury-related receipts, billing statements, and invoices
Testimony from accident reconstruction specialists
You're Not Sure What Your Damages Are Worth
If you don't understand the value of your losses, you can't know what constitutes a fair settlement. Our team will review your situation and determine what you are owed by:
Consulting economists and healthcare experts
Adding your invoices and billing statements
Projecting your future losses
Evaluating the liable party's policy limits
---
Call Isaacs & Isaacs Personal Injury Lawyers To Learn More
Our team is standing by to take your call now. You can ask us anything about your case from the moment we pick up the phone. Get started today.
To learn more about working with our Henderson lawyers, call 1-800-333-9999 for your no-cost personal injury case review.