Begin Your Case With a Proven Motorcycle Accident Law Firm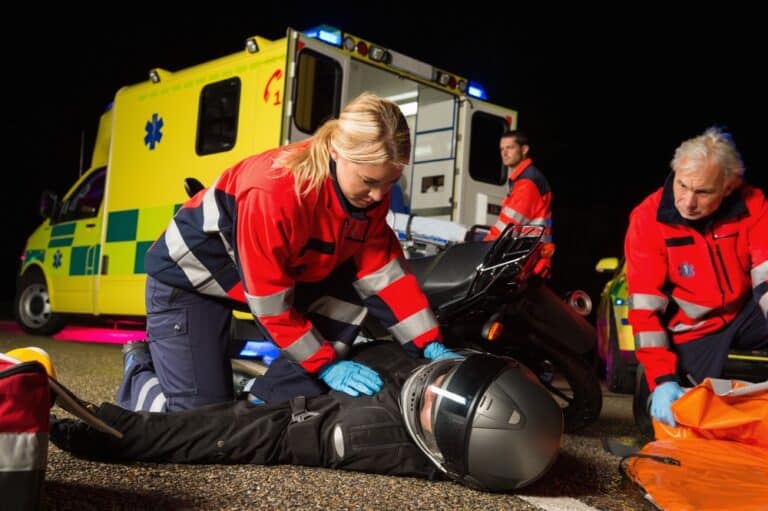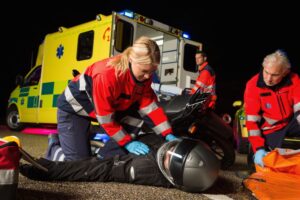 According to the Kentucky State Police, there were more than 1,300 motorcycle accidents in the state in 2020. Over 900 of those accidents caused injuries, and 82 were fatal. Many people involved in motorcycle accidents are left with severe personal injuries and a diminished ability to earn money and live life to the fullest.
If you have been involved in a motorcycle accident, you might be relieved to know that filing a claim for compensation doesn't have to be confusing or stressful. A Lexington motorcycle accident lawyer from Isaacs & Isaacs can help you through the entire process of your insurance claim or lawsuit.
We charge no upfront fees for our legal services and only take payment if we secure monetary compensation on your behalf. Call us at 800-333-9999 at any time to speak to one of our dedicated Lexington motorcycle accident lawyers and set up a free consultation.
We Represent Injured Accident Victims Across Many Categories. Some Personal Injury Cases We Handle Include:
Accidents With Trucks or Commercial Vehicles
Injuries & Wrongful Death Involving Driver Negligence (cell phone use, DUI)
Accidents With Uninsured Motorists
Whiplash Injury Accidents
Airbag Deployment Accidents
Takata Air Bag Recalls
Motorcycle Accident Injuries
Ridesharing: Lyft & Uber Accidents
Bicycle Accident Injuries
Hit and Run Accidents
Pedestrians Hit By a Vehicle
Head-On Collisions
Rear-End Collisions
Spinal Cord Injuries
Sometimes an auto accident injury is not evident until much later. Even if you haven't suffered a catastrophic injury you still may need medical treatment. You should seek medical care immediately, even if you don't think you are badly hurt. Some severe injuries may not be immediately apparent. This is the best way to physically and legally protect yourself and your loved ones.
"John came to our house and went over the legal part of it thoroughly and quickly, but he always made it more about us. I would recommend them to anybody because they're going to make sure that you're protected. It just always felt like we were dealing with family instead of a legal process."
---
Getting the Legal Perspective on Motorcycle Accidents – Audio Interview
Motorcycle accident lawyer Darryl Isaacs — The Hammer — sat down to address legal and safety considerations when injured from a motorcycle crash in a recent radio episode of "Ask The Hammer," the podcast exploring the legal matters that matter most. There are many elements at play when knowing what to do after a motorcycle accident. Listen to the episode directly below.
---
Get Medical Treatment Right Away
After any motorcycle accident, we recommend you visit the emergency room or immediately call an ambulance. Not only is it essential to put your health first, but it may also be crucial for a medical professional to document your injuries. This documentation can be used as evidence in your insurance claim or lawsuit later on.
Medical documentation can be used to prove that you suffered specific injuries during your accident. For example, if you suffer neck pain, your doctor will likely take scans and note your symptoms in their records. If you need to file a claim for compensation after a motorcycle accident, it's crucial to keep these documents handy.
Our Accident Law Firm Will Get Started on Your Case Immediately By:
Listening to your story
Answering your questions
Advising you what to do next
Investigating the accident scene and all other evidence related to your claim
Reviewing medical records, police reports, and all documents
Determining which parties are liable for your injury
Meeting with insurance adjusters
Helping you file your claim
Demanding a just settlement for all of your medical treatment and damages
---
Common Injuries Motorcycle Riders Suffer Following an Accident
Minor to catastrophic injuries can occur after a motorcycle accident, including:
Whiplash: Whiplash occurs during an accident when your head is violently "whipped" back and forth, causing head and neck injuries. If you've experienced whiplash, you should see a doctor right away so they can determine if further treatment is necessary.
Lacerations: Lacerations occur when skin is cut or torn off your body. They can cause bleeding, bruising, and swelling. Seek immediate medical attention if you experience these types of injuries.
Broken bones: Broken bones are common injuries after a motorcycle crash. The most common broken bone is the leg, followed by the arm, wrist, hand, foot, ankle, and hip.
Amputations: Amputation can be caused by trauma during your motorcycle accident or may be part of a surgical procedure afterward. It's one of the worst things that can happen to someone following a motorcycle accident. Fortunately, limb loss is rare; however, it does happen.
Internal bleeding: Internal bleeding occurs when blood leaks into the tissues inside your body, leading to severe internal damage and even death. Seek immediate care from medical experts if you experience this type of injury.
Organ damage: Motorcycle accidents can puncture or destroy organ tissue, leading to permanent damage. Seek immediate medical attention from doctors if you experience this type of injury.
Spinal injuries: Spinal injuries occur when the spinal cord is damaged. They can range from minor to severe, including paralysis and or death.
Traumatic brain injury (TBI): A TBI occurs when your skull is cracked or broken due to a severe impact with the road or another vehicle. A TBI can lead to memory loss, confusion, headaches, dizziness, seizures, and coma.
Road rash: Road rash is a severe injury that refers to scrapes, cuts, bruises, and abrasions on your arms, legs, face, chest, and abdomen. These injuries often occur when you're thrown over the handlebars of a motorcycle during a collision.
Burns: Burns are serious injuries that can affect your ability to work and live a normal life. Following a motorcycle accident, you could sustain burns on your hands, feet, face, torso, and legs.
Paralysis: Paralysis is when nerves become damaged or severed. It can affect muscle movement, sensation, speech, breathing, swallowing, and bladder control.
Crush injuries: Crush injuries can occur when large objects press against your body, such as cars, trucks, buses, and other vehicles. You may suffer crush injuries to your chest, abdomen, pelvis, spine, shoulder blades, ribs, knees, ankles, wrists, and fingers.
Soft tissue injuries: Soft tissue injuries include sprains, strains, contusions, lacerations, and fractures. These injuries can result in pain, numbness, tingling, weakness, stiffness, or discoloration.
Seeking immediate medical treatment shows that you took the situation seriously and sought help immediately after getting hurt. This can help bolster your claim if someone else is at fault for the accident. You want to avoid complicating matters by failing to seek medical attention.
---
Common Motorcycle Accident FAQs
How Can I Get Compensation After a Motorcycle Accident?
The first step toward recovering compensation for your motorcycle accident is to contact a Lexington personal injury attorney. An experienced lawyer will know how to evaluate your case and work to prove you suffered a personal injury caused by the at-fault party's negligence.
To do so, you must prove that the defendant was negligent and that their actions directly led to your injuries. To recover damages, you must also show that your injuries were foreseeable.
For example, if you were driving down the highway in a car after hitting a pothole, it would not be reasonable to expect you to get hurt. However, if you were riding your bike and ran into a pothole, you might reasonably expect to be injured.
The next step is determining how much money you need to cover your expenses. Your attorney will calculate your total damages based on the severity of your injuries and the cost of your medical care. They will also consider your income and assets before settling on a fair amount.
After calculating your damages, your lawyer will negotiate with the insurance company on your behalf. Negotiating a settlement is one way to ensure you receive full payment for all your damages.
What Does It Cost to Hire a Motorcycle Accident Lawyer?
At Isaacs & Isaacs Personal Injury Lawyers, our personal injury attorneys work on a contingency fee basis. This means we will not charge you any upfront fees or costs and no hourly fees or lump sums. We only get paid if we secure a settlement or judgment for you.
When you hire us to work on your behalf, we will set a percentage of your final settlement or award that you will pay us if we win your case. We will bear all legal and court fees for you throughout the process.
If you don't receive compensation, you don't owe us anything – no fees or costs.
How Much Time Do I Have to File My Case?
There is a deadline to file your case. This deadline is called the statute of limitations. In Kentucky, the statute of limitations for vehicle accidents is generally two years from the date of the accident or the last PIP payment, according to Ky. Rev. Stat. § 304.39-230.
While two years may seem like plenty of time, it's wise to get started as soon as possible. It can take a long time to gather evidence, interview witnesses, obtain medical records and police reports, and compile everything into a strong case. The sooner you contact us, the sooner we can get started.
Build Your Case With A Top Rated Accident Lawyer
If you need immediate assistance with a vehicle accident or personal injury, call our team now at 
800-333-9999
 to begin your free case review and schedule an initial consultation to get legal advice. Our law firm represents injured victims across many categories. Some popular cases our accident attorneys handle include:
Compensation for a Motorcycle Accident Injury
You'll likely receive compensation for your losses if you've been injured in an auto accident. But what about motorcyclists? Do they have any rights under Kentucky law? Yes. If you were injured in a motorcycle accident, you might be entitled to financial compensation for:
Lost wages
Medical bills
Rehabilitation costs
Pain and suffering
Loss of enjoyment of life
Permanent disability
In addition to these types of damages, you may also be able to recover punitive damages if the person who caused your accident acted recklessly or intentionally harmed you. Punitive damages punish wrongdoers and deter others from engaging in similar conduct.
---
Kentucky Insurance Laws
Kentucky is a "choice no-fault state" with automobile insurance. That means most motorists must have Personal Injury Protection (PIP) coverage that will reimburse them for property damages after an accident, no matter who the responsible parties are.
However, motorcyclists are only required to have liability insurance, not PIP. In most cases, motorcycle riders who choose not to have PIP coverage will not even be able to claim basic PIP coverage (up to $10,000) from their own insurance company.
For this reason, ensuring you have adequate insurance coverage to protect yourself in a motorcycle accident is crucial.
Filing a Claim with Your Insurance Company
Once your injuries are stabilized, and you have been released from medical care, you should file a claim with your insurance company. If it's difficult or impossible to do so because of your injuries, Isaacs & Isaacs Personal Injury Lawyers can make that call on your behalf.
We can also assist you if your insurance company refuses to offer a fair offer covering all your expenses.
Negotiating With Insurance Companies
Insurance carriers often want to settle quickly after an accident. However, accepting the first settlement an insurance adjuster offers may result in less compensation than you truly deserve.
Make sure you keep track of all your medical expenses and other bills resulting from the accident. This documentation can prove the medical costs you have incurred and show you deserve more than the insurance company offers. Your Lexington Motorcycle Accident Lawyer can help you with settlement negotiations and fight for fair compensation.
Understanding Your Rights
Many people are unaware of their rights as motorcyclists. This is why you should hire an experienced Lexington Motorcycle Accident Lawyer who knows how Kentucky law protects victims of motorcycle accidents.
Your Lexington Motorcycle Accident Lawyer can help ensure your interests are protected and that you are treated fairly after an incident.
Hire a Motorcycle Accident Lawyer that Serves Lexington
Isaacs & Isaacs Personal Injury Lawyers has an in-house litigation team and a combined legal experience of over 400 years. We have amassed over $2 billion in case victories for our clients. Let us evaluate your claim and assist you in obtaining all available benefits.
---
Call Isaacs & Isaacs Personal Injury Lawyers Today for a Free Consultation
We believe you have the right to be heard from the start. That's why we offer free consultations. We'll listen to your side of the story and advise whether we think you have a viable case. Isn't it time to share your story with someone willing to listen and give you the help you've been looking for?
Call or contact Isaac & Isaacs now if you or your loved one were involved in a Lexington motorcycle accident. We'll start with a free consultation and help you get started on the path toward financial and physical recovery.
To learn more about working with our Lexington lawyers, call 1-800-333-9999 for your no-cost motorcycle accident case review.