Injured In A Motorcycle Accident? Let's Get You Compensated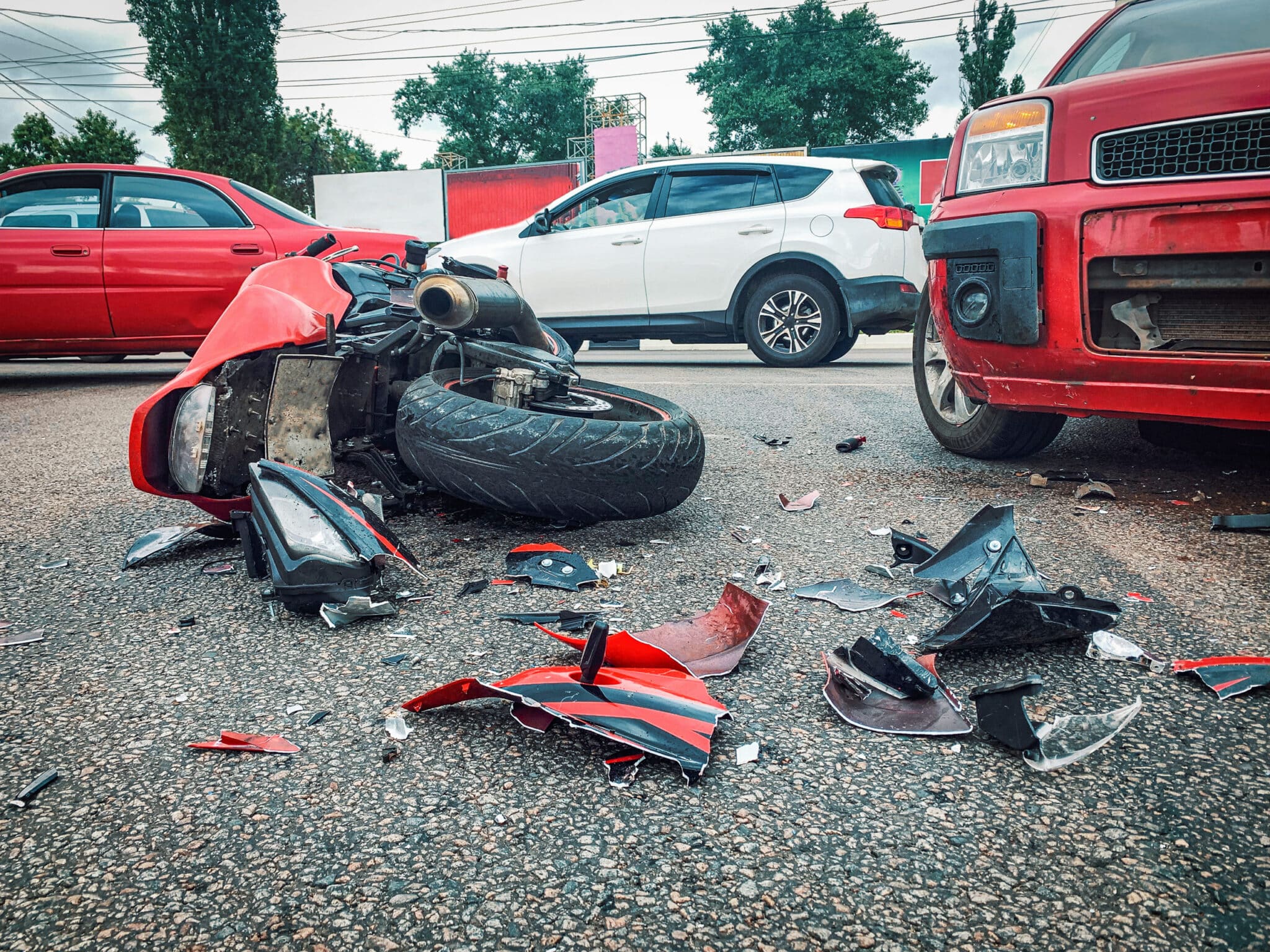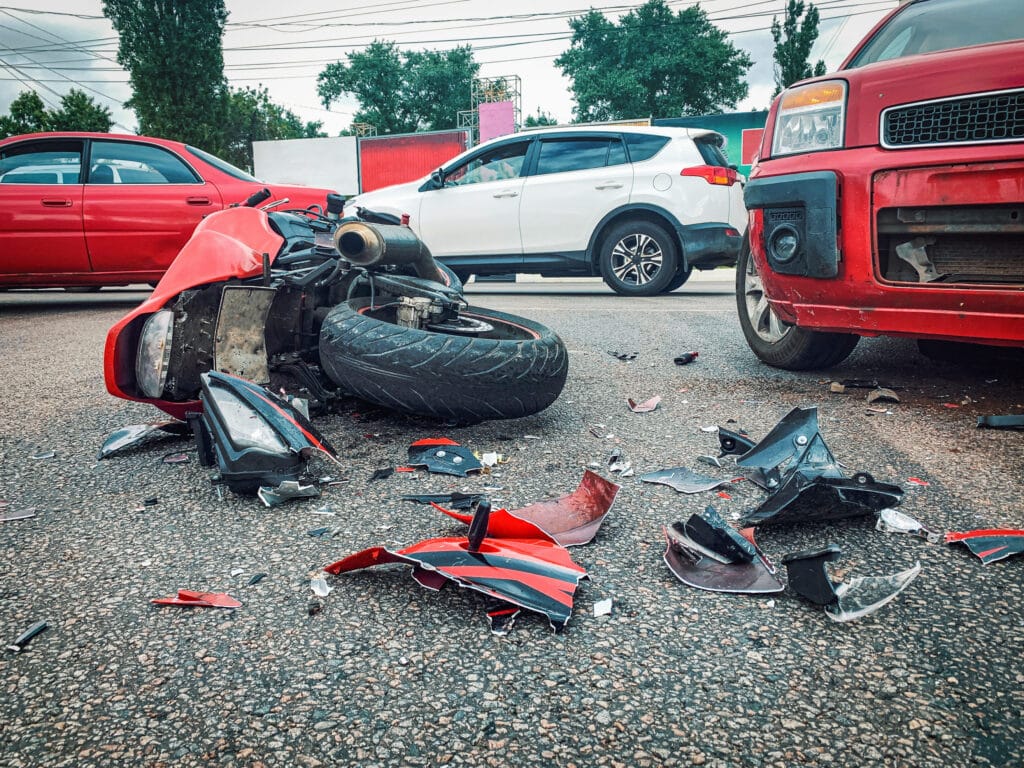 Road accidents can be unpredictable. But one thing you can predict is that motorcycle accidents will probably have severe consequences. Don't worry! You don't have to face this alone. Our experienced Ohio motorcycle accident lawyer will help you win the settlement you deserve.
Motorcyclists are the most vulnerable to serious injuries and fatalities when they get into accidents.
If you've been injured in a motorcycle accident, you're still going to face a lot of twists and turns ahead. The road to recovery is going to be full of challenges.
Medical bills, lost earnings, and property damages will start piling up quickly.
You'll be facing insurers and lawyers who will pressure you to walk away with a settlement that barely covers your losses.
You'll be able to fully secure your immediate and long-term recovery in the most stress-free way.
Motorcycle Injuries
Motorcyclists are six times more likely to experience fatal injuries in an accident compared to car drivers.
Not even helmets and proper motorcycle gear can do much to protect you if you're in a high-speed accident.
Ohio has the 5th highest number of motorcyclists in the country. Naturally, there's an alarmingly high number of motorcycle injuries and fatalities happening there every year.
According to the National Highway Traffic Safety Administration (NHTSA), 80% of motorcycle accidents lead to injuries or fatalities.
There was an astonishing 55% increase in motorcycle accident fatalities between 2020 and 2021.
Determining Fault
Being in a motorcycle accident is not a guarantee for compensation.
You must first determine who caused the crash and that depends on:
How much fault is shared between the parties involved in the accident

How credible your evidence is in establishing the fault of other parties
Why is identifying the liable party so important? Because Ohio is an at-fault state when it comes to settling accident claims. It means you're entitled to seek compensation from the driver responsible for the accident.
However, the burden of proof is on you.
An experienced Ohio motorcycle accident lawyer will conduct a thorough investigation and gather all the evidence needed to build up your claim.
---
Getting the Legal Perspective on Motorcycle Accidents – Audio Interview
In this podcast episode of Ask The Hammer, Darryl Isaacs and three other attorneys from Isaacs & Isaacs Personal Injury Lawyers (all bikers) review how motorcycle accident lawsuits work in this podcast episode. Listen below.
---
Seeking Compensation
Serious accidents require serious compensation. Your life may be hanging by a thread after a motorcycle accident.
At first, you may require extensive tests and surgeries to stabilize your condition.
In the long run, you'll need to invest in months of medication courses, rehab, and follow-up treatments.
You'll probably lose months of wages or even be forced to give up your job.
The worst-case scenario could involve your loved one losing their life in the accident. In this case, your lawyer will help you file a wrongful death claim.
Your motorcycle accident lawyer will ensure you're compensated for all your immediate and long-term needs, including:
Past and possible future medical expenses

Rehab therapy costs

Lost wages

Property damages

Mental anguish

Punitive damages
Investigation and Evidence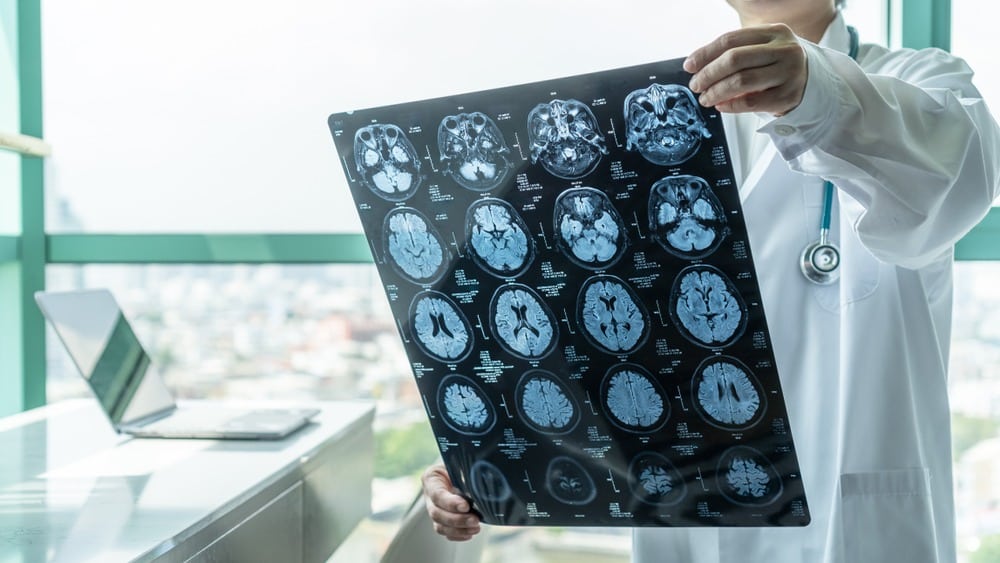 Building your case is a process that begins at the accident scene itself.
You need to clearly document the severity of your injuries and establish the liability of the driver at fault.
You need to gather medical records, accident reports, eyewitness statements, and other evidence to do that.
However, it's not something you can do when you can barely get out of bed after your accident.
Let your motorcycle accident lawyer take charge of evidence discovery while you focus on recovery.
They will lead a thorough investigation to highlight all the evidence needed to build a strong claim. They can even hire expert witnesses like accident reconstruction experts to clear all doubts about liability.
Causes of Motorcycle Crashes
Let's take a look at some of the most commonly reported causes of motorcycle accidents in Ohio: 
Car doors

Blind spots

Failure to yield

Reckless driving/distracted driving

Driving while intoxicated

Bad road conditions

Poor weather

Vehicle Malfunctions
Types of Injuries
Here are some of the most commonly reported motorcycle accident injuries in Ohio:
Traumatic brain injuries

Fractures

Scrapes, cuts, and rashes

Neck and spinal injuries

Abdominal Injuries

Burns

Internal bleeding

Amputations
Seeking medical attention should be your first priority after a motorcycle accident.
Some injuries like concussions and internal bleeding are easy to miss but can have fatal consequences. So don't take a risk even if it appears you got away with a few cuts and scrapes.
A professional medical evaluation is critical not just for your safety, but for your insurance claim too.
Don't give them a reason to lowball you by arguing that your negligence aggravated your injuries.
Compensation for Damages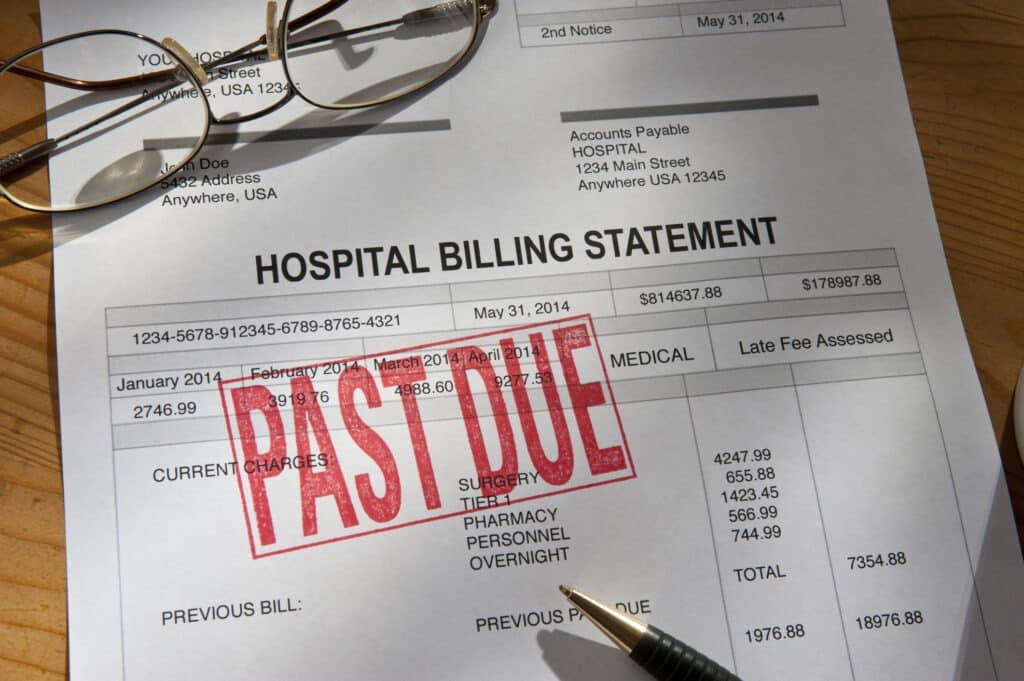 There are no "average" cases to determine an average compensation amount for motorcycle accident cases.
Your compensation depends on how clearly your lawyer has presented the economic and non-economic damages you're facing.
They should be able to prove how badly this accident has impacted your life.
Economic damages include medical bills, lost wages, property loss, and reduced earning capacity.
On the other hand, non-economic damages include pain and suffering, loss of consortium, loss of enjoyment of life, etc.
Shared Fault
Ohio follows a modified comparative negligence approach to determine compensation in personal injury cases.
Basically, your compensation will be reduced by your share of the fault for the accident.
It doesn't mean you're going to walk away empty-handed just because you're partially at fault.
However, you cannot seek any compensation if you share more than 50 percent of the fault.
Let's say the court awards a $100,000 settlement for your motorcycle accident case. It determines that you share 20% fault for the accident while the other driver shared 80% fault. So now you'll only be entitled to a compensation sum of $80,000.
Helmet Use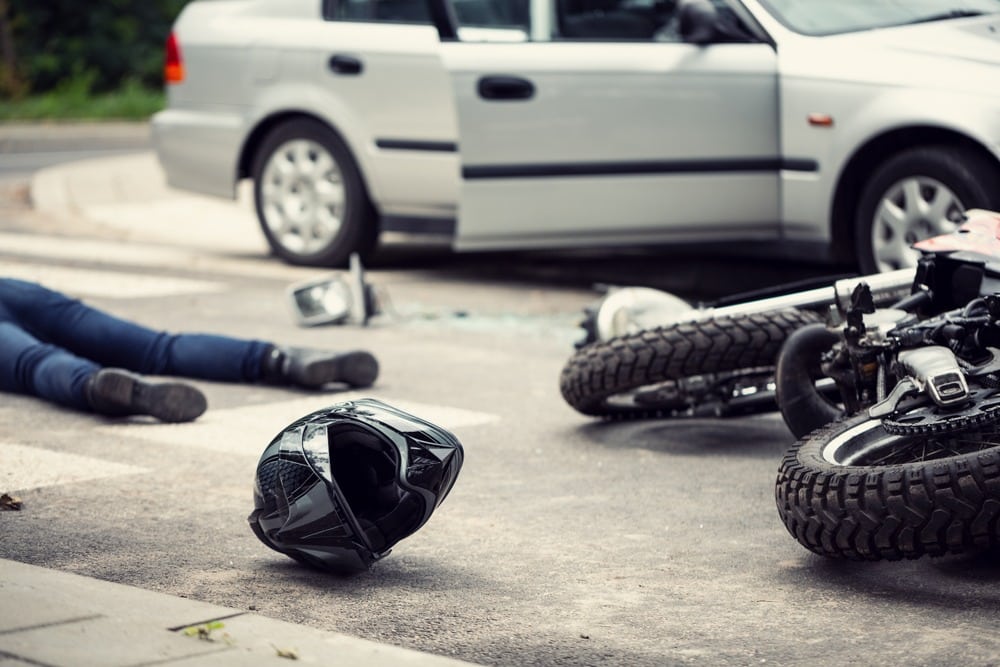 Ohio laws are quite liberal when it comes to helmet laws. Only new riders and people under the age of 18 are required to wear helmets. Riders are still required to wear protective eyewear if they're not wearing helmets.
Ultimately, failing to wear a helmet may not affect the legitimacy of your claim at all. However, wearing a helmet can be the difference between a mild bump and a life-threatening injury.
The law can protect your rights, but it can't save your life. You need to be a responsible rider and wear basic protective gear.
It'll also help present yourself in a favorable light when your claim gets evaluated by authorities.
According to the WHO, helmets can cut down the risk of serious injuries by nearly 70 percent and reduce the chances of death by 40 percent.
Actions After a Motorcycle Crash
You won't see an accident coming. But a little preparation can go a long way to ensure a smooth recovery after the accident.
Here are a few recommended actions you must take after a motorcycle crash:
Find a safe spot that's away from any incoming traffic, vehicle fires, damaged structures, or cliffs.

Call the Ohio police to report the accident immediately. They'll dispatch units to file a detailed accident report and get you urgent medical care.

Gather medical records showing your injury diagnosis and treatment.

Start documenting all your expenses tied to the motorcycle crash.

Report the accident to your insurance company. Just provide basic details and do not say anything that could be used to hold you liable.

Consult an experienced Ohio motorcycle accident lawyer to discuss your case and start building your claim.
Why Choose Isaacs & Isaacs
We know how vulnerable it is to have your life and livelihood at stake after a motorcycle crash.
At Isaacs & Isaacs, we believe every client deserves compassion and compensation for a smooth recovery.
Our team of passionate motorcycle accident lawyers has a proven track record of winning millions of dollars for injured motorcyclists in Ohio.
Your call is the first and only step you need to take to secure your settlement. We'll take care of every step along the way until we win. And guess what? You don't have to pay us anything until we win.
Isaacs & Isaacs has offices in the following locations:
Cincinnati

Cleveland

Columbus

Dayton
But we handle cases all across Ohio and will fast-track your path to fair compensation once you hire us.
Frequently Asked Questions
What should I do immediately after a motorcycle accident?
Here's what you need to do immediately after a motorcycle accident:
Get to a safe spot to avoid any further injuries

Call 911

Get an official medical diagnosis and begin treatment

Document all expenses related to your accident

Call your insurance company and report the accident while ensuring you don't admit fault

Hire an experienced Ohio motorcycle accident lawyer to take charge of all legal action and negotiation to win your settlement
How can a motorcycle accident lawyer help me with my case?
Here's how a motorcycle accident lawyer can help you win your case:
Ensuring you get short-term and long-term medical care

Leading a thorough investigation of your accident to prove liability of the driver at fault

Gathering the most effective pieces of evidence to support your claim

Reaching out to eyewitnesses to back up your claim

Hiring accident reconstruction experts to provide an accurate picture of the events leading up to the accident

Reviewing your insurance coverage and filing a claim

Conducting negotiations with all liable parties to upgrade your settlement

Taking your case to trial if necessary
How do I determine who is at fault in a motorcycle accident?
Every driver owes a duty of care to fellow drivers, passengers, and pedestrians on the road. If they've breached this duty and you can prove it was the proximate cause of your accident, then you can successfully hold them liable for your damages.
It all depends on how strong the body of evidence you present to establish their fault.
What types of compensation can I seek after a motorcycle accident?
Here are the types of compensation you can seek after a motorcycle accident:
Past and projected medical expenses

Rehab expenses

Lost earnings/capacity to earn

Property loss

Pain and suffering

Punitive damages
If you've lost a loved one in a motorcycle accident, you can also file a wrongful death claim. It'll help you get compensated for the deceased's medical expenses, burial costs, lost earnings, loss of consortium, and other damages.
Can I still pursue a claim if I was partially at fault for the motorcycle accident?
Yes. You can still seek compensation even if you were partially at fault for the motorcycle accident. Ohio follows a modified comparative negligence approach for personal injury settlements. It means that your compensation is determined by your percentage of fault.
For instance, if the court awards a settlement of $500,000 and your share of fault is 10 percent, then you're only going to be awarded $450,000. 
However, you fail to qualify for any compensation if you share over 50 percent of fault for the accident.