Begin Your Case With a Proven Truck Accident Law Firm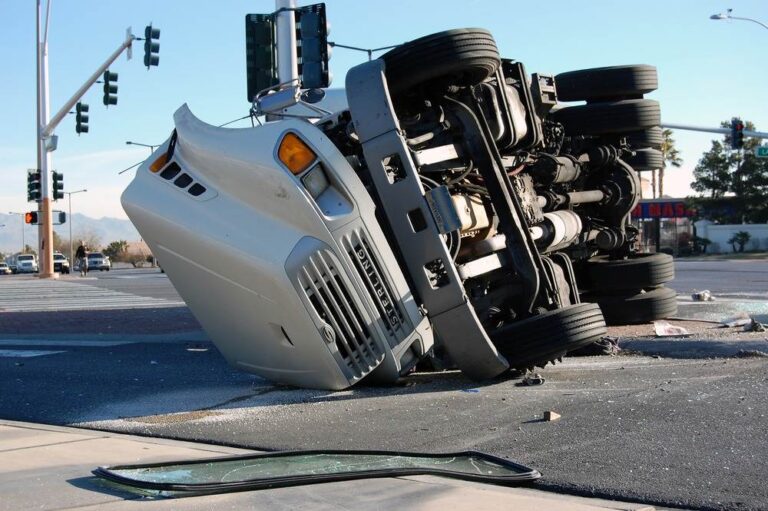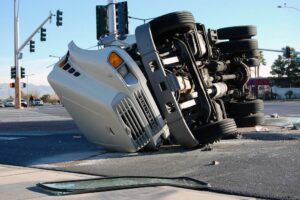 If you have suffered bodily injuries in a collision with a commercial truck, you might be entitled to a monetary award. The cost of recovering from your injuries, repairing your vehicle, and compensating you for your physical pain are only some of the damages you might recover. A Madisonville truck accident lawyer could help you even through the odds.
Pursuing a truck accident injury case alone can be difficult. Trucking companies typically have the resources to hire an army of lawyers, and most of them are backed by powerful insurance companies.
We charge no upfront fees for our legal services and only take payment if we secure monetary compensation on your behalf. Call us at 800-333-9999 at any time to speak to one of our dedicated Madisonville truck accident lawyers and set up a free consultation.
We Represent Injured Accident Victims Across Many Categories. Some Personal Injury Cases We Handle Include:
Accidents With Trucks or Commercial Vehicles
Injuries & Wrongful Death Involving Driver Negligence (cell phone use, DUI)
Accidents With Uninsured Motorists
Whiplash Injury Accidents
Airbag Deployment Accidents
Takata Air Bag Recalls
Motorcycle Accident Injuries
Ridesharing: Lyft & Uber Accidents
Bicycle Accident Injuries
Hit and Run Accidents
Pedestrians Hit By a Vehicle
Head-On Collisions
Rear-End Collisions
Spinal Cord Injuries
Sometimes an auto accident injury is not evident until much later. Even if you haven't suffered a catastrophic injury you still may need medical treatment. You should seek medical care immediately, even if you don't think you are badly hurt. Some severe injuries may not be immediately apparent. This is the best way to physically and legally protect yourself and your loved ones.
"They're great to me. Used them twice and positive results both times. I wouldn't hesitate to contact them again if needed."
---
Getting the Legal Perspective on Car Accidents – Audio Interview
Car accident lawyer Darryl Isaacs — The Hammer — sat down to address legal and safety considerations when injured from a car crash in a recent radio episode of "Ask The Hammer," the podcast exploring the legal matters that matter most. There are many elements at play when knowing what to do after a car accident. Listen to the episode directly below.
---
Your Injury Case Could Cover a Wide Range of Damages
The compensation available to injured motorists is not uniform from one truck crash to another. There are many different factors that could increase or decrease your financial recovery, and understanding them could help when it is time to consider a settlement offer.
Every negotiated settlement involves a combination of different types of damages. Most of the time, individuals injured in a truck accident suffer more than one form of harm. From physical injuries to emotional distress, there are damages that cover every type of harm that can occur in a truck crash.
Medical Costs
Your medical bills could be high after a truck accident. In fact, any emergency medical care could be costly regardless of how serious your injuries might be. In cases of severe injuries, the cost of treatment could be significant. A civil lawsuit could help you recover the cost of past and future medical care.
Pain and Suffering
Most of the time, serious injuries result in significant physical pain. For some people, that pain is resolved over time as the injuries heal. For others, an accident could lead to a lifetime of pain. This is most common in cases involving brain injuries or nerve damage. Financial compensation could be available to you based on the pain you suffered in your accident.
Lost Wages
Missing work is often unavoidable after a serious injury. While many workers are able to return to their job in the days or weeks following a crash, others could be out of work for much longer. If you missed out on paychecks due to your injuries, your lawsuit could help you replace those lost wages.
Diminished Future Earnings
Not all injuries heal completely. For some people, their injuries will limit the physical or mental activities they undertake for the rest of their lives. These disabilities could limit your ability to return to the type of employment you held prior to a truck accident. If your injuries require you to take a job with a lower wage, the difference in future pay could be made up through a civil lawsuit.
Property Damage
In some cases, the damage to your vehicle could also be significant in a truck accident. If your property damage occurs through no fault of your own, you could be entitled to compensation. This compensation could cover the cost of replacing or repairing your vehicle.
Mental Anguish
Mental anguish describes the emotional stress that occurs when you relive a serious injury. Even when your physical injuries heal, you could continue to relive the trauma of a truck accident for years to come. The emotional strain you experience through a serious truck accident injury could also result in financial compensation.
Our Accident Law Firm Will Get Started on Your Case Immediately By:
Listening to your story
Answering your questions
Advising you what to do next
Investigating the accident scene and all other evidence related to your claim
Reviewing medical records, police reports, and all documents
Determining which parties are liable for your injury
Meeting with insurance adjusters
Helping you file your claim
Demanding a just settlement for all of your medical treatment and damages
---
Common Truck Accident FAQs
It Is Possible to Pursue Your Case With No Upfront Attorney Fees
Sudden, unexpected financial strain is common in the aftermath of a truck accident. When an accident turns your family budget upside down, the thought of additional expenses related to hiring an attorney might seem unwelcome. The good news is that you could pursue a personal injury case with the help of an attorney without the need for any upfront legal fees.
Most personal injury attorneys operate on something known as a contingency basis. When your attorney works for a contingency fee, they are paid through a portion of what they recover on your behalf. Under this type of agreement, you will never pay any attorney fees out of pocket.
With a contingency fee agreement, your attorney assumes the risk of taking on your case. If they are unsuccessful in recovering damages on your behalf, you will not owe them a fee. This approach gives you the chance to pursue compensation for your injuries regardless of your financial circumstances.
What to Do After a Car Accident in Kentucky
A car accident occurs every 15 seconds in the United States. In fact, according to the National Highway Traffic Safety Administration (NHTSA), nearly 40,000 people lost their lives in a traffic crash in 2020. If you've been involved in one, it's important to know how to handle the situation. Here are some tips to keep in mind following a car accident.
Check Yourself and Passengers for Serious Injury
The first thing you should do after a car accident is to make sure everyone is okay. This includes checking yourself and passengers for injuries. Make sure no one is trapped inside the vehicle. You don't want to wait too long to check for injuries because you could miss something critical.
Call Your Insurance Company
You'll want to call your insurance company immediately after a car accident. They'll need information about where the accident occurred and whether someone was hurt. Also, let them know if you think you might file a claim against the driver responsible for causing the accident.
Avoid Discussing What Happened During the Crash
Don't talk about what happened during the accident unless you speak to your attorney. There are many reasons why this isn't a good idea:
Anything you say can be used against you in court.
You don't want to incriminate yourself.
You never know when a witness may come forward.
Get Medical Care
After a car accident, you should get medical care as soon as possible. The sooner you seek treatment, the better off you will be. A doctor can help determine if anyone has suffered serious injuries. They can also provide information about any medications you may need to take.
File an Auto Claim
You'd likely have to file a personal injury auto claim if you were injured in a car accident. An auto claim is filed when someone is injured in a car accident. It covers all expenses related to the accident, including medical bills, property damage, and more.
Ask your lawyer if you're unsure whether you need to file a claim. They can tell you if there is enough evidence to support filing a claim.
Will Insurance Cover All of the Expenses After an Accident?
Uninsured/Underinsured Motorists Coverage is required in every state. But what happens if you are involved in an accident where someone does not carry enough liability insurance?
What if no one else can pay for damages caused by another driver? In those situations, knowing whether your personal injury protection (PIP) coverage will help you recover the costs associated with your injuries is important.
PIP Coverage
PIP, also known as Medical Payments or MedPay, is an optional coverage that protects against financial losses due to bodily injury sustained in an automobile accident.
It compensates for medical expenses, loss of income, pain and suffering, and funeral expenses. If you do not purchase PIP coverage, you could pay out of pocket for some of the expenses related to your accident.
Kentucky requires drivers to carry $10,000 per person/$ 20,000 per accident uninsured/underinsured motorist coverage.
This amount pays for your medical bills, lost wages, and other expenses resulting from an accident involving an underinsured or uninsured driver. You can find out if you qualify for PIP coverage by checking your policy.
Purchase Additional Coverage for Financial Protection
You may be eligible for benefits under your car insurance if you are injured in an accident where the other party did not have sufficient insurance. However, you may consider purchasing additional coverage to protect yourself financially.
For example, if you are unable to work because of your injuries, you may be able to collect disability payments from Social Security or workers' compensation. These benefits are typically limited to six months; therefore, you might consider buying extended disability coverage.
Coverage Cost Depends on Your Situation
The cost of purchasing both types of coverage varies depending on your situation. For instance, if you are a young adult without dependents, you may be able to afford to buy just the extra coverage.
On the other hand, if you have a family, you may want to look into purchasing full coverage to ensure that your loved ones receive adequate compensation for your injuries. A good rule of thumb is comparing quotes from multiple companies to determine the coverage you need.
Medicaid or Federal Aid
It may be difficult to prove fault if you are hurt in a single-car accident. However, if there is evidence that another driver ran a red light or failed to yield, you could sue the responsible party. Many states require uninsured motorists to compensate victims up to $25,000 per person and $50,000 per accident.
In some cases, you may be eligible for additional financial assistance. For instance, you might qualify for Medicaid benefits if you suffer serious injuries. You may also be entitled to receive federal aid, including disability payments and unemployment insurance. Contact a car accident lawyer today to learn more about your options.
The goal is to get you the maximum compensation you are entitled to by the at-fault driver. Our Louisville vehicle accident attorneys offer free initial consultations to review your accident case.
Build Your Case With A Top Rated Accident Lawyer
If you need immediate assistance with a vehicle accident or personal injury, call our team now at 
800-333-9999
 to begin your free case review and schedule an initial consultation to get legal advice. Our law firm represents injured victims across many categories. Some popular cases our accident attorneys handle include:
Truck Accidents Can Occur in Various Ways
There are numerous types of truck accidents. The fact patterns that cause these accidents can vary significantly, but they typically fall into one of a handful of broad categories. Understanding the nature of these accidents can help when pursuing a personal injury case. Some of the most common truck accidents include:
One of the deadliest types of truck accidents involves front-end collisions. According to the National Highway Transportation Safety Administration (NHTSA), head-on accidents are the most common cause of fatal truck collisions. Other common types of truck accidents include:
Rear-end collisions
Rollover crashes
Blindspot accidents
Underride collisions
Jackknife accidents
Each of these accidents has the potential to cause permanent, life-altering, or even fatal injuries. The massive size of a commercial truck could cause potentially-fatal injuries in relatively low-speed collisions. In any of these cases, our firm is prepared to investigate the facts and determine the best options for moving forward with your injury case.
---
A Madisonville Truck Accident Lawyer Could Help You Secure Fair Compensation
If you were injured in a truck accident that was caused by another party, you have the right to pursue legal action against them. This could include the truck driver, their employer, or other parties that played a role in causing your crash. Our Madisonville Truck Accident Lawyer can fight for fair compensation for your injuries.
The attorneys of Isaacs & Isaacs Personal Injury Lawyers are ready to help you pursue the compensation you need. Our team handles truck accident cases, and we look forward to helping you pursue your case.
To learn more about working with our Madisonville lawyers, call 1-800-333-9999 for your no-cost truck accident case review.