Begin Your Case With a Proven Pedestrian Accident Law Firm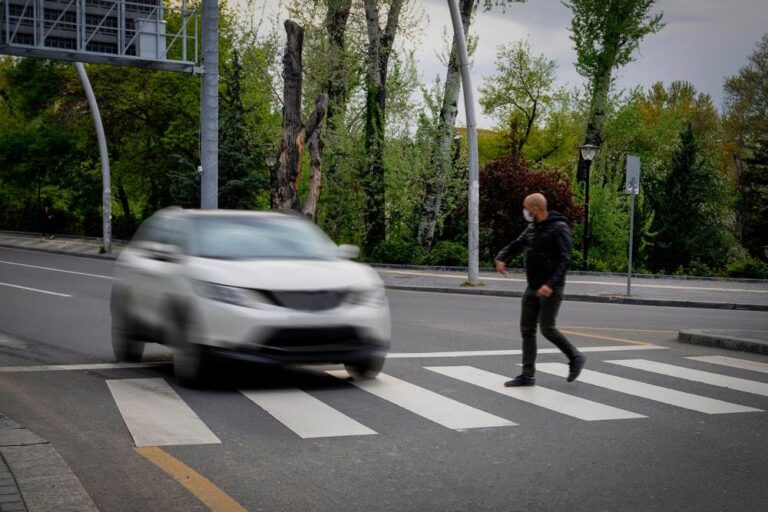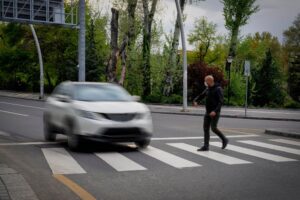 An Indiana pedestrian accident lawyer from Isaacs & Isaacs Personal Injury Lawyers can handle your case while you rest and recuperate.
Drivers owe a duty of care to pedestrians just as they do to other drivers. If a driver hit you, you can pursue compensation to cover your losses. Auto insurance policies usually cover pedestrian accidents, or you can file a personal injury lawsuit against the at-fault party. A settlement or verdict may cover your medical bills, lost wages, and more.
We charge no upfront fees for our legal services and only take payment if we secure monetary compensation on your behalf. Call us at 800-333-9999 at any time to speak to one of our dedicated Indiana pedestrian accident lawyers and set up a free consultation.
We Represent Injured Accident Victims Across Many Categories. Some Personal Injury Cases We Handle Include:
Accidents With Trucks or Commercial Vehicles
Injuries & Wrongful Death Involving Driver Negligence (cell phone use, DUI)
Accidents With Uninsured Motorists
Whiplash Injury Accidents
Airbag Deployment Accidents
Takata Air Bag Recalls
Motorcycle Accident Injuries
Ridesharing: Lyft & Uber Accidents
Bicycle Accident Injuries
Hit and Run Accidents
Pedestrians Hit By a Vehicle
Head-On Collisions
Rear-End Collisions
Spinal Cord Injuries
"They're great to me. Used them twice and positive results both times. I wouldn't hesitate to contact them again if needed."
---
Getting the Legal Perspective on Car Accidents – Audio Interview
Car accident lawyer Darryl Isaacs — The Hammer — sat down to address legal and safety considerations when injured from a car crash in a recent radio episode of "Ask The Hammer," the podcast exploring the legal matters that matter most. There are many elements at play when knowing what to do after a car accident. Listen to the episode directly below.
---
Our Accident Law Firm Will Get Started on Your Case Immediately By:
Listening to your story
Answering your questions
Advising you what to do next
Investigating the accident scene and all other evidence related to your claim
Reviewing medical records, police reports, and all documents
Determining which parties are liable for your injury
Meeting with insurance adjusters
Helping you file your claim
Demanding a just settlement for all of your medical treatment and damages
How Our Indiana Legal Team Can Help You with an Injury Case
Aside from calculating your damages, our legal team can handle the various ins and outs of your claim or lawsuit. We can:
Investigate your accident
Gather evidence of negligence, such as video footage, eyewitness testimony, police reports, and expert testimony
Handle all of the paperwork for your claim or lawsuit
Communicate with the liable party and their insurer and attorney
Assess settlement offers and prevent you from accepting less than you deserve
Negotiate for fair compensation
Argue your case in a trial
Keep you updated on the progress of your case
Our legal team has over 400 years of combined experience, and we want to put it to work for you. If you are a Spanish speaker who needs legal assistance, we also have Spanish-speaking attorneys and paralegals.
Build Your Case With A Top Rated Accident Lawyer
If you need immediate assistance with a vehicle accident or personal injury, call our team now at 
800-333-9999
 to begin your free case review and schedule an initial consultation to get legal advice. Our law firm represents injured victims across many categories. Some popular cases our accident attorneys handle include:
Potential Damages for Your Indiana Pedestrian Accident
You shouldn't have to foot the bill for injuries that resulted from someone else's negligence. We can pursue damages to account for a variety of your accident-related losses.
Medical Bills
Pedestrian accidents can result in severe injuries. You may have required emergency room care and a series of surgeries, which can leave you with crippling medical debt. If your injuries prove debilitating, you may also face a lifetime of care.
You can seek damages for both your immediate and future medical expenses. Awards may cover your accident-related medical bills to date, along with rehabilitative therapy, in-home aid, and medical devices. We can speak to your doctors to get an idea of how your prognosis will affect your financial situation.
Lost Wages
You likely took time off of work to heal from your injuries. Your settlement should account for this loss. You can also seek missed bonuses, benefits, and paid leave.
Reduced Earning Capacity
Your injuries may prevent you from returning to work. Even if you can perform light-duty work, you may suffer a pay cut. You can seek damages for the difference between your pre-injury income and what you can earn after the accident.
Pain and Suffering
Pain and suffering warrant compensation, as well. If you file a personal injury lawsuit, you can seek awards for your physical pain and emotional turmoil. Our lawyers can calculate this loss using various methods.
Loss of Quality of Life
If you suffer permanent impairment, your day-to-day life will never be quite the same. You will likely miss out on hobbies you once enjoyed and have to adjust to a new daily routine. You deserve compensation for this loss of quality of life.
Wrongful Death Damages
If you lost a loved one in a pedestrian accident, you can file a wrongful death claim or lawsuit. Potential compensation can help your family adjust in their absence. We can pursue awards for:
Funeral costs, including burial or cremation services
Your loved one's medical bills
Your loved one's pain and suffering
Your loved one's companionship
Your loved one's income
Your lost wages if you took time off work to tend to their injuries
We can work to seek compensation on behalf of a spouse, children, or parents. You deserve to grieve in peace. We can handle everything else.
---
Act Quickly to Protect Your Right to Compensation
According to ​​Indiana Code Section 34-11-2-4, you generally have to file a personal injury lawsuit within two years of the accident. If you fail to do so, the court could dismiss your case, costing you the opportunity to hold a liable party responsible.
The sooner you get started on your case, the better. Keep in mind, it takes time to investigate an accident, gather evidence, and negotiate a settlement. None of these actions change the deadline, though.
We can get to work immediately to help you abide by the deadline.
We Make Legal Representation Affordable for Pedestrian Accident Victims
We know you are suffering financial strain due to your injuries. We don't wish to add another expense to your plate. We can take your pedestrian accident case on a contingency fee basis so you do not have to risk further financial loss.
We only recover costs or charge a fee from a potential settlement or verdict we win on your behalf. We also do not charge any out-of-pocket expenses to start working on your case. You have nothing to lose, and you know we will work hard for you. Our payment depends on it.
A free Consultation with Our Team Can Clarify Your Options
You may not know where you stand or how to begin pursuing compensation. Don't stress; we've got you covered. You can discuss your Indiana pedestrian accident during a free, no-obligation consultation. We can determine your legal options and give you an idea of what our lawyers can do for you.
---
Work with an Indiana Pedestrian Accident Lawyer from Our Firm
The Indiana pedestrian accident attorneys with Isaacs & Isaacs Personal Injury Lawyers want to help you and your family. We afford our clients the personalized attention they deserve, tailoring our approach to suit their unique situations. Our in-house litigation team will be at your disposal while we handle your case.
To learn more about working with our Indiana lawyers, call 1-800-333-9999 for your no-cost pedestrian accident case review.