Begin Your Case With a Proven Personal Injury Law Firm
If you were hurt in an accident in Danville, you may be able to pursue compensation. You may recover various accident-related expenses, such as medical bills, lost wages, and more.
Our Danville personal injury lawyers at Isaacs & Isaacs Personal Injury Lawyers can help. We can file your insurance claim or lawsuit. We also work on contingency, so you do not have to pay out of pocket to begin your case.
We charge no upfront fees for our legal services and only take payment if we secure monetary compensation on your behalf. Call us at 800-333-9999 at any time to speak to one of our dedicated Danville personal injury lawyers and set up a free consultation.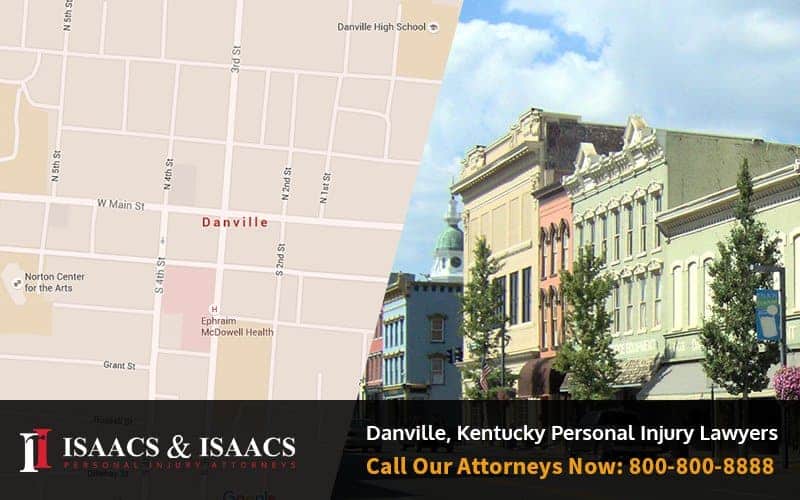 We Represent Injured Accident Victims Across Many Categories. Some Personal Injury Cases We Handle Include:
Accidents With Trucks or Commercial Vehicles
Injuries & Wrongful Death Involving Driver Negligence (cell phone use, DUI)
Accidents With Uninsured Motorists
Whiplash Injury Accidents
Airbag Deployment Accidents
Takata Air Bag Recalls
Motorcycle Accident Injuries
Ridesharing: Lyft & Uber Accidents
Bicycle Accident Injuries
Hit and Run Accidents
Pedestrians Hit By a Vehicle
Head-On Collisions
Rear-End Collisions
Spinal Cord Injuries
Sometimes an auto accident injury is not evident until much later. Even if you haven't suffered a catastrophic injury you still may need medical treatment. You should seek medical care immediately, even if you don't think you are badly hurt. Some severe injuries may not be immediately apparent. This is the best way to physically and legally protect yourself and your loved ones.
"Our daughters were involved in a serious car crash when a man ran a red light! Isaacs & Isaacs knew exactly what to say and exactly what to do for us! They are not only highly professional but also very sincere in wanting to help get our girls every dollar deserved! We will always be grateful to the team of The Hammer for being so wonderful during our time of need! Thank you from our family to your law firm."
---
Hiring a Kentucky Personal Injury Attorney with Our Firm
In his podcast, "Ask the Hammer," Attorney Darryl Isaacs – the Hammer – answers questions about how he and his team serve clients to help get them the compensation they need. Play the episode below:
---
Our Lawyers Help Victims of Various Accidents
Our extensive practice areas allow us to advocate for many victims in Danville. We can help if you were involved in a:
Pedestrian accident
Truck accident
Dog bite
Catastrophic injury accident
Autonomous vehicle accident
Rideshare accident
If you lost a loved one to an accident, we can also file a wrongful death claim or lawsuit.
Our Accident Law Firm Will Get Started on Your Case Immediately By:
Listening to your story
Answering your questions
Advising you what to do next
Investigating the accident scene and all other evidence related to your claim
Reviewing medical records, police reports, and all documents
Determining which parties are liable for your injury
Meeting with insurance adjusters
Helping you file your claim
Demanding a just settlement for all of your medical treatment and damages
---
Compensation Can Help You Put Your Life Back Together
Suffering injuries often leads to other losses. Along with medical care, you may have lost wages if your recovery kept you out of work. Various out-of-pocket accident-related expenses may also apply in your case.
Take a look at what you may stand to recover:
Medical Bills
You may qualify to recover your current and future medical expenses. Current medical expenses may include:
Ambulatory care
Diagnostic testing
Emergency room care
Surgeries
Hospital stays
Medication
Specialists
Medical equipment
Home-modifications
If your injuries lead to permanent impairment, you may require ongoing medical care, such as in-home aid. We can consult your doctors and other medical experts to determine how much this will cost.
Our aim is for you to suffer no further losses because of someone else's negligence.
Lost Wages
Awards for lost wages may include more than just your salary. You may also recoup lost bonuses, benefits, and paid time off from the weeks you missed. We can look at your wage statements and other documents to determine how much you should receive.
Reduced Earning Capacity
If you cannot return to work or perform the same duties as before your accident, you may receive reduced earning capacity. This damage makes up for the difference between your pre-injury income and what you can now earn.
We can consult economic experts to determine what you should receive if you suffered a permanent disability.
Pain and Suffering
A personal injury lawsuit or third-party claim also allows you to pursue awards for pain and suffering. This damage refers to your physical pain and emotional anguish resulting from your injuries. No one deserves to suffer due to someone else's negligence.
We can apply a couple of different methods to add a dollar value to this damage.
---
You Have a Limited Time to File a Lawsuit in Boyle County
Act quickly because you only have so long to bring legal action against a liable party. Your statute of limitations also depends on the specific type of accident you suffered.
For example, Ky. Rev. Stat. § 304.39-230, the vehicle statute of limitations, only allows you two years from the date of the accident, victim's death, or the last PIP payment. Ky. Rev. Stat. § 413.140(1) only gives you one year to file a personal injury lawsuit.
If you need to file a wrongful death lawsuit, you must do so within one year of your loved one's death or appoint an estate representative or administrator, according to Ky. Rev. Stat. § 413.180. Missing these deadlines could result in the court dismissing your case. We can help you meet them, but we need to get to work right away.
Build Your Case With A Top Rated Accident Lawyer
If you need immediate assistance with a vehicle accident or personal injury, call our team now at 
800-333-9999
 to begin your free case review and schedule an initial consultation to get legal advice. Our law firm represents injured victims across many categories. Some popular cases our accident attorneys handle include:
We Can Identify the Liable Party and Take Action
Depending on the nature of your accident, it can be difficult to identify a liable party. In some cases, multiple parties share the blame, or an employer assumes responsibility vicariously.
We can help you identify whose insurer to file a claim with. We may also suggest holding them personally accountable with a lawsuit.
Take a look at the potentially liable parties.
Another Driver
If you had a car accident, you can pursue compensation through an insurance claim. If you suffered serious injuries, you may also be able to file a third-party liability claim against the other driver.
A Property Owner
If a hazardous condition caused you to slip and fall on someone's property, you can pursue compensation from the premises owner. Our investigation may reveal that the owner failed to maintain their property or warn guests about a dangerous environment.
A Manufacturer
Whether you suffered a car accident or adverse drug reaction, a manufacturer may be liable. If a defective product, such as an airbag or a power tool, led to your injuries, we can go after the manufacturer. We may find that they engaged in:
Negligent product design
Negligent manufacturing
Negligence marketing
We can work to hold even large, multi-million-dollar companies accountable for your losses.
---
You Can Afford to Hire Our Firm
With Isaacs & Isaacs Personal Injury Lawyers, you can afford to hire a lawyer. We work on a contingency-fee basis, meaning we only accept payment from a potential settlement or verdict we secure on your behalf. We don't charge upfront fees or costs to start your case.
We do this so we can advocate for victims and get to work as soon as possible. You can also rest assured we will work hard on your case.
Our Case Results Speak Volumes
Don't take our word for it; our case results speak to our firm's dedication to clients. Some of our victories include:
A $10 million verdict for a semi-truck accident
A $1.429 million settlement for a T-bone car accident
A $4 million settlement for a product liability case
You can view more of our victories on our website.
---
Our Danville Personal Injury Attorneys Can Handle Your Case
You deserve to rest right now. Let our legal team handle your case. Call Isaacs & Isaacs Personal Injury Lawyers for a free consultation.
To learn more about working with our Danville lawyers, call 1-800-333-9999 for your no-cost personal injury case review.