Begin Your Case With a Proven Pedestrian Accident Law Firm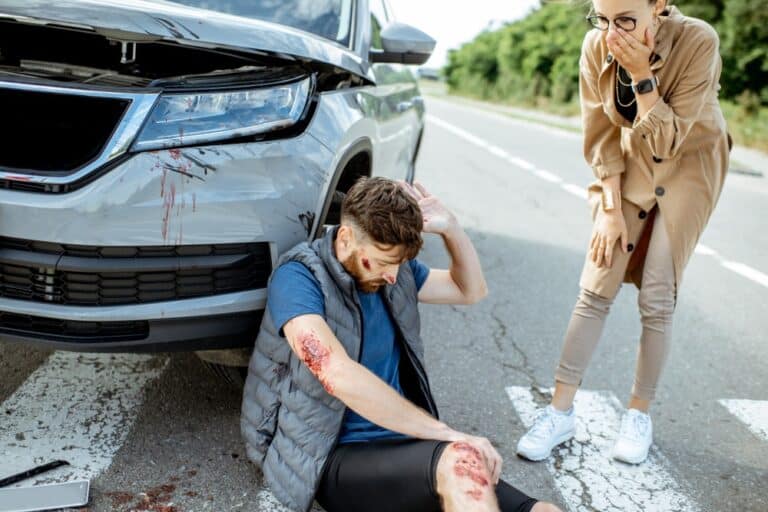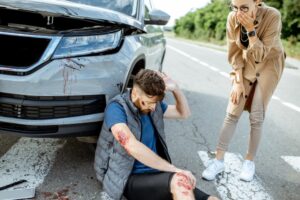 Walking is an excellent way to get some exercise, enjoy the sun, and meet up with friends along the way. Unfortunately, just like other road users in Dayton, Ohio, you can be involved in an accident while walking, and it may have devastating effects.
If you have been injured by a reckless, careless, or negligent motorist, working with a Dayton pedestrian accident lawyer might be a good step toward recovering your compensation.
We charge no upfront fees for our legal services and only take payment if we secure monetary compensation on your behalf. Call us at 800-333-9999 at any time to speak to one of our dedicated Dayton pedestrian accident lawyers and set up a free consultation.
We Represent Injured Accident Victims Across Many Categories. Some Personal Injury Cases We Handle Include:
Accidents With Trucks or Commercial Vehicles
Injuries & Wrongful Death Involving Driver Negligence (cell phone use, DUI)
Accidents With Uninsured Motorists
Whiplash Injury Accidents
Airbag Deployment Accidents
Takata Air Bag Recalls
Motorcycle Accident Injuries
Ridesharing: Lyft & Uber Accidents
Bicycle Accident Injuries
Hit and Run Accidents
Pedestrians Hit By a Vehicle
Head-On Collisions
Rear-End Collisions
Spinal Cord Injuries
"John came to our house and went over the legal part of it thoroughly and quickly, but he always made it more about us. I would recommend them to anybody because they're going to make sure that you're protected. It just always felt like we were dealing with family instead of a legal process."
---
Getting the Legal Perspective on Car Accidents – Audio Interview
Car accident lawyer Darryl Isaacs — The Hammer — sat down to address legal and safety considerations when injured from a car crash in a recent radio episode of "Ask The Hammer," the podcast exploring the legal matters that matter most. There are many elements at play when knowing what to do after a car accident. Listen to the episode directly below.
---
How to Prevent Pedestrian Accidents
Accidents are just that – accidents. You can't always see them coming. But putting some safety precautions in place when walking on the road will give you peace of mind. In the case of an accident, you will know you did everything possible to stay safe.
Here are some safety tips to consider while walking in Dayton:
Follow the street safety rules, which include adhering to pedestrian signs, signals, and lights
Do not jaywalk – always use crosswalks that are designed for pedestrians' use
If you can, try to cross the road in groups
Be especially mindful when crossing the street with children
When walking at night, wear reflective clothing
If your instincts tell you that you can't trust an oncoming driver to stop, even when lights signal you to cross, wait before proceeding
Don't look down at your phone or listen to music through headphones when crossing the road
Our Accident Law Firm Will Get Started on Your Case Immediately By:
Listening to your story
Answering your questions
Advising you what to do next
Investigating the accident scene and all other evidence related to your claim
Reviewing medical records, police reports, and all documents
Determining which parties are liable for your injury
Meeting with insurance adjusters
Helping you file your claim
Demanding a just settlement for all of your medical treatment and damages
---
Do You Have to Hire a Dayton Pedestrian Accident Lawyer?
No, legally, you do not. However, many of the pedestrian accident victims who have successfully recovered compensation in Dayton, Ohio have done so with the help of their personal injury lawyers.
Following a pedestrian accident, a pedestrian accident attorney can help you with tasks like these:
Proving Liability
To succeed in your pedestrian accident claim, you will need to prove that another road user's actions resulted in your injuries. Gathering the following evidence may help your lawyer build a compelling pedestrian accident claim on your behalf:
Compelling police reports
Testimonies from eyewitnesses
Dashcam footage, surveillance footage, and any other video or photo evidence
Evidence that the driver who hit you was distracted at the time of the accident
The goal is to establish a link between the at-fault driver's actions and the accident that left you with severe damages, so any evidence that shows this is helpful. Your lawyer will look for evidence that ties the responsible driver to your accident, linking liability to them in the process.
Representing You in Negotiations
Once you have determined who the liable party is, the next step is to schedule negotiations with their representatives, usually their insurance company. A lawyer can help you file your claim with the defendant's insurer, draft a demand letter, handle all communications, and negotiate fair compensation for you. A personal injury attorney is familiar with all the maneuvers, especially one's insurance companies may use to evade compensating victims.
Before accepting any settlement offer, your attorney can compare it to your present and future costs to determine whether the offer is reasonable. While the choice to accept a settlement or not is ultimately yours, your lawyer is familiar with the process and can advise you on that decision.
Filing a Pedestrian Accident Lawsuit
Though rare, pedestrian accident claims might find their way to court. For instance, if you and your lawyer disagree with the defendant's representatives on the amount of a fair settlement offer, the case might move to trial. Your lawyer will be responsible for everything the judge or jury may require.
Build Your Case With A Top Rated Accident Lawyer
If you need immediate assistance with a vehicle accident or personal injury, call our team now at 
800-333-9999
 to begin your free case review and schedule an initial consultation to get legal advice. Our law firm represents injured victims across many categories. Some popular cases our accident attorneys handle include:
---
Dayton Pedestrian Accident Lawyers: Working With a Professional
At Isaacs & Isaacs Personal Injury Lawyers, we are committed to fighting for your rights and getting the settlement you deserve. To achieve this, we have:
Personal Injury Lawyers
Our personal injury attorneys have combined legal experience of over 400 years. There is nothing we haven't seen nor an opponent we are intimidated by. We have handled and resolved many cases, including ones to do with pedestrian accidents.
Just one example is a $1.5 million settlement we secured for a 50-year-old man who was struck by a vehicle and suffered shoulder and neck injuries. While we cannot guarantee a specific outcome for you, we will work hard to get you the compensation you need and deserve.
A Mock Courtroom
If your case goes to court, you may be nervous or intimidated by the prospect of testifying before a judge or jury. You don't need to worry because we have a mock courtroom location to help us prepare with our clients. You are welcome to use this room to practice until you feel comfortable and prepared for your trial.
An Impressive Track Record
Our attorneys have recovered over $2 billion in settlements for our clients in Kentucky, Indiana, and Ohio. We also have many positive testimonials from past clients. We are good at what we do, and our clients trust us to help them in their time of need.
A Contingency-Fee Pay Structure
Our lawyers operate on a contingency basis. That means you only pay us if we successfully recover compensation for you. Your lawyer will take a reasonable share of your final settlement reward in exchange for their services and separately reimburse costs associated with your case.
You will not have to pay us any upfront fees or costs. If you do not receive a recovery, you owe us nothing.
Bi-Lingual Staff
We serve our clients in English and Spanish because we embrace diversity. We're determined to see each of our clients receive the help they need.
---
Contact Isaacs & Isaacs Personal Injury Lawyers for a Free Consultation Today
To find out if you're eligible for a Dayton pedestrian accident claim, call us for a free case consultation. We are standing by to take your call.
To learn more about working with our Dayton lawyers, call 800-333-9999 for your no-cost pedestrian accident case review.