Begin Your Case With a Proven Personal Injury Law Firm
Isaacs & Isaacs Personal Injury Lawyers has been serving injury victims since 1993. If you were hurt in an accident—whether it was a vehicle collision, a slip and fall, dog bite, or otherwise—we can help you pursue compensation for your losses.
A Murray personal injury lawyer at our firm can take on your case while you heal from your injuries. They can collect and analyze evidence, identify who caused the accident, and negotiate a settlement. We offer our services on a contingency-fee-basis, so we won't charge you any fees or costs unless and until we resolve your case.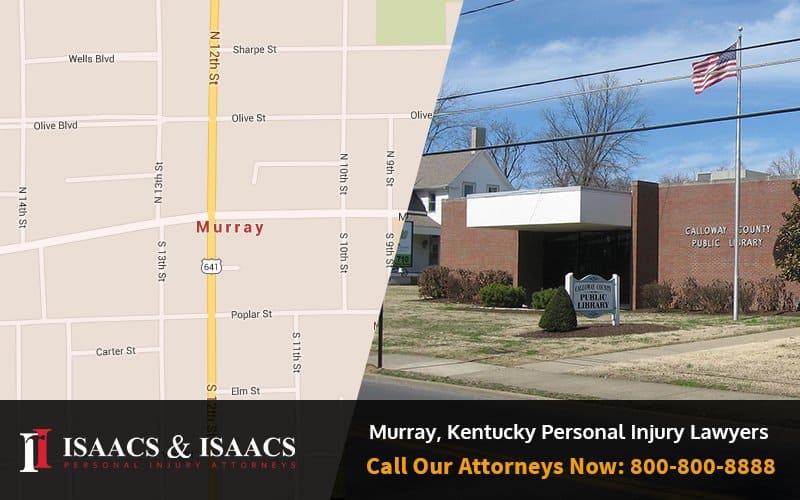 We charge no upfront fees for our legal services and only take payment if we secure monetary compensation on your behalf. Call us at 800-333-9999 at any time to speak to one of our dedicated Murray personal injury lawyers and set up a free consultation.
We Represent Injured Accident Victims Across Many Categories. Some Personal Injury Cases We Handle Include:
Accidents With Trucks or Commercial Vehicles
Injuries & Wrongful Death Involving Driver Negligence (cell phone use, DUI)
Accidents With Uninsured Motorists
Whiplash Injury Accidents
Airbag Deployment Accidents
Takata Air Bag Recalls
Motorcycle Accident Injuries
Ridesharing: Lyft & Uber Accidents
Bicycle Accident Injuries
Hit and Run Accidents
Pedestrians Hit By a Vehicle
Head-On Collisions
Rear-End Collisions
Spinal Cord Injuries
Sometimes an auto accident injury is not evident until much later. Even if you haven't suffered a catastrophic injury you still may need medical treatment. You should seek medical care immediately, even if you don't think you are badly hurt. Some severe injuries may not be immediately apparent. This is the best way to physically and legally protect yourself and your loved ones.
"Our daughters were involved in a serious car crash when a man ran a red light! Isaacs & Isaacs knew exactly what to say and exactly what to do for us! They are not only highly professional but also very sincere in wanting to help get our girls every dollar deserved! We will always be grateful to the team of The Hammer for being so wonderful during our time of need! Thank you from our family to your law firm."
---
How Hiring a Personal Injury Attorney Works
Attorney Darryl Isaacs — The Hammer — sat down to address questions about the experience of working with injured clients in Kentucky and beyond to help them fight for justice and win compensation. Join us in this radio episode of "Ask The Hammer," the podcast exploring the legal matters that matter most. Play the episode directly below.
---
Damages You Can Recover in a Murray Personal Injury Case
Based on the conditions and facts of your case, you may be entitled to recover these forms of compensation:
Past and ongoing medical expenses: For surgeries, medications, x-rays and other diagnostic tests, mobility aids, hospital stays, follow-up doctor's visits
Pain and suffering: For any discomfort or distress your injuries have caused you
Property damage costs: For repair or replacement costs if your vehicle was damaged or totaled
Lost wages: For the salary or hourly pay, commissions, bonuses, tips, promotions, and opportunities, among other benefits, you couldn't earn due to the accident and your injuries
Reduced earning potential: For the difference in pay if you have to accept a lower-paying job to accommodate your injuries or if you cannot work at all
Mental anguish: For the mental distress you've endured from the accident
Disfigurement: For the scarring or restricted mobility caused by your injuries
Other out-of-pocket expenses: For any home modifications or in-home assistance you need around the house
If your loved one passed away due to accident-related injuries, you could seek wrongful death compensation. You could recover the decedent's funeral arrangement fees, end-of-life medical expenses, and loss of income. Because you and your family were affected by this death, you may be able to go after awards for loss of consortium, household services, and/or guidance.
Our Accident Law Firm Will Get Started on Your Case Immediately By:
Listening to your story
Answering your questions
Advising you what to do next
Investigating the accident scene and all other evidence related to your claim
Reviewing medical records, police reports, and all documents
Determining which parties are liable for your injury
Meeting with insurance adjusters
Helping you file your claim
Demanding a just settlement for all of your medical treatment and damages
---
A Personal Injury Lawyer with our Team Serving Murray Can Advocate for You
Healing from your injuries should be your main focus. Meanwhile, our personal injury lawyers can take on all parts of your case, such as:
Representing you throughout settlement negotiations
Evaluating insurance policies and settlement offers
Ordering a copy of the police or incident report
Collecting relevant photographs and video evidence
Talking to your medical team and going over your medical records
Establishing the other party's negligence
Litigating your case before a jury
Interviewing eyewitnesses
Communicating with other involved parties
Employing these services, along with our more than 400 years of combined legal experience, has helped us secure over $1 billion in settlements and verdicts for our clients. Now, let's get to work for you so that you can get the financial recovery you deserve to move forward.
Our Firm Handles Various Types of Cases in Murray, KY
If you were involved in one of these accidents, our personal injury attorneys can help you pursue compensation.
Car and auto accidents (e.g., motorcycle, bicycle, pedestrian, etc.)
Dog bites
Truck accidents
Traumatic brain injury (TBI)
Catastrophic injuries
Medical malpractice
Premises liability, including slip and fall accidents
Autonomous vehicle accidents
Wrongful death
If you don't see the type of injury or accident you suffered listed here, we encourage you to get in touch with our firm, as we may still be able to help you.
You Can Afford a Lawyer from Isaacs & Isaacs Personal Injury Lawyers
Because our firm takes injury cases based on contingency:
One of our staff members will offer you a free case review upon your initial call.
We will finance your case from beginning to end, so we'll take care of all the filing and court fees.
Your lawyer won't take any upfront or out-of-pocket fees or costs.
No hourly rates or retainers are involved.
If your lawyer settles or wins your case, they will take a portion of that figure as their payment. If they cannot do either, you owe us nothing.
In turn, this payment plan helps alleviate your financial strain and allows us to get started on your case immediately.
---
Build Your Case With A Top Rated Accident Lawyer
If you need immediate assistance with a vehicle accident or personal injury, call our team now at 
800-333-9999
 to begin your free case review and schedule an initial consultation to get legal advice. Our law firm represents injured victims across many categories. Some popular cases our accident attorneys handle include:
How our Team Can Prove a Personal Injury Case
The heart of every personal injury case is negligence. Therefore, we must prove it is present in your case so that we can secure compensation for you.
Four elements make up negligence:
Duty of Care
Whether you're on the road or someone else's property, the other party is to ensure your safety.
Here are some examples:
A motorist is to obey all traffic laws.
A store owner keeps their property free of hazards.
A doctor is to provide the best care for their patients.
Breach of Duty of Care
This element is otherwise known as negligence. Using the same examples:
A motorist runs the red light at Calloway Avenue and Kentucky Avenue.
A store owner at Chestnut Hills doesn't warn patrons of a wet floor.
A doctor at Murray-Calloway County Hospital doesn't carefully review their patient's medical history.
Causation
This element will demonstrate the link between the other party's negligence and your injuries.
A motorist causes a side-impact collision.
A patron slips and falls on the wet surface.
A doctor gives the patient the wrong medication.
Damages
You must show how the accident has affected your life mentally, physically, and financially. Your medical bills, wage statements, vehicle repair costs, and other expenses will reflect the extent of your damages.
---
Reach Out to Isaacs & Isaacs Personal Injury Lawyers for Help
To learn more about working with our Murray lawyers, call 1-800-333-9999 for your no-cost personal injury case review.