Begin Your Case With a Proven Personal Injury Law Firm
Accidents can happen without a moment's notice. Suddenly, you might be injured and overwhelmed with how you're going to pay your medical bills or take care of yourself and your loved ones. At Isaacs & Isaacs Personal Injury Lawyers, we want you to know you don't have to go through this situation alone, and you shouldn't have to pay the resulting bills out of your pocket.
A Georgetown personal injury lawyer at our firm may be able to help you secure the monetary compensation you need to cover your expenses and get on the mend. We offer a free case review to potential clients looking for guidance on their cases. We'll explain your rights, options, and our role in getting you the money you need.
We charge no upfront fees for our legal services and only take payment if we secure monetary compensation on your behalf. Call us at 800-333-9999 at any time to speak to one of our dedicated Georgetown personal injury lawyers and set up a free consultation.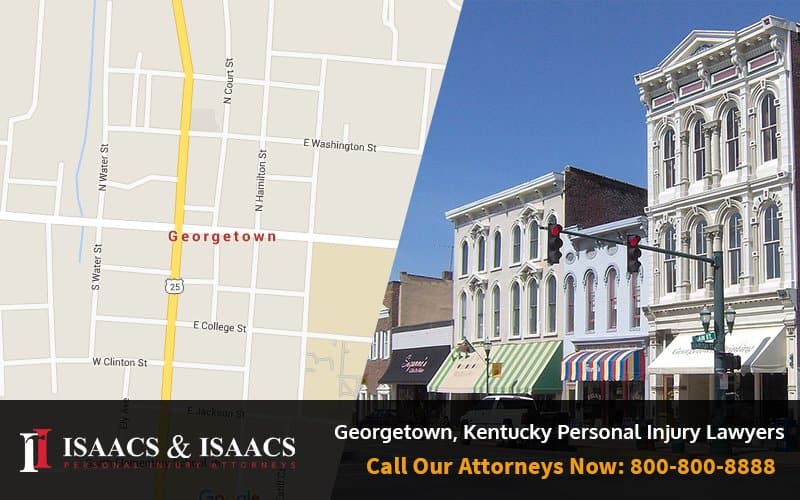 We Represent Injured Accident Victims Across Many Categories. Some Personal Injury Cases We Handle Include:
Accidents With Trucks or Commercial Vehicles
Injuries & Wrongful Death Involving Driver Negligence (cell phone use, DUI)
Accidents With Uninsured Motorists
Whiplash Injury Accidents
Airbag Deployment Accidents
Takata Air Bag Recalls
Motorcycle Accident Injuries
Ridesharing: Lyft & Uber Accidents
Bicycle Accident Injuries
Hit and Run Accidents
Pedestrians Hit By a Vehicle
Head-On Collisions
Rear-End Collisions
Spinal Cord Injuries
Sometimes an auto accident injury is not evident until much later. Even if you haven't suffered a catastrophic injury you still may need medical treatment. You should seek medical care immediately, even if you don't think you are badly hurt. Some severe injuries may not be immediately apparent. This is the best way to physically and legally protect yourself and your loved ones.
"Our daughters were involved in a serious car crash when a man ran a red light! Isaacs & Isaacs knew exactly what to say and exactly what to do for us! They are not only highly professional but also very sincere in wanting to help get our girls every dollar deserved! We will always be grateful to the team of The Hammer for being so wonderful during our time of need! Thank you from our family to your law firm."
---
How Hiring a Kentucky Personal Injury Attorney Works
Attorney Darryl Isaacs — The Hammer — sat down to address questions about the experience of working with injured clients in Kentucky and beyond to help them fight for justice and win compensation. Join us in this radio episode of "Ask The Hammer," the podcast exploring the legal matters that matter most. Play the episode directly below.
---
You May Recover Economic and Non-Economic Damages in a Personal Injury Case
Your injuries may have cost you financially, psychologically, and emotionally. Our personal injury attorneys serving the Georgetown community in Kentucky will aim to build a strong case that fully compensates you and your family for the losses you have sustained.
The financial settlement or verdict you receive hinges on the details of your case. Damages you may be able to claim include but are not limited to:
Lost wages
Lost ability to earn
Past and future medical expenses
Property damage
Physical therapy
Home accessibility renovations
Pain and suffering
Physical impairments
Reduced quality of life
Loss of enjoyment of life
Other emotional and psychological pain
In the event of a wrongful death, the victim's family may be able to recover:
Funeral and burial expenses
End-of-life medical costs
The victim's lost income
Loss of companionship or consortium
Other just and proper damages
Our Accident Law Firm Will Get Started on Your Case Immediately By:
Listening to your story
Answering your questions
Advising you what to do next
Investigating the accident scene and all other evidence related to your claim
Reviewing medical records, police reports, and all documents
Determining which parties are liable for your injury
Meeting with insurance adjusters
Helping you file your claim
Demanding a just settlement for all of your medical treatment and damages
---
Medical Treatment Can Help Your Case
Serious injuries from your accident or incident can occur. A personal injury case could have any number and kind of injuries associated with it. Motor vehicle accidents and slip and fall accidents tend to have some of the most catastrophic injuries, while medical malpractice and occupational exposure cases are likely to result in illness.
Common injuries associated with personal injury claims include:
Fractured or broken bones
Traumatic brain injuries (TBIs)
Head injuries
Back injuries
Neck and spinal cord injuries
Muscle, ligament, or tendon injuries
Dislocated joints
Paralysis
Organ damage
Severed limbs or digits
Illness
You should seek medical attention directly following your accident or as soon as you detect any pain or signs of injury. The Georgetown accident injury attorneys on our team can help you find qualified medical providers if need be. Seeing a doctor is an important step not only for your health but also for documenting and proving your injuries and calculating your losses.
---
How We Advocate for Your Best Interests
Our personal injury lawyers are your legal advocates, fighting for what you deserve. To support you and propel your case forward, we perform various tasks on your behalf. Some of our most essential duties include:
Breaking Down Your Rights
Our Georgetown personal injury attorneys are legal professionals who know federal and Kentucky state laws. We know trying to make sense of statutes and legal procedures can be taxing, so we'll make sure to explain your rights, legal options, and required procedures to you as thoroughly and simply as possible.
Providing Legal Advice
While we are here to take over your case, we cannot and do not make your decisions. We work for you. We'll advise you on what you can and should do based on the law and our experience. We'll also offer our objective opinions to help guide you through complicated legal procedures, extensive paperwork, insurance tactics, and difficult decisions.
Negotiating a Proper Settlement
Ideally, we will settle your personal injury claim outside of court and without the need for a lawsuit. We will demand full compensation for your losses and turn away settlement offers that do not provide a fair amount or have your approval.
Representing You in Court
While we hope to come to a just and proper settlement at the negotiating table, we will not accept the path of least resistance if it is not in your best interest. Following the lead of our founding attorney, Darryl Isaacs, who has been called "The Hammer" due to his aggressive pursuit of client compensation, we will bring passion to the courtroom for you. If necessary, we will file a personal injury lawsuit with the court to move your case forward.
Build Your Case With A Top Rated Accident Lawyer
If you need immediate assistance with a vehicle accident or personal injury, call our team now at 
800-333-9999
 to begin your free case review and schedule an initial consultation to get legal advice. Our law firm represents injured victims across many categories. Some popular cases our accident attorneys handle include:
Past Clients Highly Review Our Law Firm
We have helped clients recover over $2 billion in compensation. Our clients trust us because we have a proven track record of success, and our client reviews reflect as much. Our A+ rating with the Better Business Bureau, 91% positive reviews on Lawyers.com, and 4.7 out of 5 stars on the legal help site Avvo.com speak to client satisfaction with our services.
"The staff has been nothing short of amazing! So compassionate, so understanding! They've kept in contact with everyone involved in the accident, and I couldn't ask for a better paralegal than Ms. Colleen. She simply is awesome. Glad we chose to be represented by your firm!"
"I was in my first, and I hope, last accident. I called Isaacs & Isaacs the 'Hammer' and they took care of everything. They came out to my home, I didn't even have to go to them. Very friendly, caring, and professional staff. They handled my case, kept me updated, and always answered my calls within 24 hours. Very pleased with the settlement. If you need an attorney call 'The Hammer.'"
"During this difficult time, everyone that I worked with was very professional and kind. Every question that I had, they answered. Sometimes before I actually asked it. It was so nice not to have to deal with the insurance company. If I ever find myself or my family member in a situation such as this, I will not hesitate to contact them again to help me through. Just want to thank them for all they have done!!"
---
What Sets Us Apart from Other Law Firms
Our law office operates with excellence. We can proudly tout a unique set of qualities that set us apart from other personal injury firms serving Georgetown and around the state.
We have:
More than $2 billion in compensation recovered for clients and their families
Over 25 years of service to personal injury clients in Georgetown and beyond
400 years of combined legal experience on our personal injury legal team
Attorneys licensed to practice in Kentucky, Indiana, Ohio, Nevada, Texas, and Illinois
Spanish-speaking legal team members
 An in-house litigation team ready to take on your case
Our personal injury practice areas include:
Truck accidents
Catastrophic injuries
---
Kentucky Doesn't Allow Much Time to File a Personal Injury Lawsuit
Kentucky gives personal injury victims just one year to file a lawsuit in most cases, per Ky. Rev. Stat. § 413.140(1). If you believe you are entitled to compensation for your injuries, regardless of the type of personal injury case you have, you should begin the insurance claims process as soon as possible. Waiting too long means you could lose your rights to a financial judgment in court.
---
Isaacs & Isaacs Personal Injury Lawyers Is Ready to Help You Win
The legal team at Isaacs & Isaacs Personal Injury Lawyers is standing by to take on your case. We do not charge you any upfront fees or costs for our services. A Georgetown personal injury lawyer at our firm may be able to help you collect the monetary compensation you need to put your life back together.
To learn more about working with our Georgetown lawyers, call 1-800-333-9999 for your no-cost personal injury case review.