Begin Your Case With a Proven Personal Injury Law Firm
You could have been walking in General James Taylor Park when a dog bit you or driving on Monmouth Street when a reckless driver rear-ended you. In both of these situations, someone else could be responsible for your injury—and you could have legal options.
A Newport personal injury lawyer from our team could help you pursue the compensation you need to recover. At Isaacs & Isaacs Personal Injury Lawyers, we take cases based on contingency, so you pay nothing unless we win for you.
We charge no upfront fees for our legal services and only take payment if we secure monetary compensation on your behalf. Call us at 800-333-9999 at any time to speak to one of our dedicated Newport personal injury lawyers and set up a free consultation.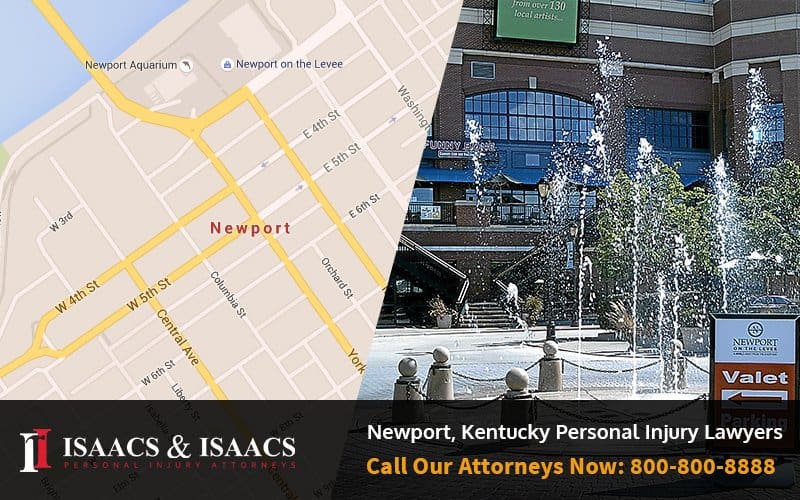 We Represent Injured Accident Victims Across Many Categories. Some Personal Injury Cases We Handle Include:
Accidents With Trucks or Commercial Vehicles
Injuries & Wrongful Death Involving Driver Negligence (cell phone use, DUI)
Accidents With Uninsured Motorists
Whiplash Injury Accidents
Airbag Deployment Accidents
Takata Air Bag Recalls
Motorcycle Accident Injuries
Ridesharing: Lyft & Uber Accidents
Bicycle Accident Injuries
Hit and Run Accidents
Pedestrians Hit By a Vehicle
Head-On Collisions
Rear-End Collisions
Spinal Cord Injuries
Sometimes an auto accident injury is not evident until much later. Even if you haven't suffered a catastrophic injury you still may need medical treatment. You should seek medical care immediately, even if you don't think you are badly hurt. Some severe injuries may not be immediately apparent. This is the best way to physically and legally protect yourself and your loved ones.
"Our daughters were involved in a serious car crash when a man ran a red light! Isaacs & Isaacs knew exactly what to say and exactly what to do for us! They are not only highly professional but also very sincere in wanting to help get our girls every dollar deserved! We will always be grateful to the team of The Hammer for being so wonderful during our time of need! Thank you from our family to your law firm."
---
How Hiring a Kentucky Personal Injury Attorney Works
Attorney Darryl Isaacs — The Hammer — sat down to address questions about the experience of working with injured clients in Kentucky and beyond to help them fight for justice and win compensation. Join us in this radio episode of "Ask The Hammer," the podcast exploring the legal matters that matter most. Play the episode directly below.
---
How Do I Know If I Have a Valid Personal Injury Case in Kentucky?
You could have a personal injury case if someone else is legally responsible for your injury. Typically, the standard for proving you have a valid case is negligence. This means you or your lawyer will need to show that someone else's recklessness or carelessness directly resulted in your injury and other losses.
Here are a few more examples of personal injury cases:
A truck driver hit you on I-471, causing you major back and neck injuries.
You were shopping at a grocery store when you slipped on a wet floor with no hazard sign, causing a hip fracture.
You were riding your bicycle along Riverboat Row when a car veered into you, throwing you from the bike and causing you to break several bones.
In all of these scenarios, someone took a reckless action or careless inaction that led to your injuries.
Per Ky. Rev. Stat. § 413.140(1), personal injury lawsuits generally must be filed within one year. If you were in a car accident, you typically have up to two years, according toKy. Rev. Stat. § 304.39-230. We can explain all of your legal options in a free case review.
Our Accident Law Firm Will Get Started on Your Case Immediately By:
Listening to your story
Answering your questions
Advising you what to do next
Investigating the accident scene and all other evidence related to your claim
Reviewing medical records, police reports, and all documents
Determining which parties are liable for your injury
Meeting with insurance adjusters
Helping you file your claim
Demanding a just settlement for all of your medical treatment and damages
---
What Types of Results Could I See From a Personal Injury Case?
When you bring an injury case against another party, you could recover compensation for your financial and non-financial losses associated with your injuries.
We can tell you what forms of compensation you're eligible to seek. You could make a recovery for:
Financial Losses
This refers to any loss you suffered that has a clear dollar value, such as:
Medical bills: This may include the cost of your medications, emergency room visits, surgeries, hospitalizations, physical therapy, visits to a doctor, and more.
Future medical bills: In some cases, you could require ongoing or future treatment.
Lost wages: Your lost wages could include missed paychecks or tips.
Reduced earning capacity: If you had to reduce your hours or find a new job to accommodate your limitations, you could recover the difference between your previous and new earnings.
Out-of-pocket expenses: You could have paid for medical devices or transportation out of pocket, for instance.
Non-Financial Losses
Many of your hardships after an accident could be less tangible. Still, you could recover compensation for losses such as:
Pain and suffering
Mental anguish
Lost enjoyment of life
Wrongful Death
Eligible surviving family members can seek compensation for the loss of a loved one through a wrongful death case. Our team can support you through every step of the process, seeking the recovery you need and deserve for funeral costs, medical expenses, and more.
---
What Will a Lawyer Do to Help Me With My Newport Injury Case?
A lawyer from Isaacs & Isaacs Personal Injury Lawyers can help you handle all the complexities of the legal process. In short, our attorneys will do everything necessary to seek the compensation you deserve.
Consider these tasks that you can hand off to your lawyer:
Determining a Goal Settlement or Award Amount for Your Case
How will you know what your case is worth if an insurance company makes you an offer? Our team can tell you. You don't have to guess what constitutes a fair offer.
Our attorneys have experience placing a monetary value on intangible losses, determining what your full medical expenses could look like over time, and ensuring you seek what you deserve.
Gathering Compelling Evidence for Your Case
Proving that you deserve compensation from another party can be challenging. That's why our attorneys will gather the strongest possible evidence in preparation for your settlement or trial process. When we go to the insurance company or the liable party's lawyers, we will be ready to show that their client harmed you and they owe you compensation.
We may gather evidence from sources such as:
Eyewitness statements
Police reports
Violations records from a business or property owner
Traffic camera footage
Dashboard camera footage
Accident reconstruction data
Expert witness testimony
Handling Conversations With the Insurance Company
You don't have to deal with the back-and-forth conversations involved in a settlement or lawsuit. We will speak with the adjusters and the other party's lawyers for you.
We may proceed with settlement negotiations or file a lawsuit on your behalf. We are prepared to take your case to trial if negotiations don't produce a fair result.
If the insurance company pushes back and tries to make you a lowball offer, deny or delay your claim, or tell you that your injuries aren't serious, our team can back you up. We know the tactics insurers use to limit payouts, and we know how to get the results you need.
Build Your Case With A Top Rated Accident Lawyer
If you need immediate assistance with a vehicle accident or personal injury, call our team now at 
800-333-9999
 to begin your free case review and schedule an initial consultation to get legal advice. Our law firm represents injured victims across many categories. Some popular cases our accident attorneys handle include:
Our Lawyers Can Help You With These Types of Personal Injury Cases in Newport
Isaacs & Isaacs Personal Injury Lawyers is prepared to help you with these types of cases:
Truck accidents
Car accidents
Catastrophic injuries
Traumatic brain injury (TBI)
Motorcycle accidents
Bicycle accidents
Wrongful death
Dog bites
Workplace accidents
Rideshare accidents
Autonomous vehicle accidents
Nursing home abuse
Premises liability
Medical malpractice
Slip and fall accidents
If your case type is not on this list, we can let you know during your free case review if we can help.
---
Build Your Case With a Newport Personal Injury Lawyer
If you have been injured near Newport, our personal injury attorneys may be able to help. We have recovered over $2 billion in damages for our clients in Kentucky, Indiana, and Ohio. Call for a complimentary case review.
To learn more about working with our Newport lawyers, call 1-800-333-9999 for your no-cost personal injury case review.