Begin Your Case With a Proven Personal Injury Law Firm
If you've been injured in an accident in Bowling Green, Kentucky it is essential that you speak with an experienced Bowling Green personal injury lawyer right away in order to protect your legal rights. For more than 20 years, attorney Darryl Isaacs – The Hammer – has served as a 
personal injury lawyer in Louisville, KY
, and is proud to represent clients in nearby Bowling Green, Kentucky.
Bowling Green, Kentucky, is a great place to live. It's the home of Western Kentucky University and the Fruit of the Loom and General Motors Corvette plants. The Everly Brothers even recorded a hit song about how lucky folks are to live in Bowling Green.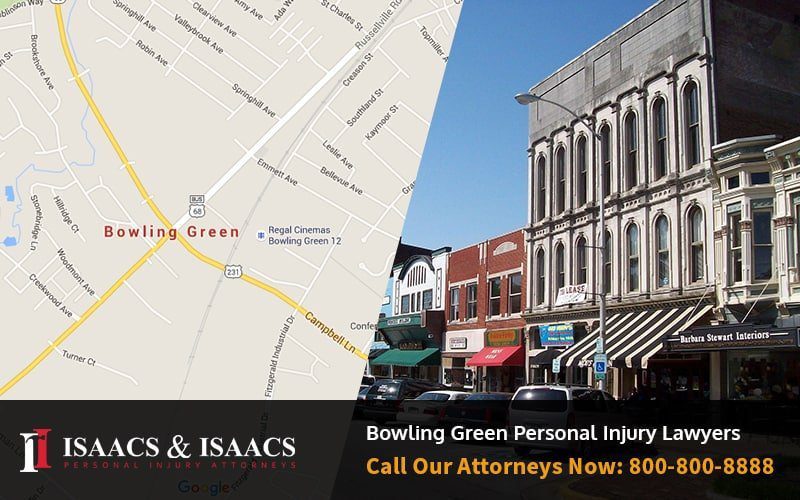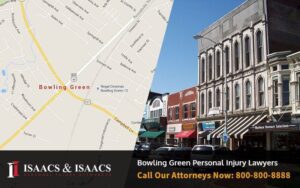 Unfortunately, if you or a family member have suffered a serious injury through no fault of your own, you probably don't feel very lucky – especially if insurance doesn't want to pay you a fair settlement for your pain and suffering, lost wages, and mounting medical bills resulting from the injury.
Our Bowling Green personal injury lawyers at Isaacs & Isaacs Personal Injury Lawyers can help.
We charge no upfront fees for our legal services and only take payment if we secure monetary compensation on your behalf. Call us at 800-333-9999 at any time to speak to one of our dedicated Bowling Green personal injury lawyers and set up a free consultation.
We Represent Injured Accident Victims Across Many Categories. Some Personal Injury Cases We Handle Include:
Accidents With Trucks or Commercial Vehicles
Injuries & Wrongful Death Involving Driver Negligence (cell phone use, DUI)
Accidents With Uninsured Motorists
Whiplash Injury Accidents
Airbag Deployment Accidents
Takata Air Bag Recalls
Motorcycle Accident Injuries
Ridesharing: Lyft & Uber Accidents
Bicycle Accident Injuries
Hit and Run Accidents
Pedestrians Hit By a Vehicle
Head-On Collisions
Rear-End Collisions
Spinal Cord Injuries
Sometimes an auto accident injury is not evident until much later. Even if you haven't suffered a catastrophic injury you still may need medical treatment. You should seek medical care immediately, even if you don't think you are badly hurt. Some severe injuries may not be immediately apparent. This is the best way to physically and legally protect yourself and your loved ones.
"They're great to me. Used them twice and positive results both times. I wouldn't hesitate to contact them again if needed."
---
Getting the Legal Perspective on Personal Injury – Audio Interview
Car accident lawyer Darryl Isaacs — The Hammer — sat down to address legal and safety considerations when injured from a car crash in a recent radio episode of "Ask The Hammer," the podcast exploring the legal matters that matter most. There are many elements at play when knowing what to do after a car accident. Listen to the episode directly below.
---
Forms of Compensation Your Bowling Green Personal Injury Lawyer Could Seek In Your Case
In legal terms, the compensation you could seek after an injury case is referred to as "damages." You could be entitled to pursue several types of damages for your financial and non-financial losses, including:
Pain and suffering: You could be in significant pain or dealing with other emotional hardships after your injury.
Income losses: If you missed paychecks due to your injury, you could recover those losses.
Reduced earning capacity: If your ability to work will be affected long-term, the difference between your past and expected future earnings could be compensable.
Medical bills: This could help you recover the cost of your past, present, and future medical care, such as medications, surgeries, hospitalizations, visits to a doctor, physical therapy, and other medical expenses.
Wrongful death damages: Family members who lost a loved one could seek compensation for funeral and burial costs, medical expenses, and more.
Our personal injury lawyers could tell you which forms of damages you could seek in your particular case. If you were injured in a car accident, or truck accident (Construction Vehicle Accidents) your personal injury lawyer will determine who is liable for your injuries and deal with the responsible party's insurance company for you.
Our Accident Law Firm Will Get Started on Your Case Immediately By:
Listening to your story
Answering your questions
Advising you what to do next
Investigating the accident scene and all other evidence related to your claim
Reviewing medical records, police reports, and all documents
Determining which parties are liable for your injury
Meeting with insurance adjusters
Helping you file your claim
Demanding a just settlement for all of your medical treatment and damages
---
Our Personal Injury Attorneys in Bowling Green Will Handle Every Step of Your Case
You don't have to respond to emails, phone calls, or submit paperwork. Our attorneys know how to keep your case on track and seek the best possible results. We will:
Investigate Your Personal Injury Case and Build Strong Evidence
Our team will work to understand how your accident happened, who is liable, and how you were affected. Then, we will build compelling evidence to prove each of these aspects of your case.
We may work with sources such as:
Police reports
Traffic camera footage
Black box data
Dashboard camera footage
Witness statements
Expert testimony
Accident reconstruction data
Evaluate Settlement Offers and Negotiate a Fair Settlement
If you were to receive an offer from an insurance company, how would you know if that number is fair? Our attorneys will be able to tell you.
We also have experience handling the negotiation process in personal injury cases. We know the tactics that insurance companies use to lower your settlement value, and we will be prepared to show why you deserve the amount we've determined.
If the insurance company won't make a fair offer, we can take your case to trial. Our personal injury attorneys have experience with courtroom litigation and won't hesitate to present your case before a jury.
Ensure Your Case Complies with Important Deadlines
Pursuant to the Kentucky Motor Vehicle Reparations Act (MVRA), if a person is injured in a car accident they have 2 years from the date of the wreck or date of last PIP or no-fault payment to file suit. Your timeline could be longer if you are filing for wrongful death or a car accident case.
We can tell you more about which deadlines apply to you.
---
Common Personal Injury FAQs
How Hiring a Bowling Green Personal Injury Lawyer Works
You can take advantage of a free case review to learn more about working with our Bowling Green personal injury lawyers and ask any questions you may have about your case. During this call, we can explain more about:
How a lawyer will communicate with you throughout your case
How our contingency fees work
How your lawyer may approach your case
Build Your Case With A Top Rated Accident Lawyer
If you need immediate assistance with a vehicle accident or personal injury, call our team now at 
800-333-9999
 to begin your free case review and schedule an initial consultation to get legal advice. Our law firm represents injured victims across many categories. Some popular cases our accident attorneys handle include:
---
A Proven Bowling Green, Kentucky Personal Injury Law Firm
Isaacs & Isaacs Personal Injury Lawyers employs personal injury attorneys who formerly worked in insurance defense. We are well aware of the lengths insurance companies will go to in order to keep from paying out big personal injury claims.
For some catastrophic injuries such as traumatic brain injury or a botched surgery, you may not know the extent of your injury for months or years. You may be facing multiple surgeries, prolonged physical therapy, and around-the-clock nursing care. You may never be able to go back to work at your former occupation.
The insurance company may offer you a quick settlement in exchange for signing a release of liability. Once you sign their release, you are signing away your right to compensation from the negligent party's insurance and your own insurance company if you require more medical treatment down the road. It is very important that you consult a Bowling Green personal injury lawyer before you talk to the insurance people or sign any papers.
---
Get a Free Consultation About Your Bowling Green, KY Personal InjuryCase
You can reach us around the clock if you need to talk to a Bowling Green, Kentucky personal injury attorney's team. We have recovered over $1 billion for our injured clients. There's no charge for the phone call. We want to be there for you in your crisis, and we hope to be of service to you with a no-obligation consultation and case evaluation with a dedicated personal injury lawyer on our team.
To learn more about working with our Bowling Green lawyers, call 1-800-333-9999 for your no-cost personal injury case review.