Begin Your Case With a Proven Personal Injury Law Firm
What Is Transvaginal Mesh Used For?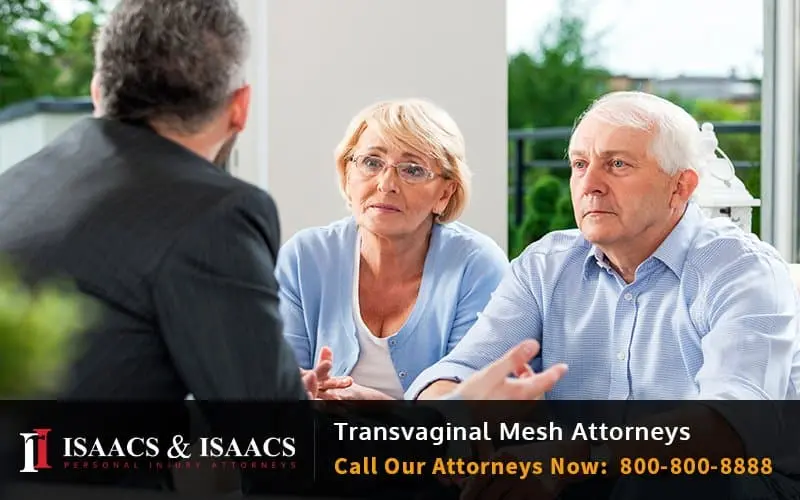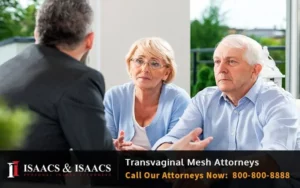 Surgical mesh is a netlike implant that supports the vagina or other organs when a woman has pelvic organ prolapse (POP) or stress urinary incontinence (SUI). Pelvic organ prolapse is when the muscles and ligaments supporting a woman's pelvic organs weaken, and the organs slip out of place (prolapse). Stress urinary incontinence is when a woman experiences a lack of bladder control during ordinary activities like sneezing, coughing, lifting, and running. Surgical mesh is implanted to support the bladder or urethra.
We charge no upfront fees for our legal services and only take payment if we secure monetary compensation on your behalf. Call us at 800-333-9999 at any time to speak to one of our dedicated Kentucky transvaginal mesh implant lawyers and set up a free consultation.
We Represent Injured Accident Victims Across Many Categories. Some Personal Injury Cases We Handle Include:
Accidents With Trucks or Commercial Vehicles
Injuries & Wrongful Death Involving Driver Negligence (cell phone use, DUI)
Accidents With Uninsured Motorists
Whiplash Injury Accidents
Airbag Deployment Accidents
Takata Air Bag Recalls
Motorcycle Accident Injuries
Ridesharing: Lyft & Uber Accidents
Bicycle Accident Injuries
Hit and Run Accidents
Pedestrians Hit By a Vehicle
Head-On Collisions
Rear-End Collisions
Spinal Cord Injuries
"It was a pleasure to have the Isaacs & Isaacs team to help me after being hit by a truck as I was walking to the market. They went above and beyond to help with all I went through!"
Hiring a Kentucky Personal Injury Attorney with Our Firm
In his podcast, "Ask the Hammer," Attorney Darryl Isaacs – the Hammer – answers questions about how he and his team serve clients to help get them the compensation they need. Play the episode below:
---
Our Accident Law Firm Will Get Started on Your Case Immediately By:
Listening to your story
Answering your questions
Advising you what to do next
Investigating the accident scene and all other evidence related to your claim
Reviewing medical records, police reports, and all documents
Determining which parties are liable for your injury
Meeting with insurance adjusters
Helping you file your claim
Demanding a just settlement for all of your medical treatment and damages
---
How Is Transvaginal Mesh Surgery Done?
Transvaginal mesh surgery is done by inserting the surgical mesh through the vagina, rather than through the abdomen. Though there have been problems with abdominal mesh surgery, it is considered much safer than transvaginal mesh surgery, which has caused serious, debilitating complications for thousands of women.
In 2008, the United States Food and Drug Administration warned of complications associated with transvaginal mesh implants. The FDA continued to express concerns and issue warnings and, most recently, on January 4, 2016, the FDA reclassified transvaginal mesh surgery to treat POP from moderate risk classification to high risk. Unfortunately, this reclassification came after hundreds of thousands of women already had transvaginal mesh implants. For many of these women, the damage has been done.
What Are Some Transvaginal Mesh Problems?
According to the FDA website, the most frequently reported problems include:
Transvaginal Mesh Erosion
Infection
Bleeding
Pain during sexual intercourse
Organ perforation (holes poked, pierced in organs) from surgical tools used
Urinary problems
Additional hospitalization/surgeries needed to repair damage/remove mesh.
The above list is not all inclusive.
Has There Been a Transvaginal Mesh Recall?
To date, transvaginal mesh has not been recalled, but the FDA reclassified transvaginal mesh used to repair POP as Class III high-risk devices on January 4, 2016. Class III is the highest-risk category the FDA has for medical devices.
Thousands of lawsuits have been filed against manufacturers by women who have received the transvaginal mesh. These recipients have suffered serious and often debilitating injuries, chronic pain, and in many cases have undergone multiple surgeries with varying degrees of success to correct the damage / remove the transvaginal mesh implant and prevent further injury.
In the past, doctors used other options to repair POP and SUI, and the FDA strongly recommends returning to these methods when possible because the risks associated with transvaginal mesh may outweigh any benefits. The FDA recommends that doctors should recognize that POP can be successfully treated without mesh. Also, that doctors should inform patients if the mesh is being used. Finally, patients need to be assertive in demanding to know why a Class III medical device is necessary and what other options there are.
Build Your Case With A Top Rated Accident Lawyer
If you need immediate assistance with a vehicle accident or personal injury, call our team now at 
800-333-9999
 to begin your free case review and schedule an initial consultation to get legal advice. Our law firm represents injured victims across many categories. Some popular cases our accident attorneys handle include:
---
Transvaginal Mesh Lawsuits
Tens of thousands of lawsuits have been filed against manufacturers by women who have received the transvaginal mesh. These recipients have suffered serious and often debilitating injuries, and chronic pain, and in many cases, have undergone multiple surgeries with varying degrees of success to correct the damage/remove the transvaginal mesh implant and prevent further injury.
One lawsuit filed against Boston Scientific alleges the company used counterfeit resin from China in its vaginal mesh after a name-brand manufacturer would no longer supply resin for permanent implants due to safety issues. Boston Scientific may face criminal charges if this allegation is found to be true.
How a Transvaginal Mesh Law Firm Can Help
If you have suffered any injury or discomfort from a transvaginal mesh implant, you can join thousands of other women who have chosen the path of holding pharmaceutical manufacturers, and perhaps others, accountable for the injuries and suffering the transvaginal surgical mesh devices have caused you. You may have a cause for legal action based on product liability law, for:
Negligence
Breach of Warranty
Strict Liability
Depending on the facts of your case and the jurisdiction where you file your lawsuit, you may have other causes for legal action. You could be entitled to recover damages for:
Pain and suffering
Disability
Lost wages
Medical bills
Loss of consortium
Perhaps punitive damages (to punish wrongdoers and discourage similar behavior).
Though federal courts have not awarded class-action status to transvaginal mesh litigation, many of the lawsuits have been consolidated into multidistrict litigation (MDL). This allows a federal judge to hear pretrial motions in related cases (individual transvaginal mesh lawsuits) where at least one legal question can be ruled on, narrowing the scope of discovery and pretrial motions in order to streamline the lawsuits so they don't drag on so long.
After the multidistrict litigation judge rules on the common legal issues in the lawsuits, the cases are remanded back to the original courts for trial at the discretion of the Judicial Panel on Multidistrict Litigation, which controls the proceeding. When a federal judge has ruled on common issues of law related to a large group of transvaginal mesh lawsuits, the litigation process can be more focused on individual cases. This allows the jury to bypass complicated legal issues and to hear and rule on questions of fact that differ from your case, such as exactly how the transvaginal mesh implant injured you physically, and what damages the injury(s) did to your life.
---
Isaacs & Isaacs Transvaginal Mesh Implant Lawyers Will Help You File Your Case
If you have suffered an injury from your transvaginal mesh implant, you will need a skilled and experienced attorney who will fight for you to receive every last penny for your pain and suffering, and for all the financial losses and emotional stress, you've had to endure. Isaacs & Isaacs has decades of experience helping victims of defective medical devices to receive fair and just settlements for all their suffering.
Our 99-percent success rate is largely based on our conviction that when a medical device manufacturer abuses their power and pursues profit with reckless disregard for the safety of thousands of everyday people who have entrusted their lives and their health to the medical device manufacturer's expertise in developing a safe product, they should have to pay each person they have hurt every last penny the law allows. We believe that all too frequently the only path to justice is through civil litigation. For us, obtaining justice is not a job, it's a vocation.
We understand the painful physical, emotional, and financial ordeal you are struggling with, and we will represent you on a contingency fee basis. If we don't recover your money, you do not owe us a penny, and we don't get paid until you do. These cases can be expensive to litigate, and Isaacs & Isaacs has the resources to bear the cost while we seek justice for you.
Because there are statutes of limitations that will bar you from recovering any damages for your injury if you wait too long, it is crucial you speak to one of our transvaginal mesh lawsuit attorneys immediately. Isaacs & Isaacs's dedicated team of legal pros is here to assist you now.
To learn more about working with our Kentucky lawyers, call 1-800-333-9999 for your no-cost transvaginal mesh implant case review.