Begin Your Case With a Proven Personal Injury Law Firm
Alexandria is a great town. Known for its slogan "Where the city meets the country," it is right in the middle of Campbell County. In Alexandria, you have the natural beauty of country life and the benefits of living in town with neighbors nearby. It is truly the best of two worlds. Isaacs & Isaacs Personal Injury Lawyers is proud to represent the people of Alexandria and Campbell County.
If you're visiting my website, you may have been injured in an accident, may want an attorney, or have suffered some other calamity in your life. In most cases, if you think you need an attorney, you do. Our attorneys are always on call for legal emergencies.
You can contact us at any time of the day or night by calling our hotline, or you can fill out our online form for a free consultation with one of our dedicated and experienced injury attorneys. We will listen to your situation and do our best to answer any questions you may have about what to do next.
We charge no upfront fees for our legal services and only take payment if we secure monetary compensation on your behalf. Call us at 800-333-9999 at any time to speak to one of our dedicated Alexandria personal injury lawyers and set up a free consultation.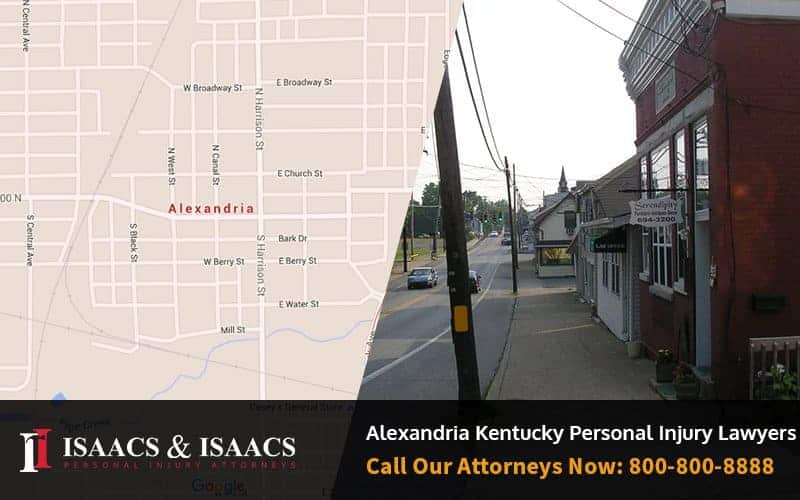 We Represent Injured Accident Victims Across Many Categories. Some Personal Injury Cases We Handle Include:
Accidents With Trucks or Commercial Vehicles
Injuries & Wrongful Death Involving Driver Negligence (cell phone use, DUI)
Accidents With Uninsured Motorists
Whiplash Injury Accidents
Airbag Deployment Accidents
Takata Air Bag Recalls
Motorcycle Accident Injuries
Ridesharing: Lyft & Uber Accidents
Bicycle Accident Injuries
Hit and Run Accidents
Pedestrians Hit By a Vehicle
Head-On Collisions
Rear-End Collisions
Spinal Cord Injuries
Sometimes an auto accident injury is not evident until much later. Even if you haven't suffered a catastrophic injury you still may need medical treatment. You should seek medical care immediately, even if you don't think you are badly hurt. Some severe injuries may not be immediately apparent. This is the best way to physically and legally protect yourself and your loved ones.
"John came to our house and went over the legal part of it thoroughly and quickly, but he always made it more about us. I would recommend them to anybody because they're going to make sure that you're protected. It just always felt like we were dealing with family instead of a legal process."
---
How Hiring a Kentucky Personal Injury Attorney Works
Attorney Darryl Isaacs — The Hammer — sat down to address questions about the experience of working with injured clients in Kentucky and beyond to help them fight for justice and win compensation. Join us in this radio episode of "Ask The Hammer," the podcast exploring the legal matters that matter most. Play the episode directly below.
---
We Manage These Personal Injury Practice Areas in Campbell County, KY
We help claimants injured in these situations:
Auto accidents, including truck and car accidents
Dog bites
Traumatic brain injuries
Rideshare accidents
Self-driving car accidents
Catastrophic injuries
Nursing home abuse
Slips and falls
Premises liability
Medical malpractice
We also help claimants who have lost loved ones.
Our Accident Law Firm Will Get Started on Your Case Immediately By:
Listening to your story
Answering your questions
Advising you what to do next
Investigating the accident scene and all other evidence related to your claim
Reviewing medical records, police reports, and all documents
Determining which parties are liable for your injury
Meeting with insurance adjusters
Helping you file your claim
Demanding a just settlement for all of your medical treatment and damages
---
Compensation Could Account for Your Injury-Related Losses
People pay insurance premiums year in and year out so that when an accident happens, and somebody gets hurt, the insurance company will have their back. Unfortunately, even though insurance companies are very strict and look for any excuse to raise the rate you pay for coverage, they are slow to pay injury claims.
When they finally offer you a settlement, it will likely not be nearly enough to cover your:
Past and future medical costs
Lost wages
Property damage expenses
Pain and suffering
Disability
Emotional trauma
There are many other damages that you could suffer, depending on the facts of your unique situation. Don't expect the liable party's insurance company to cover them– enlist the help of a skilled and aggressive attorney with experience in personal injury law.
Isaacs & Isaacs Personal Injury Lawyers Will Fight To Get You Fair Compensation
Once you enlist our help, our attorneys and other legal professionals will work hard to get you every last dollar you deserve for your injury claim. We know the law, we know your rights, and we are familiar with the tactics insurance companies use to reduce or deny claims. The worse you are injured, the harder the insurance company will fight to reduce your settlement. We employ personal injury attorneys who used to work in insurance defense.
If we have to, we will file a lawsuit to let the insurance representatives know that we mean business. Once we file a lawsuit, we can obtain access to evidence that the other side has no duty to disclose outside of the pre-trial phase of the lawsuit known as "discovery."
Your aggressive team of legal professionals will demand all evidence of what caused your accident or injury, including physical evidence, sworn testimony of witnesses, electronic records and files, and inspection of equipment, vehicles, or an accident scene that may be closed to the public.
A personal injury lawsuit raises the stakes considerably, and if the insurance company and other liable parties don't offer a fair settlement, we will take your case to court.
---
Why Should You Partner With a Personal Injury Lawyer Serving Alexandria?
Three reasons to consider partnering with Isaacs & Isaacs Personal Injury Lawyers include:
We've Recovered $2 Billion for Injured Claimants
We understand that you want a lawyer with experience in personal injury law, and our results speak for themselves. We've secured these multi-million-dollar outcomes:
We secured a $10 million verdict at trial after our client's loved one passed away following a truck accident.
We recovered over $2.5 million after our client suffered broken bones in a rear-end collision.
We secured $3.65 million after our client suffered harm due to a negligent semi-truck driver.
Our client lost a loved one after he passed away following a motorcycle accident. Through negotiations, we recovered $1.5 million.
We're Accredited by the Better Business Bureau
During our years of service, we've seen some unscrupulous law firms. Those organizations put their own interests over those of deserving clients.
To assure our clients of our integrity, we were accredited by the Better Business Bureau (BBB) in 2021. We have an "A+" rating, meaning that we go the extra mile to provide quality customer service.
We also encourage you to check out our testimonials on our website. Here, you can get an "up close and personal" look at what it's like to work with us.
We Will Do Everything Your Case Requires
After suffering harm, you have many things on your mind. We don't want you to worry about any of them. A personal injury lawyer serving Alexandria will manage your case from beginning to end. We will:
Investigate your accident
Prove negligence
Interview witnesses
Determine fault and liability
Negotiate a settlement
File your lawsuit
Follow all deadlines
We are also ready to answer your questions at any time.
Build Your Case With A Top Rated Accident Lawyer
If you need immediate assistance with a vehicle accident or personal injury, call our team now at 
800-333-9999
 to begin your free case review and schedule an initial consultation to get legal advice. Our law firm represents injured victims across many categories. Some popular cases our accident attorneys handle include:
We Offer Help on a Contingency Fee Basis––No Upfront Fees or Costs
Isaacs & Isaacs Personal Injury Lawyers will help you on a contingency-fee-basis. If we don't get you your money, we will not get paid. You have nothing to lose by calling our hotline or filling out the online form to speak with a personal injury attorney about your situation.
---
Call Isaacs & Isaacs Personal Injury Lawyers for a Free Case Review
Do you have questions about partnering with our Kentucky law firm? We're more than happy to answer them.
To learn more about working with our Alexandria lawyers, call 1-800-333-9999 for your no-cost personal injury case review.