Begin Your Case With a Proven Personal Injury Law Firm
If you were injured due to the reckless or negligent conduct of another, you may have the right to be compensated for your damages. However, when you are still recuperating from your injuries, dealing with the insurance company or bringing your case to court can seem overwhelming.
Fortunately, with help from a Paducah personal injury lawyer at Isaacs & Isaacs Personal Injury Lawyers, you can spend your energy healing from your injuries while we fight to bring the liable party to justice.
We charge no upfront fees for our legal services and only take payment if we secure monetary compensation on your behalf. Call us at 800-333-9999 at any time to speak to one of our dedicated Paducah personal injury lawyers and set up a free consultation.
We Represent Injured Accident Victims Across Many Categories. Some Personal Injury Cases We Handle Include:
Accidents With Trucks or Commercial Vehicles
Injuries & Wrongful Death Involving Driver Negligence (cell phone use, DUI)
Accidents With Uninsured Motorists
Whiplash Injury Accidents
Airbag Deployment Accidents
Takata Air Bag Recalls
Motorcycle Accident Injuries
Ridesharing: Lyft & Uber Accidents
Bicycle Accident Injuries
Hit and Run Accidents
Pedestrians Hit By a Vehicle
Head-On Collisions
Rear-End Collisions
Spinal Cord Injuries
Sometimes an auto accident injury is not evident until much later. Even if you haven't suffered a catastrophic injury you still may need medical treatment. You should seek medical care immediately, even if you don't think you are badly hurt. Some severe injuries may not be immediately apparent. This is the best way to physically and legally protect yourself and your loved ones.
"They're great to me. Used them twice and positive results both times. I wouldn't hesitate to contact them again if needed."
---
How Hiring a Kentucky Personal Injury Attorney Works
Attorney Darryl Isaacs — The Hammer — sat down to address questions about the experience of working with injured clients in Kentucky and beyond to help them fight for justice and win compensation. Join us in this radio episode of "Ask The Hammer," the podcast exploring the legal matters that matter most. Play the episode directly below.
---
Types of Damages You Can Recoup in a Paducah Personal Injury Case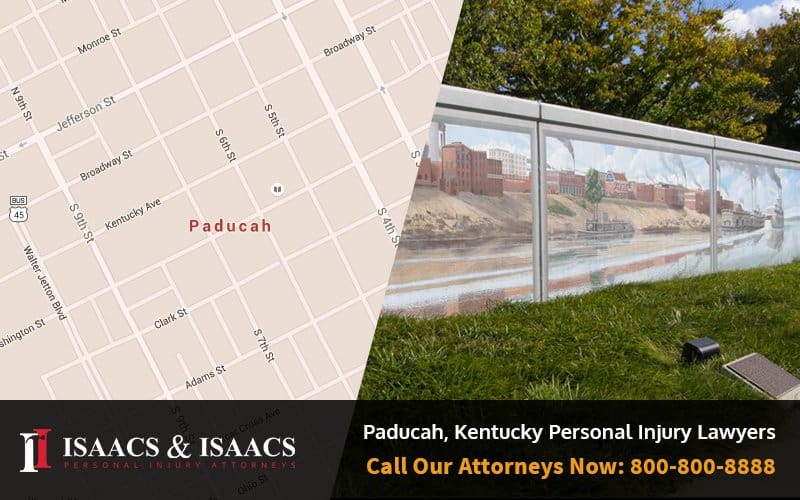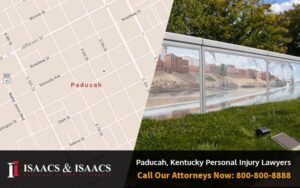 Every personal injury case has its own facts, so how much you can recover is subjective to your circumstances. However, common forms of compensation victims qualify for are:
Past and future medical bills: For the ambulance ride, diagnostic tests, hospitalization, medications, assistive medical equipment, surgeries, physical therapy, and follow-up care
Lost income: For any regular wages, bonuses, tips, business opportunities, vacation days, and benefits you couldn't earn while you were tending to your injuries
Future loss of earning capacity: For any income you won't be able to earn because your injuries are keeping you from going back to work
Pain and suffering: For the pain and discomfort brought on by your injuries
Property damage expenses: For your car that needs repair or total replacement if you were in a vehicle accident
Mental anguish: For the mental toll that injuries and accident have taken on you
Disfigurement: For the scarring your treatment or injuries have caused
If your loved one didn't survive their related injuries, wrongful death damages you can pursue include:
Loss of consortium
Funeral and burial expenses
Loss of household services
Final medical care costs
Your lawyer will conduct a full review of your case and determine what your losses are. Then, they can put a price on each of them so that you can seek fair compensation.
Our Accident Law Firm Will Get Started on Your Case Immediately By:
Listening to your story
Answering your questions
Advising you what to do next
Investigating the accident scene and all other evidence related to your claim
Reviewing medical records, police reports, and all documents
Determining which parties are liable for your injury
Meeting with insurance adjusters
Helping you file your claim
Demanding a just settlement for all of your medical treatment and damages
---
What Happens When Isaacs & Isaacs Personal Injury Lawyers Takes Your Case
When you hire our personal injury lawyers serving Paducah, they will work for you on a contingency fee basis, so they won't take any payment unless and until they procure financial recovery for you.
While serving you on this arrangement, they will:
Explain which laws apply to your case
Compile evidence
Prove the other party's negligence
Take phone calls, manage emails, and represent you during in-person meetings
Handle settlement negotiations
Argue your case before a jury, if need be
Your lawyer will always keep you in the loop and answer your questions right away. That way, you are always involved throughout your case.
What Others Who Chose Our Personal Injury Firm Have to Say
Our previous clients have shared their experiences. Take a look:
"Ultimately I selected Isaacs & Isaacs and was very pleased with my decision. From the initial contact through the entire process, their offices kept me abreast of the status of my case and what was to be expected… Overall, I am very pleased with the service I received." —Jackie W.
"So far Isaacs and Isaacs has been a tremendous help for me….from the investigator, case manager, to my attorney EVERYBODY that has helped me is so very nice and respectful…" —Dawn O.
Our firm has been fighting for injury victims since 1993. Now, let's get to work for you.
---
Following State Deadlines on Personal Injury Cases in Kentucky
If you and your lawyer decide that filing a lawsuit is the most suitable option for you, you must be aware of the deadlines that Kentucky imposes.
General personal injury: Ky. Rev. Stat. § 413.140(1) explains that you typically have one year to file.
Vehicle accidents: More specifically, those who want to file a lawsuit if they were injured or their loved one died due to a vehicle accident have generally two years to take action, per Ky. Rev. Stat. § 304.39-230.
Wrongful death: As Ky. Rev. Stat. § 413.180 affirms, after the estate representative has been appointed or the date of the decedent's passing, there is usually a one-year time frame to file suit.
Your lawyer can help you meet your corresponding deadline, but you have to inform that about your case soon. If you delay building and filing your case, you may no longer be permitted to hold the liable party accountable for your losses. In that event, you could run out of options for recovering damages.
Build Your Case With A Top Rated Accident Lawyer
If you need immediate assistance with a vehicle accident or personal injury, call our team now at 
800-333-9999
 to begin your free case review and schedule an initial consultation to get legal advice. Our law firm represents injured victims across many categories. Some popular cases our accident attorneys handle include:
Common Types of Personal Injury Cases in Paducah, Kentucky
At Isaacs & Isaacs Personal Injury Lawyers, we help clients who have been hurt in various circumstances, including:
Car accidents
Boat and watercraft accidents
Bicycle accidents
Pedestrian accidents
Truck accidents
Motorcycle accidents
Bus accidents
Commercial vehicle accidents
Construction accidents
Slip and fall accidents and other premises liability cases
Dog bites
Medical malpractice
Nursing home abuse
Our team also helps those who have lost loved ones file wrongful death cases.
Common Injuries Suffered in Personal Injury Accidents
Types of injuries you might experience at the hands of another include:
Facial injuries
Burns
Traumatic brain injuries (TBI)
Head, neck, and back injuries
Soft tissue injuries, such as whiplash
Compound fractures and broken bones
Internal bleeding and organ failure
Contusions, abrasions, and lacerations
Herniated discs
These are just a few injuries you might experience in an accident or incident caused by someone else's negligence. If you have been involved in a catastrophic accident and suffered another type of injury that was not listed above, our Paducah personal injury attorneys are ready to help.
---
Work With a Paducah Personal Injury Lawyer at Our Firm Now
After someone acted negligently and injured you in Paducah, a personal injury lawyer at our firm can help you hold them accountable. We can use our 400+ years of collective legal experience to pursue the most favorable outcome possible for you. Our attorneys have even won more than $2 billion in compensation for our clients.
To learn more about working with our Paducah lawyers, call 1-800-333-9999 for your no-cost personal injury case review.