Begin Your Case With a Proven Car Accident Law Firm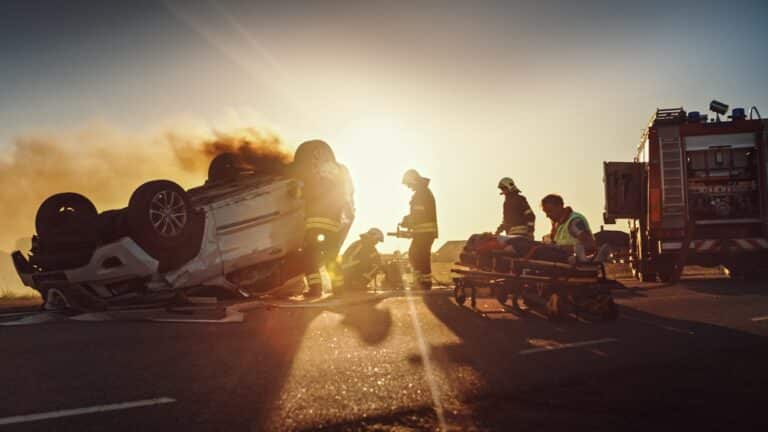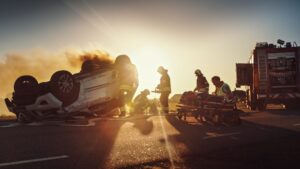 Car accident victims in Kentucky can legally pursue compensatory damages from reckless drivers and negligent third parties. Our experienced Louisville car accident lawyer can handle your compensation claim while you focus on recovery.
It is vital to determine every potential source of compensation to cover injury expenses because even minor accidents can result in severe, life-altering disabilities. This could include a trucking company, a local or state government responsible for road maintenance, or a defective auto part manufacturer.
We charge no upfront fees for our legal services and only take payment if we secure monetary compensation on your behalf. Call us at 800-333-9999 at any time to speak to one of our dedicated Lexington car accident lawyers and set up a free consultation.
We Represent Injured Accident Victims Across Many Categories. Some Personal Injury Cases We Handle Include:
Accidents With Trucks or Commercial Vehicles
Injuries & Wrongful Death Involving Driver Negligence (cell phone use, DUI)
Accidents With Uninsured Motorists
Whiplash Injury Accidents
Airbag Deployment Accidents
Takata Air Bag Recalls
Motorcycle Accident Injuries
Ridesharing: Lyft & Uber Accidents
Bicycle Accident Injuries
Hit and Run Accidents
Pedestrians Hit By a Vehicle
Head-On Collisions
Rear-End Collisions
Spinal Cord Injuries
Sometimes an auto accident injury is not evident until much later. Even if you haven't suffered a catastrophic injury you still may need medical treatment. You should seek medical care immediately, even if you don't think you are badly hurt. Some severe injuries may not be immediately apparent. This is the best way to physically and legally protect yourself and your loved ones.
"John came to our house and went over the legal part of it thoroughly and quickly, but he always made it more about us. I would recommend them to anybody because they're going to make sure that you're protected. It just always felt like we were dealing with family instead of a legal process."
---
Getting the Legal Perspective on Car Accidents – Audio Interview
Car accident lawyer Darryl Isaacs — The Hammer — sat down to address legal and safety considerations when injured from a car crash in a recent radio episode of "Ask The Hammer," the podcast exploring the legal matters that matter most. There are many elements at play when knowing what to do after a car accident. Listen to the episode directly below.
---
Damages You Could Recover After a Louisville Car Accident
Following a car accident, you may have to cope with extensive medical care that keeps you out of work. To help, you could pursue financial compensation for your medical bills for accident injuries, lost wages, and other damages.
Potential compensation for injury victims could include:
Immediate medical expenses: These can include emergency room care, hospitalization, medication, medical providers, and surgeries.
Lost income: If you could not work due to the accident, you could be compensated for lost wages. This may include missed bonuses, benefits, paid sick leave, and vacation pay.
Pain and suffering: Your pain and suffering after an accident can be significant enough to warrant compensation. This includes physical and emotional trauma as well as long-term disability.
Property damage: In some cases, property damage caused by another driver's negligence could lead to additional compensation. For example, if a drunk driver or uninsured motorist damaged a vehicle, you could recover the cost of car repairs.
Loss of consortium: A spouse or partner who suffers the loss of consortium after a car accident could also be entitled to compensation. This includes the loss of companionship, affection, sexual relations, household duties, and childcare.
Ongoing medical care: This can include rehabilitative therapy, doctor's visits, specialists, and other medical professionals.
Reduced earning capacity: The difference between your pre-injury income and what you can now earn can be made up through compensatory damages.
Punitive damages: If a defendant acted recklessly or maliciously, you could receive punitive damages. These damages could include fines, court costs, and attorney fees.
Reduced quality of life: You could be awarded compensation for any permanent injuries or disabilities that affect your ability to live a normal life.
You won't have to worry about adding up your financial and non-economic damages when you work with us. We can calculate them for you. This way, you can go after exactly what you deserve. We don't want you to foot the bill later down the line.
Recovery from a car accident can be difficult. That's why it's important to immediately contact a skilled personal injury lawyer.
Our Accident Law Firm Will Get Started on Your Case Immediately By:
Listening to your story
Answering your questions
Advising you what to do next
Investigating the accident scene and all other evidence related to your claim
Reviewing medical records, police reports, and all documents
Determining which parties are liable for your injury
Meeting with insurance adjusters
Helping you file your claim
Demanding a just settlement for all of your medical treatment and damages
---
Wrongful Death Damages
If you lost a loved one to a fatal car accident, you deserve to grieve peacefully rather than hassle with a wrongful death claim. We will handle the legal work for you so you can honor your loved one's memory with your family.
We could go after:
Your loved one's funeral expenses, including burial or cremation costs.
Your loved one's income that would have continued to contribute to the household.
Your loved one's pain and suffering before their passing.
Lost wages if you took time off work to tend to their injuries.
Loss of consortium for the loss of companionship your loved one provided.
Our auto accident lawyers could file your claims or accident lawsuits on time to comply with relevant deadlines.
---
How Our Louisville Car Accident Attorneys Can Help
You deserve the comprehensive, responsive legal service our team can offer. When we take on your case, an auto accident attorney with extensive experience will:
Investigate Your Accident
The police and insurance adjusters will check insurance coverage and investigate your accident to determine who's at fault. An insurance carrier may try to deny or undervalue your claim by arguing you were at fault.
However, we can conduct our independent investigation to counter their findings and hold the liable party responsible. We will not allow the insurance company to bother you with lowball settlement offers.
Gather Evidence
You may not know where to start when it comes to gathering evidence. If you have suffered a catastrophic injury you may not be able to do it alone. We've got you covered.
We may obtain police reports, accident reports, traffic camera footage, eyewitness testimony, medical reports, and other evidence to support your claim. This way, you don't have to track down any pertinent information.
File Your Claim or Lawsuit
Sometimes, our law firm seeks compensation through an insurance claim. Other times, the legal process starts with filing a personal injury lawsuit against the responsible party. It depends on the specific circumstances of your case. We do not apply a one-size-fits-all approach. Instead, we tailor our legal strategy to suit your unique situation.
We can also handle any paperwork involved with your case. You won't have to worry about making a clerical error that could cost you compensation. You will also not have to communicate with the liable party, insurers, or defense team.
Negotiate a Settlement
If we file an insurance claim, an adjuster may make an initial offer that would not fairly compensate you. However, an experienced personal injury attorney can assess any offer to prevent you from accepting less than what you deserve.
Remember, once you accept payment from an insurer, you will not be able to seek additional compensation for future losses, such as ongoing medical care.
We can negotiate a fair settlement by presenting evidence of your losses and the other party's negligence.
Take Your Case to Court
We are unafraid to litigate on your behalf and seek a court-awarded offer. Then, we can present our findings to a judge or jury and deal with the defendant's legal team.
Keep You Up to Date
When you work with us, we will be available to answer your questions and inform you about your case's progress throughout the entire process. In addition, our in-house litigation team will be at your disposal.
---
Common Car Accident FAQs
Car Accidents Can Cause Life-Changing Injuries
According to the Centers for Disease Control and Prevention (CDC), motor vehicle accidents are common in Kentucky and around the world. Each year more than 3,700 people are injured globally in accidents involving cars, trucks, motorcycles, bicycles, and pedestrians.
Injuries resulting from car accidents can range from minor injuries such as bruises and cuts to serious injuries like broken bones and head trauma. Many times these types of injuries require medical attention and treatment. Common car accident injuries may include:
Head injury: Head injuries can result in loss of consciousness or memory loss. These injuries can also cause brain damage which can lead to permanent disabilities.
Spinal cord injury: Spinal injuries can affect movement, sensation, and feeling below the waist.
Internal organ damage: Internal organs such as the heart, lungs, liver, kidneys, intestines, and stomach can be damaged if they hit other objects during a crash. Internal bleeding can also occur when internal organs are damaged.
Torn ligaments: Ligaments connect muscles to bones and allow them to move freely. Torn ligaments can restrict movement causing pain and discomfort.
Traumatic brain injury (TBI): Traumatic Brain Injury (TBI) is caused by a sudden impact to the head. It can happen in a car accident, sports-related injury, or any type of fall. TBI can cause headaches, dizziness, confusion, memory problems, personality changes, seizures, coma, paralysis, and even death.
Burns: Burns can occur when hot fluids come into contact with the skin. They can be caused by fire or steam from a radiator.
Fractures: Fractures or broken bones can occur when a bone breaks due to excessive force. They can be caused by a car accident, slip and fall, or any other type of accident.
Lacerations: Lacerations are soft tissue injuries that cut through the skin. They can be deep or shallow depending on how much tissue is involved.
Non-economic damages may include:
Emotional distress: Emotional distress occurs when someone experiences severe anxiety or depression after being involved in a car accident.
Pain and suffering: Pain and suffering refer to physical pain and emotional distress experienced by victims of car accidents. This includes mental anguish, embarrassment, grief, fear, shock, worry, anger, humiliation, and financial losses.
What to Do After a Car Accident in Kentucky
A car accident occurs every 15 seconds in the United States. In fact, according to the National Highway Traffic Safety Administration (NHTSA), nearly 40,000 people lost their lives in a traffic crash in 2020. If you've been involved in one, it's important to know how to handle the situation. Here are some tips to keep in mind following a car accident.
Check Yourself and Passengers for Serious Injury
The first thing you should do after a car accident is to make sure everyone is okay. This includes checking yourself and passengers for injuries. Make sure no one is trapped inside the vehicle. You don't want to wait too long to check for injuries because you could miss something critical.
Call Your Insurance Company
You'll want to call your insurance company immediately after a car accident. They'll need information about where the accident occurred and whether someone was hurt. Also, let them know if you think you might file a claim against the driver responsible for causing the accident.
Avoid Discussing What Happened During the Crash
Don't talk about what happened during the accident unless you speak to your attorney. There are many reasons why this isn't a good idea:
Anything you say can be used against you in court.
You don't want to incriminate yourself.
You never know when a witness may come forward.
Get Medical Care
After a car accident, you should get medical care as soon as possible. The sooner you seek treatment, the better off you will be. A doctor can help determine if anyone has suffered serious injuries. They can also provide information about any medications you may need to take.
File an Auto Claim
You'd likely have to file a personal injury auto claim if you were injured in a car accident. An auto claim is filed when someone is injured in a car accident. It covers all expenses related to the accident, including medical bills, property damage, and more.
Ask your lawyer if you're unsure whether you need to file a claim. They can tell you if there is enough evidence to support filing a claim.
Will Insurance Cover All of the Expenses After an Accident?
Uninsured/Underinsured Motorists Coverage is required in every state. But what happens if you are involved in an accident where someone does not carry enough liability insurance?
What if no one else can pay for damages caused by another driver? In those situations, knowing whether your personal injury protection (PIP) coverage will help you recover the costs associated with your injuries is important.
PIP Coverage
PIP, also known as Medical Payments or MedPay, is an optional coverage that protects against financial losses due to bodily injury sustained in an automobile accident.
It compensates for medical expenses, loss of income, pain and suffering, and funeral expenses. If you do not purchase PIP coverage, you could pay out of pocket for some of the expenses related to your accident.
Kentucky requires drivers to carry $10,000 per person/$ 20,000 per accident uninsured/underinsured motorist coverage.
This amount pays for your medical bills, lost wages, and other expenses resulting from an accident involving an underinsured or uninsured driver. You can find out if you qualify for PIP coverage by checking your policy.
Purchase Additional Coverage for Financial Protection
You may be eligible for benefits under your car insurance if you are injured in an accident where the other party did not have sufficient insurance. However, you may consider purchasing additional coverage to protect yourself financially.
For example, if you are unable to work because of your injuries, you may be able to collect disability payments from Social Security or workers' compensation. These benefits are typically limited to six months; therefore, you might consider buying extended disability coverage.
Coverage Cost Depends on Your Situation
The cost of purchasing both types of coverage varies depending on your situation. For instance, if you are a young adult without dependents, you may be able to afford to buy just the extra coverage.
On the other hand, if you have a family, you may want to look into purchasing full coverage to ensure that your loved ones receive adequate compensation for your injuries. A good rule of thumb is comparing quotes from multiple companies to determine the coverage you need.
Medicaid or Federal Aid
It may be difficult to prove fault if you are hurt in a single-car accident. However, if there is evidence that another driver ran a red light or failed to yield, you could sue the responsible party. Many states require uninsured motorists to compensate victims up to $25,000 per person and $50,000 per accident.
In some cases, you may be eligible for additional financial assistance. For instance, you might qualify for Medicaid benefits if you suffer serious injuries. You may also be entitled to receive federal aid, including disability payments and unemployment insurance. Contact a car accident lawyer today to learn more about your options.
The goal is to get you the maximum compensation you are entitled to by the at-fault driver. Our Louisville vehicle accident attorneys offer free initial consultations to review your accident case.
Build Your Case With A Top Rated Accident Lawyer
If you need immediate assistance with a vehicle accident or personal injury, call our team now at 
800-333-9999
 to begin your free case review and schedule an initial consultation to get legal advice. Our law firm represents injured victims across many categories. Some popular cases our accident attorneys handle include:
Kentucky Laws Limit Your Time to File for Compensation
If you are involved in a motor vehicle accident, it is important to seek out a lawyer immediately. You must meet strict deadlines within certain time frames to protect your rights.
If you do not act quickly enough, you could lose your chance to receive compensation for damages incurred due to negligence. KRS 304.39-060(6) generally extends the statute of limitations to two years from the wreck date or last PIP or No-Fault payment.
As soon as you contact us, we can begin working on your case immediately to help you abide by this deadline.
Statute of Limitations for a Motor Vehicle Accident
In Kentucky, a victim typically has one or two years following a car accident to file a complaint against an at-fault party. Depending on the injury type and the person from whom you are seeking compensation, you may have one or two years:
Two years if you have Personal Injury Protection (PIP) coverage: Kentucky is a "no-fault" state, which means that Personal Injury Protection (PIP) insurance coverage is required. This insurance precludes you from suing another party for damages in an accident covered by insurance unless your injuries meet specific criteria. In other words, you first look to your insurance for reimbursement.
Following PIP payment: According to Kentucky law, a two-year statute of limitations begins to run from the date of the final PIP payment following an accident.
Without PIP protection, you have one year: Because Kentucky drivers have the option to decline PIP, the statute of limitations varies. If you don't have PIP coverage, you have 12 months from the accident date to file a claim against the negligent party.
For a wrongful death claim, one year: You have one year from the date of a loved one's accident to file a wrongful death compensation claim. If your loved one passed away on a day different than the accident day, the one-year period would start more than a year after that date.
For vehicle damage, two years: According to Kentucky statutes, you have two years from the accident date to file a complaint if you need compensation for vehicle damage.
---
An Aggressive Louisville Car Accident Attorney Ready to Fight For You
A car accident lawyer can help auto accident victims recover damages for injuries and losses. In addition to helping you recover compensation for medical bills, lost wages, pain and suffering, and property damage, a car accident attorney will advise you about how to proceed with a personal injury claim.
An auto accident lawyer can help you:
Navigate the legal system: They have legal experience and can provide guidance and advice regarding how to proceed with your case.
Fight your case for you: Our skilled attorneys understand how insurance companies work and their tactics to limit payments.
Protect your rights: A car accident attorney can ensure that you get the compensation you deserve while protecting your rights.
File paperwork: The right attorney can assist you in filling out all necessary forms and documents required by the courts.
Get answers: An attorney can help you find out who was negligent and why they were negligent.
Collect evidence: Attorneys can gather evidence related to the accident and collect statements from witnesses. This can include photos, videos, police reports, and more.
Negotiate settlements: When negotiating a settlement, an attorney can explain the ins and outs of the negotiation process and attempt to reach a fair agreement with the insurance provider.
Prepare court documents: If negotiations fail and your case goes to court, your attorney can prepare court documents, including petitions, motions, subpoenas, and depositions.
Our lawyers have extensive experience handling cases involving car accidents. We can help you navigate the complex legal system and fight for your rights. Contact our office today to schedule a free consultation.
---
No Fees Unless We Win or Settle Your Case
You shouldn't worry about affording legal representation while dealing with your injuries. We can take this weight off your shoulders. We work on a contingency-fee-basis, meaning we only take payment when we win or settle your case.
We also offer free, no-obligation consultations so you can discover your legal options.
Experienced Representation of Auto Injuries and Vehicle Collisions
Car accidents are among the most common types of injuries in America. If you've been involved in one, seeking legal representation immediately is important. Your insurance provider might offer you a settlement that doesn't consider the full extent of your losses.
If you don't know what to do next, contact us today. We have nearly three decades of experience helping people recover damages following auto collisions. Our team includes former prosecutors, investigators, and trial attorneys. Together we can provide you with the best possible outcome.
Work with Our Personal Injury Lawyers After a Car Accident in Louisville
Our legal team has over 400 years of combined experience, and we have recovered over $2 billion in settlements for clients in Kentucky, Indiana, and Ohio. See what our firm can do for you after suffering injuries in a Louisville car accident.
Our Louisville car accident lawyers can handle your case from start to finish so you can focus on recuperating and spending time with your loved ones. To discuss your case, call us. The sooner you call, the sooner we can begin protecting your rights to fair compensation.
Seeking Damages for Kentucky Car Accident Victims
If you are injured in a crash involving another person's negligence, such as a drunk driving collision, you may be able to file suit against the negligent party. Call Isaacs & Isaacs Personal Injury Lawyers to pursue a claim against the negligent driver under the state's no-fault law, which requires drivers to carry liability insurance.
This coverage covers medical expenses, lost income, and property damage resulting from motor vehicle crashes. Experienced personal injury attorneys can provide legal advice and help determine whether you have a case worth pursuing. Contact a car accident lawyer immediately for a free consultation.