Begin Your Case With a Proven Motorcycle Accident Law Firm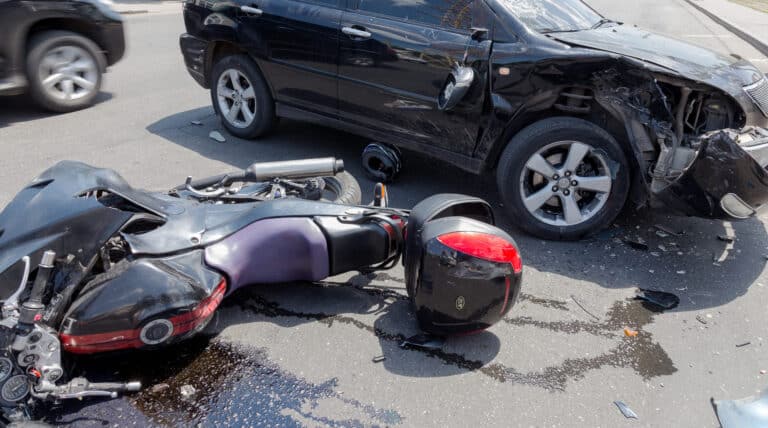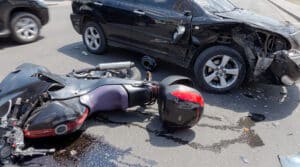 The aftermath of a motorcycle accident can be long-lasting and devastating. A motorcycle accident can leave you both physically and emotionally bruised. You may suffer from severe depression or anxiety due to the trauma you've faced. You may also be experiencing life-altering disabilities caused by the accident or the inability to work after the accident.
Adequate compensation can help you deal with the repercussions. With the help of a Georgetown motorcycle accident lawyer, you can file for a fair settlement to get back on your feet.
We charge no upfront fees for our legal services and only take payment if we secure monetary compensation on your behalf. Call us at 800-333-9999 at any time to speak to one of our dedicated Georgetown motorcycle accident lawyers and set up a free consultation.
We Represent Injured Accident Victims Across Many Categories. Some Personal Injury Cases We Handle Include:
Accidents With Trucks or Commercial Vehicles
Injuries & Wrongful Death Involving Driver Negligence (cell phone use, DUI)
Accidents With Uninsured Motorists
Whiplash Injury Accidents
Airbag Deployment Accidents
Takata Air Bag Recalls
Motorcycle Accident Injuries
Ridesharing: Lyft & Uber Accidents
Bicycle Accident Injuries
Hit and Run Accidents
Pedestrians Hit By a Vehicle
Head-On Collisions
Rear-End Collisions
Spinal Cord Injuries
Sometimes an auto accident injury is not evident until much later. Even if you haven't suffered a catastrophic injury you still may need medical treatment. You should seek medical care immediately, even if you don't think you are badly hurt. Some severe injuries may not be immediately apparent. This is the best way to physically and legally protect yourself and your loved ones.
"It was a pleasure to have the Isaacs & Isaacs team to help me after being hit by a truck as I was walking to the market. They went above and beyond to help with all I went through!"
---
Getting the Legal Perspective on Motorcycle Accidents – Audio Interview
Motorcycle accident lawyer Darryl Isaacs — The Hammer — sat down to address legal and safety considerations when injured from a motorcycle crash in a recent radio episode of "Ask The Hammer," the podcast exploring the legal matters that matter most. There are many elements at play when knowing what to do after a motorcycle accident. Listen to the episode directly below.
---
Your Georgetown Motorcycle Accident Lawyer
The person responsible for your accident should be held financially accountable. We're armed with a proven track record of getting maximum compensation for clients and winning cases in court.
To help win your case, get a motorcycle accident lawyer who's qualified and experienced in handling claims associated with motorcycle accidents.  With professional resources, our team is well-prepared to consult with other experts and build a strong case. Isaacs & Isaacs Personal Injury Lawyers has the resources, skills, and experience to get the money you need.
Our Accident Law Firm Will Get Started on Your Case Immediately By:
Listening to your story
Answering your questions
Advising you what to do next
Investigating the accident scene and all other evidence related to your claim
Reviewing medical records, police reports, and all documents
Determining which parties are liable for your injury
Meeting with insurance adjusters
Helping you file your claim
Demanding a just settlement for all of your medical treatment and damages
---
How Our Motorcycle Accident Lawyers Help Georgetown Bikers
Thanks to unfair stereotypes, we know the legal system can be more complex for bikers to navigate. But we feel strongly that you have just as much right to compensation as any other victim, and we're prepared to fight for you.
After your accident, you might be worried about handling everything from insurance companies to tracking down witnesses—don't be.
Isaacs & Isaacs Personal Injury Lawyers are willing and ready to lift that legal burden. While you heal comfortably at home, our lawyers can:
Make phone calls on your behalf
Investigate your case
Collect vital evidence
Negotiate for a just settlement with insurance companies
Take your case to court if necessary
---
Common Motorcycle Accident FAQs
Worried About Going to Trial?
After sustaining severe injuries in a motorcycle accident, hearing that your case may be settled in court can spike your anxiety. Since insurance companies usually want to wrap cases up quickly, accident claims are often handled out of court.
Your lawyer may suggest taking your case to court if the insurance company of the party at fault isn't willing to give you a fair settlement. If that happens, your attorney can help you prepare and feel comfortable. We can support you and explain the process every step of the way.
Should You Represent Yourself in Court?
It's natural to wonder about handling your case after a motorcycle accident. Hiring a lawyer gives you a better chance of winning your case and can help you get the maximum settlement.
Some cases involving motorcycle accidents can be complex and may require proper and effective legal advice. Without a lawyer, it can be challenging to win your case.
With the right attorney, you could be compensated for damages like these:
Medical expenses
Pain and suffering
Lost income
Loss of potential income
Is There a Deadline for Filing a Claim in Georgetown?
Time is crucial when it comes to filing a motorcycle accident claim. The statute of limitations for motorcycle accidents in Georgetown is two years.
Essentially, you're required to file your claim and start the process within two years of the motorcycle accident occurring. If you fail to meet the deadline, you risk forfeiting your claim.
Build Your Case With A Top Rated Accident Lawyer
If you need immediate assistance with a vehicle accident or personal injury, call our team now at 
800-333-9999
 to begin your free case review and schedule an initial consultation to get legal advice. Our law firm represents injured victims across many categories. Some popular cases our accident attorneys handle include:
Safety Measures When Riding a Motorcycle
No matter how hard we try to avoid them, accidents happen. Maintaining safety measures can help minimize injuries and save your life.
If you haven't ridden your motorcycle for a while, do a quick diagnostic check before heading for the road.
Stop at a mechanic for a tune-up before long rides.
Wear a helmet every time you ride a motorcycle to prevent fatal head injuries during an accident.
Make sure the helmet fits your head for maximum safety.
Brush up your motorcycle riding skills through online classes.
---
Can Wearing a Helmet Affect Your Case?
Whether you were wearing a helmet or not at your accident, you can still file a lawsuit against the party responsible for your injuries. But failure to wear a helmet could negatively impact the damages you can recover.
For example, if you sustain neck injuries in a motorcycle accident, the insurance company could claim that not wearing a helmet caused your injuries. They could shift blame from the responsible party to you, and you may receive less compensation than you deserve.
An Affordable Attorney in Kentucky
A motorcycle accident can cost you an arm and a leg. If you didn't cause the accident, you shouldn't have to pay for it. Don't leave a penny on the negotiation table. Our lawyers work on a contingency fee basis. So, there are no upfront fees or costs, and we only get paid if we get your settlement.
We only win when you win. Work with a Georgetown motorcycle accident lawyer who can recover the money you've lost and get maximum compensation for your damages.
---
Contact a Georgetown Motorcycle Attorney Today
Isaacs & Isaacs Personal Injury Lawyers are ready to get you the justice you need. We are available 24/7 and always willing to assist you. You can call or contact us online for a free case review. You deserve the freedom to ride and the freedom to recover.
To learn more about working with our Georgetown lawyers, call 1-800-333-9999 for your no-cost motorcycle accident case review.