Begin Your Case With a Proven Personal Injury Law Firm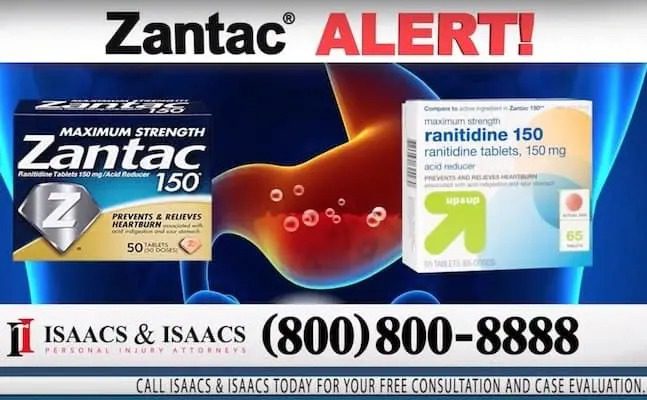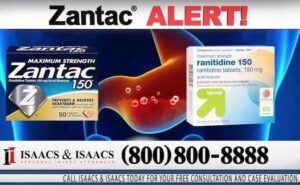 If you've taken Zantac (Ranitidine) and subsequently developed cancer, our assembled team of attorneys can help you get the justice and compensation you rightfully deserve. Our Zantac lawsuits attorney has handled a growing number of lawsuits involving pharmaceutical toxins. We'll fight to ensure you receive the maximum money damages possible. It's time to hold the drug makers accountable for their blatant willingness to put profit before people's health.
We charge no upfront fees for our legal services and only take payment if we secure monetary compensation on your behalf. Call us at 800-333-9999 at any time to speak to one of our dedicated Kentucky Zantac lawsuit lawyers and set up a free consultation.
We Represent Injured Accident Victims Across Many Categories. Some Personal Injury Cases We Handle Include:
Accidents With Trucks or Commercial Vehicles
Injuries & Wrongful Death Involving Driver Negligence (cell phone use, DUI)
Accidents With Uninsured Motorists
Whiplash Injury Accidents
Airbag Deployment Accidents
Takata Air Bag Recalls
Motorcycle Accident Injuries
Ridesharing: Lyft & Uber Accidents
Bicycle Accident Injuries
Hit and Run Accidents
Pedestrians Hit By a Vehicle
Head-On Collisions
Rear-End Collisions
Spinal Cord Injuries
"John came to our house and went over the legal part of it thoroughly and quickly, but he always made it more about us. I would recommend them to anybody because they're going to make sure that you're protected. It just always felt like we were dealing with family instead of a legal process."
Hiring a Kentucky Personal Injury Attorney with Our Firm
In his podcast, "Ask the Hammer," Attorney Darryl Isaacs – the Hammer – answers questions about how he and his team serve clients to help get them the compensation they need. Play the episode below:
---
Antacid drugs are among some of the most commonly taken drugs in the USA. One of these drugs, Zantac (Ranitidine in its generic form), which is regularly taken by millions, has been recently identified as having a cancer-causing ingredient nearly 3,000 times more than the FDA's recommended daily limit.
Growing evidence suggests that pharmaceutical companies Sanofi and Boehringer Ingelheim, manufacturer of Zantac, allegedly concealed Zantac's cancer link despite knowledge of its potential cancer-causing effects. Meanwhile, the company generated sales of over $1 billion in profit.
Past users of Zantac are now filing Zantac lawsuits in order to hold Sanofi and Boehringer Ingelheim accountable for blatant disregard for the health of their consumers and for endangering the lives of countless numbers of people.
Our Accident Law Firm Will Get Started on Your Case Immediately By:
Listening to your story
Answering your questions
Advising you what to do next
Investigating the accident scene and all other evidence related to your claim
Reviewing medical records, police reports, and all documents
Determining which parties are liable for your injury
Meeting with insurance adjusters
Helping you file your claim
Demanding a just settlement for all of your medical treatment and damages
---
Common Zantac Lawsuit FAQ's
What is Zantac?
Zantac (Ranitidine), is a very popular medication that has been sold worldwide since the early 1980s. It is part of a group of drugs called histamine-2 blockers and is designed to reduce the amount of acid produced by the stomach.
It is commonly used to treat a number of common stomach acid-related issues including:
Gastroesophageal Reflux Disease (GERD)
Heartburn
Peptic Ulcers
Zollinger–Ellison Syndrome
Upper GI bleeding
Dosage for Zantac ranges between 75 and 150 mg, while some patients may have taken a once daily Zantac 300 mg dosage. Zantac has been available both by prescription and over the counter (OTC) at lower doses, where it is commonly used as a treatment for heartburn.
💊 Is Zantac Safe?
Zantac (Ranitidine in its generic form) has been identified as containing a cancer-causing ingredient nearly 3,000 times more than the FDA's recommended daily limit.
Does Zantac Cause Cancer?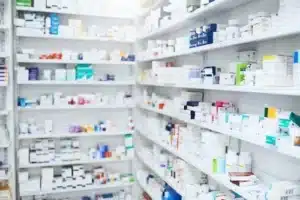 Since the 1980's there have been several studies that put forward the case that Zantac causes cancer. According to the World Health Organization (WHO), "NDMA is clearly carcinogenic. There is overwhelming evidence that NDMA is mutagenic and clastogenic."The Environmental Protection Agency (EPA) also identified NDMA as belonging to a family of chemicals called N-Nitro-samines, which they describe as "potent carcinogens".
Carcinogenic effects of NDMA exposure potentially include:
Stomach Cancer
Liver Cancer
Kidney Cancer
Prostate Cancer
Colon Cancer
Colorectal Cancer
Prostate Cancer
Esophageal Cancer
Pancreatic Cancer
Bladder Cancer
💊 What Kind of Cancer Does Zantac Cause?
The World Health Organization classifies chemicals contained in Zantac and some generic versions as a probable human carcinogen. They note that exposure to high amounts of N-nitrosodimethylamine (NDMA) has links to causing colorectal or gastric cancer.
💊 When Was Zantac Recalled?
Timeline of Zantac recall:
April 1, 2020: FDA announces its request for all manufacturers to withdraw all prescription and over-the-counter (OTC) ranitidine drugs from the market immediately.
January 8, 2020: FDA alerts patients and health care professionals to Mylan's voluntary recall of nizatidine.
November 1, 2019: Novartis and Apotex announce recall of all generic ranitidine products they sell in the US.
October 1, 2019: CVS and Walgreens announce they will be pulling Zantac and generic versions of ranitidine.
September 13, 2019 – FDA announces some Ranitidine medications contain N-nitrosodimethylamine (NDMA).
Build Your Case With A Top Rated Accident Lawyer
If you need immediate assistance with a vehicle accident or personal injury, call our team now at 
800-333-9999
 to begin your free case review and schedule an initial consultation to get legal advice. Our law firm represents injured victims across many categories. Some popular cases our accident attorneys handle include:
---
Important Update: FDA Requests Removal of all Zantac Products
On April 1, 2020, the U.S. Food and Drug Administration announced it is "requesting manufacturers withdraw all prescription and over-the-counter (OTC) ranitidine drugs from the market immediately. This is the latest step in an ongoing investigation of a contaminant known as N-Nitrosodimethylamine (NDMA) in ranitidine medications (commonly known by the brand name Zantac)."
---
Zantac Recall 2019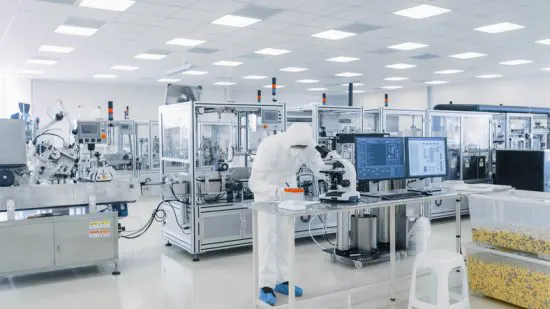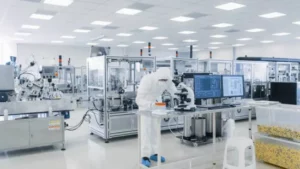 On September 13, 2019, the FDA announced that it had been discovered that some Ranitidine medications contained N-nitroso dimethylamine (NDMA). The World Health Organization has classified NDMA as a 'probable human carcinogen' i.e. a substance that could cause cancer. On November 1, 2019, Novartis (via its generic division, Sandoz) and Apotex announced that they were recalling all generic ranitidine products they sell in the US. Following the FDA news, on October 1, 2019, CVS and Walgreens announced they would be pulling Zantac and generic versions of ranitidine. The recall includes Zantac 150®, Zantac 150® Cool Mint, and Zantac 75®.
The FDA lists regular Zantac recall updates.
Fighting To Win Your Zantac Lawsuit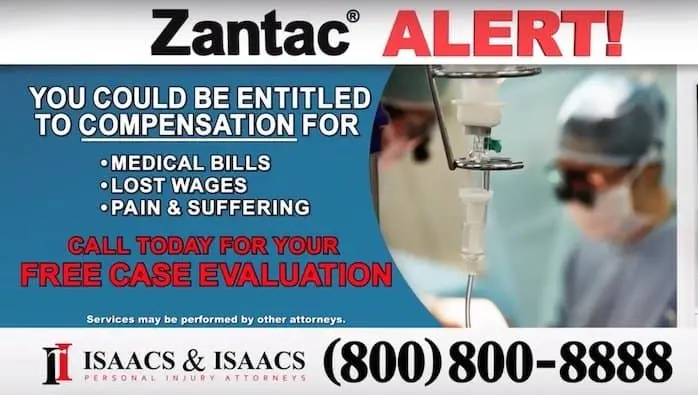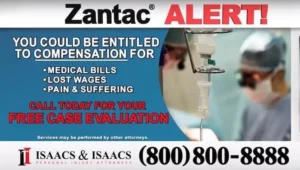 If you, or someone you love, developed cancer following the use of Zantac on a regular basis, you should speak to Isaacs & Isaacs today. We'll make sure you have an experienced team of Zantac attorneys fighting to get you financial compensation for losses including:
Pain and suffering
Wages or future earnings
Medical bills
Funeral costs
Companionship / Support in cases of wrongful death
---
Free Zantac Case Review With Our Law Firm
To ensure you have the best chance of winning your case, you need lawyers with experience in winning defective drug cases. Our dedicated team of Zantac attorneys will work hard to demand the maximum settlement possible for you.
Get a no-cost claim review to see if you are eligible for compensation. To learn more about working with our Kentucky lawyers, call 1-800-333-9999 for your no-cost Zantac case review.