Begin Your Case With a Proven Personal Injury Law Firm
After you have been diagnosed with devastating injuries related to an accident or incident in Akron, you may be feeling overwhelmed and unsure of what to do next. Fortunately, if another party's negligence is responsible for the injuries you endured, you may be able to hold them accountable to the fullest extent of the law. If you are interested in exploring your legal options further, reach out to an Akron personal injury lawyer at Isaacs & Isaacs Personal Injury Lawyers.
You can contact our office today for a free consultation so we can further discuss how to recover compensation for your damages.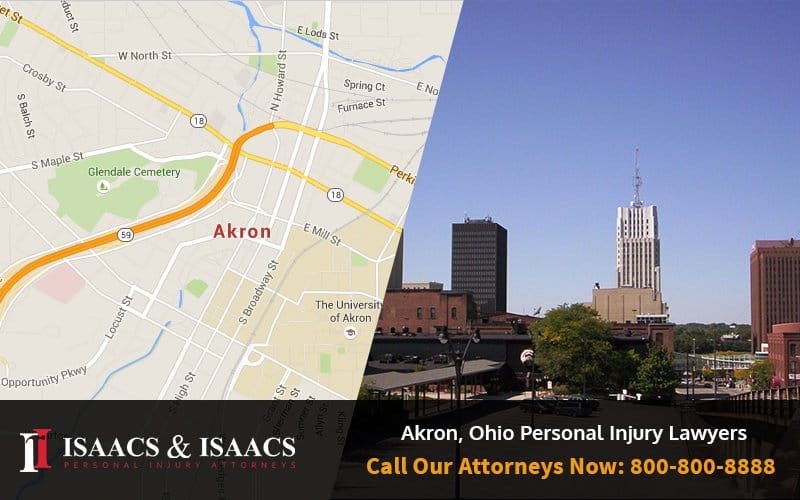 We charge no upfront fees for our legal services and only take payment if we secure monetary compensation on your behalf. Call us at 800-333-9999 at any time to speak to one of our dedicated Akron personal injury lawyers and set up a free consultation.
We Represent Injured Accident Victims Across Many Categories. Some Personal Injury Cases We Handle Include:
Accidents With Trucks or Commercial Vehicles
Injuries & Wrongful Death Involving Driver Negligence (cell phone use, DUI)
Accidents With Uninsured Motorists
Whiplash Injury Accidents
Airbag Deployment Accidents
Takata Air Bag Recalls
Motorcycle Accident Injuries
Ridesharing: Lyft & Uber Accidents
Bicycle Accident Injuries
Hit and Run Accidents
Pedestrians Hit By a Vehicle
Head-On Collisions
Rear-End Collisions
Spinal Cord Injuries
"It was a pleasure to have the Isaacs & Isaacs team to help me after being hit by a truck as I was walking to the market. They went above and beyond to help with all I went through!"
---
Hiring an Ohio Personal Injury Attorney with Our Firm
In his podcast, "Ask the Hammer," Attorney Darryl Isaacs – the Hammer – answers questions about how he and his team serve clients to help get them the compensation they need. Play the episode below:
---
Build Your Case with a Personal Injury Attorney Serving Akron
Akron is an exciting place. Nicknamed "The City of Invention," Akron is the birthplace of many great sports, inventions, and industries. Known as the rubber capital of the world, Akron is also considered a "high-tech haven" for its contributions to the information age. In addition, Akron is the birthplace of women's professional mud wrestling, the Akron Rubber Ducks minor league baseball team, and the Rubber City Rollergirls!
Isaacs & Isaacs Personal Injury Lawyers is a law firm that is proud to serve the people of Akron and the surrounding area.
We know from personal experience what it is like to be hurt, helpless, and afraid of what the future holds. It is amazing how fast life can change after suffering a personal injury from a serious accident. All your plans for the future, your physical health, your career, and your family life can be swept away in an instant, leaving you helpless and not knowing how to find your way back to solid ground.
Our Accident Law Firm Will Get Started on Your Case Immediately By:
Listening to your story
Answering your questions
Advising you what to do next
Investigating the accident scene and all other evidence related to your claim
Reviewing medical records, police reports, and all documents
Determining which parties are liable for your injury
Meeting with insurance adjusters
Helping you file your claim
Demanding a just settlement for all of your medical treatment and damages
---
When to Contact a Personal Injury Law Firm
It is not always clear whether you should reach out and call a personal injury attorney in Akron for help. For example, after you have been involved in an accident, you may not even initially think of contacting an attorney. However, if you are unsure whether you should contact a personal injury lawyer to discuss the details of your case, consider these questions:
Is or could someone else be at fault for your injuries?
Have or will your injuries have a significant impact on your life?
If the answer to either of these questions is or could be yes, it may be worth your time to reach out to an Akron personal injury attorney to discuss your damages in further detail. After all, speaking with a lawyer during a consultation is free.
Furthermore, most reputable personal injury lawyers are willing to work on contingency. This means you will not have to worry about paying out-of-pocket costs unless your attorney wins your case. Find out what your next steps should be by contacting our office.
What to Expect from the Personal Injury Claims Process
Another reason victims of personal injuries are hesitant to call a lawyer is that they are intimidated and overwhelmed at the thought of going up against a large insurance company or bringing their case to court. Who could blame you? After everything you have been through, you should be able to focus on recuperating from your injuries instead of dealing with a long and drawn-out litigation process.
With this in mind, once you retain the services of an experienced legal advocate, you can rest easier while we focus on the legalities. Here is a basic idea of what to expect from the personal injury claims process in Akron:
Investigate the cause of the accident
Gather evidence to support the case
Determine liability
Calculate the value of your claim
File insurance claims
Negotiate with the insurance company
File civil claims
Represent your interests at trial
Build Your Case With A Top Rated Accident Lawyer
If you need immediate assistance with a vehicle accident or personal injury, call our team now at 
800-333-9999
 to begin your free case review and schedule an initial consultation to get legal advice. Our law firm represents injured victims across many categories. Some popular cases our accident attorneys handle include:
---
Insurance Companies Do Not Always Want to Be Fair
Insurance companies are in business to make a profit. They want to maximize premiums and minimize the money they have to pay out to settle personal injury claims. When you have been injured in a car wreck, need a truck accident lawyer, or have suffered the wrongful death of a family member from the above situations, you will need a legal advocate in your corner who is willing to fight for your right to obtain a fair and just settlement from insurance companies and other liable parties.
Because our law firm employs attorneys who used to work for insurance defense, we know all about the tactics insurance companies use to keep from paying out large personal injury settlements when there has been a serious injury or a wrongful death. For example, a claims adjuster might approach you soon after your accident with a settlement offer. This may indicate they are nervous about how serious your injury will prove to be and the amount of money they will need to pay to settle your claim. As a result, they will ask you to sign a release of liability form in exchange for the settlement. Unfortunately, if you sign their form, you will not be eligible for further compensation for your injury from the liable party's insurance company or your own.
We cannot urge you strongly enough to consult an experienced person before signing any papers. You should not be communicating with the insurance representatives at all because they will look for anything you say to use against you to reduce or deny your claim.
Victims who enlist the help of an experienced injury lawyer can receive many times the settlement amount than those who try to negotiate with insurance companies on their own. The insurance representatives sometimes call early settlement offers "nuisance settlements." Sadly, they want to refer to an accident victim as a "nuisance," but who cares what they say? If you have a skilled and aggressive personal injury lawyer, one who has investigated the facts and built a strong case to support your claim handling settlement negotiations, you will be in good hands.
---
How to Cover the Cost of a Personal Injury Lawyer in Akron
Our law firm will help you on a contingency fee basis: if we do not get a successful outcome in your case, we do not get paid. In some situations, where a third party is liable or where your attorney needs access to additional evidence to demand maximum compensation, we will bear the cost of investigation and litigation.  We do this to make sure you receive fair and just compensation to recover from your injuries and rebuild your life. We are not quick to settle with insurance companies. We have filed personal injury lawsuits on behalf of our clients when we needed to do so to obtain justice.
Determining the Value of Your Personal Injury Claim
We fight for our injured clients to receive every single dollar of compensation they are entitled to under the law, for
Medical expenses
Property damage
Lost wages
Disfigurement
Disability
Pain and suffering and
Wrongful death
In some cases where an intentional act caused your injury, punitive damages may be awarded to punish wrongdoers and discourage similar behavior. We know your rights, and we will fight to defend them against insurance adjusters and all liable parties.
Ohio Law Limits Your Time to File a Personal Injury Lawsuit
Depending on your situation, there is a legal time limit called a statute of limitations to file your claim or case. If you let the time limit expire without taking action, you can and most likely will be barred from recovering any compensation for your personal injuries.
Because of this, we urge you to take action. If you are injured or have lost a family member due to somebody's negligence or hurtful act, consulting a personal injury attorney is the last thing you may feel like doing. However, we are confident that once you give us a call to discuss your situation, you will be relieved that you have taken a crucial step to regain control over your life.
---
Contact a Personal Injury Lawyer Serving Akron for Help with Your Case Today
Our aggressive, skilled, and compassionate attorneys are on call around-the-clock to assist you in a legal emergency. So if you are lying in your Akron hospital bed wondering what to do next, be sure to reach out to an Akron personal injury lawyer at Isaacs & Isaacs Personal Injury Lawyers.
To learn more about working with our Akron lawyers, call 800-333-9999 for your no-cost personal injury case review.