Whiskey Truck Accident Caught on Fire
Last updated Thursday, June 29th, 2023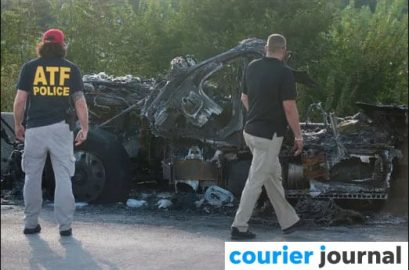 There's no drink more associated with the state of Kentucky than bourbon whiskey. That's why some news observers snickered when they heard about the big truck accident last weekend in the Louisville area involving a semi truck pulling a whiskey-loaded trailer (reported by Courier Journal). Photos showing some unidentified men smiling and seated on top of bourbon barrels in the back of the trailer seem to reinforce an amusing perspective on the wreck. But the photos of the truck itself, crumpled and incinerated, demonstrate that the incident was absolutely no laughing matter.
Investigators believe that the collision, which occurred late in the afternoon on the Sunday before Labor Day, took place when the semi truck driver drifted into the emergency lane. Whether the driver was distracted or drowsy, as frequently occurs in big truck wrecks, was not reported. But after it crossed the solid white line, it hit a parked car with its driver seated inside, awaiting assistance. The truck then exploded. It's incredible, given the mangled, melted condition of the truck itself, that the injuries suffered by both drivers were relatively minor.
Yet minor injuries can still be very expensive to treat. Emergency room bills, x-rays, pain medication, outpatient surgery, follow-up doctor's visits, and several weeks of physical therapy for even small broken bones can quickly add up. If the party at fault for a semi truck accident was negligent, then the victim could stand to receive substantial financial compensation to recover damages for these costs.
The truck accident lawyers at Isaacs and Isaacs are very experienced in handling cases involving semi truck accidents. For a free consultation with a lawyer regarding your particular big truck wreck, call us now at 800-333-9999; we are available 24 hours a day, 7 days a week. And though settlement amounts depend on the unique circumstances of each case, our team of 18 wheeler accident attorneys is confident that we will get for you the compensation you deserve, just as we have for 25 years.