Begin Your Case With a Proven Personal Injury Law Firm
Avon, Ohio, is a great place to live. Its tree-lined streets and picturesque ambiance are the chosen home of many great leaders in sports and business. Pulitzer Prize-winning journalist and author, Connie Schultz, lives here with her husband, Senator Sherrod Brown. Social problems such as poverty and crime don't seem to flourish in Avon. However, no matter how pleasant your surroundings are, accidents can happen anywhere, and a horrific accident can reach into your life and turn it into a nightmare.
If you have suffered severe injuries in an accident in Avon, you may wonder how to hold the liable party accountable for their negligence. You can contact a dedicated Avon personal injury lawyer at Isaacs & Isaacs Personal Injury Lawyers for a free consultation today, where you can discuss your legal options going forward.
We charge no upfront fees for our legal services and only take payment if we secure monetary compensation on your behalf. Call us at 800-333-9999 at any time to speak to one of our dedicated Avon personal injury lawyers and set up a free consultation.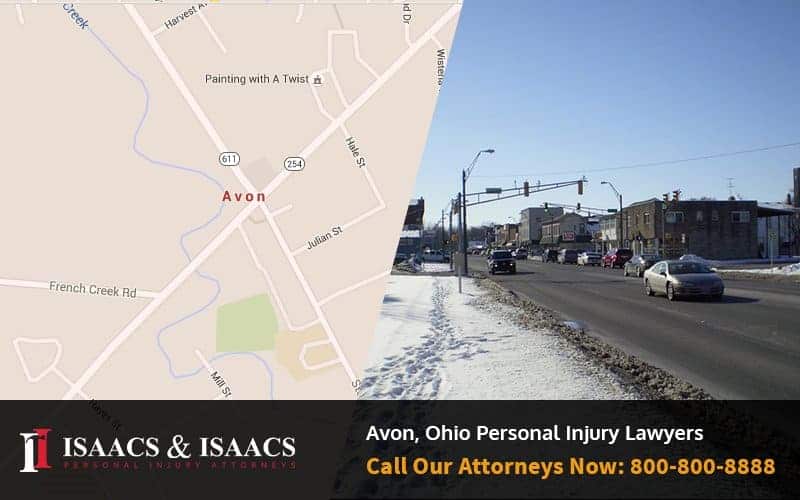 We Represent Injured Accident Victims Across Many Categories. Some Personal Injury Cases We Handle Include:
Accidents With Trucks or Commercial Vehicles
Injuries & Wrongful Death Involving Driver Negligence (cell phone use, DUI)
Accidents With Uninsured Motorists
Whiplash Injury Accidents
Airbag Deployment Accidents
Takata Air Bag Recalls
Motorcycle Accident Injuries
Ridesharing: Lyft & Uber Accidents
Bicycle Accident Injuries
Hit and Run Accidents
Pedestrians Hit By a Vehicle
Head-On Collisions
Rear-End Collisions
Spinal Cord Injuries
"John came to our house and went over the legal part of it thoroughly and quickly, but he always made it more about us. I would recommend them to anybody because they're going to make sure that you're protected. It just always felt like we were dealing with family instead of a legal process."
---
Hiring an Ohio Personal Injury Attorney with Our Firm
In his podcast, "Ask the Hammer," Attorney Darryl Isaacs – the Hammer – answers questions about how he and his team serve clients to help get them the compensation they need. Play the episode below:
---
Build Your Case With An Avon Personal Injury Lawyer
Hi, I'm Darryl Isaacs. I founded Isaacs & Isaacs Personal Injury Lawyers with my father, Sheldon Isaacs. We shared a passion for helping folks who have been injured through no fault of their own to recover fair compensation for their pain and suffering, so they can heal and rebuild their lives.
I was recently in an accident of my own. I know from personal experience how it feels to be helpless, in pain, and scared of what the future holds. My life has been changed, and it happened so fast that I could not see it coming. Now I understand how helpless my clients feel, and I am more determined than ever that each person who comes to us for help receives fair and just compensation for their injuries and suffering.
Our Accident Law Firm Will Get Started on Your Case Immediately By:
Listening to your story
Answering your questions
Advising you what to do next
Investigating the accident scene and all other evidence related to your claim
Reviewing medical records, police reports, and all documents
Determining which parties are liable for your injury
Meeting with insurance adjusters
Helping you file your claim
Demanding a just settlement for all of your medical treatment and damages
---
How to Cover the Costs of a Personal Injury Lawyer in Avon
Isaacs & Isaacs Personal Injury Lawyers will represent you on a contingency fee basis. If we don't get you your money, we don't get paid! We don't think you should have to pay any money to receive legal help in your disaster. The responsible parties are the ones that should have to pay, and we will hold them accountable to the limit the law allows. Let us take the burden off your shoulders so you can focus on healing.
Build Your Case With A Top Rated Accident Lawyer
If you need immediate assistance with a vehicle accident or personal injury, call our team now at 
800-333-9999
 to begin your free case review and schedule an initial consultation to get legal advice. Our law firm represents injured victims across many categories. Some popular cases our accident attorneys handle include:
Common Injuries in Avon Personal Injury Claims
Many people wait to reach out to a lawyer after an accident because they have concerns that their injuries may not be severe enough to warrant legal action. However, your right to compensation does not depend on the type of injury you sustained.
Your lawyer will carefully analyze your damages to determine whether you can recover compensation for how they have affected your life. However, we see certain injuries in Avon personal injury cases more frequently than others. These include:
Facial injuries
Severe burns
Spinal cord injuries
Paralysis
Loss of limbs
Post-traumatic stress disorder (PTSD)
Traumatic brain injuries (TBIs)
Concussion
Soft tissue injuries
Broken bones
Internal bleeding
Organ failure
If you have suffered an injury that you believe someone else caused, you might have the right to financial compensation. Find out your next steps by contacting a personal injury lawyer serving Avon for help.
---
What to Expect From the Insurance Company
If there's one thing I've learned in my decades of practicing personal injury law, it's that insurance companies do not like to pay out money. They want to rake in the premiums every month, but when you need their help, they are slow to pay. They will look for any excuse to reduce or deny your claim. It's like Mark Twain said when talking about bankers: "A banker is a fellow who lends you his umbrella when the sun is shining but wants it back the minute it begins to rain." If you substituted an insurance company for a banker, it would be a perfect fit for the way insurance companies treat injured people.
When you have been in a horrific car accident, need an Ohio truck accident lawyer, been injured on the job, were the victim of a bad drug or medical device, or have suffered the wrongful death of a family member because of any of the above or a multitude of other situations, you need to hire an attorney who will fight to get you the compensation you are entitled to from insurance and other liable parties.
If you rely on the insurance company to offer you a fair and just personal injury settlement, you will be in more trouble than you are already in. You need an experienced attorney who knows the law, knows your rights, and will investigate your situation and build a persuasive case to prove liability. With many injuries, you may not know how badly you are hurt until days, weeks, or even months after your accident. If you take a quick settlement offer, you may not be eligible for any more compensation from the liable party's insurance or your own.
---
Compensation for Avon Personal Injury Victims
Isaacs & Isaacs Personal Injury Lawyers will fight to get you compensation that includes all past, current, and future damages arising from your accident, such as:
Medical bills
Lost wages
Pain and suffering
Diminished earning capacity
Disfigurement
Physical impairment
Emotional trauma
Property damage
Loss of consortium
Wrongful death damages
Ohio allows punitive damages for intentionally harmful acts. Punitive damages punish wrongdoers and discourage similar behavior. If you were injured by a big company, punitive damages can—and often do—run into tens of millions of dollars. Ohio courts rarely award punitive damages, but when they do, they send a message to the public that the Ohio civil court system will not tolerate egregious, abhorrent, or gross negligence.
Isaacs & Isaacs Personal Injury Lawyers does not settle quickly with insurance companies. If we must, we will file a personal injury lawsuit to gain access to records and evidence that would otherwise be off-limits. Once we have built a compelling case, the insurance company and other liable parties may be more willing to offer a settlement that truly reflects the suffering and expense your injury has caused.
---
Personal Injury Statute of Limitations
Depending on your unique legal situation, there's a time limit for filing your case or claim, called a statute of limitations. If you miss this important deadline, you could be barred from recovering any compensation for your injury. Because of this, we urge you to call us for help without delay.
Our aggressive and experienced personal injury attorneys are on call around-the-clock to be available in your emergency. If you aren't sure you have a claim or case, our skilled attorneys will be happy to listen to your story and answer your questions about your case or claim, free of charge.
---
Meet With a Personal Injury Lawyer in Avon Today
You might feel unsure how to get started on your case. However, if you hope to recover maximum compensation for your damages, you might benefit from the legal services of an Avon personal injury lawyer at Isaacs & Isaacs Personal Injury Lawyers.
Call today or fill out our online form for a no-obligation consultation and case evaluation with an experienced and helpful Isaacs & Isaacs Personal Injury Lawyers team member.
To learn more about working with our Avon lawyers, call 1-800-333-9999 for your no-cost personal injury case review.