Begin Your Case With a Proven Personal Injury Law Firm
Whether you were in a vehicle accident, bitten by a dog at Otto Armleder Park, or involved in another type of accident, you may have suffered severe injuries. You don't have to come up with the funds to cover the resulting damages on your own, though—you can pursue compensation from the liable party.
An Independence personal injury lawyer with Isaacs & Isaacs Personal Injury Lawyers will guide you throughout the legal process and protect your right to financial recovery. With over 400 years of collective experience, our attorneys have secured more than $2 billion in settlements and verdicts. Now is the time for us to go after the compensation you can need to thrive.
We charge no upfront fees for our legal services and only take payment if we secure monetary compensation on your behalf. Call us at 800-333-9999 at any time to speak to one of our dedicated Independence personal injury lawyers and set up a free consultation.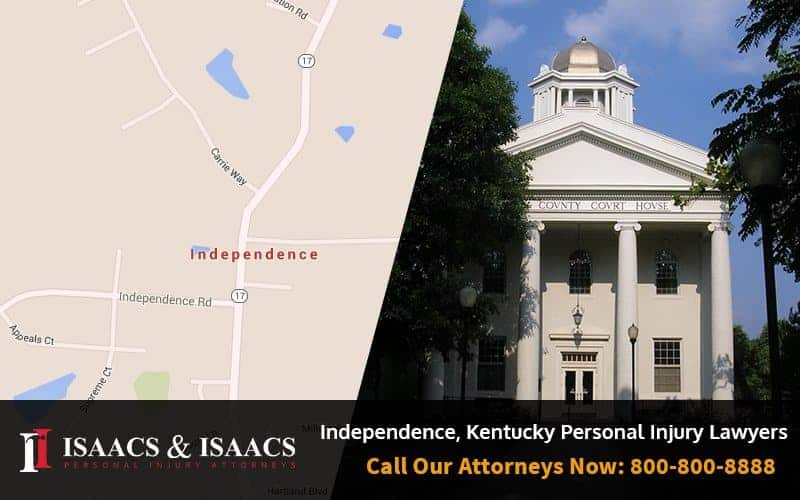 We Represent Injured Accident Victims Across Many Categories. Some Personal Injury Cases We Handle Include:
Accidents With Trucks or Commercial Vehicles
Injuries & Wrongful Death Involving Driver Negligence (cell phone use, DUI)
Accidents With Uninsured Motorists
Whiplash Injury Accidents
Airbag Deployment Accidents
Takata Air Bag Recalls
Motorcycle Accident Injuries
Ridesharing: Lyft & Uber Accidents
Bicycle Accident Injuries
Hit and Run Accidents
Pedestrians Hit By a Vehicle
Head-On Collisions
Rear-End Collisions
Spinal Cord Injuries
Sometimes an auto accident injury is not evident until much later. Even if you haven't suffered a catastrophic injury you still may need medical treatment. You should seek medical care immediately, even if you don't think you are badly hurt. Some severe injuries may not be immediately apparent. This is the best way to physically and legally protect yourself and your loved ones.
"John came to our house and went over the legal part of it thoroughly and quickly, but he always made it more about us. I would recommend them to anybody because they're going to make sure that you're protected. It just always felt like we were dealing with family instead of a legal process."
---
How Hiring a Kentucky Personal Injury Attorney Works
Attorney Darryl Isaacs — The Hammer — sat down to address questions about the experience of working with injured clients in Kentucky and beyond to help them fight for justice and win compensation. Join us in this radio episode of "Ask The Hammer," the podcast exploring the legal matters that matter most. Play the episode directly below.
---
Types of Cases We Handle at Isaacs & Isaacs Personal Injury Lawyers
Our attorneys can help you if you have one of the following cases on your hands:
Motorcycle accidents
Bicycle accidents
Car accidents, including rideshare collisions
Pedestrian accidents
Traumatic brain injuries (TBI)
Dog bites
Medical malpractice
Slip and fall accidents
Nursing home abuse
Catastrophic injuries
Premises liability
If your loved one succumbed to their injuries after an accident, our team can help you proceed with wrongful death action.
Personal Injury Case Outcomes We Have Secured
When you meet with us for a free consultation, we will review your case and determine how we will go about building a strategy. We provide this service for all our clients, and its effectiveness reflects in our case results:
$1.5 million for our clients who lost their son due to a motorcycle and semi-truck accident
$2.2 million for a 19-year-old woman who suffered a coma, brain damage, and a fractured pelvis after a motorcoach bus driver rear-ended her
$1.350 million for our client, a backseat passenger, who suffered brain damage due to an improper passing car accident
We cannot promise a settlement or verdict figure, but you can rely on us to go after the compensation you and your family deserve.
How We Will Prove Your Independence Personal Case
One thing all personal injury cases have in common is negligence. We must prove that it exists in your case by applying these four components:
The other party was to provide you with a legal duty of care.
They acted carelessly or negligently and breached their duty of care.
The other party caused an accident, consequently harming you.
Medical bills, lost wages, pain and suffering, and other losses resulted from the accident.
Evidence such as the accident report, photographs, video footage, medical records, and witness testimony, can help support each of these elements in your case.
Our Accident Law Firm Will Get Started on Your Case Immediately By:
Listening to your story
Answering your questions
Advising you what to do next
Investigating the accident scene and all other evidence related to your claim
Reviewing medical records, police reports, and all documents
Determining which parties are liable for your injury
Meeting with insurance adjusters
Helping you file your claim
Demanding a just settlement for all of your medical treatment and damages
---
What a Personal Injury Lawyer at Our Firm Can Do To Support You
Between getting treatment, taking time off work, and juggling other household responsibilities, you may think you don't have the time or energy to manage a personal injury case. However, with Isaacs & Isaacs Personal Injury Lawyers in your corner, you don't have to worry about that.
We will take over your case from the first consultation to its resolution. The only thing you have to do is concentrate on getting better. Our teams will:
Obtain a copy of the incident or accident report
Calculate the full extent of your damages
Safeguard you from insurers acting in bad faith
Enter into settlement negotiations on your behalf
Identify the negligent parties
Consult your doctors and collect your medical records
Gather different forms of evidence
Handle emails, phone calls, and other correspondence with other parties
Take your injury case before a jury, if need be
We will also keep in touch with you as your case progresses. Your attorney will notify you about any updates and be at your disposal if you ever have reservations or questions.
---
You Could Be Entitled To Recover Various Forms of Damages in Your Personal Injury Case
Two different people could be in the same accident and still suffer different damages. Without knowing the details of your case, we cannot tell you which damages and how much financial recovery you can pursue in your Independence personal injury case. However, we will examine certain details of your case to help us evaluate your damages. Some examples include:
Past and ongoing medical bills
Past lost wages
Future loss of earning capacity
Property damage expenses
Scarring and disfigurement
Pain and suffering
Mental anguish
Other out-of-pocket expenses
Those who have lost a loved one in an accident may also be entitled to collect compensation via a wrongful death claim or lawsuit. Such damages could include funeral or burial service expenses, final health care costs, loss of consortium, and/or loss of household services.
You Are Limited to How Long You Have To Pursue Damages in Independence, Kentucky
Kentucky sets a time frame by which you must request damages from the liable party. The time frame differs based on the circumstances of your case. To illustrate:
Per Ky. Rev. Stat. § 304.39-230, those who were hurt in a vehicle accident generally have two years to file suit.
In most cases, general personal injury claimants are given one year to file a personal injury lawsuit, as Ky. Rev. Stat. § 413.140(1).
According to Ky Rev. Stat. § 413.180, if you lost your family member in an accident, you typically have one year to bring a wrongful death lawsuit.
It is in your best interest to start preparing your lawsuit right away. Waiting too long risks your ability to receive the most compensation possible from the other party.
Build Your Case With A Top Rated Accident Lawyer
If you need immediate assistance with a vehicle accident or personal injury, call our team now at 
800-333-9999
 to begin your free case review and schedule an initial consultation to get legal advice. Our law firm represents injured victims across many categories. Some popular cases our accident attorneys handle include:
Affording Our Independence Personal Injury Lawyers' Help
Many personal injury victims are hesitant to retain legal relief due to the expenses. However, that will not be a concern with Isaacs & Isaacs Personal Injury Lawyers on your side. Since we operate on a contingency fee basis, we don't take any upfront or out-of-pocket expenses.
Our fees come out of the settlement or verdict we win for you. If we cannot obtain an award for you, no payment is due.
---
Connect With Isaacs & Isaacs Personal Injury Lawyers Today
Isaacs & Isaacs Personal Injury Lawyers is ready to listen to your story and be your legal advocate.
To learn more about working with our Independence lawyers, call 1-800-333-9999 for your no-cost personal injury case review.