Begin Your Case With a Proven Personal Injury Law Firm
If another party's negligence injured you, you can take action. You don't have to hassle with insurance adjusters or defense attorneys on your own, though. Our Zionsville personal injury lawyers can take on your case and fight for fair compensation.
We can investigate how your accident happened and collect evidence of the other party's negligence. We work on a contingency-fee-basis, so you don't have to upfront or out of pocket for us to start your case.
We charge no upfront fees for our legal services and only take payment if we secure monetary compensation on your behalf. Call us at 800-333-9999 at any time to speak to one of our dedicated Zionsville personal injury lawyers and set up a free consultation.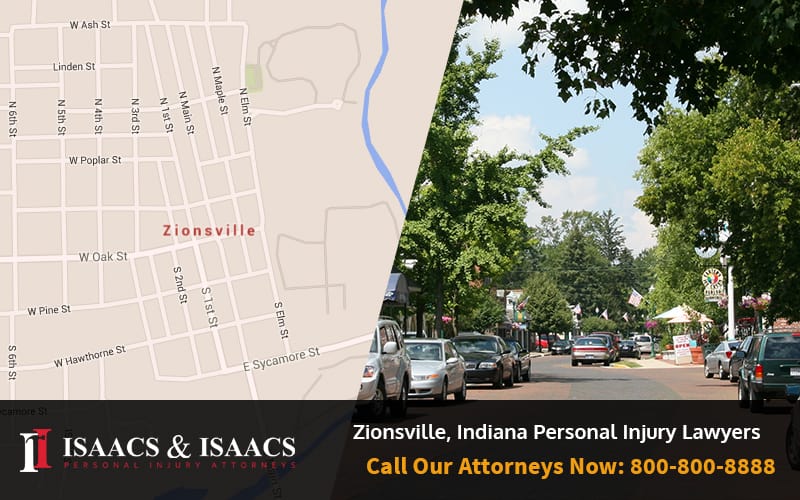 We Represent Injured Accident Victims Across Many Categories. Some Personal Injury Cases We Handle Include:
Accidents With Trucks or Commercial Vehicles
Injuries & Wrongful Death Involving Driver Negligence (cell phone use, DUI)
Accidents With Uninsured Motorists
Whiplash Injury Accidents
Airbag Deployment Accidents
Takata Air Bag Recalls
Motorcycle Accident Injuries
Ridesharing: Lyft & Uber Accidents
Bicycle Accident Injuries
Hit and Run Accidents
Pedestrians Hit By a Vehicle
Head-On Collisions
Rear-End Collisions
Spinal Cord Injuries
"They're great to me. Used them twice and positive results both times. I wouldn't hesitate to contact them again if needed."
---
Hiring an Indiana Personal Injury Attorney with Our Firm
In his podcast, "Ask the Hammer," Attorney Darryl Isaacs – the Hammer – answers questions about how he and his team serve clients to help get them the compensation they need. Play the episode below:
---
Compensation Can Aid Your Recovery
Accident injuries can quickly become expensive. Along with immediate medical care, you may require ongoing rehabilitation that keeps you out of work for some time. You deserve to recoup these losses if someone else caused or contributed to your accident.
When we determine how much you should seek, we will leave no stone unturned. We can account for both your current and future injury-related losses.
Medical Expenses
The more severe your injuries are, the more treatment they may require. Mounting medical bills can cripple a family's finances. You shouldn't have to shoulder these expenses on your own. We can compile your medical bills and consult your doctors to get an idea of how much you stand to recover.
Awards may cover:
The ambulance
Emergency room care
Hospitalizations
Surgeries
Medicine
Diagnostic tests
Rehabilitation, such as physical therapy
Ongoing care, such as in-home aid
Home modifications
Medical equipment
You deserve access to the treatment that can help you reach your maximum medical recovery. A settlement or verdict can help you get the care you need.
Lost Income
Even seemingly minor injuries can come with a host of symptoms and complications. You may have had to miss work while you recovered. You can seek lost wages, which includes missed bonuses, paid leave, and benefits. We can look at your wage statements to calculate your losses.
Reduced Earning Capacity
If you are unable to work because of your injuries, you can also seek awards for reduced earning capacity. Damages may cover the difference between your pre-injury income and what you can now earn. Even if you can return to work on light duty, you still deserve compensation for your losses.
Pain and Suffering
Your pain and suffering do not come with a dollar amount, but it may still warrant compensation. We can calculate how much you deserve for your physical pain and emotional turmoil.
Additional Expenses
Injuries can lead to other out-of-pocket expenses, as well. We can discuss your losses and determine which ones qualify for awards.
Our Accident Law Firm Will Get Started on Your Case Immediately By:
Listening to your story
Answering your questions
Advising you what to do next
Investigating the accident scene and all other evidence related to your claim
Reviewing medical records, police reports, and all documents
Determining which parties are liable for your injury
Meeting with insurance adjusters
Helping you file your claim
Demanding a just settlement for all of your medical treatment and damages
---
What Our Zionsville Personal Injury Attorneys Can Do to Help You
While you rest and recover, our legal team can go to work protecting your rights. Whether we file an insurance claim or lawsuit, we can handle your case from start to finish.
We also know that each personal injury case is unique. We can tailor an approach to suit your specific situation. This is the type of personalized care our clients have come to expect from Isaacs & Isaacs Personal Injury Lawyers.
Our legal team can:
Investigate the cause of your accident
Gather evidence of another party's negligence
Handle all the paperwork and submit documents in a timely manner
Help you meet any deadlines that apply to your claim or lawsuit
Handle communications with insurers and defense attorneys
Negotiate a fair settlement
Represent you in a trial if necessary
We aim to make the legal process as smooth and stress-free as possible. You can call us anytime for updates on your case. We can answer any questions you may have and explain the various steps along the way.
Build Your Case With A Top Rated Accident Lawyer
If you need immediate assistance with a vehicle accident or personal injury, call our team now at 
800-333-9999
 to begin your free case review and schedule an initial consultation to get legal advice. Our law firm represents injured victims across many categories. Some popular cases our accident attorneys handle include:
---
What Sets Our Law Firm Apart From Others
We have secured $2 billion in settlements for our previous clients, and we want to get to work for you and your family now. Our attorneys are licensed throughout KY, IN, OH, NV, TX, and IL. We also welcome Spanish-speaking clients and have paralegals and attorneys who can assist them.
Our Case Victories Say It All
Don't take our word for it—take a look at our case results. Some victories from our previous injury cases include:
$10 million award for a truck accident that claimed the victim's life
$1.429 million settlement for a car accident that led to a woman's shattered nose and compound leg fracture
$1.035 million settlement for a motorcycle accident victim who suffered a leg amputation
These are only a few examples of what we have accomplished over our team's 400 years of combined legal experience.
---
You Can Afford to Hire a Zionsville Injury Lawyer From Our Firm
We don't want to add to your financial stress at this time. We don't charge upfront fees or costs to start your case, and we only take a percentage of any compensation we secure on your behalf.
You know we will fight to win your case, and you won't have to worry about incurring more losses throughout the process.
---
Understanding Indiana's Statute of Limitations
Indiana sets deadlines for filing lawsuits. Under IC § 34-11-2-4, you generally have two years from the date of the accident to file a personal injury lawsuit. This doesn't leave you much time to build your case and negotiate a settlement before taking legal action.
If you miss the deadline, the court may decide to dismiss your case. You could lose your last opportunity to seek compensation from the liable party. Don't let someone else get away with causing your injuries and losses. Act immediately.
Once you complete your free consultation, we can begin working on your case right away, helping you abide by any deadlines. We work in a timely manner to protect our client's rights to compensation.
---
Let Isaacs & Isaacs Personal Injury Lawyers Handle Your Boone County Case
We can help file your claim or lawsuit while you focus on your health.
To learn more about working with our Zionsville lawyers, call 1-800-333-9999 for your no-cost personal injury case review.