Begin Your Case With a Proven Personal Injury Law Firm
In West Lafayette, a reckless driver could have hit you on Sagamore Parkway or you may have slipped on a wet floor at a local grocery store. In both scenarios, someone else could be held responsible.
At Isaacs & Isaacs Personal Injury Lawyers, we may be able to help you seek the compensation you need to heal and recover. A West Lafayette personal injury lawyer from our team can determine who was liable for your accident and handle your case for you.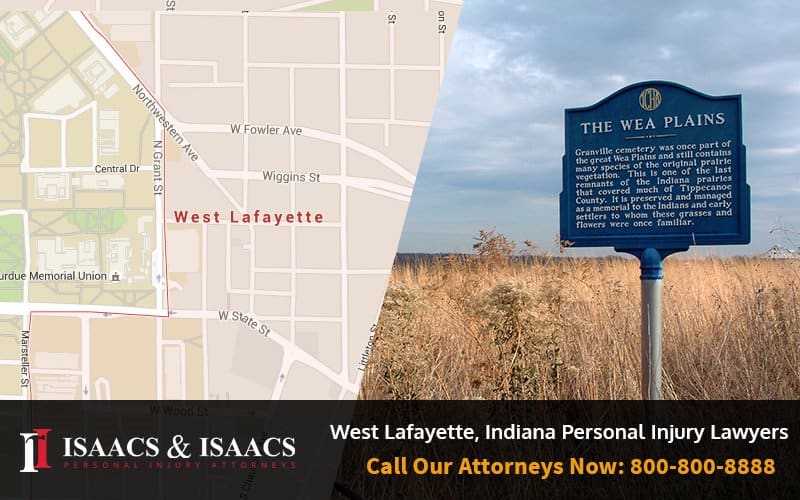 We charge no upfront fees for our legal services and only take payment if we secure monetary compensation on your behalf. Call us at 800-333-9999 at any time to speak to one of our dedicated West Lafayette personal injury lawyers and set up a free consultation.
We Represent Injured Accident Victims Across Many Categories. Some Personal Injury Cases We Handle Include:
Accidents With Trucks or Commercial Vehicles
Injuries & Wrongful Death Involving Driver Negligence (cell phone use, DUI)
Accidents With Uninsured Motorists
Whiplash Injury Accidents
Airbag Deployment Accidents
Takata Air Bag Recalls
Motorcycle Accident Injuries
Ridesharing: Lyft & Uber Accidents
Bicycle Accident Injuries
Hit and Run Accidents
Pedestrians Hit By a Vehicle
Head-On Collisions
Rear-End Collisions
Spinal Cord Injuries
Sometimes an auto accident injury is not evident until much later. Even if you haven't suffered a catastrophic injury you still may need medical treatment. You should seek medical care immediately, even if you don't think you are badly hurt. Some severe injuries may not be immediately apparent. This is the best way to physically and legally protect yourself and your loved ones.
"They're great to me. Used them twice and positive results both times. I wouldn't hesitate to contact them again if needed."
---
Hiring an Indiana Personal Injury Attorney with Our Firm
In his podcast, "Ask the Hammer," Attorney Darryl Isaacs – the Hammer – answers questions about how he and his team serve clients to help get them the compensation they need. Play the episode below:
---
Why Choose Isaacs & Isaacs Personal Injury Lawyers for Your Injury Case?
When you're searching for a law firm to handle your case, we know you have options. Here are some reasons to consider our team at Isaacs & Isaacs Personal Injury Lawyers:
We're ready to take your call 24/7: Our team can offer you a free consultation anytime, day or night. During this call, we'll listen to your story and explain your legal options in clear terms.
We work based on contingency fees: You don't have to pay anything upfront to begin your injury case. Our attorneys only receive a payment if we win for you.
We have a record of results: Our attorneys have won over $2 billion for victims across Indiana, Kentucky, and Ohio. We've won millions for victims of truck accidents, car accidents, pedestrian accidents, defective drugs, and more.
Our team can help you in Spanish: We have Spanish-speaking paralegals and attorneys on staff who can help with your case.
We also provide extensive resources to help prospective clients understand more about personal injury cases. Our Ask the Hammer podcast and The Legal Beat Blog can help you learn more about our approach to injury cases.
Our Accident Law Firm Will Get Started on Your Case Immediately By:
Listening to your story
Answering your questions
Advising you what to do next
Investigating the accident scene and all other evidence related to your claim
Reviewing medical records, police reports, and all documents
Determining which parties are liable for your injury
Meeting with insurance adjusters
Helping you file your claim
Demanding a just settlement for all of your medical treatment and damages
---
What Kinds of Results Could I See From a Personal Injury Case in West Lafayette?
The purpose of an injury case is to seek compensation for the losses you faced because of your injuries. Our West Lafayette Personal Injury Lawyer will tell you if you can pursue compensation for:
Medical Bills
Whether your injuries are moderate or severe, you could be facing thousands of dollars or more in medical costs. You could receive financial recovery for your past, present, and future treatments, including:
Emergency room care
Hospitalizations
Surgeries
Medications
Physical therapy and rehab
Medical devices
Visits to a doctor or specialist
Income Losses
If your career was affected, we can help you seek compensation for:
Lost wages: This refers to any paychecks you missed due to your injuries.
Reduced earning capacity: If you had to take a new job or reduce your hours long-term, this reflects the difference between your previous and current earnings.
Missed promotions: You may have been unable to advance in your career due to your injuries.
Non-Economic Losses
You could be suffering in many other ways after an injury. Our team will learn more about whether the accident affected you emotionally or psychologically. We may then help you seek compensation for non-economic losses such as:
Mental anguish
Post-traumatic stress disorder (PTSD)
Loss of enjoyment of life
Pain and suffering
Build Your Case With A Top Rated Accident Lawyer
If you need immediate assistance with a vehicle accident or personal injury, call our team now at 
800-333-9999
 to begin your free case review and schedule an initial consultation to get legal advice. Our law firm represents injured victims across many categories. Some popular cases our accident attorneys handle include:
---
If You Lost a Loved One to Their Injuries in West Lafayette, IN
We offer you our deepest condolences if you lost a loved one in an accident. If someone else caused your loved one's death—whether from a vehicle accident, slip and fall, dog bite, or another negligent accident—we may be able to help.
Our team can help you seek compensation for the many losses that you could be facing now, such as:
Funeral and burial costs
Medical costs related to your loved one's injuries
Loss of companionship
If you qualify for other forms of compensation, our team can tell you. We can handle all the legal details so you can focus on your family's needs.
---
What You Can Expect From Your Attorneys During Your West Lafayette Case
Your legal team will support you through all the tasks involved in an injury case. You can expect the following:
A Free Case Review
The first step is typically your free case review. This call can help you understand your legal options and give you space to ask your questions. Our team is ready to listen to your story and explain what we can do to help.
You can ask us about working with a West Lafayette Personal Injury Lawyer, how our contingency fees work, and any other questions you have.
Your Lawyer Will Handle the Negotiations or the Lawsuit Process
Next, we'll research all the details of your case. This investigation allows us to gather crucial evidence, pinpoint who is liable for your injuries, and determine the potential value of your damages.
We may gather our evidence from witness statements, police reports, expert testimony, dashboard camera footage, accident reconstruction data, and more. We will leave no stone unturned as we work to build a compelling case against the liable party.
Your Lawyer Will Handle the Negotiations or the Lawsuit Process
After we have our evidence, we will approach the liable party to seek compensation. Typically, our team will proceed with one of two legal options:
An out-of-court settlement
A civil lawsuit
Often, we can secure the settlement you need without going to trial. However, we have a team of in-house litigators who are comfortable in the courtroom. We are prepared to go to trial if necessary.
If we go to court, we can prepare your case, submit the necessary paperwork, cross-examine witnesses, and more.
Your Lawyer Can Ensure Your Rights Are Protected Throughout Your Case
Our job is to ensure that your case is on track and that your right to seek compensation is protected. We will work to:
Ensure your case meets the statute of limitations deadline (per IC §34-11-2-4)
Defend you against unfair or aggressive insurance tactics
Ensure your case progresses smoothly (if an insurer tries to delay your payout)
---
Get a Free Case Review From Isaacs & Isaacs Personal Injury Lawyers
Take advantage of a free case review. We're standing by to take your call and explain all of your options. If you were hurt in West Lafayette, we're ready to hear from you.
To learn more about working with our West Lafayette lawyers, call 1-800-333-9999 for your no-cost personal injury case review.