Begin Your Case With a Proven Personal Injury Law Firm
A Valparaiso personal injury lawyer from our team will fight for justice and compensation if another person caused or contributed to your injuries. You can focus on getting better while we handle all of your legal needs. Isaacs & Isaacs Personal Injury Lawyers serves residents of Indiana on a contingency-fee-basis.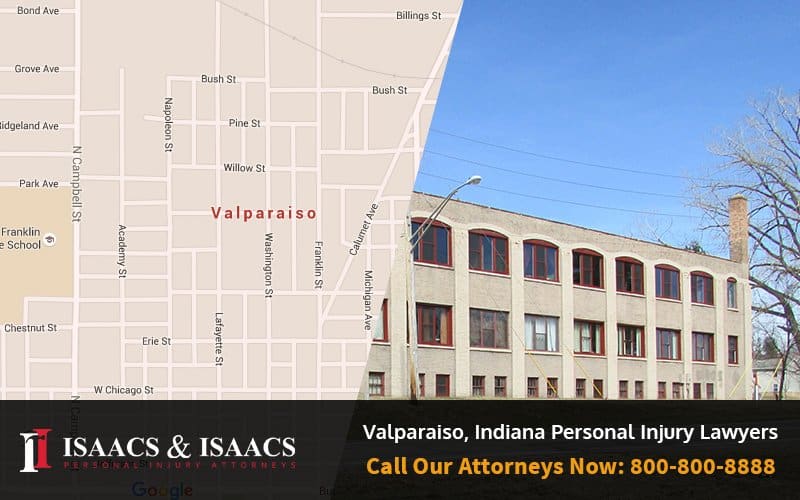 We charge no upfront fees for our legal services and only take payment if we secure monetary compensation on your behalf. Call us at 800-333-9999 at any time to speak to one of our dedicated Valparaiso personal injury lawyers and set up a free consultation.
We Represent Injured Accident Victims Across Many Categories. Some Personal Injury Cases We Handle Include:
Accidents With Trucks or Commercial Vehicles
Injuries & Wrongful Death Involving Driver Negligence (cell phone use, DUI)
Accidents With Uninsured Motorists
Whiplash Injury Accidents
Airbag Deployment Accidents
Takata Air Bag Recalls
Motorcycle Accident Injuries
Ridesharing: Lyft & Uber Accidents
Bicycle Accident Injuries
Hit and Run Accidents
Pedestrians Hit By a Vehicle
Head-On Collisions
Rear-End Collisions
Spinal Cord Injuries
"It was a pleasure to have the Isaacs & Isaacs team to help me after being hit by a truck as I was walking to the market. They went above and beyond to help with all I went through!"
---
Hiring an Indiana Personal Injury Attorney with Our Firm
In his podcast, "Ask the Hammer," Attorney Darryl Isaacs – the Hammer – answers questions about how he and his team serve clients to help get them the compensation they need. Play the episode below:
---
Our Accident Law Firm Will Get Started on Your Case Immediately By:
Listening to your story
Answering your questions
Advising you what to do next
Investigating the accident scene and all other evidence related to your claim
Reviewing medical records, police reports, and all documents
Determining which parties are liable for your injury
Meeting with insurance adjusters
Helping you file your claim
Demanding a just settlement for all of your medical treatment and damages
---
Why Is Isaacs & Isaacs the Right Firm for Your Case in Valparaiso?
At Isaacs & Isaacs Personal Injury Lawyers, we put our clients first. You'll know that your case is in qualified hands when you hire us. You won't have to wonder whether we're working hard on your behalf—we provide regular case updates and respond quickly to phone calls and emails.
For more than 20 years, we've served victims of negligence in Indiana, including those injured in Valparaiso. Our firm has numerous resources we can use to serve you, including:
An in-house litigation team
Bilingual staff members who proudly serve our Spanish-speaking clients
A team of dedicated attorneys and paralegals
The ability to hire experts, investigators, and other third parties without charging clients upfront or out of pocket
Many accident victims in Valparaiso do not have these resources on their own. Without a law firm's help, you may incur high costs to complete your case. You may also spend much time and energy trying to secure a positive outcome. Your time is best spent on recovery—we can handle the stress and challenges of your case for you.
Client Reviews for Isaacs & Isaacs Personal Injury Lawyers
We believe that clients' words tell you much about a law firm. As such, our team proudly refers you to the testimonials of our former clients, who appreciate our brand of hard-working representation.
The reviews of our former clients should set the bar for your expectations of us:
"We appreciate the very professional and courteous treatment we have received from Issacs & Issacs. They are wonderful to work with." — Rene McDaniel
"I have had the best experience with Isaacs & Isaacs. Cherry and Karen have been very helpful and accommodating with me. If there's anything that I don't understand, they don't mind explaining the issue and assuring me that everything will be fine." — Diane Wright
"Stephanie Wells was very helpful with answering my questions, and making me feel at ease about the process, and what to expect. I'm glad my first call was to "The Hammer" and his team." — LaKesha Rochae
Satisfying clients generally come down to attentiveness, but it also requires results. Many of our clients gauge our ability to secure a financial recovery, and we eagerly accept the challenge.
Case Results
Our team works exhaustively to get the best possible recovery for our clients. Whether through settlement, judgment, or other means, we've secured case victories such as:
$4 million for a client harmed by defective drugs
$2.325 million for a client who suffered a significant brain injury in a bus accident
$1.5 million for a client struck by a vehicle in a pedestrian accident
$1.575 million for the family of a victim killed in a bus accident
This is a small number of the many cases in which we've emerged victorious for our clients. While we make no promises of securing compensation, we can promise this: a personal injury lawyer from our team will fight for every dollar that your Valparaiso personal injury case warrants.
Build Your Case With A Top Rated Accident Lawyer
If you need immediate assistance with a vehicle accident or personal injury, call our team now at 
800-333-9999
 to begin your free case review and schedule an initial consultation to get legal advice. Our law firm represents injured victims across many categories. Some popular cases our accident attorneys handle include:
---
What to Expect From Isaacs & Isaacs Personal Injury Lawyers
While you should expect tireless client service, you should also know what we'll do for your case. We take a highly personalized approach with every client, but our team generally:
Identifies the cause of your losses: We gather all available case details and evidence. With this relevant information, we will determine what caused your injuries and who is responsible for your losses.
Compiles a comprehensive case: A strong personal injury case includes evidence of negligence, proof of your damages, and a narrative that ties everything together. We will work to combine objective proof with a strong legal argument.
Deals with all parties involved in your case: We can deal with insurance companies, other attorneys, and defendants in your case. We aim to protect your rights by insulating you from these parties, who may otherwise use your words against you.
Exhausts all options for securing compensation: We generally pursue the most efficient path to fair compensation. While we could accept a settlement if it covers your losses, we are also ready for trial if the liable parties refuse to settle fairly. Note that you may receive a settlement even after we've started the trial process.
In addition, our team may work with experts, your doctors, and others who can strengthen your case.
---
Damages You Could Recover in Valparaiso
Each personal injury client our attorneys represent has a unique story to tell.
We take the necessary time to hear you out, especially when it comes to your losses. Our team will seek compensation for all your recoverable damages, which may include:
Pain and suffering: We often help clients who are dealing with injury-related pain, traumatic memories, sleeplessness, lost quality of life, and other types of intangible damages. We will seek coverage of these and any other forms of pain and suffering that you experience.
Lost income and earning power: When injuries prevent you from working, we can seek coverage of all professional damages. These damages include lost income and lost earning power.
Property damage: In cases that involve property damage, like motor vehicle accidents, we could seek coverage for the repair or replacement of property.
Healthcare expenses: Because our clients generally deal with injuries or wrongful death, we often encounter healthcare costs. These expenses can be costly and ongoing, so we seek coverage for both current and future medical care.
If you have any other recoverable damages, we'll include them in your case.
Our Fee Structure Protects You, the Client
When you hire our firm, you pay us nothing upfront. If we secure a judgment or settlement, then we receive a portion of it. This means there is zero personal financial risk in hiring us for your case.
---
Reach Out for Your FREE Consultation
Our firm maintains a team of accomplished attorneys with more than 400 years of combined experience. Let us handle the legal stuff while you get better. A personal injury lawyer from our firm will start work on your case in Valparaiso as soon as possible. First, we must complete the consultation stage.
Contact Isaacs & Isaacs Personal Injury Lawyers today for a FREE consultation. This is your opportunity to ask questions, get to know our firm and move forward with your case. Don't wait—call now.
To learn more about working with our Valparaiso lawyers, call 1-800-333-9999 for your no-cost personal injury case review.