Begin Your Case With a Proven Personal Injury Law Firm
If you've suffered injuries and losses because of another party's negligence, you deserve justice. Indiana law allows you to seek compensation to cover your medical bills and other damages when someone else causes you harm.
A Noblesville personal injury lawyer from Isaacs & Isaacs Personal Injury Lawyers can fight for you. We have a strong track record of obtaining results for our clients. We can help you, too.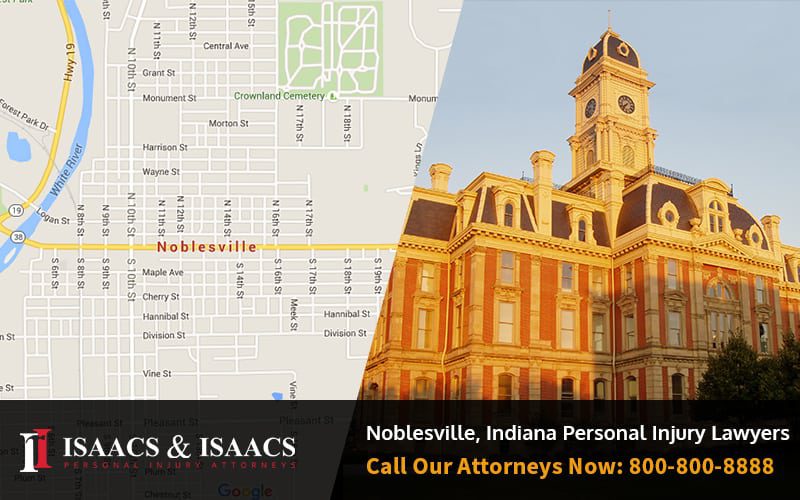 We charge no upfront fees for our legal services and only take payment if we secure monetary compensation on your behalf. Call us at 800-333-9999 at any time to speak to one of our dedicated Noblesville personal injury lawyers and set up a free consultation.
We Represent Injured Accident Victims Across Many Categories. Some Personal Injury Cases We Handle Include:
Accidents With Trucks or Commercial Vehicles
Injuries & Wrongful Death Involving Driver Negligence (cell phone use, DUI)
Accidents With Uninsured Motorists
Whiplash Injury Accidents
Airbag Deployment Accidents
Takata Air Bag Recalls
Motorcycle Accident Injuries
Ridesharing: Lyft & Uber Accidents
Bicycle Accident Injuries
Hit and Run Accidents
Pedestrians Hit By a Vehicle
Head-On Collisions
Rear-End Collisions
Spinal Cord Injuries
"Our daughters were involved in a serious car crash when a man ran a red light! Isaacs & Isaacs knew exactly what to say and exactly what to do for us! They are not only highly professional but also very sincere in wanting to help get our girls every dollar deserved! We will always be grateful to the team of The Hammer for being so wonderful during our time of need! Thank you from our family to your law firm."
---
Hiring an Indiana Personal Injury Attorney with Our Firm
In his podcast, "Ask the Hammer," Attorney Darryl Isaacs – the Hammer – answers questions about how he and his team serve clients to help get them the compensation they need. Play the episode below:
---
Recoverable Damages for Personal Injury Victims
If you or a loved one has suffered injuries because of another party's negligence, your recoverable damages may include:
Medical expenses: Any healthcare costs that stem from negligence may entitle you to compensation. Such costs can include emergency transport, emergency care, medical imaging, hospitalization, specialist appointments, and other types of medical care.
Professional harm: Recoverable professional damages may include lost earning power, wages, opportunities for performance bonuses and retirement contributions, and productivity.
Pain and suffering (and necessary treatment): Pain and suffering can include traumatic memories, psychological conditions resulting from trauma, lost quality of life, lost sleep, and pain from injuries. Necessary treatments may include counseling, medications, and other recommended care.
Property damage: Any property damage stemming from someone's negligence may entitle you to compensation. Liable parties may need to pay to repair or replace your property, depending on the extent of the damage.
If you have any other losses, our firm will determine whether they entitle you to compensation. We know how to calculate the value of both economic and non-economic damages, which do not generally have a clear monetary cost.
Our Accident Law Firm Will Get Started on Your Case Immediately By:
Listening to your story
Answering your questions
Advising you what to do next
Investigating the accident scene and all other evidence related to your claim
Reviewing medical records, police reports, and all documents
Determining which parties are liable for your injury
Meeting with insurance adjusters
Helping you file your claim
Demanding a just settlement for all of your medical treatment and damages
---
Why Choose Isaacs & Isaacs Personal Injury Lawyers for Your Legal Needs?
If you need a personal injury lawyer in Indiana, look no further than Isaacs & Isaacs Personal Injury Lawyers. Our legal team has more than 400 years of combined experience. This is personal injury experience, which applies directly to cases like yours.
We will treat you with respect and dignity—your case deserves attention from a dedicated attorney, and that's just what we'll provide. Consider how highly our former clients speak of us:
"I would recommend them to anybody because they're going to make sure that you're protected. It just always felt like we were dealing with family instead of a legal process." – Tammy, former client
"It was a pleasure to have the Isaacs & Isaacs team help me after being hit by a truck as I was walking to the market. They went above and beyond to help with all I went through!" – JoAnne, former client
"It always felt like we were dealing with family instead of a legal process." – Another former client
We work hard to earn our clients' trust and produce reviews like these. Our team won't rest until we've secured a positive outcome for you.
Expect Top-Shelf Client Service
Our team handles clients' cases with the utmost integrity, without exception. We will:
Accommodate you if you are a primary Spanish speaker
Lend you all of our available resources, like paralegals, experts, and an in-house litigation team
Respond to all of your questions and concerns
Remain available for you to contact us at any time
If you have any special requests, we encourage you to voice them to our team. We'll do our best to accommodate you.
Build Your Case With A Top Rated Accident Lawyer
If you need immediate assistance with a vehicle accident or personal injury, call our team now at 
800-333-9999
 to begin your free case review and schedule an initial consultation to get legal advice. Our law firm represents injured victims across many categories. Some popular cases our accident attorneys handle include:
---
We Will Lead Your Personal Injury Case Until Its End
Our attorneys are dedicated to the success of our client cases. We will fight for justice until the very end of your case, seeking the best possible resolution for you or your loved ones.
You can expect the team at Isaacs & Isaacs Personal Injury Lawyers to:
Pinpoint Those Who Owe You Compensation
Liability lies in the facts of your case. Our team will diligently obtain and analyze your case details to identify all parties that owe you compensation. Whether an individual or organization is liable for your losses, we will work to see justice fulfilled.
We generally prove liability based on negligence, though other standards may apply. Our attorneys could prove negligence in your case by:
Establishing that the defendants owed you a duty of care, which requires reasonable behavior in any given situation
Showing how the defendant(s) acted unreasonably, violating their duty of care as a consequence
Proving that the defendant's breach of duty of care was the cause of your eventual damages
Explaining what damages have arisen from the defendants' negligence
We mold each client's specific case to this argument.
Gather Evidence and Documentation
We will complete a thorough investigation of your case. Our team will seek all relevant evidence, from video footage to photographs and physical evidence. We'll also gather all documentation of your losses, including medical bills and proof of lost income.
Seek a Fair Settlement
A personal injury lawyer serving Noblesville from Isaacs & Isaacs Personal Injury Lawyers will pursue financial recovery for you. Note that the definition of a "fair settlement" is different for each client. We can explain to you what a fair settlement is in your case, how we calculated that figure, and how we plan to fight for the settlement.
File Your Case and All Other Paperwork
Our firm will be attentive to any filing deadlines that apply to your case. For instance, IC § 34-11-2-4 generally allows you two years to file a personal injury lawsuit.
The moment the clock starts ticking on this two-year period may differ for each client. We'll work quickly to file your lawsuit and all other paperwork in a timely manner.
Advocate for Your Rights
A client's rights are paramount in any personal injury case. Those who may try to violate your rights include:
Insurance companies
The defendant in your case and their attorney
Other parties who have a vested interest in your case
It's our role to handle as many of your case-related interactions as possible. As a result, we may advise you not to speak with any party to your case without consulting us first. We'll protect your rights throughout the duration of these proceedings.
---
Call Isaacs & Isaacs Personal Injury Lawyers for Your FREE Consultation
Hiring a personal injury lawyer from our team serving Noblesville may be the right move for your case. It may also be the right move for your health. Let us help you seek the justice you deserve.
Don't wait to call us, as case deadlines can fly by more quickly than you may realize. Our team is awaiting your call.
To learn more about working with our Noblesville lawyers, call 1-800-333-9999 for your no-cost personal injury case review.