Begin Your Case With a Proven Personal Injury Law Firm
New Castle, Indiana, is more than home to the Indiana Basketball Hall of Fame; it's also home to many accidents caused by negligence. These situations range from collisions to falls. Yet, when these incidents happen, injured claimants have legal recourse.
Issacs & Isaacs Personal Injury Lawyers proudly serve victims of negligence in Henry County. A New Castle personal injury lawyer from our firm can do more than help you fight for compensation; they will do everything your case requires.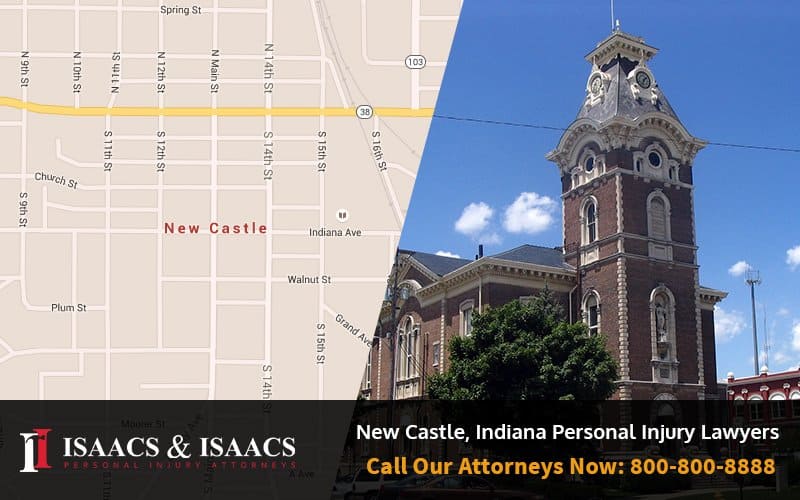 We charge no upfront fees for our legal services and only take payment if we secure monetary compensation on your behalf. Call us at 800-333-9999 at any time to speak to one of our dedicated New Castle personal injury lawyers and set up a free consultation.
We Represent Injured Accident Victims Across Many Categories. Some Personal Injury Cases We Handle Include:
Accidents With Trucks or Commercial Vehicles
Injuries & Wrongful Death Involving Driver Negligence (cell phone use, DUI)
Accidents With Uninsured Motorists
Whiplash Injury Accidents
Airbag Deployment Accidents
Takata Air Bag Recalls
Motorcycle Accident Injuries
Ridesharing: Lyft & Uber Accidents
Bicycle Accident Injuries
Hit and Run Accidents
Pedestrians Hit By a Vehicle
Head-On Collisions
Rear-End Collisions
Spinal Cord Injuries
"They're great to me. Used them twice and positive results both times. I wouldn't hesitate to contact them again if needed."
---
Hiring an Indiana Personal Injury Attorney with Our Firm
In his podcast, "Ask the Hammer," Attorney Darryl Isaacs – the Hammer – answers questions about how he and his team serve clients to help get them the compensation they need. Play the episode below:
---
Our Lawyers Advocate for People Injured in These Situations
Some of our team's practice areas include:
Auto accidents involving trucks, cars, motorcycles, and other vehicles
Bicycle and pedestrian accidents
Traumatic brain injuries (TBIs)
Dog bites
Catastrophic injuries
Self-driving vehicle accidents
Rideshare accidents (including those involving Uber and Lyft)
Medical malpractice
Slips and falls
Premises liability incidents
Nursing home abuse
Our Accident Law Firm Will Get Started on Your Case Immediately By:
Listening to your story
Answering your questions
Advising you what to do next
Investigating the accident scene and all other evidence related to your claim
Reviewing medical records, police reports, and all documents
Determining which parties are liable for your injury
Meeting with insurance adjusters
Helping you file your claim
Demanding a just settlement for all of your medical treatment and damages
---
What Can I Expect from My Injury Lawyer Serving New Castle?
With Isaacs & Isaacs Personal Injury Lawyers managing your case, you can expect:
Honesty. When we assess your case, we're not going to sugarcoat anything; we're going to tell you exactly what you can expect from the legal process. That way, you can make confident, informed decisions about your next steps.
A comprehensive investigation. Investigating your accident involves more than gathering evidence; it also includes consulting with field experts, visiting the accident scene, and much more. We want to paint a clear picture of what caused your injuries so we can negotiate a fair offer.
Transparency. We don't see you as an injured person. We see you as an important player on our team. So, you can expect consistent updates on your case, as well as insight into our legal strategy. You won't have to guess what's going on with your claim or lawsuit. You'll know everything.
What Should I Do After Getting Hurt in New Castle, Indiana?
Measures that could support your personal injury case include:
Getting medical attention
Completing your treatment regimen
Keeping track of your losses
Referring the insurance company to your lawyer instead of speaking to their representatives yourself
Above all else, we recommend considering your legal options. While the law doesn't require you to work with a lawyer, it may be a good idea to do so. Instead of managing a complicated injury case on your own, consider the benefits of partnering with our firm.
Build Your Case With A Top Rated Accident Lawyer
If you need immediate assistance with a vehicle accident or personal injury, call our team now at 
800-333-9999
 to begin your free case review and schedule an initial consultation to get legal advice. Our law firm represents injured victims across many categories. Some popular cases our accident attorneys handle include:
We Encourage You to Take Prompt Legal Action
There are many laws surrounding your case – some relating to a fault, others relating to how much you can recover. One important law is the statute of limitations. Per I.C. § 34-11-2-4, you generally have two years to file your lawsuit. Some exceptions could extend or shorten your filing period.
Abiding by this deadline is crucial because you will likely lose the right to seek damages through the court system if you file outside of this two-year period. You want to have every option available when pursuing compensation. So, we encourage you to connect with our team as soon as possible.
---
You Don't Have to Worry About Payment with Us on Your Side
We take personal injury cases on a contingency fee basis. In this payment structure, you don't pay any upfront fees or costs. We don't charge retainers, hourly rates, or other out-of-pocket fees, either.
Our attorney's fees come from the money we recover for you. We are committed to doing everything possible to resolve your case, and we want to get started right away. If your case succeeds, you'll pay nothing from your savings for legal help.
---
Recoverable Damages Following an Accident in New Castle, Indiana
Compensation for your losses ultimately depends on your situation. For instance, if you incurred costly medical bills, a settlement or court award could help you pay them. If you can no longer work because of your condition, we can explore seeking damages for lost income and loss of future earning capacity.
Other recoverable damages may include: 
Property damage expenses (such as repairing your car) 
Pain and suffering
Childcare expenses
Transportation services
Emotional trauma
Loss of enjoyment of life
Various out-of-pocket costs
You can trust our personal injury team serving New Castle to pursue every dollar you deserve.
---
We're Ready to Pursue Compensation for These Losses
Financial recovery in your case may comprise:
Your necessary healthcare expenses, including future procedures
Lost employee-related losses, including tips, bonuses, and income
Pain and suffering and inconvenience
Disability
Property damage expenses
Scarring and disfigurement
Mental trauma
Loss of consortium
Funeral expenses
You might wonder: "What's the value of my injury case in Indiana?" This answer depends on your situation. We will consider all aspects of your case when determining what constitutes a fair settlement offer.
You can trust your personal injury lawyer in New Castle to fight for every dollar you deserve.
We've Recovered Millions for Injured Claimants
Hoosiers call Attorney Darryl Isaacs "the Hammer." His firm has recovered more than $1 billion for clients since 1993. Some of his team's biggest successes include:
$6.475 million after our client's child was hurt in a school bus accident
$5.525 million for an older woman rear-ended by a tanker truck
$4 million for our client who suffered heart damage due to a dangerous medication
At this time, we're not sure how much you can recover for your injury-related losses. We will determine what constitutes a fair settlement by reviewing each aspect of your situation, including your daily pain levels and quality of life.
---
Our Clients Leave Glowing Reviews About Our Legal Services
We've served our community for almost 30 years. During that time, some of our previous clients have shared:
"Our daughters were involved in a serious car crash when a man ran a red light! Isaacs and Isaacs knew exactly what to say and exactly what to do for us!"
"I decided to hire Isaacs and Isaacs law firm back in 2014 from an accident I was in at work when the vehicle I was driving was hit by a speeding dump truck that ran the red light. I contacted them a few months after the accident and they took my case and started working on it immediately. They were the most friendly and knowledgeable people I know."
"In today's times, it is very rare to find a firm who will do exactly what they say they are going to do, which is what [Isaacs & Isaacs] did. We are very appreciative and highly recommend their service to anyone else."
---
Start Your Free Case Review Now
Interested in exploring your legal options? Call us. In just a few minutes, you will be on the phone with a member of our team at Isaacs & Isaacs Personal Injury Lawyers. We'll explain everything you need to know about partnering with an injury lawyer serving New Castle.
To learn more about working with our New Castle lawyers, call 1-800-333-9999 for your no-cost personal injury case review.