They're Young. They're Fresh. Dangerous For Trucking?
Last updated Thursday, June 29th, 2023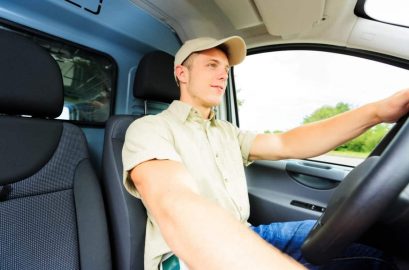 In an effort to boost the number of drivers in demand for the trucking industry, last month three US Senators introduced a bill that would provide a pathway for young truck drivers under 21 years of age to drive large semi trucks and commercial vehicles across state lines.
National tractor-trailer accident lawyer Darryl Isaacs — The Hammer — who has been handling commercial vehicle crash cases for 25 years has a cautious initial reaction to the news, saying, "I'm certainly for putting America to work. Whether they're young or old, I just want to make sure they are adequately trained and they have experience, and they're not rushing to a job they are not ready for."
The legislation is called the Developing Responsible Individuals for a Vibrant Economy (DRIVE) Act, and according to statements released by the senators sponsoring the bill, it serves to "address the driver shortage in the trucking and logistics industry, and enhance safety training and job opportunities for young truckers." Readers can review the bill here and updated rules for 2018 and drug testing drivers.
Pros and Cons of the Under 21 Truck Driver Bill
The most significant pro that comes with the proposed bill is an increase in the number of drivers for trucking companies. Some have argued that the 18-21 year old demographic must be the way forward for the trucking industry.
Other significant pros include an apprenticeship approach which mandates the following for the young drivers —
120 hours of on-duty time as "apprentice" drivers, of which at least 80 hours are driving time in a commercial motor vehicle. During this time, specific safety and competency benchmarks must be met as designated by employers, and shall include:
Interstate, light city traffic, rural 4 two-lane, and evening driving
Safety awareness
Speed and space management
Lane control
Mirror scanning
Right and left turns
Logging and complying with rules concerning hours of service
280 hours logged on a probationary period. During this time, 160 hours must be behind the wheel, with employers determining when competency has been reached for these skill sets:
Backing and maneuvering in close quarters
Pre-trip inspections
Fueling procedures
Weighing loads, weight distribution, and sliding tandems
Coupling and uncoupling procedures
Trip planning, truck routes, map reading, navigation, and permits
Transporting hazardous materials, if properly endorsed
An Incentive to Adequately Train: More Liability for Employers
The bill's language says, "An employer shall determine that the apprentice is competent in the following areas…" That puts the responsibility for determining competency on the very companies that are profiting from having many more drivers with little experience on the roads. Will the employers follow through with the apprentice programs to their completion? At present, the only requirement for apprenticeship (which conveniently grants immediate access to intrastate driving) is a Commercial Drivers License.
The Real Motivation For Truck Driver Safety: Trucking Lawsuits
With more inexperienced drivers immediately jumping into intrastate driving of big rigs, 18-wheelers and other powerful commercial vehicles, the possibility of accidents due to negligence goes up. Yes, the goal is for young women and men to move freight across state lines in the safest and most responsible manner possible, but it's not just the trucking apprenticeship programs that will create an incentive for safety. Trucking lawsuits, which can generate millions of dollars in damages for accident victims, will continue to remind trucking companies that their commercial drivers owe a higher standard of duty and care when sharing the roads.
"As long as they can show that they can safely and adequately train them and prepare them," says Darryl lsaacs, "I wouldn't have a problem. What would make me nervous is putting someone that is not ready in a position that could harm and kill somebody. As long as they can demonstrate they can safely follow the rules, regulations and be trained and be put in that situation, that's what I would look for."
If you've been injured in a collision with semi-truck or other large commercial vehicle, the 18 wheeler accident lawyers at Isaacs and Isaacs are ready to listen to your important story. Contact us 24/7 by calling 800-333-9999 or filling out our online form today.