Isaacs & Isaacs Weighs In On $101 Million Truck Accident Case
Last updated Thursday, June 29th, 2023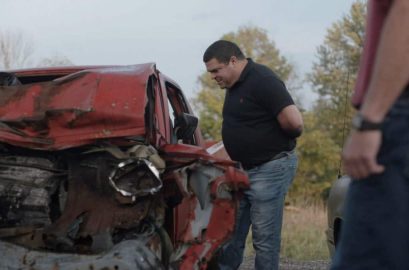 Jury Returns a Massive Verdict in Tractor Trailer Accident Case
A Texas jury has awarded $101 million in damages in what appears to be the largest verdict ever in a truck accident lawsuit. The parties in the case included plaintiff and injured Avinger, TX resident Joshua Patterson and defendants, FTS International Services of Fort Worth and truck driver Bill Acker. The verdict was announced on July 19, 2018.
Listen to 4-min audio commentary below by Isaacs & Isaacs truck accident lawyer John Hester on this landmark case (full transcript bottom of page):
The trial centered around events that occurred on September 15, 2013 at approximately 1pm. It was reported that Patterson was traveling in his Ford F-150 pickup truck on US Highway 259 in Upshur County. Behind Patterson was Bill Acker, driver for FTS, operating a tractor-trailer. Testimony indicated that Acker struck the pickup truck from behind causing the collision.
As a result of the crash, Patterson, who did not feel the immediate effects of the collision, ultimately had to undergo surgery to treat neck and back injuries and could no longer continue his career as a crane operator.
The trial also revealed that the tractor trailer driver had amounts of methamphetamine and marijuana in his system at the time of the crash. Further witness accounts revealed that Acker's record with the Department of Transportation indicated that he should not have ever been cleared to drive for FTS.
As noted for this case, the truck accident lawyers at Isaacs & Isaacs remind injured victims that even if injuries do not take an immediate effect, a competent medical team should always give a full and proper evaluation to those who have been involved in a collision. Once your physical health is under monitoring, injured parties and their loved ones should take swift action to protect themselves legally, before evidence begins to disappear or before reaching the legal deadline to file a case, known as the statute of limitations.
Transcript from Podcast with Truck Accident Attorney John Hester
Host:
How is it that a verdict or a settlement would reach this amount?
Attorney John Hester:
In this case, the $101 million verdict, the key to getting that high a verdict was the $75 million in punitives. The plaintiff in this was injured, day the wreck thought he was fine. As the days progressed, he developed pain, got treatment, ended up having to have surgery looks like on his neck, had some disc surgery. He ended up with a permanent impairment, could no longer work. So his individual damages for his injuries for his lost impairment of his ability to labor and earn money, being disabled — his damages alone were pretty substantial.
Attorney John Hester:
But then again on top of that the jury looks like also awarded $75 million for punitive damages, which are damages above and beyond what the plaintiff incurred on his part. They are damages to punish the defendant for conduct that the jury finds appalling. $75 million in punitive damages is pretty stout. Punitives almost always are a multiplier of the actual damages. Now it looks like on this one with $75 million in punitives, you would assume somewhere $25 million or so are the actual damages for the plaintiff. So that's looks like three times.
Attorney John Hester:
Defense attorneys in general on trucking cases specifically, their entire duty is to distract, confuse and muddy the waters. They never really want to get boxed in. They don't want to admit what they did was wrong, with their driver did was wrong, that the policies in place weren't enforced, that there was a failure within the company to follow their own policies as it was in this case. Deny,deny,deny — try to distract, confuse. There was probably some settlement offers made, nowhere on the magnitude of what this jury came back with.
Host:
Which companies besides a truck driver are involved here?
Attorney John Hester:
I think this was — the trucks were actually owned by the oil service company and they had their own truck drivers. It wasn't an over the road freight hauling trucking company like most people would think of when they think trucking. And the key difference here is the difference between a regular driver's license — which most people get just as a rite of passage in their life. A commercial driver's license, to drive a commercial vehicle, requires substantial training. There are rigorous restrictions, regulations whether it's within one state or if it's interstate travel, having a commercial driver's license whether it's an actual over the road freight hauling trucking company or just commercial vehicles, whether it be a cement truck. This oil services company had a fleet of trucks, in this case carrying sand for their fracking operation. These large vehicles require a lot of training to be able to them drive safely.
Attorney John Hester:
One of the things that I find interesting, in Kentucky for DUI considerations, a .08% is the presumption for a regular driver. For a minor, someone under 21, the presumption is .02%. For commercial drivers, someone with a CDL, it's .000%. Commercial CDL drivers are held to a much higher standard than everyone else on the road, as well it should be.
Attorney John Hester:
Over here at Isaacs & Isaacs, we are here to represent all injured people. But we do especially focus on the big truck cases because those are the ones where the potential for injury is so much greater due to the size of these vehicles, the weight and everything else, they tend to cause much more damage when they're involved in traffic collisions and things of that nature.
We see these regularly. They do take a lot of experience to handle properly. We are focused on getting the best results for our clients and all of our cases especially on the trucking.
Disclaimer:
This podcast should not be used in any legal capacity whatsoever. If you have specific legal questions, contact an attorney to discuss specific legal matters about your case. The attorneys of Isaacs & Isaacs operate nationally with their primary office in Louisville, Kentucky. Listeners should note that legal services may be performed by others.
---
If you need help after a collision involving a car, big rig truck or commercial vehicle, the 18 wheeler accident lawyer team Isaacs & Isaacs will provide a review of your case for free. Call us to get started today at [phone_number].