Begin Your Case With a Proven Personal Injury Law Firm
When you have suffered catastrophic injuries in an accident caused by someone else's negligence, you may be wondering how you can make them pay for your damages.
If your life has been considerably affected by the injuries you sustained, and you are unsure where to turn for help, reach out to a Newark personal injury lawyer at Isaacs & Isaacs Personal Injury Lawyers. If our firm can take on your case, you can focus on recovering while we handle the legalities. Contact our office today to receive a free consultation.
We charge no upfront fees for our legal services and only take payment if we secure monetary compensation on your behalf. Call us at 800-333-9999 at any time to speak to one of our dedicated Newark personal injury lawyers and set up a free consultation.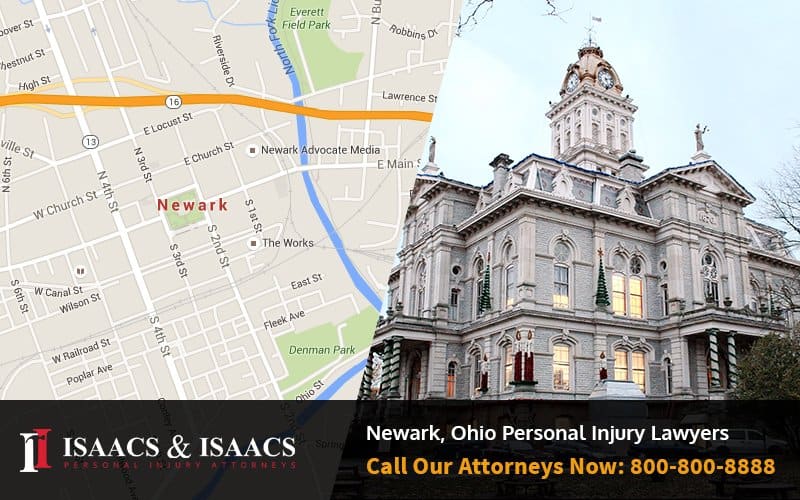 We Represent Injured Accident Victims Across Many Categories. Some Personal Injury Cases We Handle Include:
Accidents With Trucks or Commercial Vehicles
Injuries & Wrongful Death Involving Driver Negligence (cell phone use, DUI)
Accidents With Uninsured Motorists
Whiplash Injury Accidents
Airbag Deployment Accidents
Takata Air Bag Recalls
Motorcycle Accident Injuries
Ridesharing: Lyft & Uber Accidents
Bicycle Accident Injuries
Hit and Run Accidents
Pedestrians Hit By a Vehicle
Head-On Collisions
Rear-End Collisions
Spinal Cord Injuries
"John came to our house and went over the legal part of it thoroughly and quickly, but he always made it more about us. I would recommend them to anybody because they're going to make sure that you're protected. It just always felt like we were dealing with family instead of a legal process."
---
Hiring an Ohio Personal Injury Attorney with Our Firm
In his podcast, "Ask the Hammer," Attorney Darryl Isaacs – the Hammer – answers questions about how he and his team serve clients to help get them the compensation they need. Play the episode below:
---
Build Your Case with a Personal Injury Attorney Serving Newark
There is not much in life that can be more horrific than being struck down suddenly in an accident caused by somebody else's negligence. I know this from personal experience. I was recently in an accident of my own. Suddenly, without any warning, my life was changed forever after being hit by a car while riding my bicycle.
Newark, Ohio, is a beautiful place. Its tree-lined streets and welcoming climate must be an ideal place to grow up because Newark has been the hometown of many people who have made outstanding contributions to sports, arts, politics, and military achievements. One award-winning author who hails from Newark, Gary Braunbeck, uses his hometown as the model for his fictitious town Cedar Hill, the setting for many of his horror stories.
Our Accident Law Firm Will Get Started on Your Case Immediately By:
Listening to your story
Answering your questions
Advising you what to do next
Investigating the accident scene and all other evidence related to your claim
Reviewing medical records, police reports, and all documents
Determining which parties are liable for your injury
Meeting with insurance adjusters
Helping you file your claim
Demanding a just settlement for all of your medical treatment and damages
---
How Our Personal Injury Lawyers Can Help You
We understand that horrific accidents happen at all hours of the day and night, and our skilled and aggressive attorneys are on call 24/7 to assist you in your emergency. It is essential not to procrastinate about consulting an attorney if you feel you may have a case. We are here to assist you before
Evidence disappears or is altered.
Witnesses forget what they saw.
The deadline for filing your case or claim expires, leaving you no legal recourse to recover compensation.
You can contact our office or fill out our online form for a free consultation and case evaluation with a personal injury attorney.
Build Your Case With A Top Rated Accident Lawyer
If you need immediate assistance with a vehicle accident or personal injury, call our team now at 
800-333-9999
 to begin your free case review and schedule an initial consultation to get legal advice. Our law firm represents injured victims across many categories. Some popular cases our accident attorneys handle include:
---
When to Contact a Personal Injury Law Firm for Help
When you have been in a serious car accident, a collision with a commercial truck, injured on the job, or have lost a loved one due to somebody's negligence or hurtful act, no amount of money can turn back the clock and give you back your health, lifestyle or family member. These calamities also cause financial damages, which you are entitled to be compensated for. The law recognizes that if somebody is injured or loses a family member due to another person's negligent or hurtful action, the injured party will need financial compensation to rebuild their lives and go forward in the best way possible. Monetary compensation mitigates the damage and helps with the recovery process.
In many cases, the liable party is covered by insurance. But insurance coverage is not always enough if, for instance, you are rendered completely disabled and cannot ever work again. And even for damages insurance does cover, insurance companies do not always want to pay a fair personal injury settlement. They want to pay the least amount possible to settle accident claims. Because of this, they have lawyers, accident scene investigators, and claims adjusters who are skilled at finding ways to reduce and deny claims. Nobody wants to pay out money without a fight, even when it is the right thing to do. If you want to get the fair compensation you are entitled to, you will need a skilled and experienced advocate in your corner who knows personal injury law to level the playing field.
---
"Nuisance Settlements"
Sometimes insurance companies do not think your claim is worth anything, and they will offer you a low settlement amount right away to get rid of you. They call these settlements "nuisance settlements."
But who cares what label they use for your pain and suffering? You won when an insurance company is forced to pay out a fair settlement amount. Nothing could make you a bigger nuisance to an insurance company than if you are smart enough to call an experienced and aggressive personal injury law firm right after your accident. Let our attorneys estimate what your claim is worth, not the insurance adjuster.
Other Liable Parties
There could be other parties liable besides insurance when you have been injured. For example, if a defective product causes injury or death, the manufacturer and others can be held strictly liable, whether or not negligence played a part in the injury. This is because the law recognizes the devastating financial damage that results from a serious injury, and tort law holds the entity, such as a big company, liable for economic damages because they are most able to bear the cost. The law understands that regular working people may not be able to ever recover without just compensation to pay their medical costs, lost wages, funeral expenses, and other damages.
---
A Skilled Attorney Will Know the Value of Your Personal Injury Case
Our law firm has represented clients who have been injured in many ways. We know how to:
Listen to your story
Investigate the facts
Gather evidence to build a strong case
Analyze who is liable
Demand maximum compensation from all responsible parties
We cannot urge you strongly enough to contact a lawyer or truck accident attorney before you talk to insurance representatives. An experienced and knowledgeable Isaacs & Isaacs personal injury lawyer will help you to know whether you have a valid claim, free of charge.
Our goal is to be helpful. In cases where people have been injured and need legal assistance, we want to play a part in helping them, and their families get the compensation they need to recover and go forward in life in the best way possible. We are happy to make a positive difference in the lives of our clients and are dedicated to being helpful and promoting fairness and justice. Nothing makes our job more worthwhile than to see a family that has lived through a catastrophic event move forward and rebuild their lives.
---
Statute of Limitations for Ohio Personal Injury Claims
Although you may not be anxious to bring your case to court, it is vital to take steps on your case soon. Under Ohio Revised Code Section 2305.10, the statute of limitations for personal injury claims across Ohio will expire two years from the date of the accident.
However, the exact date that the statute of limitations will run out can vary widely depending on the individual details of your case. For this reason, it may be in your best interests to retain a legal advocate who has the knowledge and experience needed to avoid issues with the statute of limitations.
If you were to attempt to file your personal injury lawsuit after the statute of limitations had already passed, the judge will have no other choice but to dismiss your case with prejudice. You can avoid issues like these impacting your ability to receive fair compensation by getting started on your case as soon as possible.
---
Discuss Your Case with a Personal Injury Attorney Serving Newark Today
The personal injury claims process can be overwhelming. Fortunately, when you have a Newark personal injury lawyer advocating for your rights, you can feel confident in your decision to make the liable party pay. Receive your no-cost, risk-free consultation at Isaacs & Isaacs Personal Injury Lawyers when you contact our office.
To learn more about working with our Newark lawyers, call 1-800-333-9999 for your no-cost personal injury case review.