LOU ADOPTS! Mega Adoption Event
Last updated Monday, June 26th, 2023
Seven Local Shelters to Bring Nearly 100 Dogs and Puppies for On-site Adoptions at Kentucky Exposition Center on Saturday, May 13, 2023.
The Kentucky Humane Society (KHS) and Louisville Metro Animal Services (LMAS) have announced that they will host the inaugural LOU ADOPTS! mega adoption event. The event aims to find loving homes for nearly 100 adoptable local dogs and puppies.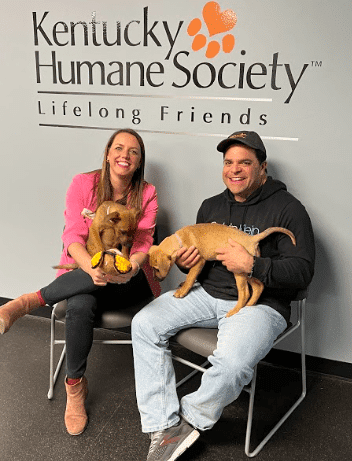 LOU ADOPTS! is sponsored by Isaacs & Isaacs Personal Injury Lawyers and will offer on-site adoptions at the Kentucky Fair and Exposition Center Pavilion on Saturday, May 13, from noon to 4:00 p.m.
Lou Adopts! The Event Brings Together Local Shelters to Find Homes for Dogs and Puppies in Need.
Like shelters across the country, local shelters are experiencing an increase in the number of surrendered animals. Nationwide, owner surrenders and other intakes have skyrocketed by 9.5 percent in the past year, while adoptions are down. The goal of LOU ADOPTS! is to help find homes for as many dogs and puppies as possible. By doing so, we hope to free up space in our local shelters so that they can continue to help animals in need.
Golden Retriever Rescue will join KHS and LMAS and Adoption of Needy Dogs (GRRAND), MisPits, Animal Care Society, Hardin County Animal Shelter, and Anderson County Care and Control at LOU ADOPTS! The event will offer the public a large variety of friendly and loving, adoptable local dogs and puppies.
Adoption fees will vary depending on the participating shelters; for example, Jefferson County adopters must pay a $10.50 licensing fee. All dogs and puppies will be spayed/neutered, micro-chipped, and up-to-date on vaccinations.
As a special thank you, each new pet-owning family will receive a uniquely branded "Hammer" gift exclusive to this event. Additionally, attendees will have the opportunity to take photos with me.
LOU ADOPTS! is a free event to attend. Food and drinks will be available for purchase from local food trucks and Kentucky Exposition concessions. Parking is also free for attendees who enter through Gate 4 of the Kentucky Fair and Exposition Center. For more details, visit https://www.kyhumane.org/events/lou-adopts-mega-adoption-event/
"We are thrilled to have so many of our local shelters come together at LOU ADOPTS! to offer adopters the chance to find their perfect match. We are grateful for the support of Isaacs & Isaacs for helping make this event possible," said Alisa Gray, President & CEO of KHS. "Our community's local shelters are currently overcrowded. When you adopt at LOU ADOPTS!, you're not just giving your new best friend a loving home, but also supporting your local shelters and helping to make room for them to save more animals."
"Shelters nationwide are struggling with unprecedented crowding, making now the perfect time to adopt and give a deserving dog or puppy a forever home," said Ashley Book, Interim Shelter Director at LMAS. "In addition to waived adoption fees, all our adoptable pets are already spayed or neutered, microchipped, and vaccinated."
I love dogs and sometimes feel like I might have been a dog in my former life. Therefore, if there's anything we can do to ensure that these lovable animals find their family, we're proud and excited to be involved. If you want to fill your home with more love, you won't find a better place than this event.
About Kentucky Humane Society
The Kentucky Humane Society (KHS) is Kentucky's most significant animal adoption agency and spay/neuter provider. KHS also provides free counseling and support to local pet owners to help them keep pets at home and out of shelters, including behavior advice, veterinary care referrals, free pet food and supplies, and more. Through its Love 120 program, KHS works with rural shelters across Kentucky to reduce overcrowding and increase their lifesaving capacity.
About LMAS
Louisville Metro Animal Services operates the city's only open-intake shelter, which has not euthanized any pets for the fourth consecutive year due to a lack of time or space. The Harshaw Family Foundation Animal Shelter was opened in 2020, creating a single campus for all metro animal-related services. In addition to animal control, licensing, and microchipping, LMAS provides free adoptions for select shelter pets through the Pay It Forward Program. The program is supported by the non-profit organization Friends of Metro Animal Services and public donations.
About Isaacs & Isaacs
Isaacs & Isaacs, Personal Injury Lawyers, has been dedicated to helping injured people get the compensation and recovery they deserve since 1993. Our mission is to help injury victims regain their quality of life, and we have recovered over $2 billion for our clients, including a recent verdict of $10 million. We accept and represent clients in Kentucky, Indiana, and Ohio.