Begin Your Case With a Proven Personal Injury Law Firm
If you were injured in Marion and someone else was responsible, you could seek compensation. Whether you were rear-ended in a crash on Western Avenue or a dog in Matter Park bit you, our attorneys can help.
Let our personal injury lawyers serving Marion seek the recovery you need for your financial and non-financial losses. We offer free consultations so you can readily learn your options.
We charge no upfront fees for our legal services and only take payment if we secure monetary compensation on your behalf. Call us at 800-333-9999 at any time to speak to one of our dedicated Marion personal injury lawyers and set up a free consultation.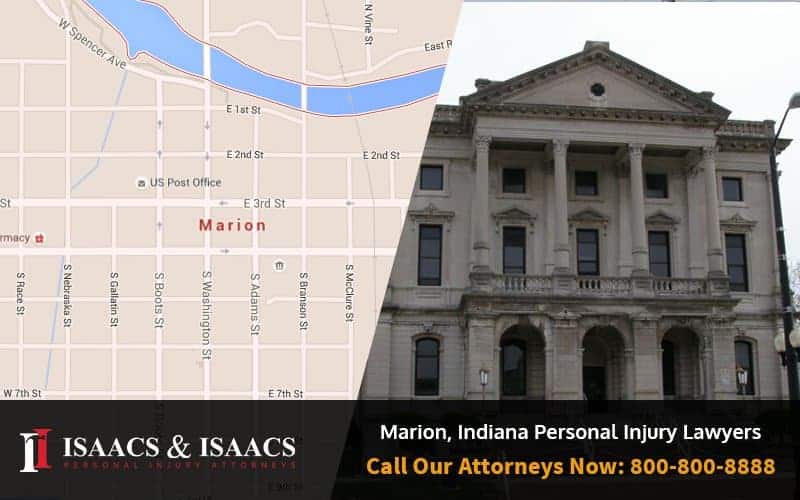 We Represent Injured Accident Victims Across Many Categories. Some Personal Injury Cases We Handle Include:
Accidents With Trucks or Commercial Vehicles
Injuries & Wrongful Death Involving Driver Negligence (cell phone use, DUI)
Accidents With Uninsured Motorists
Whiplash Injury Accidents
Airbag Deployment Accidents
Takata Air Bag Recalls
Motorcycle Accident Injuries
Ridesharing: Lyft & Uber Accidents
Bicycle Accident Injuries
Hit and Run Accidents
Pedestrians Hit By a Vehicle
Head-On Collisions
Rear-End Collisions
Spinal Cord Injuries
"They're great to me. Used them twice and positive results both times. I wouldn't hesitate to contact them again if needed."
---
Hiring an Indiana Personal Injury Attorney with Our Firm
In his podcast, "Ask the Hammer," Attorney Darryl Isaacs – the Hammer – answers questions about how he and his team serve clients to help get them the compensation they need. Play the episode below:
---
How Do I Know If I Have a Valid Injury Case in Indiana?
Our team can tell you about the validity of your Indiana injury case. If you call for a free case review, we will ask you about the basic details of your injury accident and can explain your legal options.
To have a valid injury case, you generally need to show that someone else was negligent. In other words, we need to help you prove that someone else's recklessness or carelessness caused your injury, and you suffered losses.
Here are some examples of situations that could lead to a personal injury case:
A truck driver was drowsy when they swerved into your lane and sideswiped your car, causing you serious back and neck injuries.
A local grocery store did not repair a leaking cooler, leading to your slip and fall accident. You sustained a traumatic brain injury (TBI) when your head hit the floor.
A dog owner did not leash their animal in a public park, and the dog bit your arm. You required surgery, which left you unable to work your normal job for a week.
Our team will investigate the unique facts of your case to tell you who could be held liable for your injury. Then, we can build a case to seek compensation.
Our Accident Law Firm Will Get Started on Your Case Immediately By:
Listening to your story
Answering your questions
Advising you what to do next
Investigating the accident scene and all other evidence related to your claim
Reviewing medical records, police reports, and all documents
Determining which parties are liable for your injury
Meeting with insurance adjusters
Helping you file your claim
Demanding a just settlement for all of your medical treatment and damages
---
What You Can Expect From Isaacs & Isaacs Personal Injury Lawyers
Many people wonder if hiring a lawyer makes sense for them after a serious injury accident. However, hiring a lawyer from our team could benefit your case for many reasons.
If you're struggling to manage your daily routine because of your injury, taking on a case could be overwhelming. Beyond this, our attorneys know the ins and outs of the legal process. We know how to seek the best possible compensation available for you.
When you work with our team, here's what you can expect:
A Free Case Review
You don't have to guess about the potential of your case or how to get started. Our team offers free, no-obligation case reviews. This call offers an accessible way for you to learn your next steps.
During your case review, you can ask us more about:
What the legal process entails
What kinds of damages you could seek
How long your case might take
How we will keep you updated during the process
Lawyers Who Understand Your Case's Worth
When plaintiffs represent themselves, one of the most challenging aspects victims face is determining their case's value. If you hire our team, you can rest assured that our attorneys know what a fair settlement or award should look like.
To secure this recovery, we will gather crucial evidence demonstrating how seriously you were hurt, who caused your injury, and how much you should receive. We may gather evidence from your medical bills, records of your pay stubs, statements from your doctor and other expert witnesses, and more.
Then, we will handle the negotiation process for you, dealing with the back-and-forth process of pursuing your settlement.
A Team of Litigators Who Can Take Your Case to Trial
If negotiations don't produce the offer you need, our team will take your case to trial. Unlike some law firms, Isaacs & Isaacs Personal Injury Lawyers has a team of in-house litigators. This means that we know how to go after results in a courtroom.
Legal Representation at No Financial Risk to You
Our attorneys work based on contingency fees, so we don't charge any upfront fees or costs when you hire us. We will get started on your case immediately with no retainer or hourly rates required.
Our lawyers working with Marion families will only receive payment upon successfully completing your personal injury case. If you don't win your case, you don't owe us any lawyer's fees.
Build Your Case With A Top Rated Accident Lawyer
If you need immediate assistance with a vehicle accident or personal injury, call our team now at 
800-333-9999
 to begin your free case review and schedule an initial consultation to get legal advice. Our law firm represents injured victims across many categories. Some popular cases our accident attorneys handle include:
---
Forms of Compensation You Could Seek in a Personal Injury Case in Marion, IN
You don't have to take on the financial burden someone else caused you. Our team can tell you if you are eligible to make a recovery for the following damages:
Medical Treatment Required for Your Recovery
Whether you suffered a TBI or a serious case of whiplash, your medical bills could be piling up fast. Starting with the cost of emergency care, you could be looking at thousands of dollars in bills before you reach maximum medical improvement (MMI).
Our attorneys want to help you cover all your medical expenses, including the cost of:
Ambulance services
ER visits
Visits to a doctor
Chiropractic care
Medications
Medical devices
Hospitalizations
Physical therapy
Rehabilitation
Impacts on Your Career
We will fight for the compensation you need when your injuries affect your income. You could seek the following:
Lost income
Reduced earning capacity
Missed tips or bonuses
Other Challenges Caused By the Injury
Your injury accident could leave you with many emotional and psychological challenges, including:
Pain and suffering
Post-traumatic stress disorder (PTSD)
Reduced enjoyment of life
Damages for Families Who Lost a Loved One
Losing a family member to a personal injury accident in Marion can leave your family facing significant financial strain when you're dealing with a loss. You could recover compensation and justice through a wrongful death claim. Our lawyers can help you understand your options for recovering damages to cover the following:
Medical care your loved one required
Funeral and burial expenses
Lost income
---
Get a Free Case Review Today From Isaacs & Isaacs Personal Injury Lawyers
We are ready to take your call anytime, day or night. Learn more about how our team produces results for injury victims. We've won $2 billion for past clients, and we're ready to fight for you.
To learn more about working with our Marion lawyers, call 1-800-333-9999 for your no-cost personal injury case review.