Begin Your Case With a Proven Personal Injury Law Firm
If you've been injured in an accident, Isaacs & Isaacs Personal Injury Lawyers can help you to get the fair compensation you will need to rebuild your life and move on. We have helped people in Kentucky, Indiana, and Ohio recover over $2 billion dollars in compensation from insurance and other liable parties.
We're on call 24/7 to be there for you when you need us most. Call any time of the day or night to speak with a dedicated Isaacs & Isaacs Personal Injury Lawyers team member about your personal injury claim. Our Bloomington personal injury lawyer is standing by to work for you.
We charge no upfront fees for our legal services and only take payment if we secure monetary compensation on your behalf. Call us at 800-333-9999 at any time to speak to one of our dedicated Bloomington personal injury lawyers and set up a free consultation.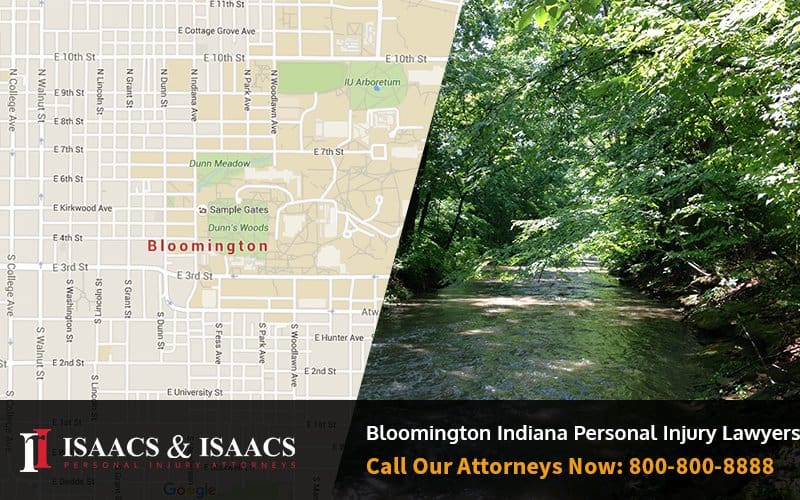 We Represent Injured Accident Victims Across Many Categories. Some Personal Injury Cases We Handle Include:
Accidents With Trucks or Commercial Vehicles
Injuries & Wrongful Death Involving Driver Negligence (cell phone use, DUI)
Accidents With Uninsured Motorists
Whiplash Injury Accidents
Airbag Deployment Accidents
Takata Air Bag Recalls
Motorcycle Accident Injuries
Ridesharing: Lyft & Uber Accidents
Bicycle Accident Injuries
Hit and Run Accidents
Pedestrians Hit By a Vehicle
Head-On Collisions
Rear-End Collisions
Spinal Cord Injuries
"John came to our house and went over the legal part of it thoroughly and quickly, but he always made it more about us. I would recommend them to anybody because they're going to make sure that you're protected. It just always felt like we were dealing with family instead of a legal process."
---
Hiring an Indiana Personal Injury Attorney with Our Firm
In his podcast, "Ask the Hammer," Attorney Darryl Isaacs – the Hammer – answers questions about how he and his team serve clients to help get them the compensation they need. Play the episode below:
---
What We Do
As Daryl Isaacs "The Hammer," I fight hard for each person who comes to me for help. My father Sheldon Isaacs and I started Isaacs & Isaacs Personal Injury Lawyers because we wanted to level the playing field for people who have suffered a serious injury through no fault of their own. We saw that most people are no match against big business and big insurance companies with their armies of attorneys, investigators, and claims adjusters.
We devote our life's work to fighting for working people to get fair compensation when they have suffered a devastating personal injury. We want to see them get a fair deal so that they have the financial resources they need to rebuild their lives and go forward in the best way possible.
We serve people who have suffered injuries in a variety of accidents. We can handle your case if you or a loved one experienced:
A pedestrian accident
A truck accident
A bus accident
A dog bite
An autonomous vehicle accident
A rideshare accident
Our Accident Law Firm Will Get Started on Your Case Immediately By:
Listening to your story
Answering your questions
Advising you what to do next
Investigating the accident scene and all other evidence related to your claim
Reviewing medical records, police reports, and all documents
Determining which parties are liable for your injury
Meeting with insurance adjusters
Helping you file your claim
Demanding a just settlement for all of your medical treatment and damages
---
We Can Demonstrate How Negligence Led to Your Injuries in Monroe County
As long as another party caused or contributed to your injuries, you can seek damages. Usually, some form of negligence comes into play. We can work to establish the following four elements of negligence in your case:
The defendant owed you a duty of care to keep you reasonably safe.
They breached their duty of care through negligent behavior.
Their breach resulted in your accident.
You suffered injuries and losses due to the accident.
You don't have to worry about figuring out these details on your own. We can gather evidence, such as police reports and eyewitness statements, to support your case. While we get to the bottom of what happened, you can focus on your health.
Build Your Case With A Top Rated Accident Lawyer
If you need immediate assistance with a vehicle accident or personal injury, call our team now at 
800-333-9999
 to begin your free case review and schedule an initial consultation to get legal advice. Our law firm represents injured victims across many categories. Some popular cases our accident attorneys handle include:
---
A Catastrophic Accident or Injury Can Happen to Anybody at Any Time
Life is unpredictable, and you can suddenly find yourself in an accident no matter how careful you try to be. When you've been hurt in an accident, you are counting on insurance to have your back, but insurance companies don't always want to be fair.
After practicing personal injury law for over two decades, what comes to mind first when I think about insurance coverage is what Mark Twain said about bankers: "A banker is a fellow who lends you his umbrella when the sun is shining but wants it back the minute it begins to rain."
Whether you have been in a car accident, need a Bloomington truck accident attorney, suffered a slip and fall accident, or were injured on the job, it helps to have an attorney in your corner. They can help you get a fair deal from the liable party's insurance company.
Understanding Indiana's Negligence Law
Indiana is a modified comparative fault state. According to Indiana's negligence law, if the liable party can prove that you were partly at fault for your accident, your compensation will be reduced by the percentage of fault assigned to you. If you are found to be 51 percent or more at fault in your accident, you will not be eligible for any compensation.
This rule can be financially devastating to an accident victim who is permanently disabled and facing multiple surgeries and extended medical treatment. The worse you are injured, the harder the liable party's insurance carrier will work to reduce the amount of money they have to pay for your personal injury claim.
If you are looking for compassion and fairness from the insurance people, you're looking in the wrong place. It's their job to reduce or deny your claim. Their loyalty is to their stockholders and their company's bottom line. They employ skilled accident scene investigators, and they have experienced and ruthless insurance defense attorneys to fight against paying out large accident claims.
---
We Employ Attorneys Who Used to Work for the Other Side
We have attorneys on our team who used to work in insurance defense, and we are aware of the tactics they commonly use. You are no match against these people alone. If you've been injured in an accident, it is beneficial to have a law firm on your side that will not accept an insurance company's low offer.
You could use somebody who will demand that you receive every penny of compensation for your:
Pain and suffering
Medical bills
Lost wages
Property damage
Disability
Disfigurement
Emotional anguish
Reduced earning capacity
Isaacs and Isaacs Personal Injury Lawyers will fight to get you a fair settlement. We will file a personal injury lawsuit, if necessary, to gain access to the necessary evidence to build a strong case. After we have built a strong case to support your claim, chances are that the liable parties will offer a fair settlement. If they do not, we will take it to court.
---
See a Doctor As Soon As Possible After Your Accident
We can handle the legal legwork, but you can also support your case by seeing a doctor. Do not assume your injuries will heal on their own; forgoing medical assessment and treatment could worsen your symptoms and impede your recovery.
Medical documentation is also key to establishing your damages and estimating their worth. For example, if you suffered whiplash after a car accident, you could experience months or years of residual pain. Chronic symptoms could keep you out of work and require additional treatment. You deserve compensation for these future expenses.
We can use your medical records to link your injuries to your accident and calculate what fair compensation would look like. Don't leave your health and your case to chance. If you are injured, see a doctor as soon as possible after your accident.
---
You Don't Have to Have Any Money to Enlist Our Help
We believe all victims of negligence should have access to legal care. Your financial status should not keep you from exercising your rights. We do not charge upfront fees to start your case. We will represent you on a contingency-fee basis: you don't owe us a penny unless and until we win your fair settlement or jury award of damages.
Isaacs & Isaacs Personal Injury Lawyers is confident that we will win your claim. We have a success rate of over 99 percent in winning fair compensation for our clients. We have the resources to investigate and, if necessary, litigate your case. Let us take the burden of recovering your financial damages off your shoulders so you can focus on healing.
---
A Proven Bloomington Personal Injury Law Firm
Accidents happen all the time, and we are on call 24/7 to be there for you when you need us most. If you aren't sure whether you have a claim, we will be happy to assist you and answer your questions free of charge. Call us or fill out our form anytime to speak with an Isaacs & Isaacs Personal Injury Lawyers team member. You don't have to go through this alone.
To learn more about working with our Bloomington lawyers, call 1-800-333-9999 for your no-cost personal injury case review.