The $5,000 KSBar Hammer Bowl Challenge!
Last updated Thursday, June 29th, 2023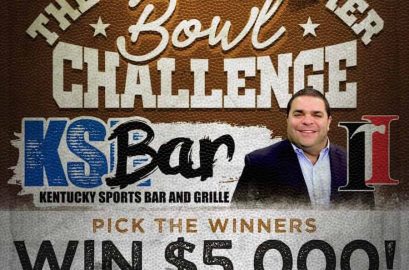 Lexington Locals – It's Bowl Challenge Time With The Hammer
Kentucky Sports Radio has teamed up this NCAA Football Bowl season with Darryl Isaacs – The Hammer – for the KSBar $5,000 Hammer Bowl Challenge. It's a chance for Lexington locals to watch the games in a fun location and have the chance to win $100 every night of the contest, with the build to the big $5,000 grand prize!
Location: KSBar and Grill
Address: 1030 S Broadway, Lexington, KY 40504
Phone: (859) 554-6081https://t.co/rVVloUyX2V
Here's the lineup of events happening for each bowl game hosted at KSBar:
Here's How the Hammer Bowl Challenge Rules Work
Come into KSBar before 7pm any day there is a Bowl Game and fill out the entry form to pick the Final Score. Choose who you think wins the game, the margin of victory and (as a Tiebreaker) the actual score. If you get closest for that game, you become a finalist for $5,000. There will be 41 finalists total, one for each game.
These 41 Finalists (or a proxy of their choosing) will come to KSBar the night of the National Championship and will compete in a contest throughout the game to win $5,000. Players will be eliminated throughout the night as the game goes along, until the last three people go for $5,000.
BONUS PRIZE: During every game, whichever person is in the Bar and has picked the score the closest when the game ends, wins $100 on the spot.
No purchase necessary. Just come fill in a contest entry slip before Kickoff. It's that simple. So for example: this Saturday, there are five games…come in at any point and whatever game has not started, you can enter. Next Tuesday, there is one game at 7 pm…come in anytime before 7 pm, fill out the card and you are in.
We had our first $100 winner in the KSBar Hammer Bowl Challenge.

Every night someone wins, moving towards the $5,000 winner on National Championship night pic.twitter.com/rVVloUyX2V

— Matt Jones (@KySportsRadio) December 19, 2018
We've already had a handful of $100 winners and finalists in the KSBar Hammer Bowl Challenge! If you are not local to Lexington, be sure to follow Matt's Blog from Kentucky Sports Radio for contests on the air and social media so you can participate too.
See you at KSBar every night to win!
Be sure to follow the Isaacs and Isaacs Facebook page for more updates and events!